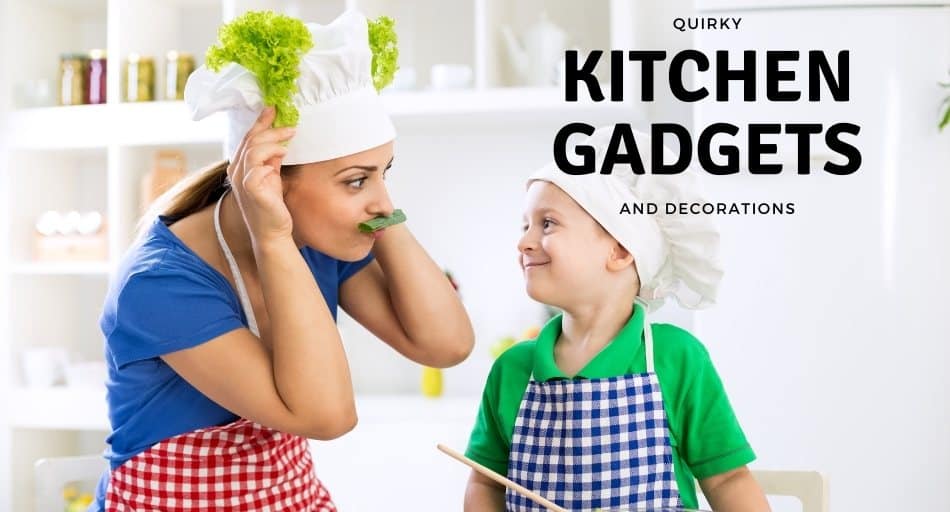 I'm always on a hunt for new kitchen products and what I like to see are quirky and funny kitchen gadgets. Who says that kitchen has to look serious and boring. Join me on a quest to bring back laughter into kitchens.
The links in this post are affiliate links, and we'll earn a small (tiny) commission from Amazon at no cost to you if you buy through the link.
Table of Contents
This quirky ans soft non-slip rug is a great choice for kitchen or bathroom floors. It's the perfect size so it's not tacky but will still be a funny conversation starter with guests.
Made by the famed design studio OTOTO, this spaghetti monster is a straining master. And if you're planning a spaghetti dish, this noodly master will grant your wish!
What a funny addition to your pizza night. This bicycle pizza cutter comes in 5 different colors. Great for kids' birthday parties and pizza parties as well. Comes with a stand for easy display and storage. It's made from non-stick materials, which makes it free from sticky crust or dough after use. See more awesome pizza cutters.
Make handling hot pots and pans a "snap" with this Marvel Infinity Gauntlet silicone oven glove based on the Avengers movies! Makes a great funny gift for nerdy or geeky fans of Marvel Avengers and Guardians of the Galaxy! For the guy that has everything - now he can conquer the universe… or at least hold hot things. Check out other quirky and funny oven mitts.
When you're looking for a snack And an empty jar looks back, Splatypus will work his way from bottom to top, so you can enjoy every last drop.
The perfect gift is cute and affordable; signs can be used as a clever gift idea and great for people of all ages; perfect as a housewarming, holiday, or any occasion gift.
Kit Cat Klocks have been in continuous manufacturing since 1932. In the 1980's Kit-Cat Klock started to come off the wall with books, stickers and other fun fan collectibles the idea came around to make a smaller version of Kit-Cat. In 1996 Kitty-Cat burst onto the scene bringing great joy to the Kit-Cat family as their very first baby.
Whimsical, and practical too, these ceramic chicken figure keeps four measuring spoons always at the ready while adding quirky charm to your kitchen.
Protect your table and furniture surfaces from unsightly burns, scratches and water rings. Makes for a great decoration for office desk, bar table, dinner table, and coffee table.