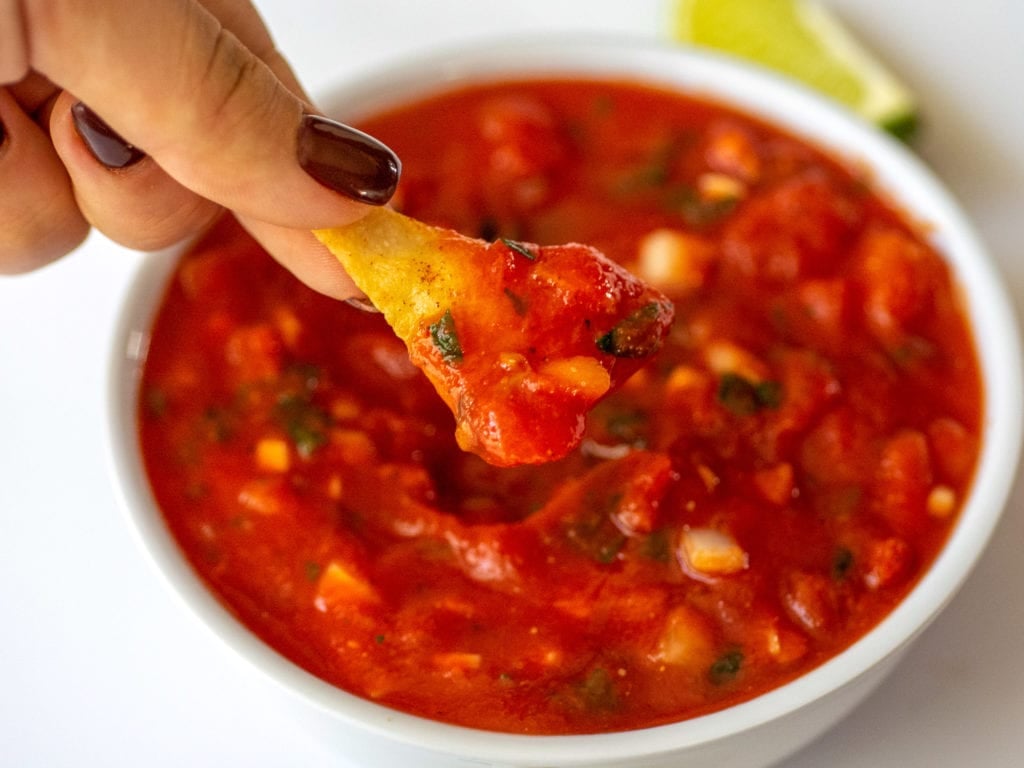 This homemade salsa is a keto-friendly take on the famous Mexican dip. It is sugar-free, low in calories, and insanely flavorful. Made with fresh vegetables and canned tomatoes, it's ready in under 10 minutes.
If you want this low carb salsa recipe to be as close to the restaurant-style kind as possible, you can use fresh tomatoes instead of canned ones. But there's not much difference in taste between them, so I usually go with canned tomatoes since it simplifies the cooking process and saves me a lot of time.
You can use this keto salsa as a condiment for tacos, a dip for tortilla chips, or even use it for topping pizza. And if you like salsa chicken, you won't regret using this recipe for it since this salsa recipe goes perfectly well with chicken.
Table of Contents
Is Salsa Keto Friendly?
Since tomatoes are high in carbs, they increase the number of carbs in salsa. But tomatoes are also loaded with fiber, which makes those carbs look less scary.
So the answer is YES. It's okay to consume salsa when following the keto diet. However, it is best to make salsa at home rather than buy it at a store. Some brands add plenty of sugar to their salsa, which is definitely not a keto-friendly product.
How to Make Keto Salsa
My goal was to create a quick and simple keto salsa recipe, and I think I succeeded. For this recipe, you'll need only 8 simple ingredients, and I'm sure that you can easily find most of them in your kitchen. And the best part about this recipe is that you'll need less than 10 minutes to make it.
So, here's what you should prepare for this salsa recipe:
Canned diced tomatoes
Onion
Garlic
Cilantro
Lime juice
Red pepper flakes
Salt
Ground black pepper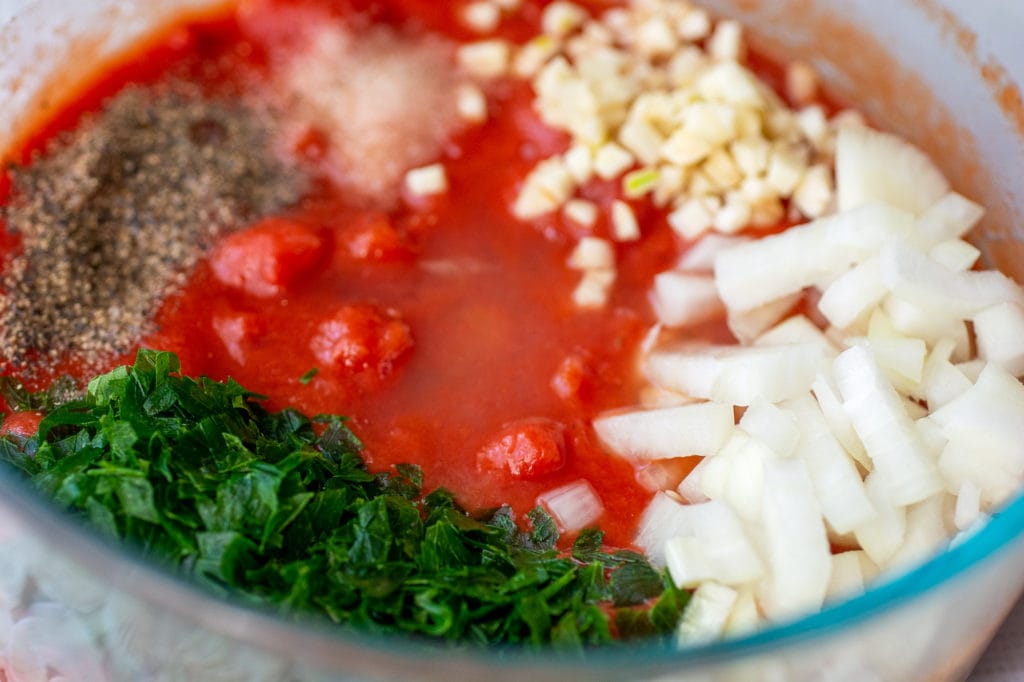 Now that you have the needed ingredients, you should open the can with tomatoes and transfer them into a bowl, dice the onion, finely chop the garlic cloves, chop the cilantro, and add everything to the bowl with tomatoes. Then juice half of a lime, add some salt and pepper, and stir everything. That's it!
If you want, you can use canned peeled tomatoes (not diced) and throw them together with all of the other ingredients in a blender. This way, you'll be able to make keto salsa even quicker.
Additional Ingredients
There are a few additional ingredients that can make this salsa recipe pop. Here's what you can also add:
Jalapeno. You can use jalapeno instead of pepper flakes in this recipe. Or, if you want, you can use both of the ingredients (it all depends on how much heat you want).
Cayenne pepper. This is also a spice that you can use to make your salsa burn.
Bell pepper. Sometimes I like to add it for that extra crunch. It tastes incredibly delicious in salsa, but since bell pepper is high in carbs, I don't add it as frequently as I'd want to.
Alternative Salsa Types
Believe it or not, there are many variations of the classic salsa recipe. I've tried all of these salsa kinds, and the truth is they're all delicious. So, if you're in the mood to try something new, here are a few salsa type ideas:
Tomatillo salsa (tomatillos + onion + garlic + cilantro + lime juice + jalapeno + salt)
Cucumber salsa (cucumber + tomatoes + onion + jalapeno + garlic + lime juice + bell pepper + salt)
Avocado salsa (avocado + tomatoes + onion + lime juice + cayenne pepper + cilantro + salt)
Jicama salsa (jicama + Granny Smith apple + onion + lime juice + erythritol + hot sauce + cilantro + salt + pepper)
Don't be afraid to experiment and have fun while making your own salsa! It's insanely easy to make and can actually be quite fun.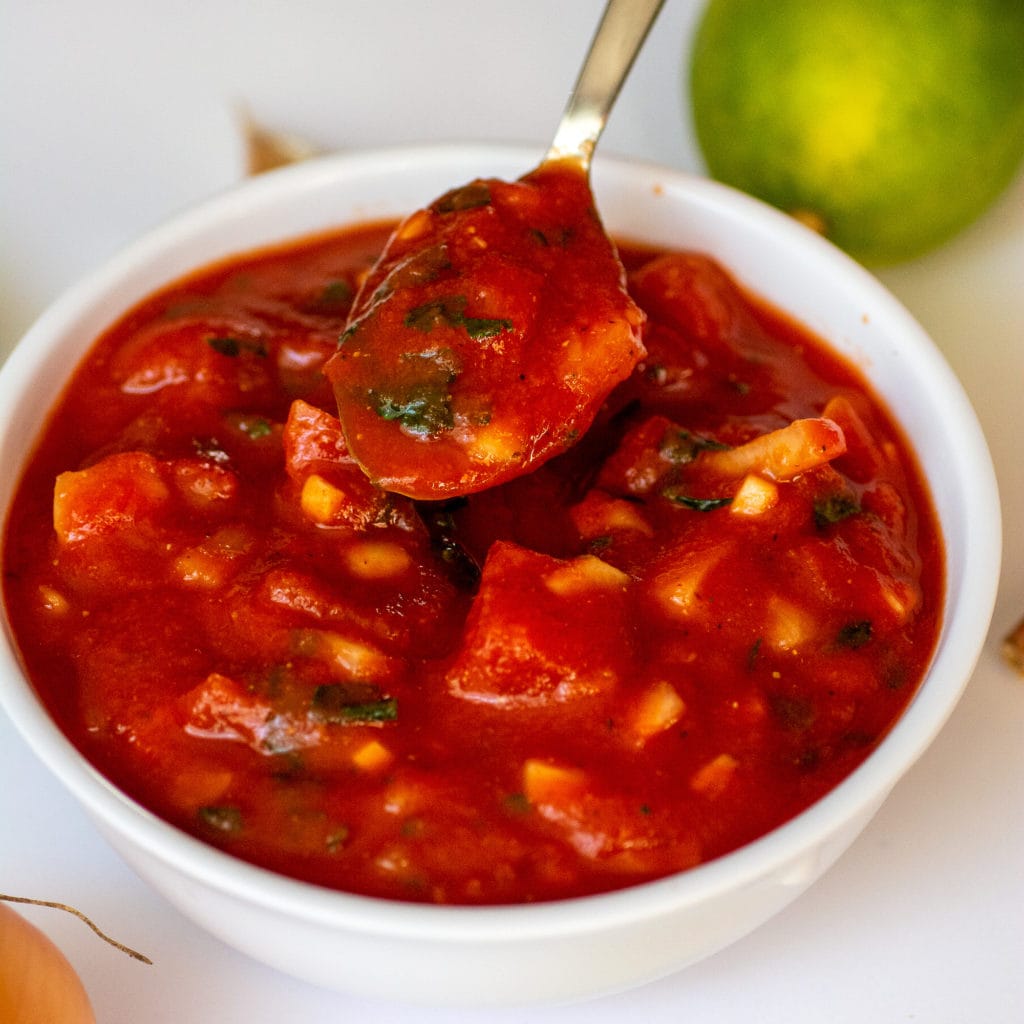 Serving Ideas
You can serve keto salsa with almost anything that you'd normally serve salsa with. But keep in mind that the product that you choose to serve with salsa should be low carb (if you're following the keto diet).
Here's a list of ideas for serving keto salsa:
Celery sticks
Low carb tortilla chips
Pork rinds
Topping for flourless pizza
Scrambled eggs
You can also use keto salsa to make Instant Pot salsa chicken or use it as a condiment for shredded chicken or chicken thighs.
Storing Instructions
As you might already know, store-bought salsa can be stored for months. But since the salsa that you make by yourself has no preservatives, it can't be kept for that long. The only safe way to store homemade salsa is in your refrigerator. It is okay to consume it for about 3 to 5 days.
Also, if for any reason you want to freeze your keto salsa, you definitely can do that. Just place it in a zipper bag or a tightly closed container, and then put it in your freezer. Such salsa is safe to consume for about 3-4 months.
Whenever you wish to serve the salsa from the freezer, place it in your refrigerator overnight to thaw.
Recipe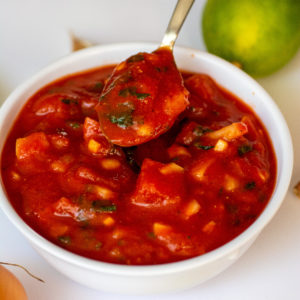 Quick Keto Salsa
This homemade salsa is a keto-friendly take on the famous Mexican dip. It is sugar-free, low in calories, and insanely flavorful. Made with fresh vegetables and canned tomatoes, it's ready in under 10 minutes.
Ingredients
15

ounces

canned tomatoes

diced

1

small

onion

diced

3

cloves

garlic

finely chopped

3

tbsp

fresh cilantro

chopped

½

lime

juiced

1

tsp

red pepper flakes

optional

salt and pepper

to taste
Instructions
Open the can of diced tomatoes and move them into a bowl.

Add the onion, garlic, cilantro, red pepper flakes, salt, and pepper. Stir everything.

Juice half of a lime into the bowl and stir it once more. Serve right away or store the salsa in the refrigerator.
Nutrition
Calories:
64
kcal
Carbohydrates:
15
g
Protein:
3
g
Fat:
1
g
Saturated Fat:
1
g
Polyunsaturated Fat:
1
g
Monounsaturated Fat:
1
g
Sodium:
200
mg
Potassium:
488
mg
Fiber:
4
g
Sugar:
7
g
Vitamin A:
536
IU
Vitamin C:
19
mg
Calcium:
65
mg
Iron:
2
mg