As the star player of most charcuterie boards, prosciutto is familiar fare for lovers of Italian cured meats. Unlike anything else, it has a unique salty sweetness and a delicate texture when sliced thin. However, you don't want to be without the right substitute for prosciutto when you don't have any on hand.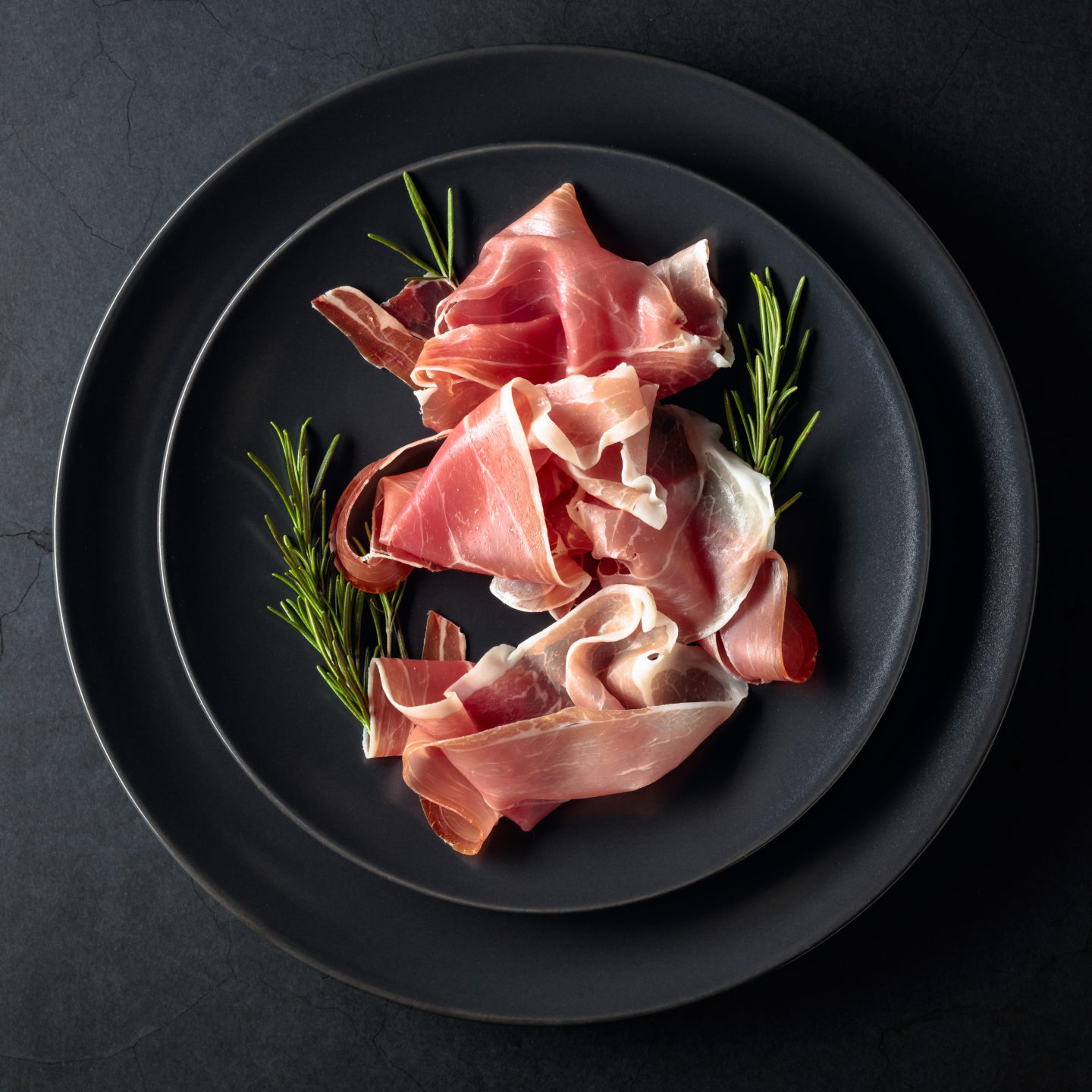 If you need a last-minute alternative to prosciutto, serrano ham is a good option to consider. With a rich and nutty flavor, it's similar to its Italian cousin and brings plenty of its character.
However, if you can't find either of these pork products in your local grocery store, don't worry. There is a wide range of other prosciutto alternatives to consider, including capicola, pancetta, bacon, soppressata, cualtello, guanciale, salami, mortadella, deli ham, beef bresaola, mushrooms, cheese, and even tofu. Each prosciutto substitute has its advantages.
Table of Contents
Best Prosciutto Substitutes
1) Serrano Ham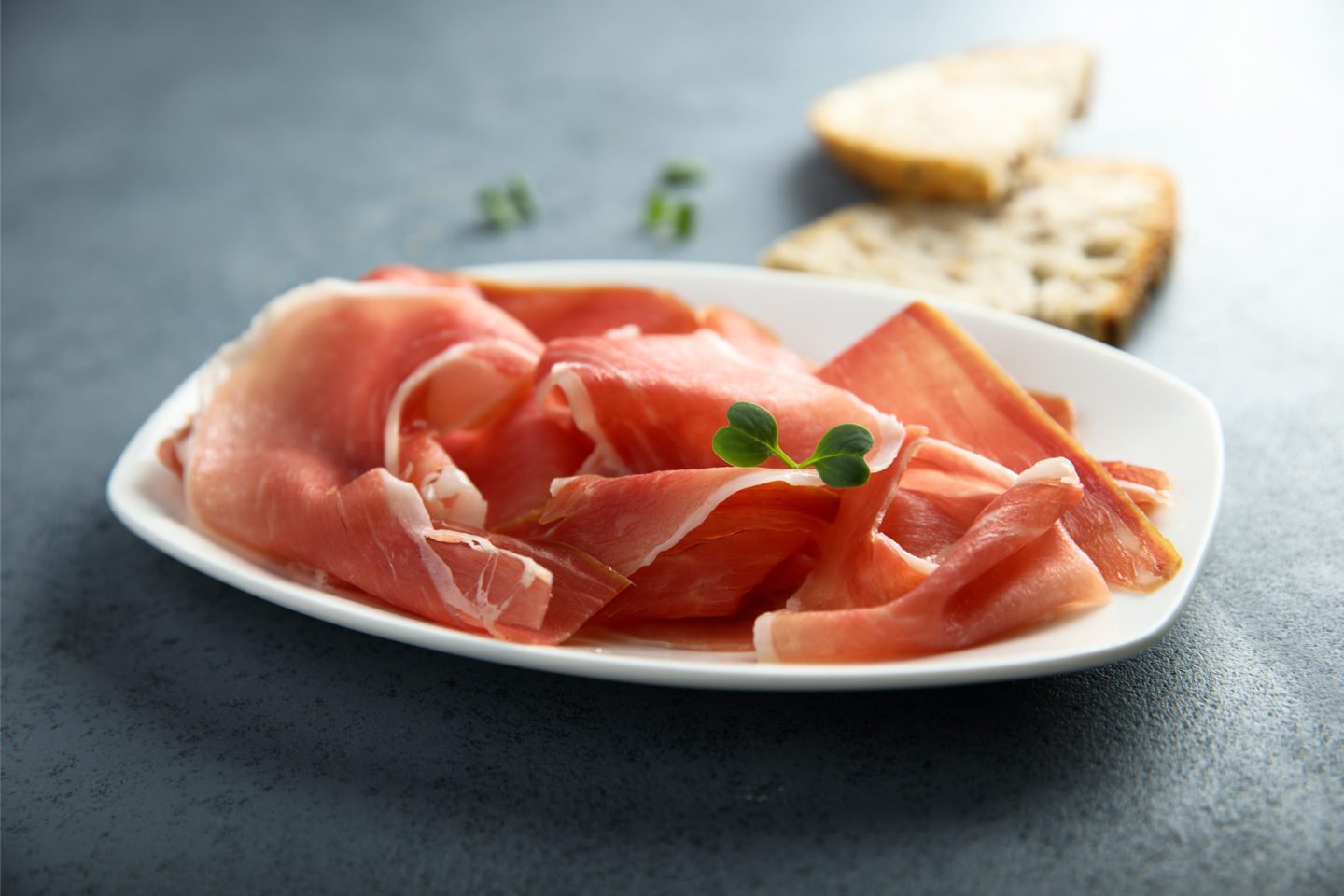 This world-famous Spanish ham is prepared and served just like prosciutto. It is usually cut into thin slices and then mounded to be eaten on its own or with fruit and bread. If you happen to have some on hand, don't hesitate to swap it out for prosciutto.
However, finding serrano ham in the United States might be difficult since Spanish pork products have long been banned there. That doesn't mean it's unsafe, though, as many worldwide still enjoy it.
In terms of flavor, serrano ham has a more intense taste compared to prosciutto's sweetness. It is also a bit darker in appearance and has similar patterns of fat streaked throughout.
2) Capicola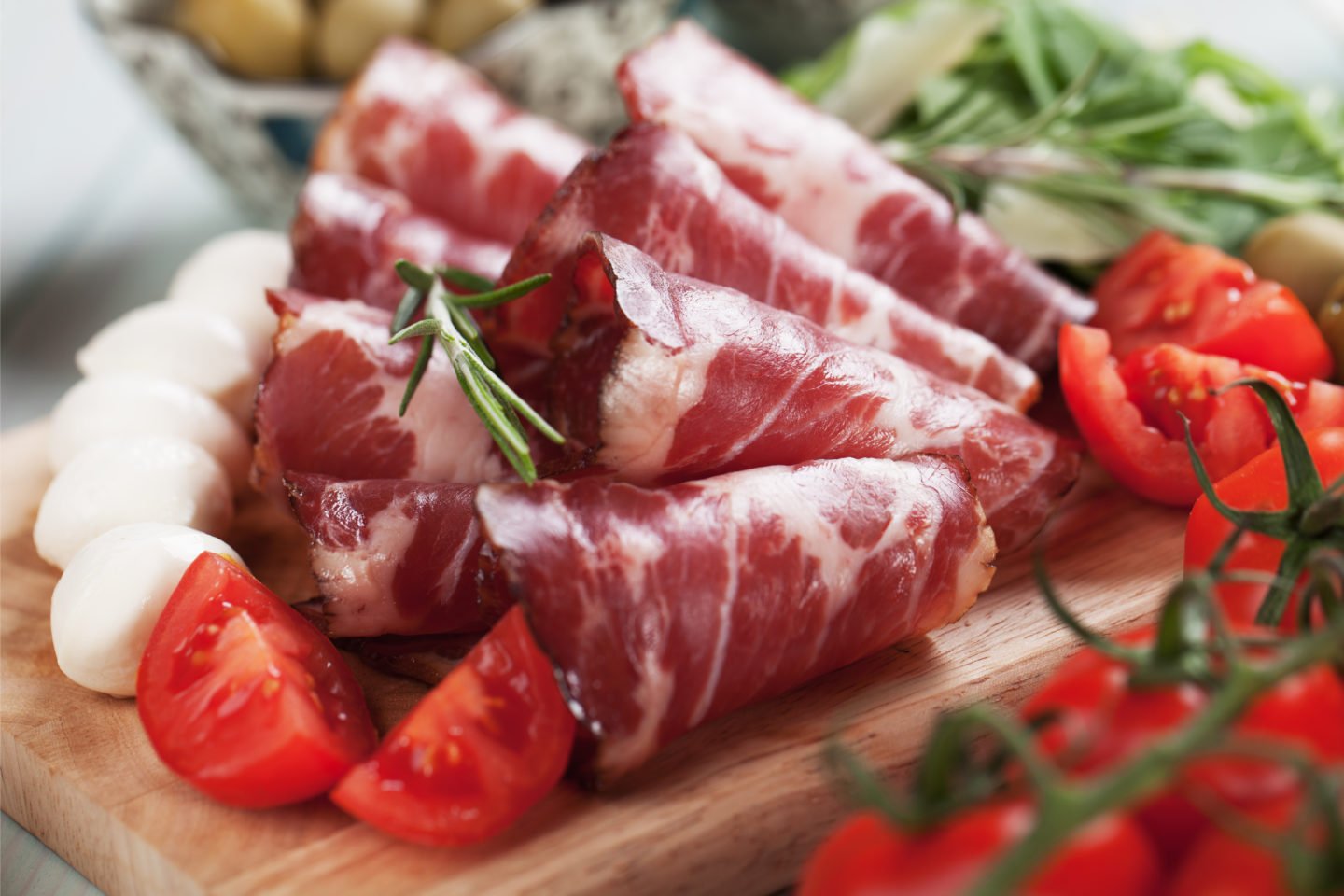 If you're looking for an all-Italian alternative, you can't do better than capicola. Commonly found in Italian delis, capicola is another dry-cured meat with a deep, rich flavor. The difference is that capicola is taken from the hog's neck or shoulder, as opposed to the leg, like prosciutto.
Capicola has a similar taste to prosciutto but with a bit smokier flavor. Its fat pattern is different, with thicker streaks instead of prosciutto's thin veins of fat.
3) Pancetta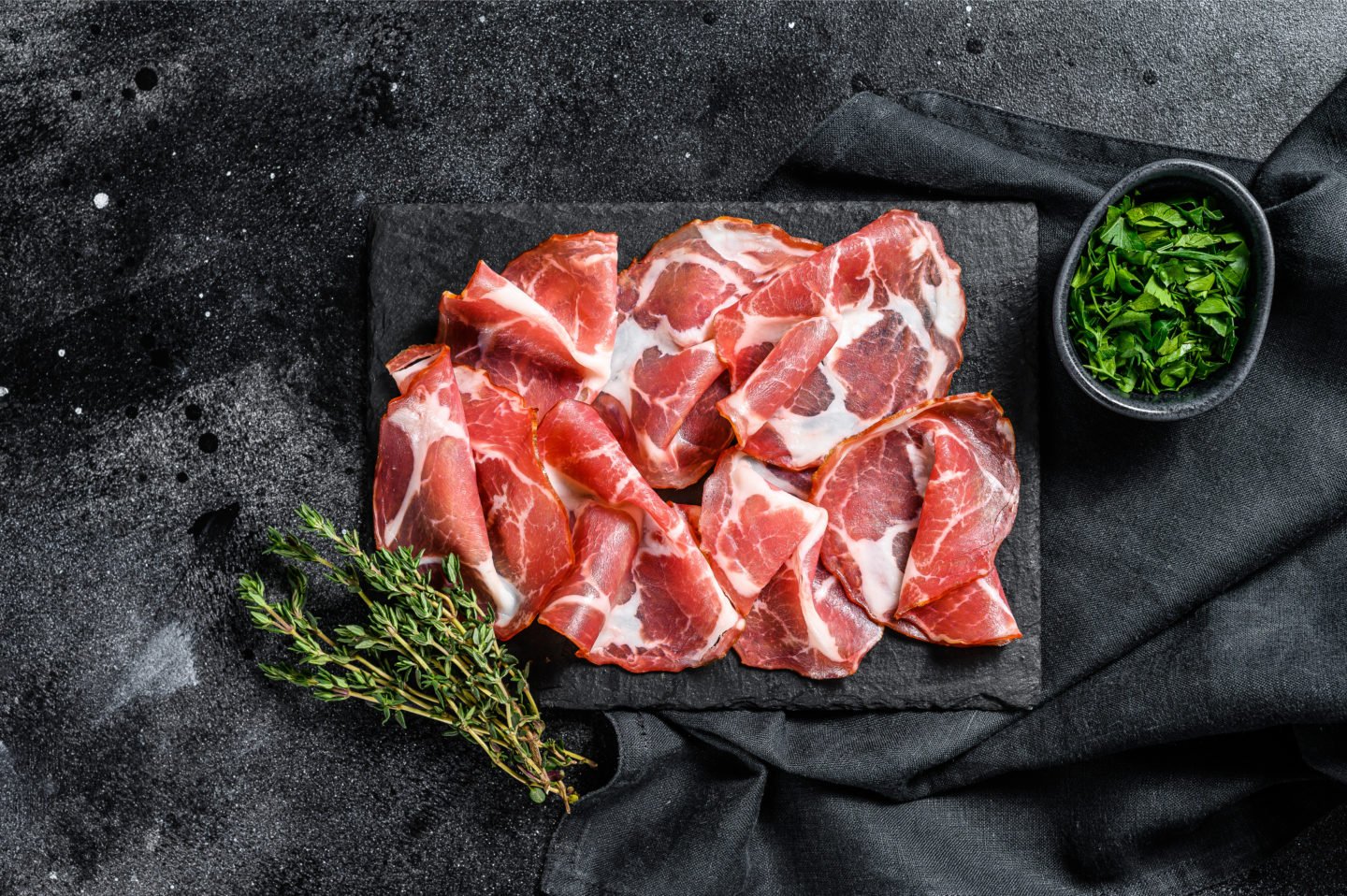 Pancetta can be a great alternative for prosciutto when incorporated into dishes that can use extra fat or salt. Often referred to as Italian bacon, pancetta crisps up nicely in a hot pan, serving to season a dish or add a bit of crispy texture.
However, pancetta is not as good eaten plain because of its higher fat content. While it is safe to do so, it is more commonly seen in classic dishes like pasta carbonara or chopped up on salads.
4) Bacon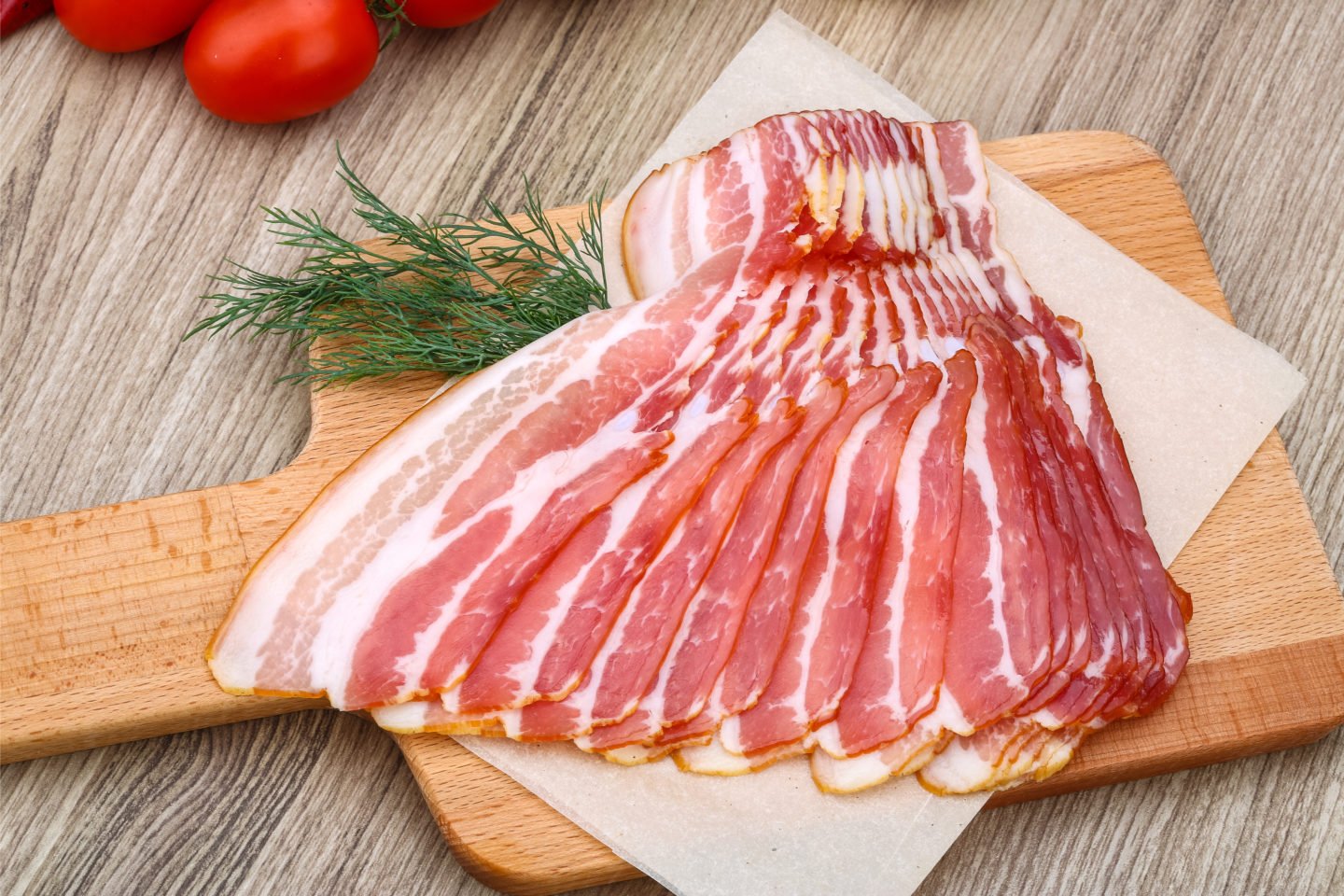 Bacon has a very different flavor and texture than pancetta and more fat. However, it can be a good option to consider because it's so common. Try it wrapped around asparagus, in carbonara, or to flavor pasta sauce.
The difference in flavor comes from the curing process. Unlike prosciutto, bacon is usually smoked, bringing a strong woodsy flavor along with its greater fat. It's also much thicker.
Don't forget that, unlike prosciutto, bacon should never be eaten raw. While properly cured bacon can be eaten raw like other cured meats, most of the varieties found in the grocery store are not cured as thoroughly.
5) Soppressata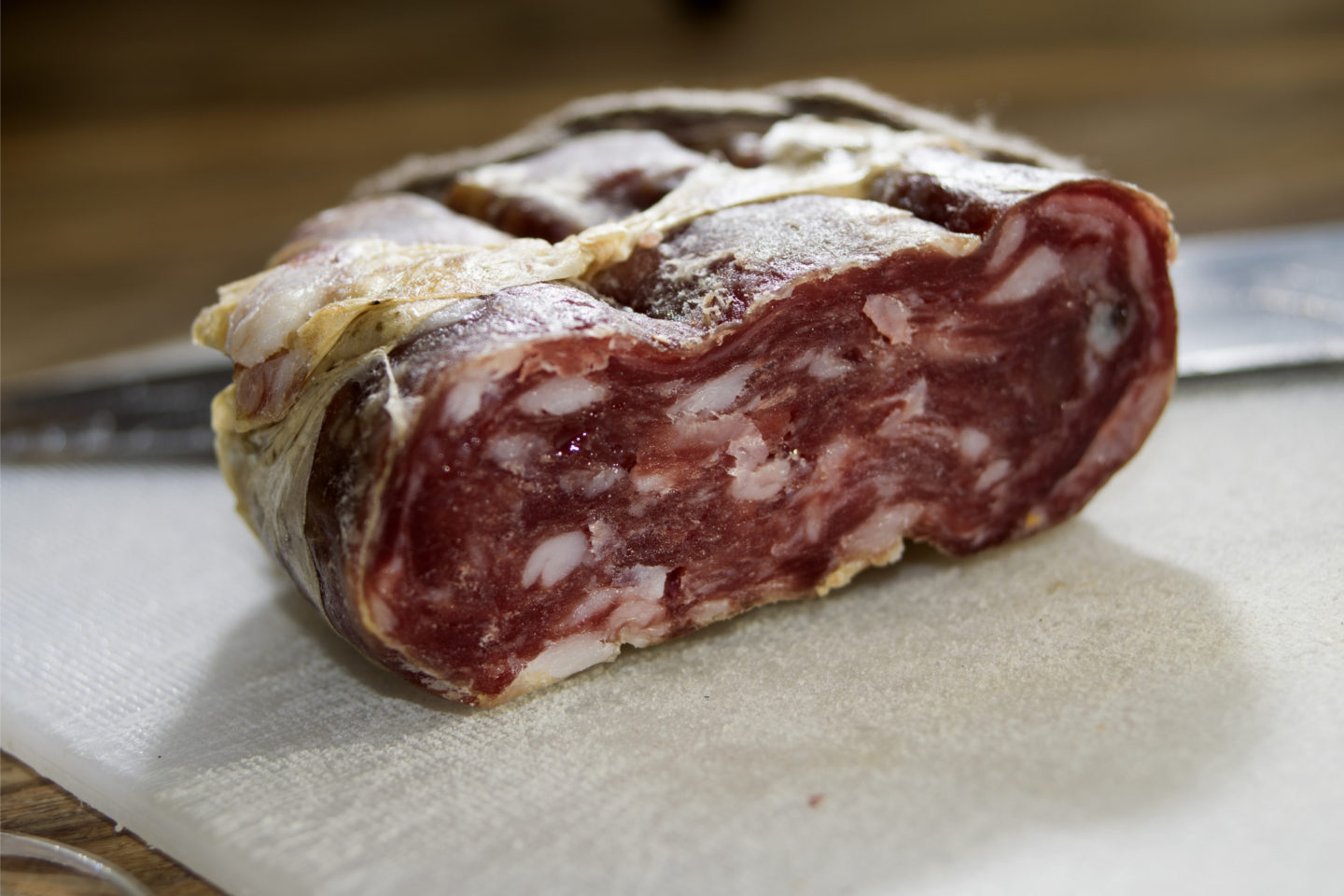 You can spot soppressata easily by its dark red color and large white spots of fat. It has a similar appearance and flavor to salami because it is actually a variety of salami. It can be a good stand-in for prosciutto if you don't mind a bit of extra fat and spice.
The texture of soppressata is also a bit different than that of prosciutto. It's tougher and more toothsome, as opposed to prosciutto's chewiness. It's a bit too tough to cook with, though it can make a good alternative for charcuterie boards.
6) Culatello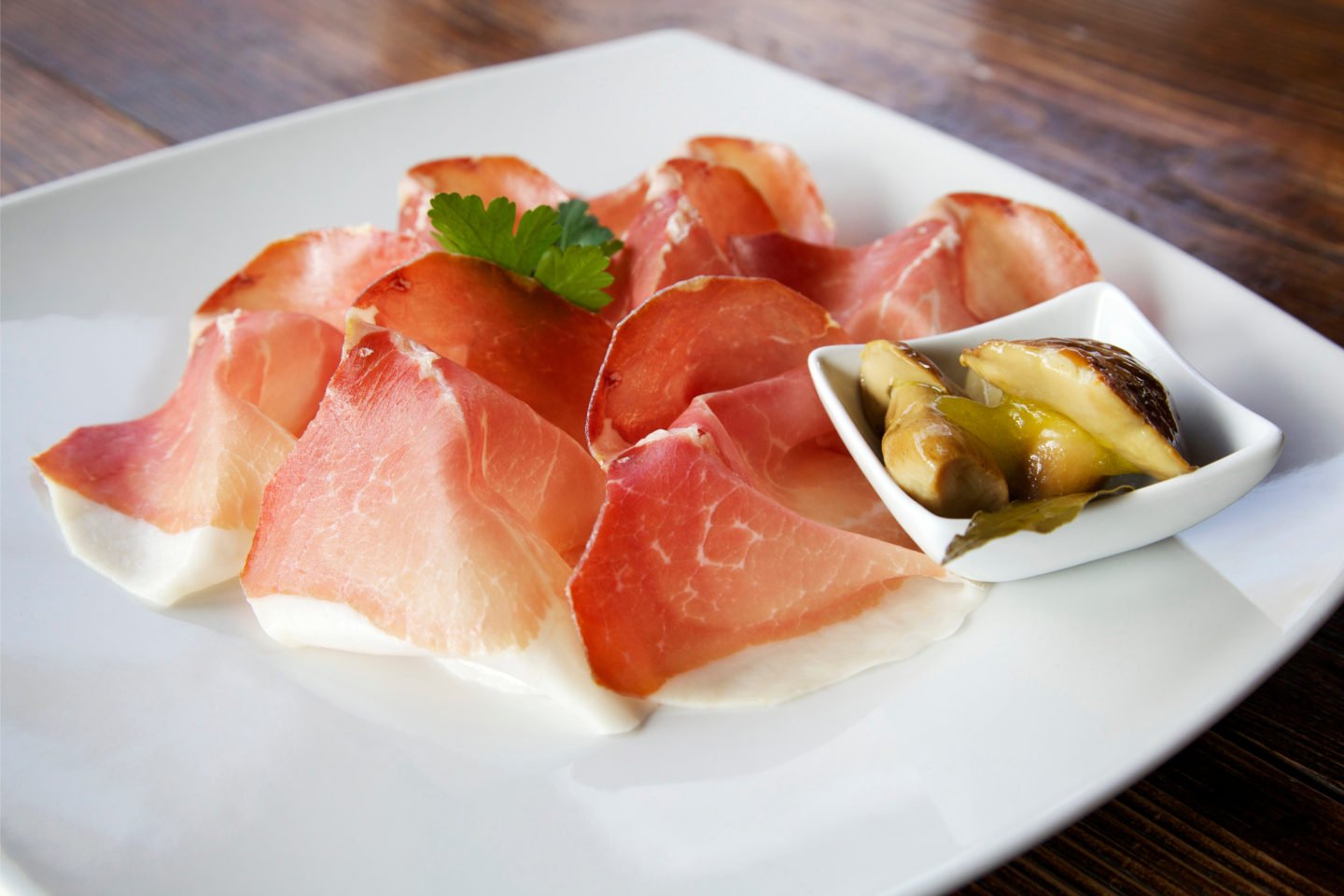 If you can find it, culatello may be an even better prosciutto alternative than the options listed above. It undergoes a similar curing process, resulting in a familiar flavor, texture, and appearance. The key difference is that culatello is cut exclusively from the thigh muscles and has less fat.
The lower fat content means it's not ideal for all cooking applications. Though if you're looking for a prosciutto-like snack, you can't do better. The main reason it's not ranked higher on this list is that it's not that common in the United States.
7) Guanciale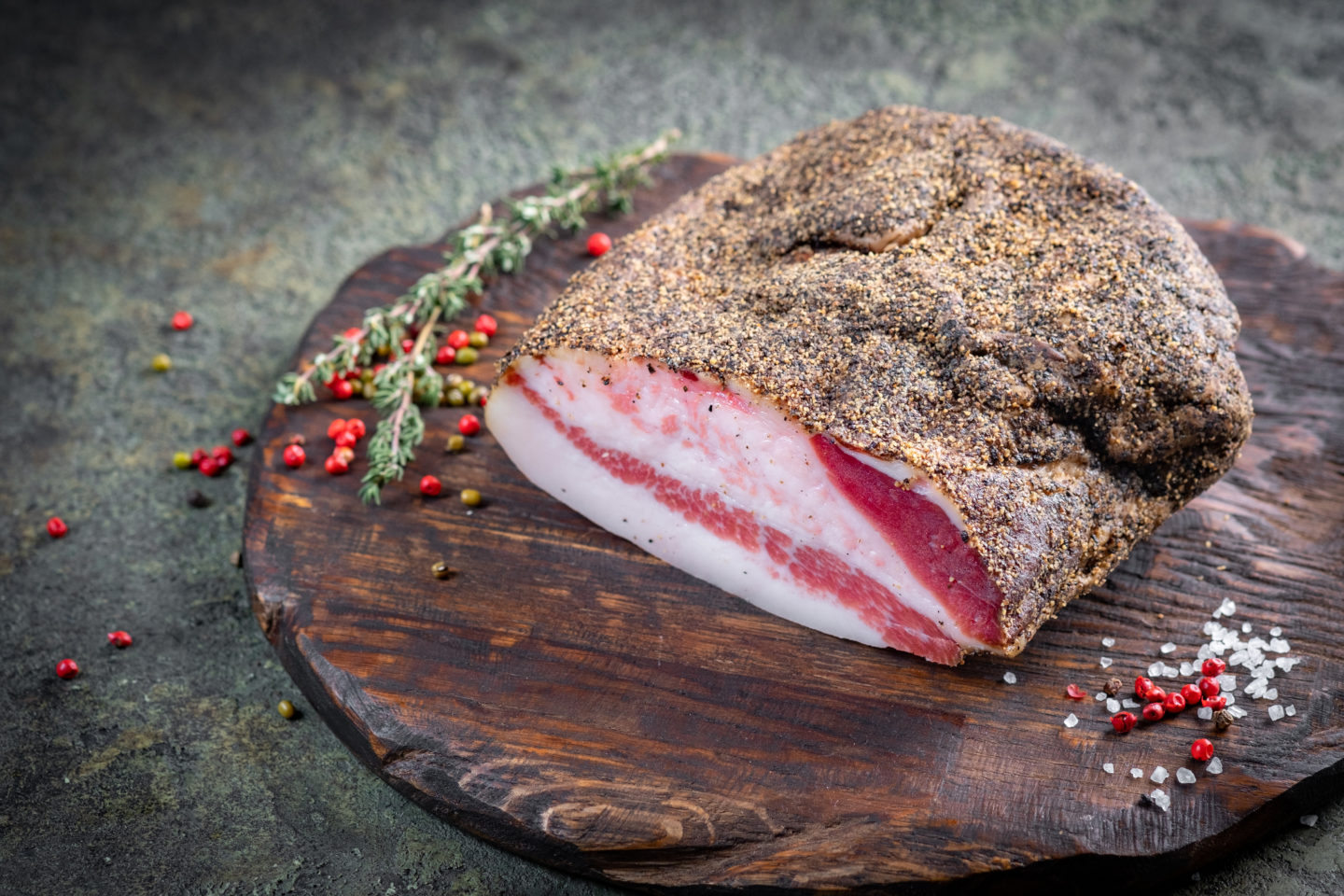 For cooking applications, guanciale is an Italian chef's best friend when it comes to adding a full dose of umami flavor and salt. It is most commonly used in pasta carbonara but is also used in many pasta dishes.
In addition to being used as an ingredient, guanciale can also be eaten as is, just like prosciutto. It has a much higher fat content, giving it a creamy and smooth flavor with smoky undertones. In this way, it is similar to bacon.
8) Salami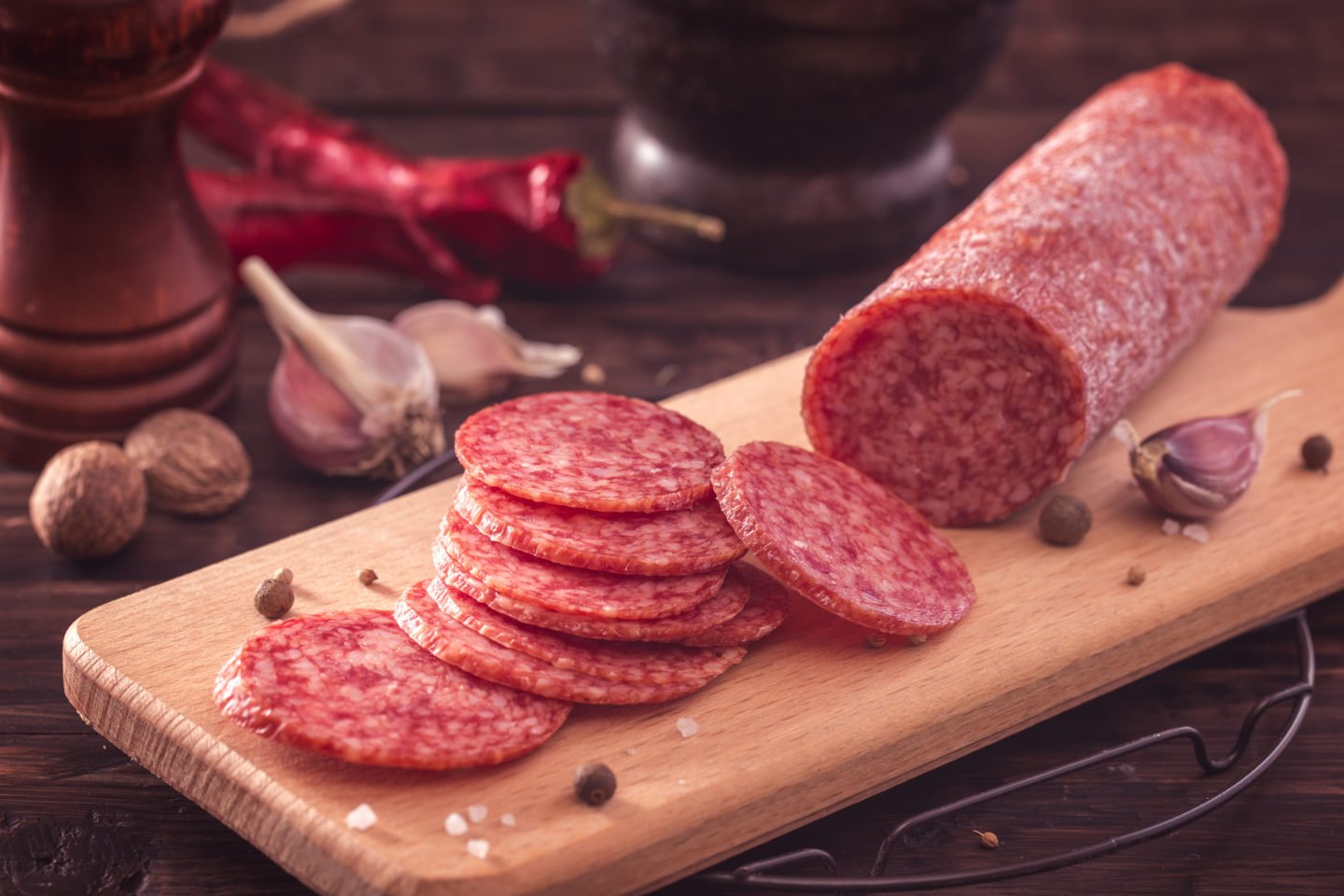 Perhaps the cured Italian meat most commonly found in American delis and grocery stores, salami brings plenty of flavors. While it isn't exactly like prosciutto, it brings similar levels of fat and salt, as well as a tangy umami bite. Try using it in sandwiches or just to snack on.
You'll find it a bit tougher and more springy than prosciutto when eating salami plain. Its flavor is also stronger, without the subtle sweetness and more delicate notes.
9) Mortadella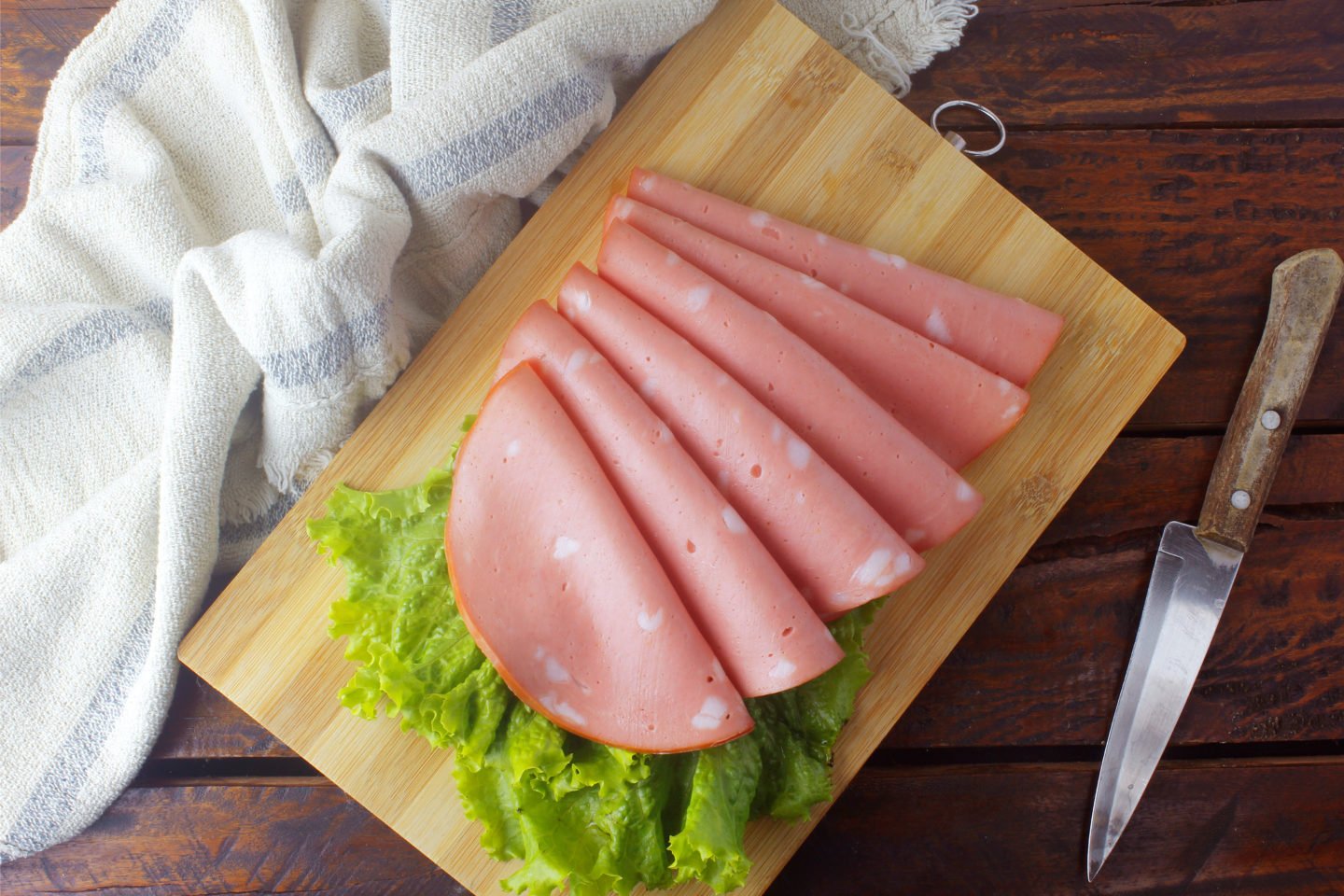 Consider using mortadella if you're looking for a tamer prosciutto replacement for your charcuterie board. It is similar in flavor and texture to bologna, but it can be identified by the white circles of fat across its surface. It has a much different flavor than prosciutto, but it's still great for snacking on.
Because of mortadella's texture, it's probably not a good replacement for prosciutto when cooked, and shouldn't be swapped in for pancetta or guanciale. Instead, try using it for sandwiches, which is where it really shines.
10) Deli Ham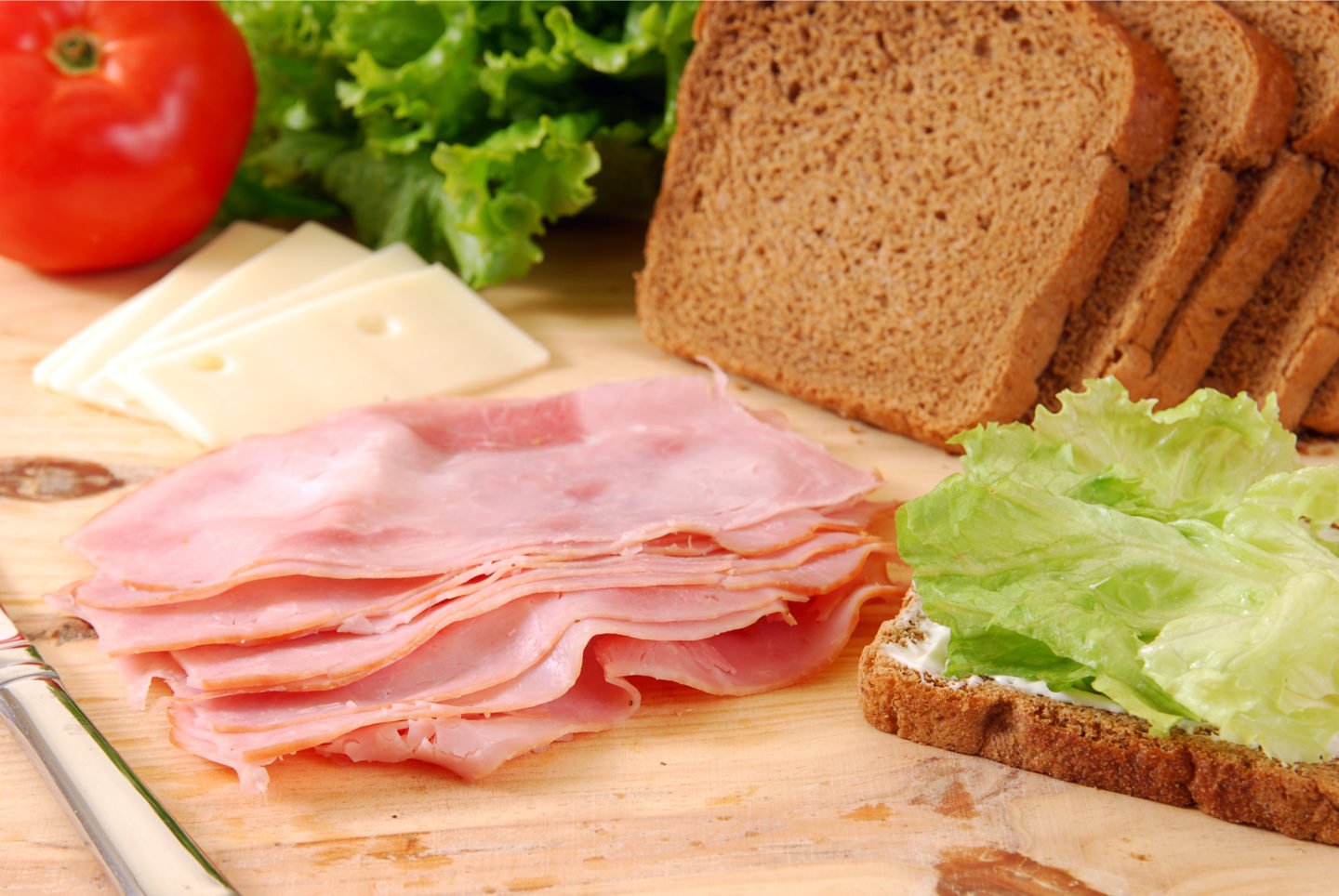 Sometimes, the best substitutions are the simplest, which makes regular deli ham a natural prosciutto alternative. You'll notice right away that the flavor is much less complex than its dry-cured cousin, and it is much less chewy. Still, if your main goal is adding salt and pork flavor to your food, it's a reliable stand-in that makes great sandwiches.
If you plan on cooking with ham, be sure to remember that it lacks the fat of meats like prosciutto, bacon, or guanciale. This means that it will burn much more easily if excess oil isn't added along with it.
11) Duck Prosciutto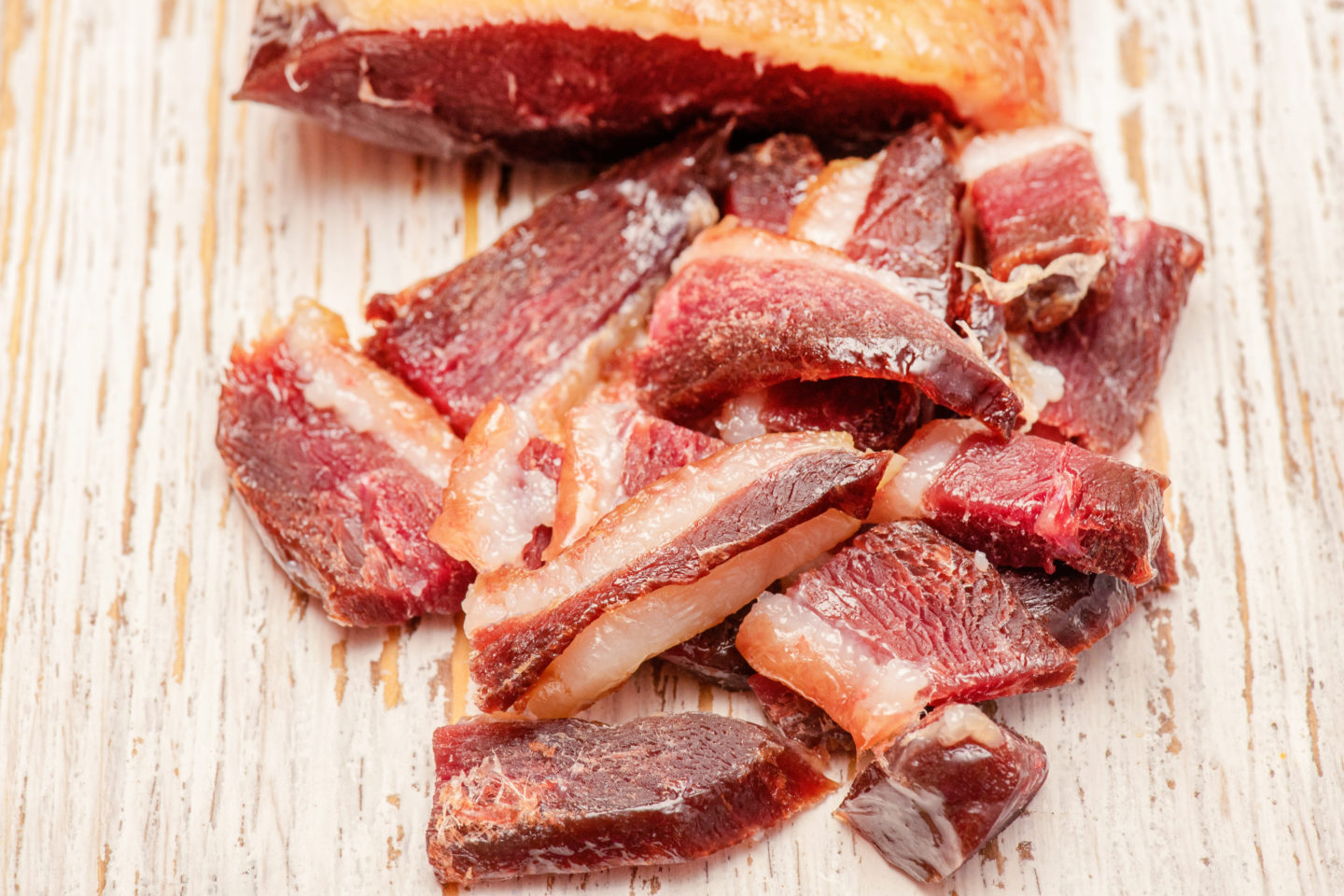 If you've never tried duck prosciutto, you might be surprised at how similar it is to the traditional variety. It has the same deep red color and is a close match in flavor, though it is a bit less salty. The other key difference is that duck prosciutto has a different fat pattern, with most of the fat located around the edge of the cut.
Aside from that, you can use it in much the same way as the pork variety. Though if you plan on cooking with it, be aware that it tends to dry out a bit easier.
12) Beef Bresaola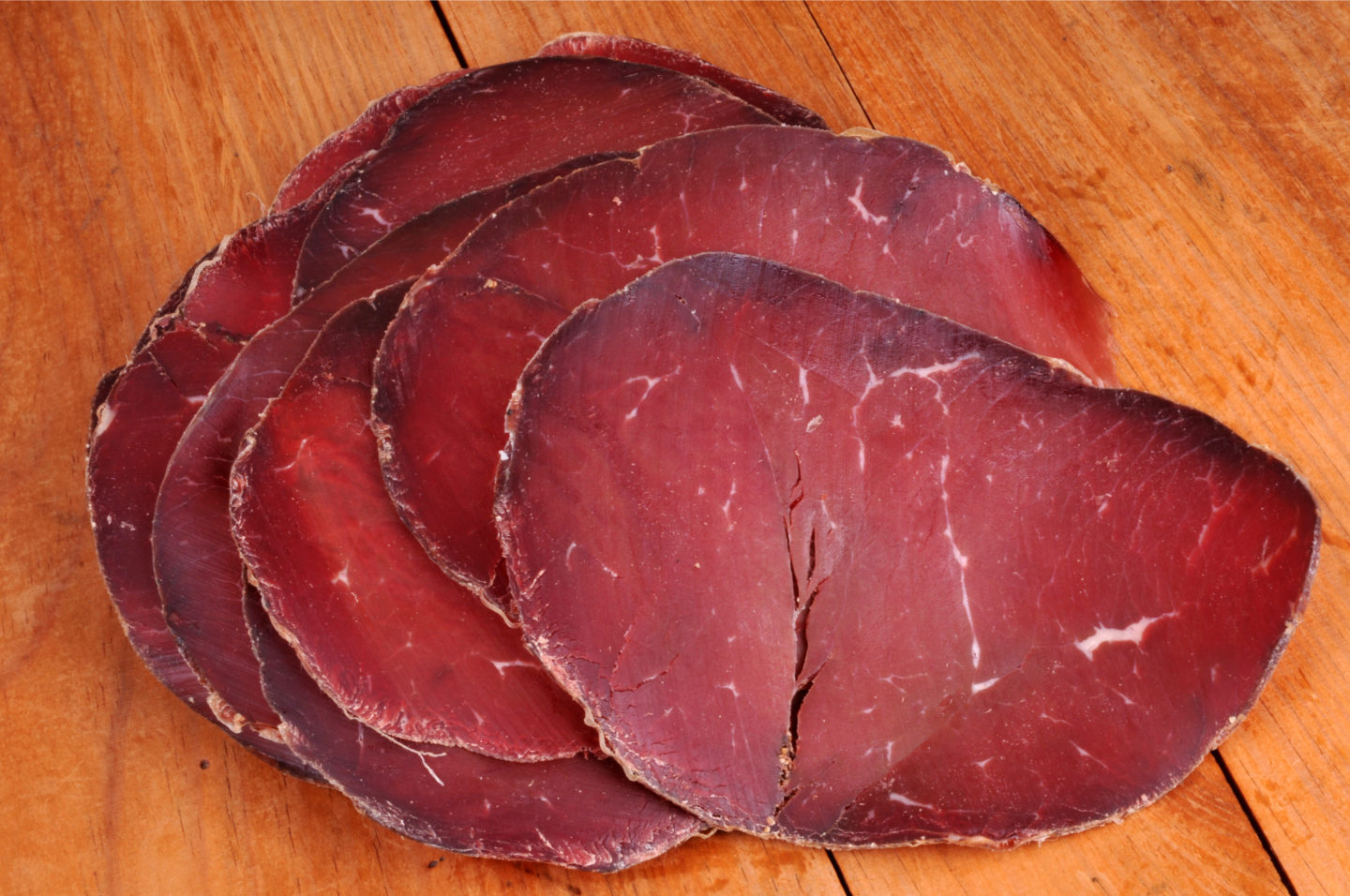 Bresaola is the beef equivalent of prosciutto, bringing all the deep flavors of cured meat in a non-pork alternative. It uses the same dry curing method as prosciutto, so it's no wonder their flavors are so similar. It has a deep, ruby red color, like its pork-based cousin.
You can tell just by looking at it that bresaola is much leaner than prosciutto, with only thin veins of fat marbled throughout. Generally, prosciutto has a stronger and slightly saltier flavor.
13) Mushroom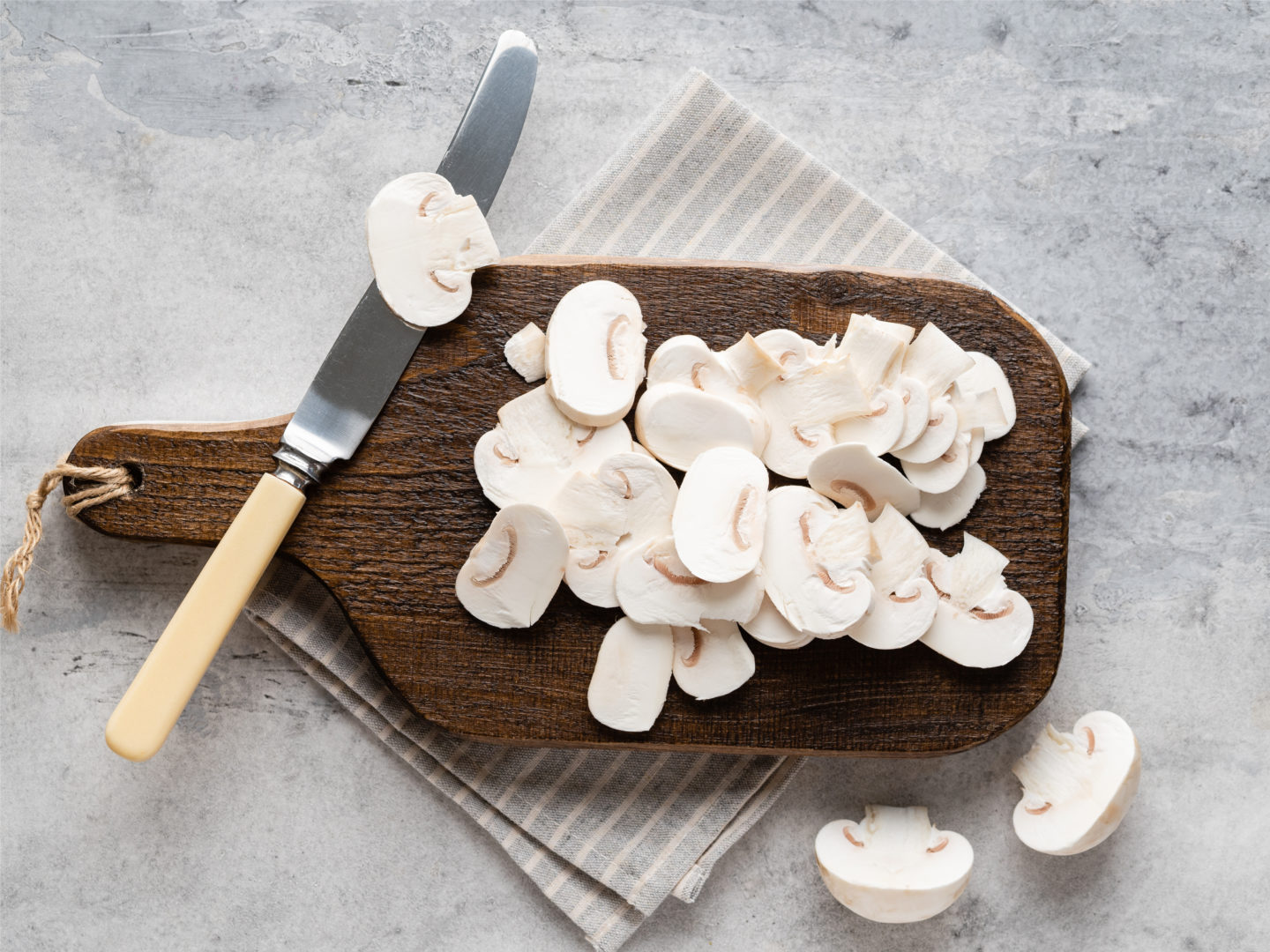 While mushrooms don't have the same cured meat flavor as prosciutto, the right preparation can make them a close vegetarian alternative. Try cutting them into thin slices, marinating in soy sauce and sesame oil, and then baking. The result will be a toothsome bite with a complex flavor that rivals any cured meat.
On a charcuterie board, you can also serve whole sauteed mushrooms alongside other meats and cheese. A shiitake or maitake especially will be a natural fit with their rich, umami flavors.
14) Cheese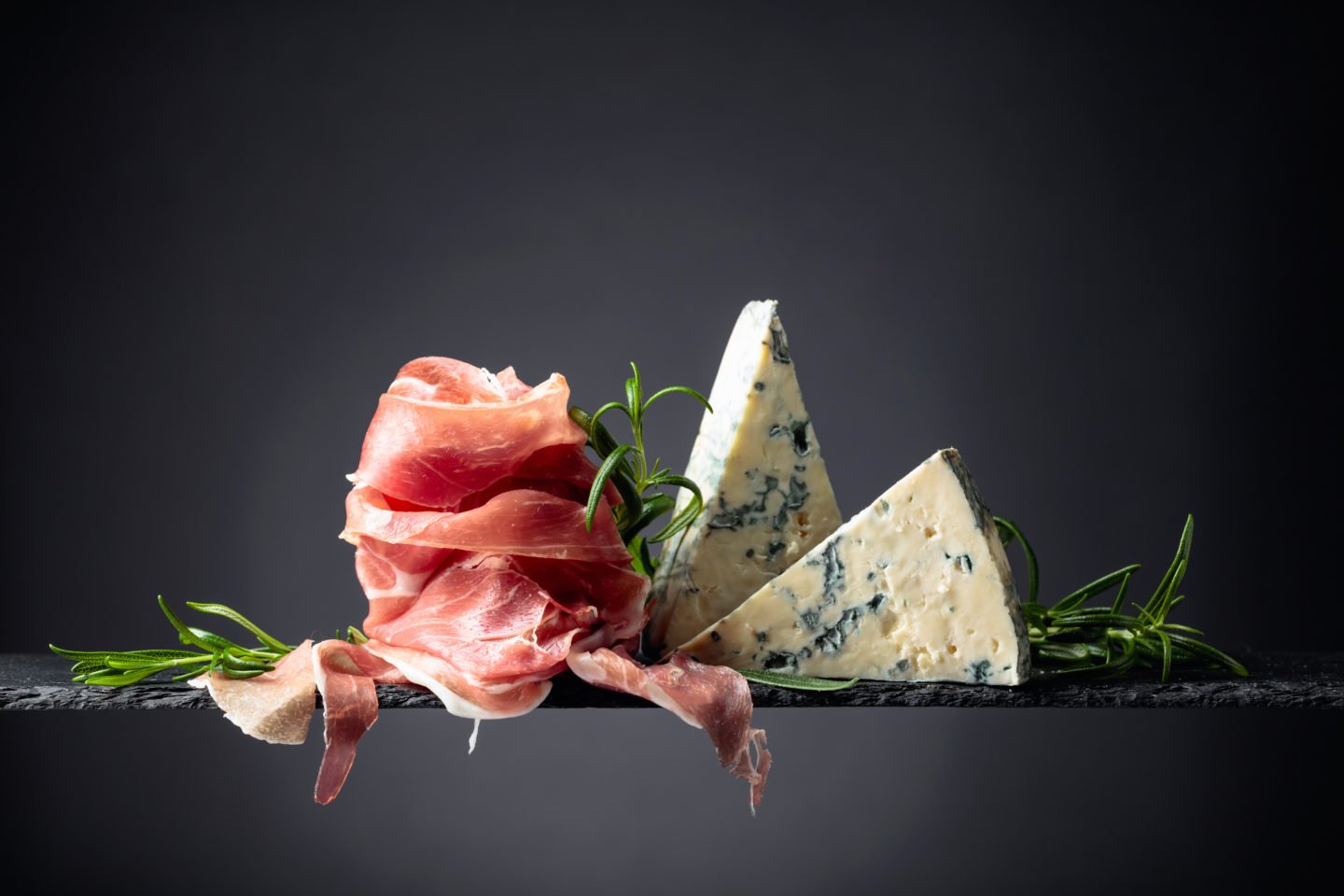 The reason why cheese and meat are often paired together is that they have similar but complementary flavors. A smoked cheese like gouda can offer some of the same deep, rich flavors of prosciutto. A more pungent option like bleu or camembert can match the complex tang.
Whether you eat them together as a snack or put them on a sandwich, it pays to think carefully about your cheese and meat pairings. A classic Italian option like asiago or parmesan can be good bets when in doubt.
15) Tofu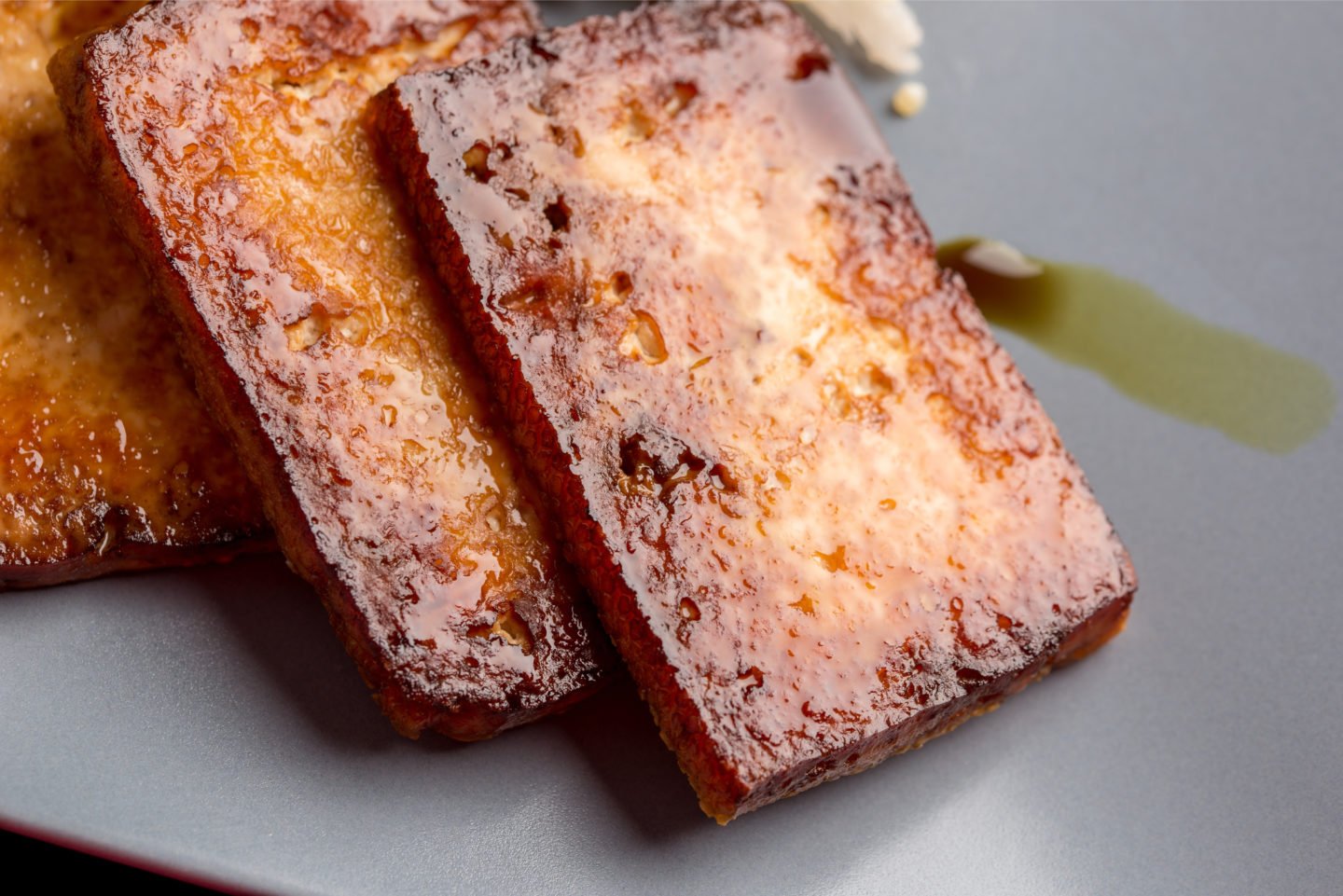 Tofu isn't the most impressive protein in its raw state, with a mush texture and bland flavor. However, the right sauce or marinade and a bit of time in the oven can completely transform this soy product into something delicious.
If you want to bring its flavor closer to prosciutto, try marinating it in soy or Worcestershire sauce. Then, bake at a low temperature for 45 minutes, until it has reduced in size. This will give it a nice, deep color and a more chewy texture.
Summary Table
| Substitute | Notes |
| --- | --- |
| Serrano Ham | This Spanish delicacy has a rich and nutty flavor, not unlike prosciutto. |
| Capicola | Often cut a bit thicker, it's a close alternative with a smoky flavor. |
| Pancetta | This salty cured pork product is best used when cooking classic Italian dishes. |
| Bacon | Flavorful and commonly available, it is many cooks' first choice. |
| Soppressata | It has more spice than prosciutto but features a fantastic cured meat flavor. |
| Culatello | A saltier alternative to prosciutto with a slightly smoky flavor. |
| Guanciate | Similar to pancetta, this cured meat comes from the pig's cheek. |
| Salami | One of the more commonly-found cured meats, salami has a tangier, spicier flavor. |
| Mortadella | Much more mild and tender than prosciutto. |
| Deli Ham | While not as fancy as other options, it adds salt and pork flavor. |
| Duck Prosciutto | Surprisingly similar to pork prosciutto, with a dark and rich duck flavor. |
| Beef Bresaola | The closest alternative made of beef. It's slightly sweet and smoky. |
| Mushroom | When sliced thinly, they can make a good substitute for certain dishes. |
| Cheese | While dissimilar to prosciutto, it can make a good replacement on charcuterie boards. |
| Tofu | The right preparation and seasoning can truly transform this soy product. |
Related Questions
What is prosciutto?
Prosciutto is one of the most famous cured meats from Italy. It is made of the hind leg of a pig, salted, and stored for several weeks in a cool, dry place.

Prized worldwide for its sweet and salty flavor and delicate texture, prosciutto is often eaten on its own, but can also be used in various dishes to add salty flavor.
Is it safe to eat prosciutto raw?
The prosciutto you buy in a store is usually uncooked, making some wonder whether it is safe to eat. While most pork products need to be thoroughly cooked before consumption, prosciutto and other cured meats are exceptions.

The curing process involves regularly rubbing salt over the meat as it ages. This salt draws out the moisture from the meat, which prevents bacteria from forming. The result is uncooked meat that is 100% safe to eat.
Are there different types of prosciutto?
There are two main types of prosciutto: prosciutto cotto and prosciutto crudo.

Prosciutto crudo is the type you are most likely to find in the grocery store and on restaurant plates. It is cured with salt but not cooked, giving it an intense flavor and a unique texture.

Prosciutto cotto is cooked before curing and, as a result, has more moisture than the uncooked variation. It is often sliced or rolled and is a great option if you want a less salty flavor.