Potato leek soup is a classic French dish that's quick and easy to make at home. This delicious recipe is creamy, smooth, and packed with nutritional goodness.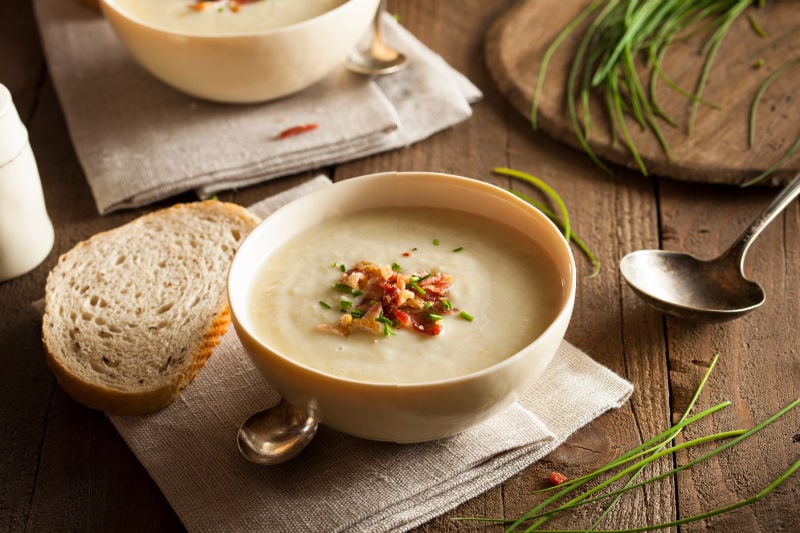 Table of Contents
How to make potato leek soup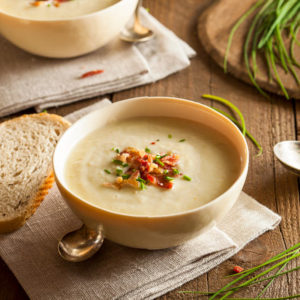 Classic Potato and Leek Soup
Potato leek soup is a classic French dish that's quick and easy to make at home. This delicious recipe is creamy, smooth, and packed with nutritional goodness.
Ingredients
3

tbsp

butter

1

brown onion

1

white onion

2

cloves

garlic

peeled and crushed

2

large

leeks

chopped

2

lbs

potatoes

peeled and chopped

6

cups

vegetable or chicken broth

2

bay leaves

1

cup

heavy cream

salt and pepper to taste

2

rashers

bacon

chives

for garnish
Instructions
Add the butter to a large pot and heat on medium until melted. Toss in the onions and garlic and cook for 3 minutes.

Add the leeks and potato and cook for five minutes or until the leeks are softened.

Reduce the temperature as needed to avoid browning the vegetables.

Pour in the broth along with the bay leaves and seasoning. Bring the soup to a boil then reduce the heat and cover the pot with a lid. Simmer until the potatoes are well cooked, roughly 15 minutes.

Remove from the heat and scoop out the bay leaves. Use a stick blender (immersion blender) to purée the soup until you reach a smooth texture.

Pour in the cream and return to the heat until simmering. Taste test and add more seasoning if needed.

Fry the bacon until crispy then chop into small bacon bits.

Serve the potato and leek soup with a garnish of finely chopped chives and bacon bits.
Advice on Ingredients
Broth: It's fine to use vegetable or chicken broth. Although some people use water instead of stock, you'll find it lacks flavor.
Leeks: Choose fresh, vibrant green leeks that are in season. They're an important ingredient but if you can find and, use one of these leek replacements if you're in a pinch.
Cream: This soup is naturally creamy from the blended vegetables. People looking to cut the fat content in their diet can leave the cream out and it'll still taste delicious. The cream is there to provide a silky mouthfeel.
Potatoes: Starch varieties of potatoes like the Russet, Maris Piper, or Sebago are best for soup recipes. Once cooked, they break up easily and will quickly turn creamy when blended. Waxy potatoes are more likely to become gluey if blended for too long. Check out our guide to popular potato types to learn more.
How to Cut Leeks
Prepping a leek is simple and won't take long. Start by slicing off the root and checking if any dirt has got wedged in between the layers. Give it a rinse to remove the dirt if needed.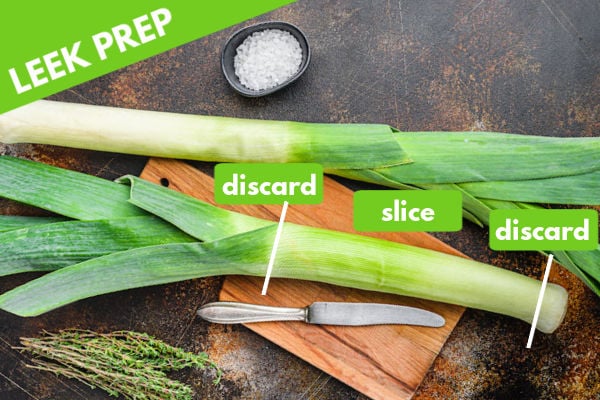 Cut off the green leaves as they're tough and not ideal for making soup. You can discard them or use the leaves next time you make stock. You'll be left with a cylindrical shaft that can be sliced thinly, horizontally.
We've created a video on how to prep a leek here so check it out if you need help.
Tips for Making the Perfect Potato Leek Soup
Be careful when blending
Take care when blending the soup as it will be hot. Keep it under the surface or you could get burned from soup splash!
Take time to get the thickness perfect
Getting the right consistency for your soup is easy. If it's too watery then keep simmering until it reduces; soup that's too thick can be fixed by stirring in a little stock or water.
Choose the right pot for the job
Use a Dutch oven or a heavy-bottomed pot if you have them. They are ideal for distributing the heat evenly and reducing the chance of burning the food.
Don't over-process the potatoes
Be careful not to process the soup for too long with the blender. The potato will become an unpleasant sticky, gluey consistency. If you prefer a chunky style potato and leek soup then skip the blending step.
Use a stick blender if you have one
A stick blender is the best way to process the soup. If your only choice is a blender then mash the potato first.
How to store
Leftover potato leek soup can be stored in an airtight container refrigerated for 5-7 days. It can also be frozen for up to 3 months in freezer-safe bags or a suitable container.
Thaw the soup overnight in the fridge or reheat straight from the freezer. It can be reheated in the microwave or on the stovetop.
Soup is a perishable food and should not be left out of the fridge for more than two hours.
Related reading: A guide to freezing leeks.
How is potato and leek soup best served?
Leek and potato soup is excellent eaten as a starter with dinner rolls or a loaf of crusty bread. It can also be paired with kohlrabi slaw, Caesar salad, or bean salad. If you need a soup topping, some tasty ideas to try are coconut milk, parsley, chives, nutritional yeast, bacon, croutons, olive oil, or pine nuts.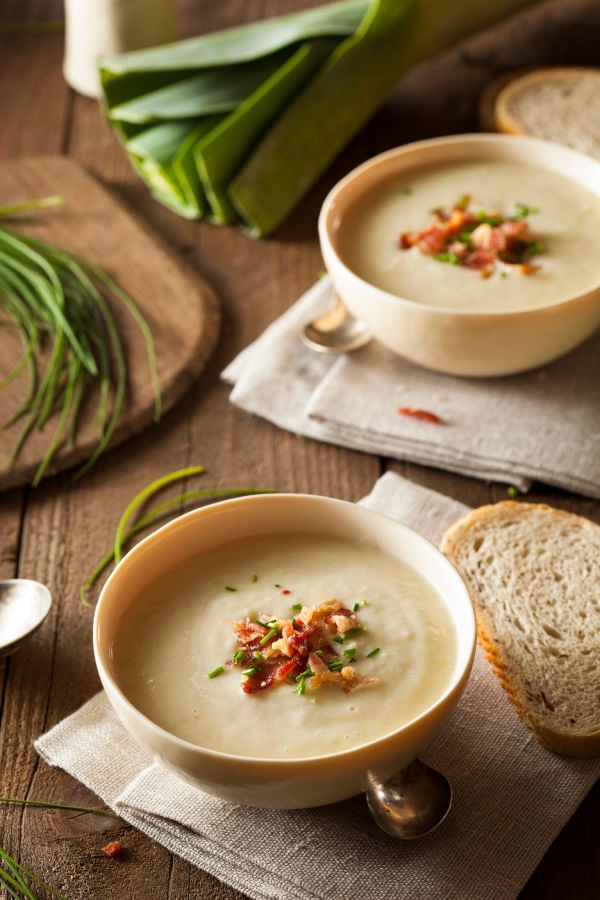 Related recipes:
Commonly Asked Questions
Can I make vegan potato leek soup?
For a plant-based alternative recipe, replace the butter used for sautéing with olive oil and the cream with coconut milk. Leave the bacon bits off the top and use pine nuts and croutons instead.
What potatoes are best for potato soup?
For smooth soup that requires blending, choose a starchy potato like Idaho or Russet. They are easy to blend when cooked, so there's less chance of the texture turning gluggy. If you prefer a chunky potato and leek soup, then you'll get great results with waxy potatoes like fingerling or red potatoes.
Should leeks be sautéed before adding to soup?
To help release the flavor and aromatics, it is best to sauté leeks and other vegetables like garlic and onions first in a large pot. The liquid can then be added to the vegetables.
What can you do with leek greens?
The hard, green stalky part of the leek can be sliced finely and fried into a crispy garnish. It's a delicious umami topping for fried rice, French onion soup, salads, and casseroles. Leek tops can also be used as a building block to make consommé.
Did you know? Leek soup is revered in Wales and Romania. In France, the soup gained popularity in the 19th century. They have a cold variant of this soup that is called vichyssoise. Also, check out our article on borscht if you like cold soups.
Summing up
If you have a few leeks not being used in the fridge then potato and leek soup must be one of the best uses for them. This is a classic dish that proves delicious doesn't need to be difficult. It's a failsafe recipe, so long as you keep the blending to a minimum.
If you're going for a French-themed meal, then try making these amazing clafoutis, which are surprisingly easy to make. For a bigger challenge, make this Genoese sponge for dessert.
For drinks, you could buy a bottle of French Lillet Blanc or shake up some French-inspired cocktails using Orgeat, St Germain, Crème de Mure, or Benedictine.