A good blender is worth its weight in gold, or so the old saying goes. Ok, no one has ever said that, but it is absolutely the truth that a quality blender is one of the most important appliances you can have in your home kitchen.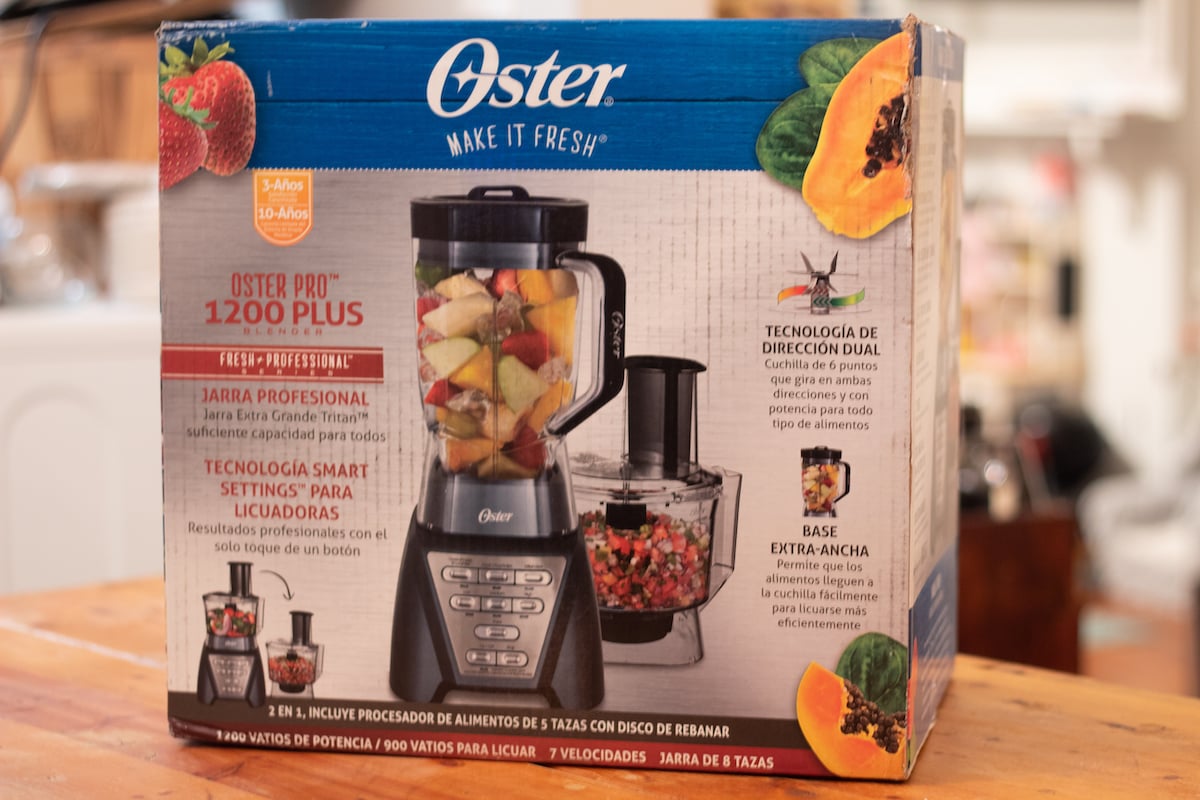 Whether you're making soup, smoothies, salsa, dough, or milkshakes, having a great blender at home can really make your life a lot easier. When choosing a blender there are several things you should keep in mind:
Size
Capacity
Functionality
Accessories
Over the past week, I had the opportunity to take the Oster Pro 1200 through its paces and I'm happy to report that overall, this is a great blending system. With some great attachments, a ton of functionality, and ease of cleaning I have rarely seen matched, if you stop reading here you can leave confident that the Oster Pro 1200 is a high-quality blender.
If you want a closer look at what made this blender such a great appliance, read on!
Table of Contents
What's in the Box?
The Oster Pro 1200 was well boxed and easy to unpack, with little extraneous packaging. Inside the box I found:
1 blender base
1 blender carafe
1 food processor body
1 blade assembly
1 shredder/slicer assembly and mounting extender
1 users manual
1 helpful tips sheet
How Does It Look/Feel/Sit?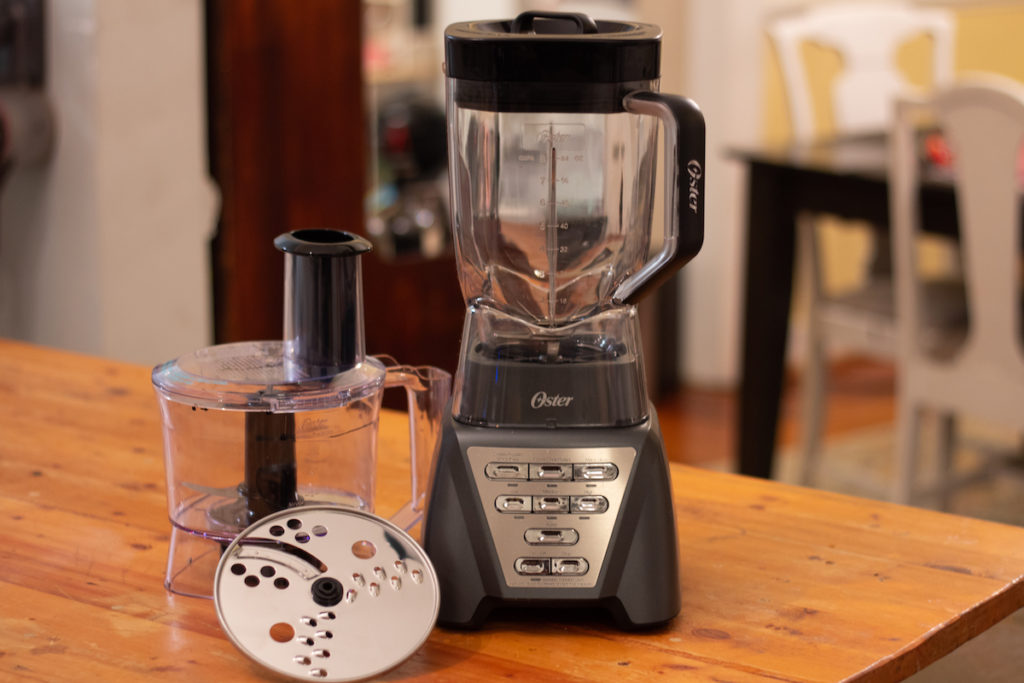 Overall the Oster 1200 pro feels like a high-end blender. The pitcher is sturdy and made from thick plastic. The top fits snuggly and it comes equipped with a removable top insert allowing the ability to add ingredients to the pitcher while the blender is in operation, a feature that will come in very handy when making vinaigrettes or smoothies.
The base isn't overly large and the control panel is intuitive to operate. It sits a little high so clearance might be an issue under lower cabinets, it should fit easily in a cabinet or drawer when disassembled.
The exterior of the base is a matte gray with a silver/chrome control panel. The brushed nickel buttons have a satisfying click and the cool blue led light lets you know the blender is powered on in an aesthetically pleasing fashion.
This blender model actually comes in two different blender pitcher designs. For this review, we had the 8 cups professional Tritan pitcher, but there is a model that comes equipped with a 6 cup glass pitcher as well as a 24 oz smoothie cup. The glass pitcher model however does not come equipped with a food processor attachment.
How Easy is it to Set Up?
The instruction manual for this blender is incredibly small. On a single page of text, I've rarely seen smaller operating instructions. The manual covers the necessary information to properly operate and clean your blending system. It just doesn't leave room for much else.
Setting up the blender was a snap. Blenders are pretty straightforward to put together, most of us have operated a blender at some point and there hasn't been a ton of innovation in this market segment over the years. While blenders of today have better controls, space-age design, and new materials, the overall operation isn't that much different from the blenders of yesteryear.
One frustration I encountered during set up is that if the blade assembly isn't fully tightened into the blender pitcher it can be awkward to get properly seated. Once I identified the issue, it was a quick adjustment to get everything to sit snugly, but I continued to encounter this issue throughout my tests.
Test #1:

Crushing Ice

As a kid, I lived all up and down the mid-Atlantic. For a few years at the end of elementary school, we called central Maryland home. It was during these years that I discovered "snowballs", a shaved ice/snow cone-like confection that was and continues to be one of my favorite summertime treats. It's similar to Italian-style water ice, but instead of being churned like ice cream or sorbet, all you need is a good blender, some ice, and flavored syrups.

Beyond snow cone or snowball production, crushed ice is great for cocktails or beverages in general. Being able to produce "snow fine" crushed iced on demand is a huge benefit to having a high-end blender.

For my test, I filled the 8 cup pitcher halfway with cubed ice and fixed the top to the blender before seating it on the base. Normally when crushing ice in a blender I like to pulse the ice to help get the final product as even and consistent as possible. In this case, I put the salsa/chop function to use so I could snap a picture of the blender in action as well as record the noise level.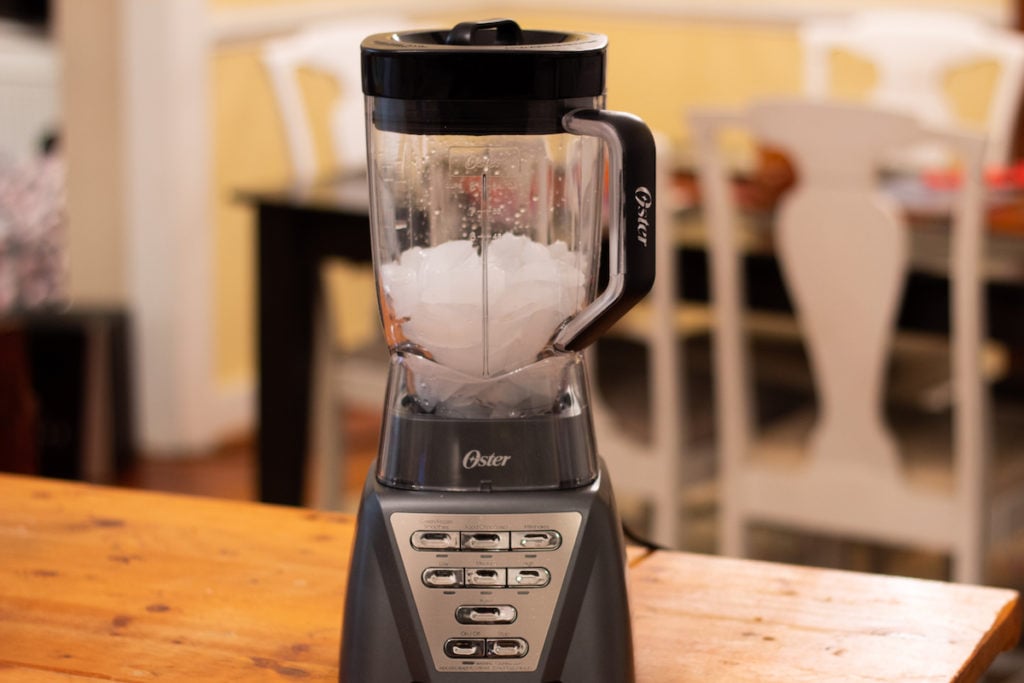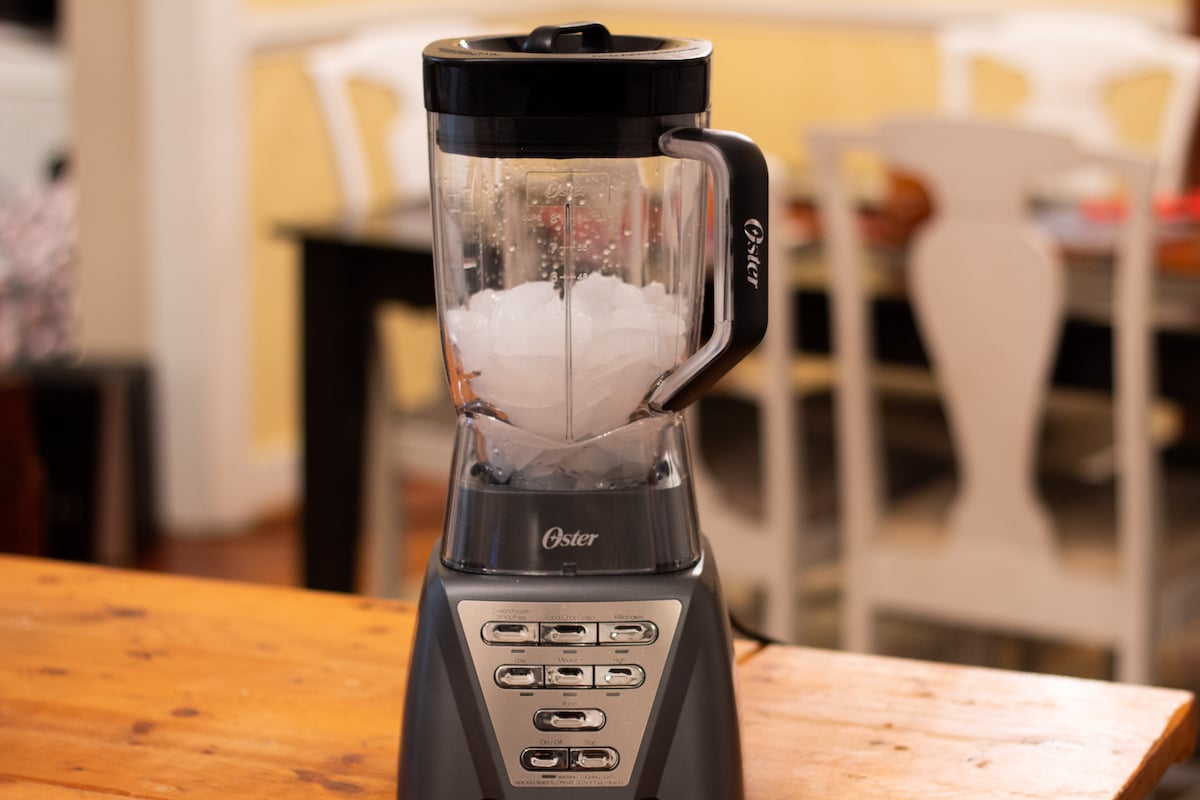 Crushing ice is not a quiet process. At around 90 decibels, this was one of the louder tests I performed. The brittle nature of ice and the tough plastic of the pitcher combined to create quite the cacophony. That being said, it was quieter than competing models which could reach 100 decibels, and the crushed ice I prepared in the Oster Pro 1200 was incredible.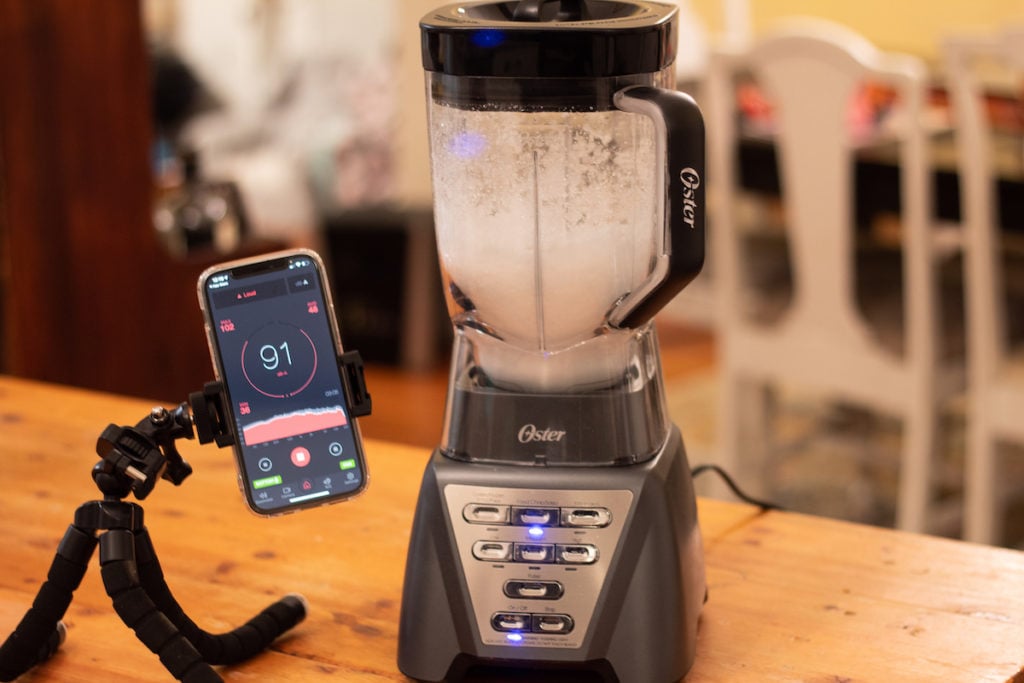 I like to use snow as a descriptor for crushed ice because it's easy enough to imagine the feeling of snow and compare it to a blender's performance. I mean it when I say the Oster Pro 1200 blending system creates crushed ice that is as fine as the softest snow.
I couldn't help myself with such incredible crushed ice at hand so I threw together an impromptu snowball. Overall, the ice was very well crushed and the chop/salsa function did an admirable job achieving a high-quality product. I only filled the machine about halfway and I ended up with a lot of crushed ice, if you filled the machine all the way to the top of its 8-quart capacity, you would end up with more than 5 cups of snow fine, crushed ice!
I do want to note that I used the chop/salsa function multiple times to achieve this level of crushed ice and it would be easier to simply pulse the ice accordingly. Whichever chopping mode or method you employ, the Oster Pro 1200 will make consistently "snow fine" crushed ice with ease.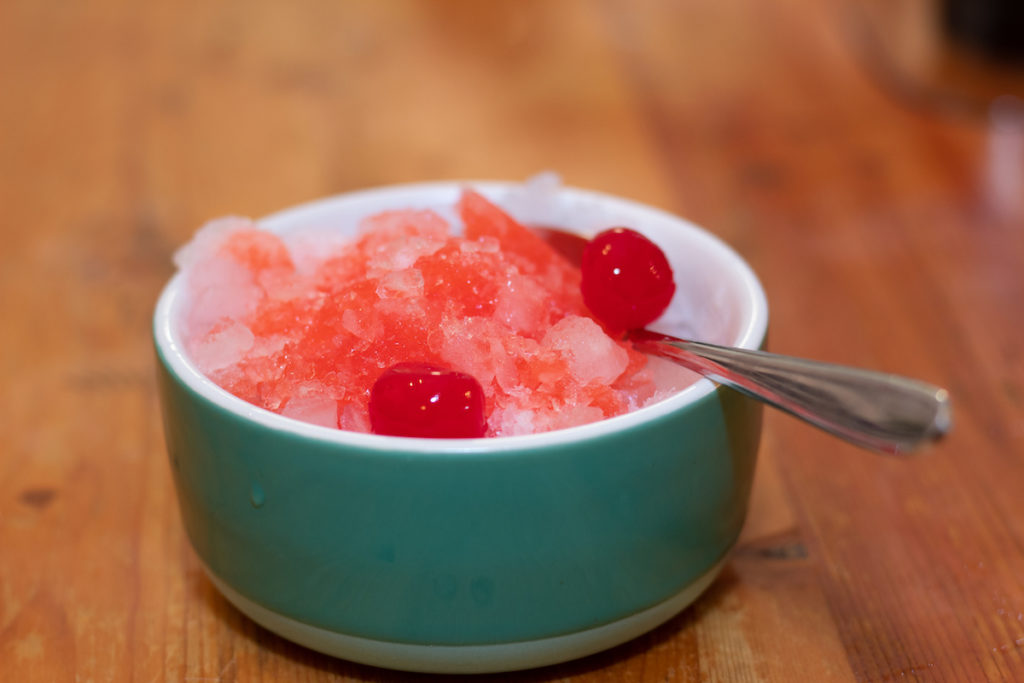 Test #2: Making a Smoothie
I start most days with a healthy fruit-based smoothie or a glass of freshly juiced fruits and veggies. I've never been a big breakfast person outside of brunch or the occasional indulgence. For me, a cup of coffee, some fresh juice, or a smoothie is the best way to get going in the morning.
I like to make my smoothies heavy on the substance, low on sugar and I like to use a lot of tough or frozen ingredients. Overall, my smoothies are a meal unto themselves and they give me a ton of energy for the first few hours of my day.
Having a super strong blender is key to making a hearty smoothy, especially if you are using frozen ingredients and adding things like chia seeds or hemp hearts. One thing I was looking forward to testing was the smart settings/pre-programmed functions.
My blender has been a pretty straightforward analog model for the past few years, and while I love it, it doesn't have a one-touch operation like the Oster Pro 1200. Thanks to the 3 pre-programmed settings and dual direction blade technology this blender can create perfect smoothies or salsa by altering the speed and direction of the blade during the blending process.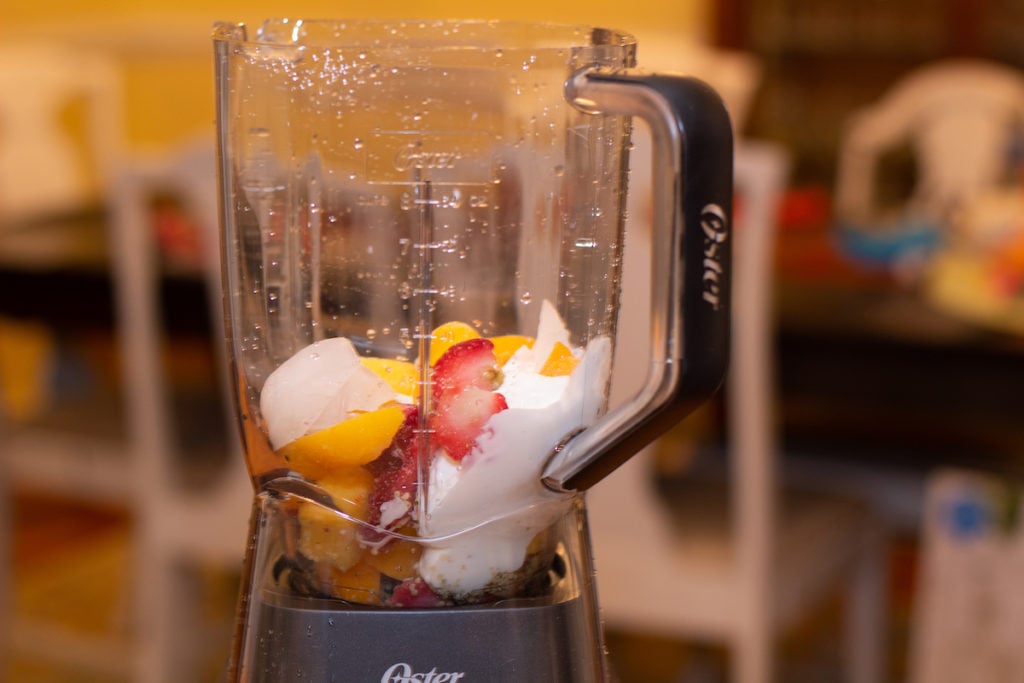 To prepare my smoothy I combined 1 cup frozen fruit blend (mangos, strawberries & banana) ½ cup yogurt, 2 cups almond milk (not pictured), ¼ cup ice, and ¼ cup hemp hearts in the Oster Pro 1200 blender. I clicked the smoothie button and let the blender get down to business.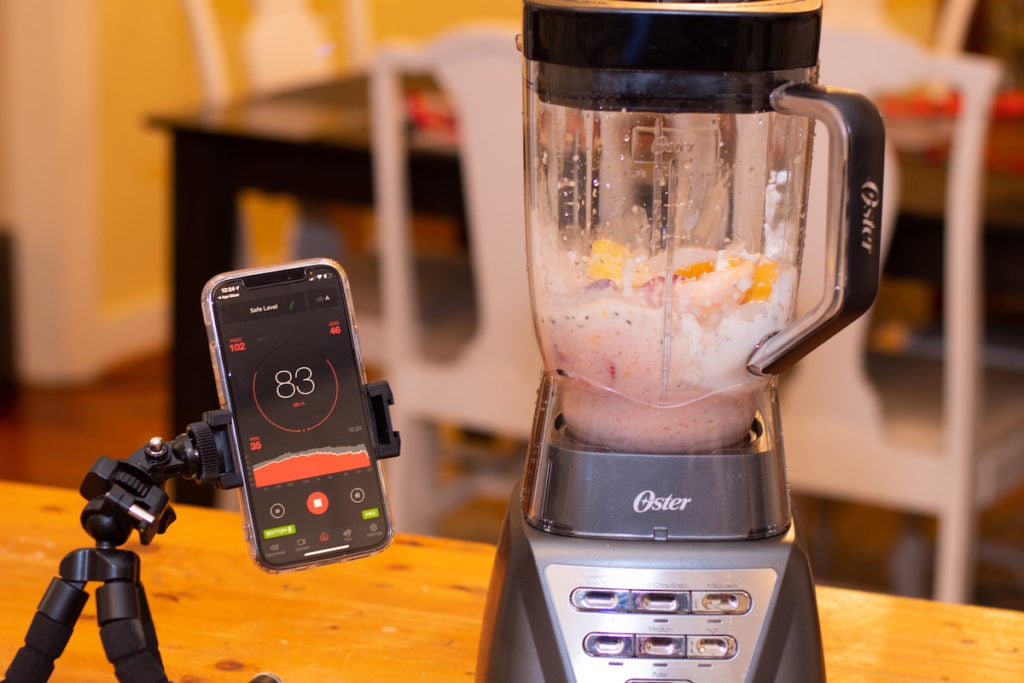 After 5 minutes or so the smoothie was finished. In the future, I might omit the ice to speed things up, but I love a big, hearty smoothy I can enjoy over the course of 30 minutes or so. Ice helps increase the smoothie volume while maintaining the calorie level. It also gets some more water in your diet which is rarely a bad thing.
With a large 8 cup capacity, my smoothie barely filled the bottom third of the blender. If you wanted to prepare a smoothie for yourself and others you could definitely make 3-4 servings at a time, which is awesome and a huge time saver.
The smoothie was perfect. Rich and creamy with super small particle size, it was basically a fruit-based milkshake sans ice cream. Cleanup was a snap as well, with the ability to easily remove the blade assembly you can rinse the blender pitcher in under a minute and set it aside to dry!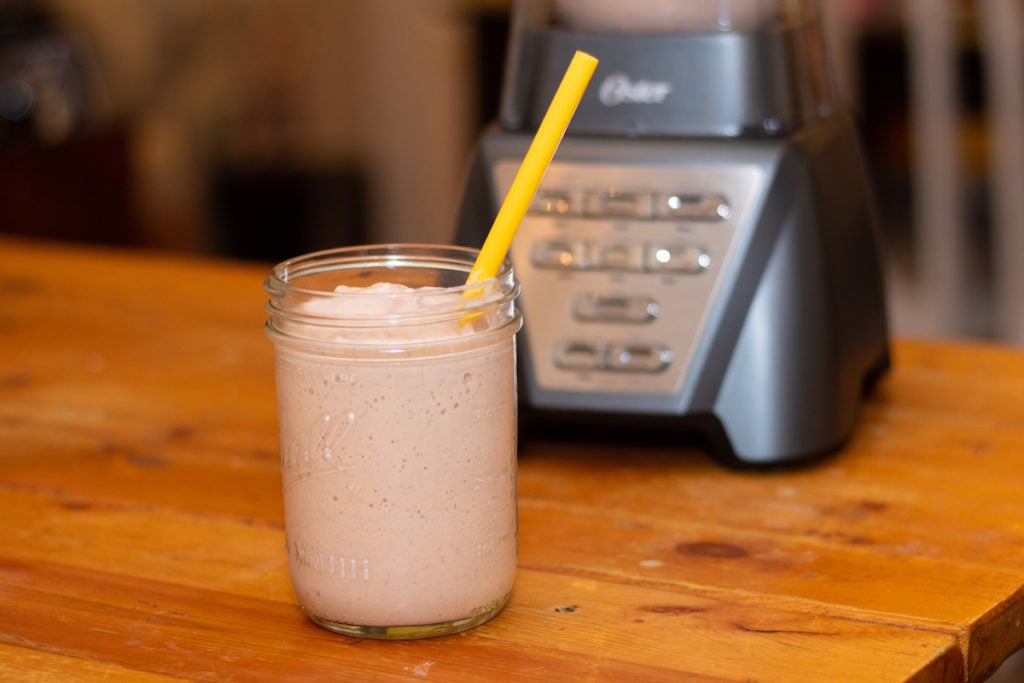 Test #3:

Making Salsa

Salsa is one of those things that I love to eat, but I rarely find time to actually make. Maybe it's because salsa from the grocery store is so easy and tasty, or maybe it's because I don't relish the knife work involved in a good fresh salsa. Either way other than during the summer months when I have a ton of fresh tomatoes around, I just don't get around to making fresh salsa all that much.

Or at least I didn't until I got my hands on the Oster Pro 1200 blender. Even though I have a food processor at home, I still rarely made salsa, but thanks to this blender/food processor I am keeping a Tupperware of fresh salsa on hand at all times.

To make an easy pico de gallo all you need are a few tomatoes, some red or white onion, garlic, jalapeno, cilantro, and lime juice. Toss in some salt and pepper and you are on your way to the best fresh salsa you've had in a long time.

First I quartered the tomato and roughly chopped the onion, garlic, and jalapeno. I combined the cilantro, veggies, and lime juice in the food processor pitcher and locked the lid in place. I secured the food processor attachment to the blender base and got ready to chop my salsa.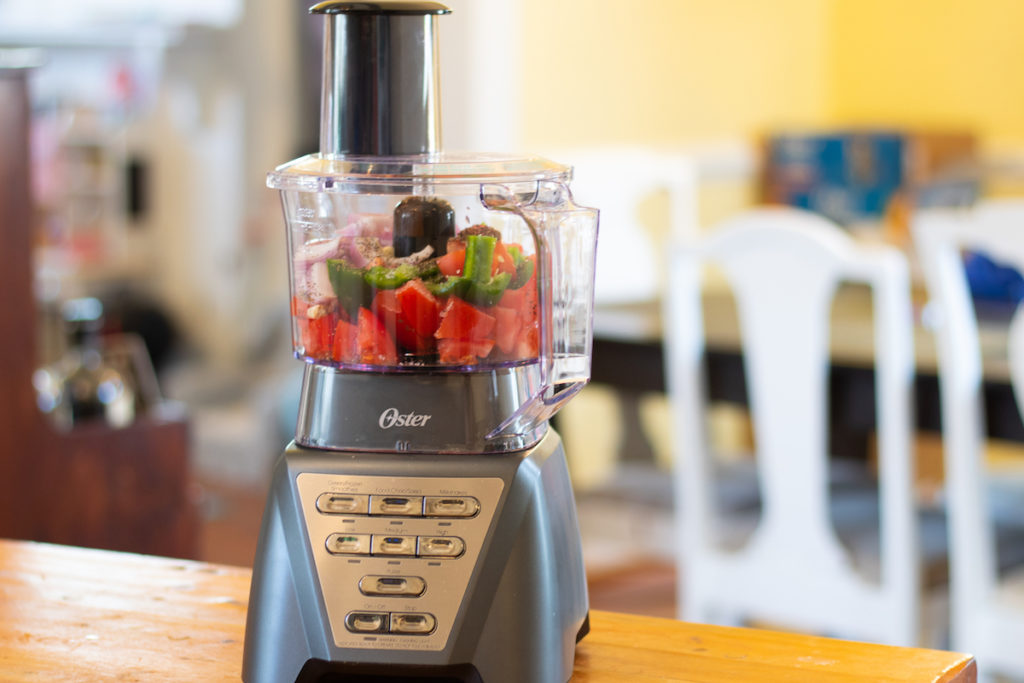 One thing I want to note here is how much I love that I can fill the food processor container without having to first attach it to the base. Most food processors require you to first mount the bowl on the machine before filling to avoid an issue with the blade assembly. With the Oster Pro 1200 blender, this wasn't an issue at all!
For the test, I wanted to use the chop/salsa setting to see how it would do with the food processor attachment. One 30 second cycle would have been fine, but I wanted to see how well it would chop the salsa given another 30-second cycle and the resulting salsa was perfect flavor-wise but a little over chopped for my taste.
It's worth noting here that the food processor, in particular, was quieter on the Oster than other food processor blender combo models I tested. Here you can see the Oster whipping up salsa at only 70 decibels.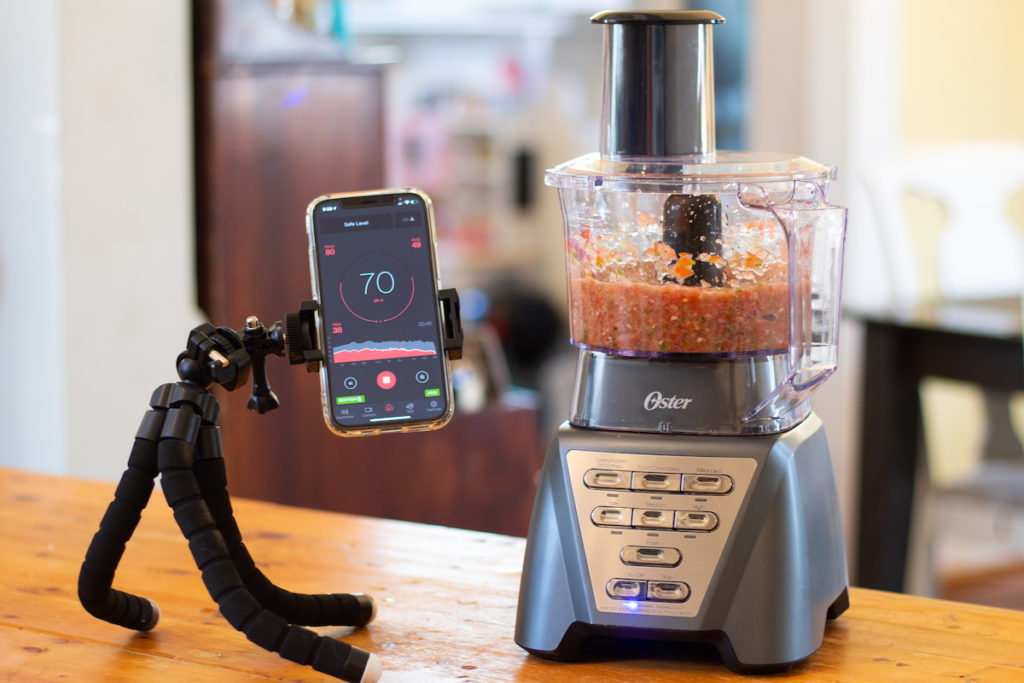 With a 5 cup bowl, this food processor doesn't have the largest capacity but it more than handled my salsa recipe. I ended up with about 3 cups of well-chopped salsa and I only filled the food processor about halfway. You could double this recipe and make a batch large enough for a small party without issue.
Overall, making salsa in the Oster 1200 pro was a snap and it has continued to be a fixture in our refrigerator ever since.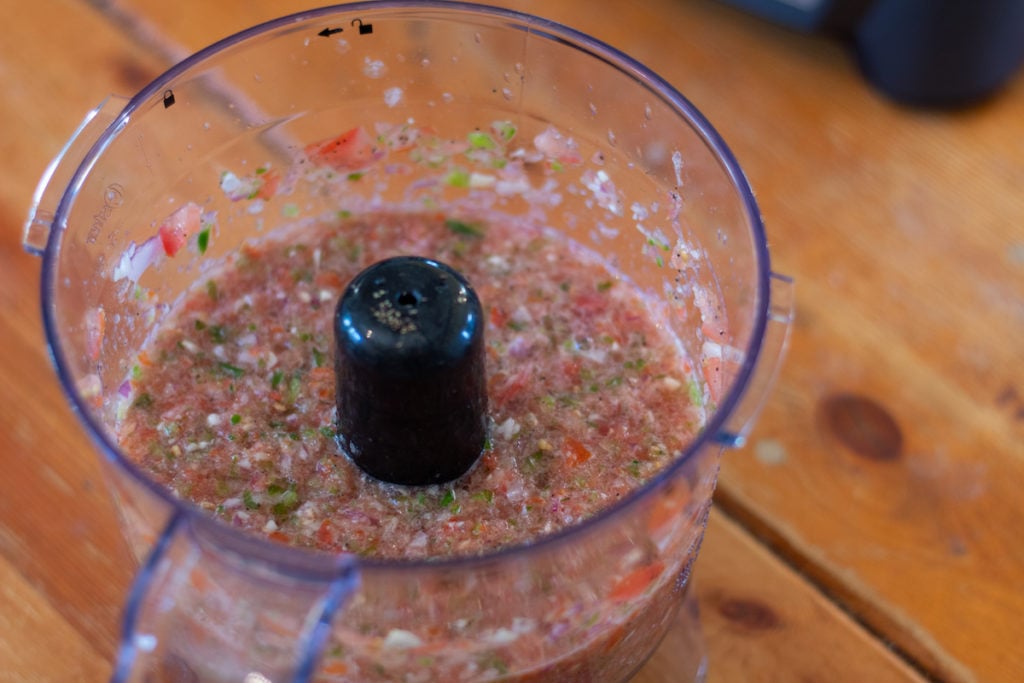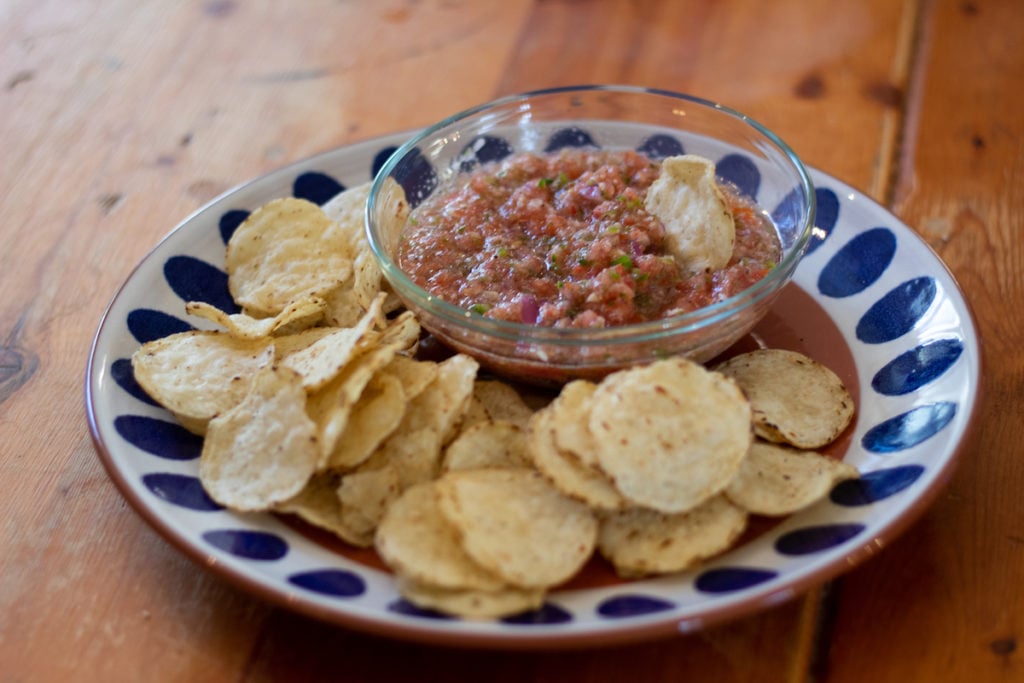 Test #4:

Making Dough

Food processors can do a ton of things, but one of the more novel uses I've found over the years is making pie dough. You can make a ton of other doughs in a food processor just as you would in a stand mixer, but one area where a food processor truly shines is pie dough.

Because pie dough and cookie dough are less reliant on gluten production and more about creating layers of butter and flour, a food processor is actually the ideal tool for this process.

Bread or Pizza Dough that requires a longer mixing time to produce a strong gluten structure works better in a stand mixer or mixing by hand. Because of the longer mixing time and sturdy nature of the dough, it can burn if you put undue stress on the motor and shorten the useful life of the machine overall.

To prepare my pie dough I first weighed out 12 oz of flour and 8 oz of butter. I cut the butter into ¼" cubes and combined the two ingredients in the food processor bowl. I added 1 tsp of salt to the mixture and locked the lid in place.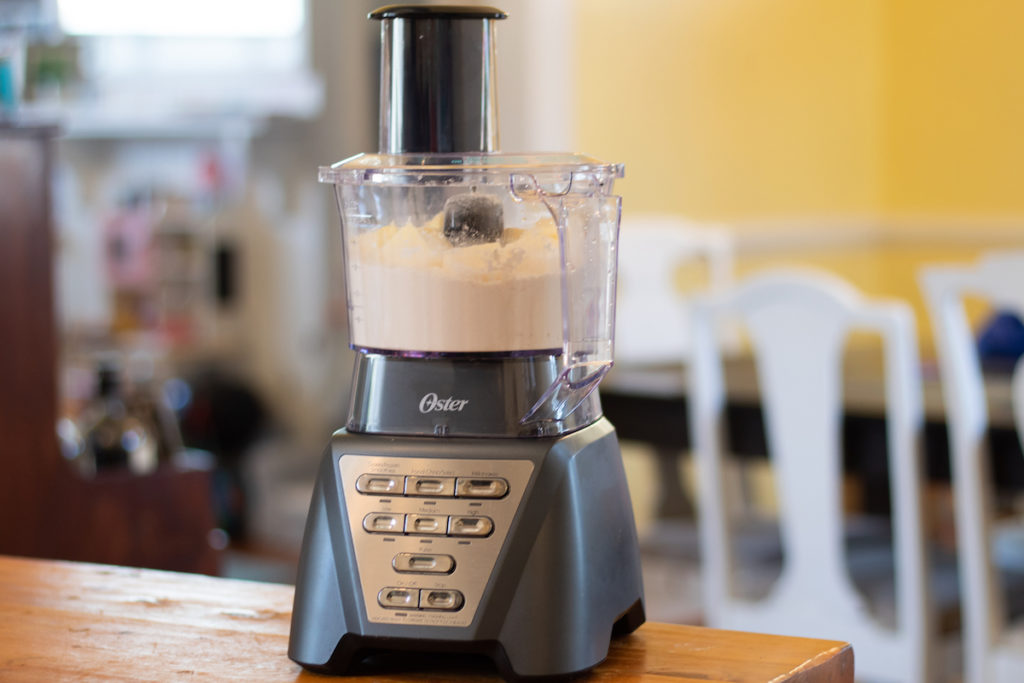 I placed the food processor attachment on the blender base and ensured it was properly seated before beginning to mix the dough. I decided to use the chop/salsa feature to allow me the ability to get pictures of the mixing process, but moving forward I would use the pulse feature to get more control over the mixing process.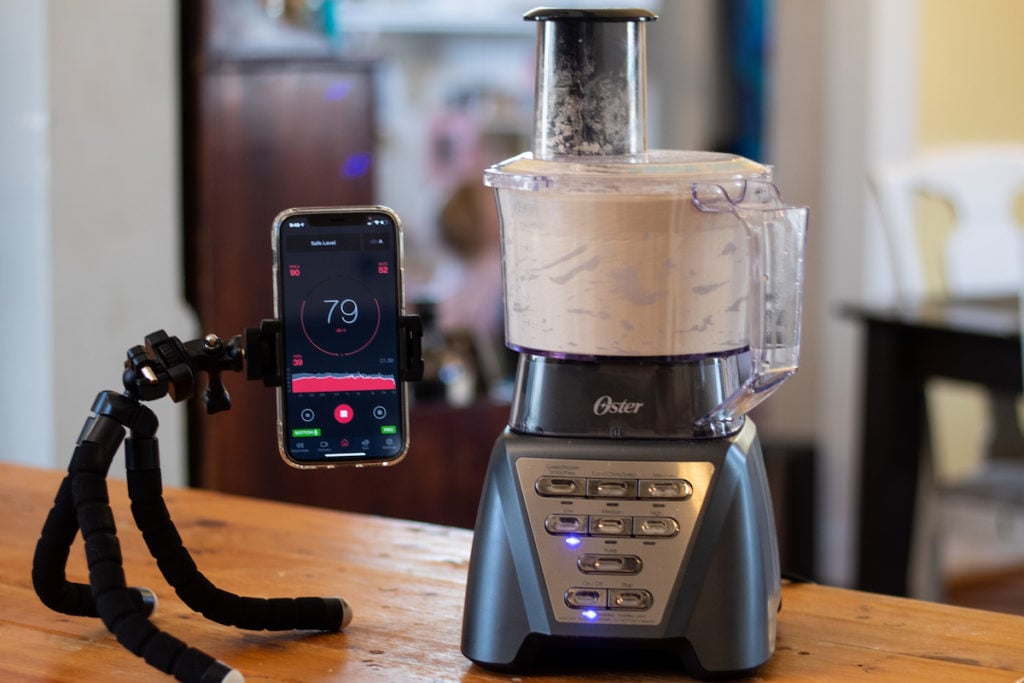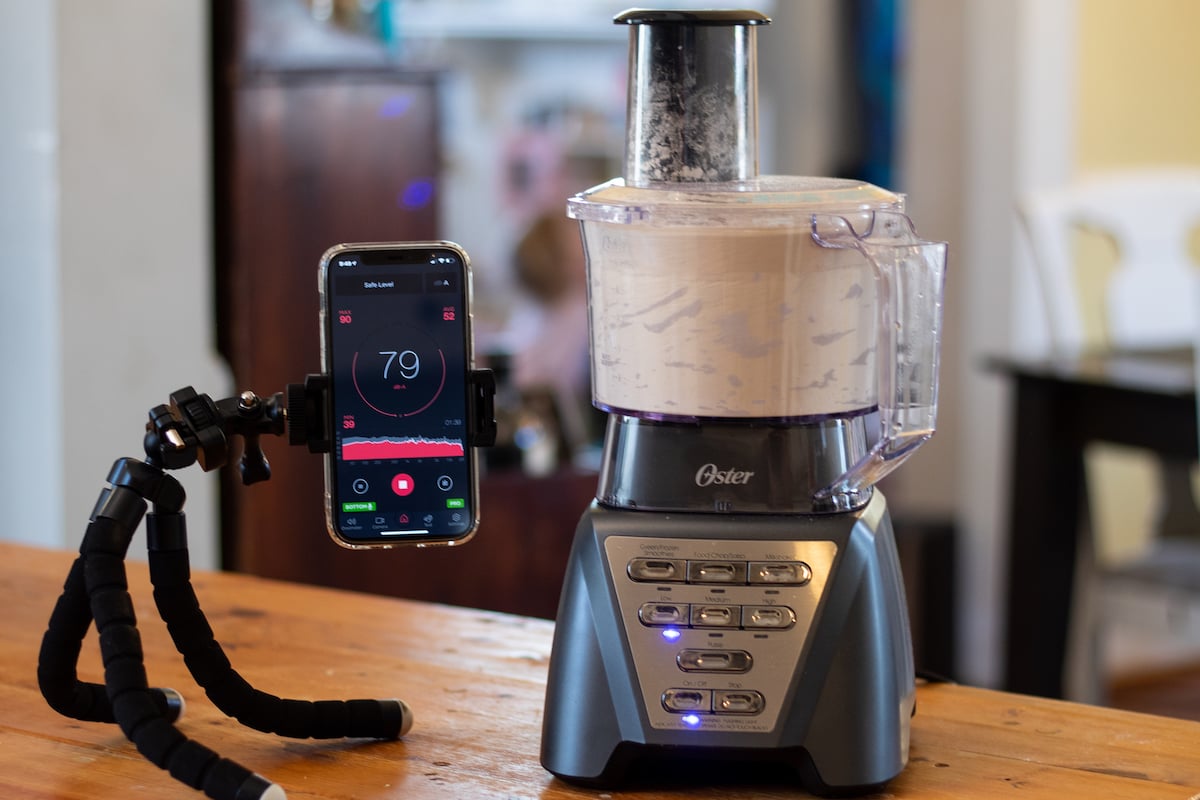 The reason a food processor works so well making pie dough is due primarily to the super-sharp blade. When making pie dough you want to cut the butter into the flour creating a wet sand/cornmeal texture before incorporating any other moisture. This allows the butter to become sandwiched between the flour/dough when it is rolled out creating a crispy flakey texture we know and love.
After a few cycles of the chop/salsa function it the flour/butter had reached the ideal consistency to begin incorporating liquid. I added 4 oz of ice-cold water to the food processor and began to pulse the mixture until it created a rough dough ball.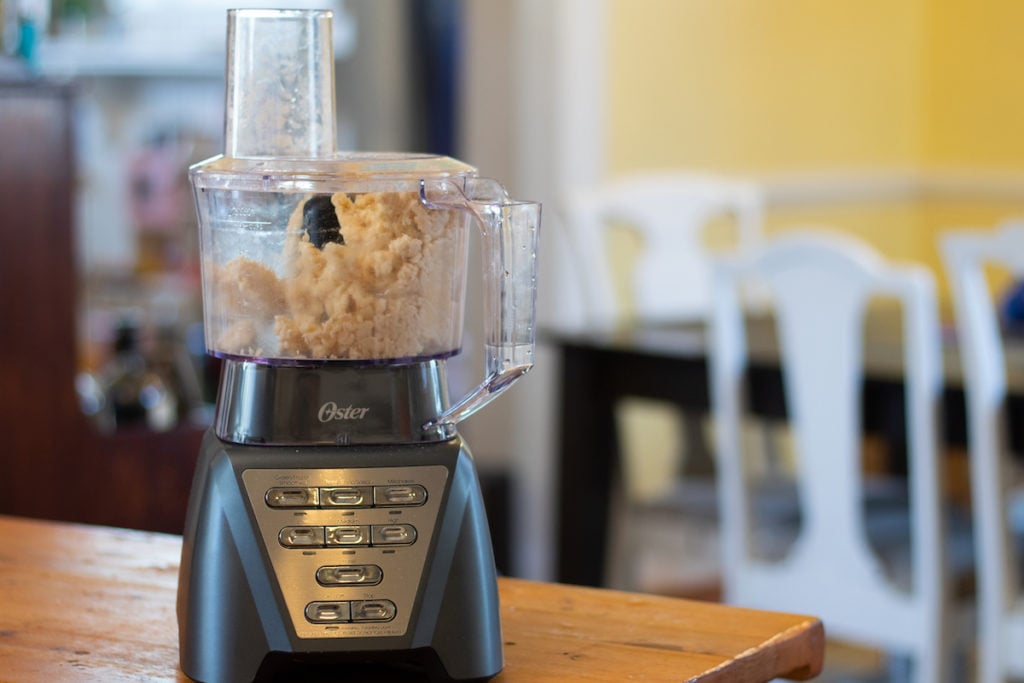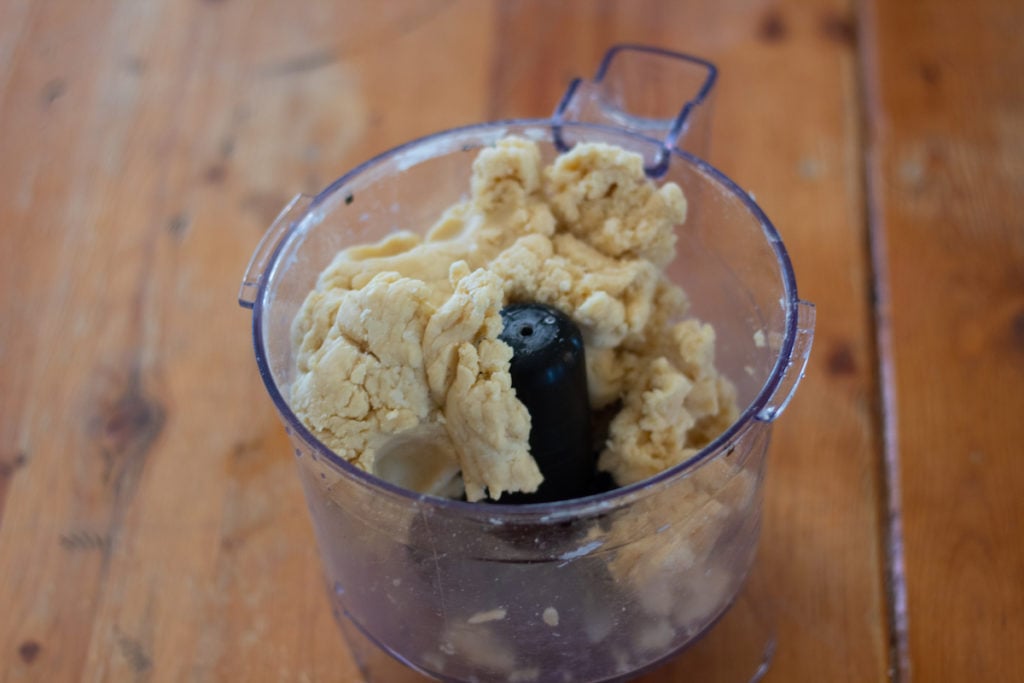 After your dough has come together it's important to finish mixing it by hand, both to avoid putting undue stress on the blender motor and also to prevent over mixing. The final kneading process only took a minute or so.
Once I finished mixing my pie dough I wrapped it in plastic wrap and allowed it to chill for an hour before rolling it out and forming a pie crust.
I've talked about how in most cases my recipe tests were less than the total capacity of the blender or food processor, in this case, this size pie dough recipe is the largest recipe you would really want to make at one time. Unlike other foods or recipes, the dough is far more stressful on the motor and blender assembly, so keeping dough recipes manageable is key to increasing the lifespan of your blender/food processor.
Test #5:

Pureeing Vegetables

Making vegetable purees is one of my favorite things to do in the kitchen. I fell in love with veggie purees when working in DC as a line cook at a fine dining restaurant. I was struck by how much incredible flavor simply roasted or simmered vegetables could add to a dish when blended into a silky smooth puree.

One of my all-time favorite vegetable purees has always been English pea puree with just a hint of mint and garlic. The best thing about this puree is that while you can absolutely make it from freshly shelled English peas when they are in season, you can easily create outstanding pea puree from frozen sweet peas during the other months of the year.

To create this wonderful pea puree, I heated about 2 cups of water in a small saucepan with 2 cloves of sliced garlic and a bit of salt. Once the liquid came to a simmer I added a 12 oz bag of sweet peas and allowed them to cook for about 5 minutes.

Once the peas were cooked to my taste, I removed the pot from the stove and transferred the peas and garlic to the blender pitcher. I added about ½ a cup of the cooking liquid, a few leaves of freshly picked mint, and a tsp of olive oil before snapping the lid into place and placing the blender pitcher onto the blender base.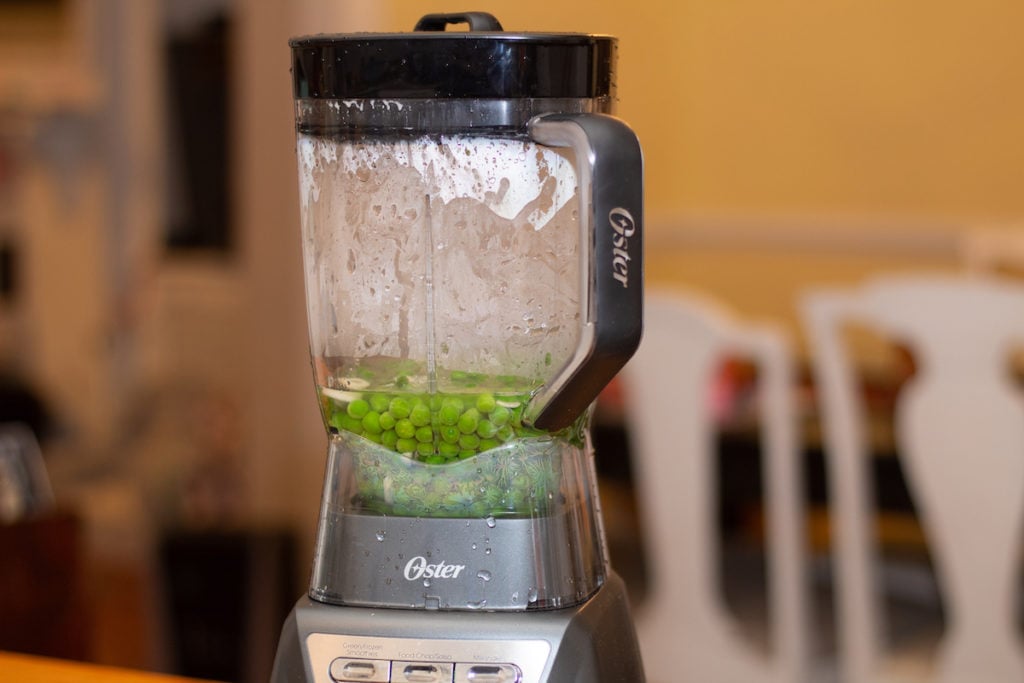 For this test, I chose to simply put the blender into the high mode and allow it to blend until I was satisfied with the consistency. After about 3-4 minutes of pureeing, I was happy with the texture and quality of the puree. The blender blades were very sharp and handled the process well. The most important thing when making a puree like this is to work fast to retain the bright green color of the lightly cooked peas. A high-powered blender with a shape blade is the key to getting this puree made quickly.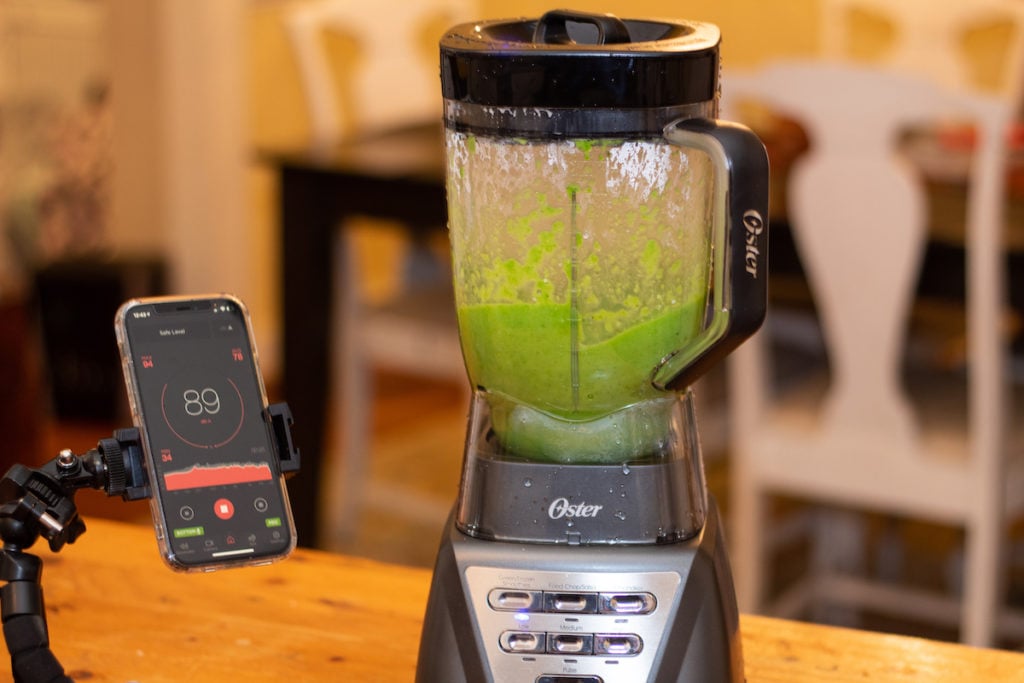 Once the puree was finished I cooled it before creating a very tasty chilled pea soup with greek yogurt and olive oil. This puree would always go great with a sauteed shrimp entree or really any seafood at all.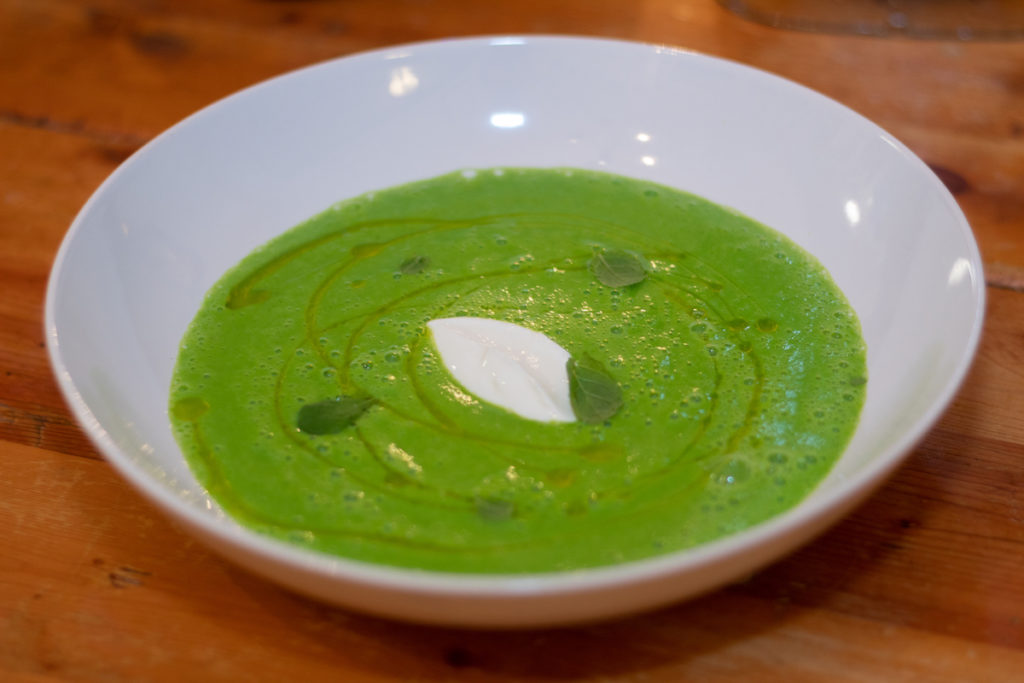 How Easy Is It To Clean?
I love this blender system if only for the fact that it is super easy to clean. I was able to test several different recipes in quick succession and clean the entire assembly in less than a minute after each test.
Both the blender carafe and the food processor attachment come apart easily and are dishwasher safe. I personally wash all my blades by hand to avoid accidents and dulling due to the high-pressure water of a dishwasher. However, I am absolutely fine with putting plastic pitchers in the dishwasher and with the Oster Pro 1200 blender that is easily accomplished.
How Would I Improve the Oster Pro 1200 Blender?
I really enjoyed using the Oster Pro 1200, but there are a few areas I would improve upon in future models if only Oster would contact me for design input (hint hint, nudge nudge).
The bottom/blade system felt difficult to tighten. This isn't to say it was difficult to tighten the blender blade assembly, more that it felt difficult to get it fully tightened. The o-ring in the assembly is substantial and you have to exert a pretty high amount of torque to fully tighten the blade. This led to my second issue with the blender.
The blender carafe felt difficult to situate correctly. Because the blade assembly was difficult to fully tighten it often made seating the blender pitcher on the base difficult if not impossible. Whenever I would find myself having trouble getting the blender settled on the base correctly I would remove it and carefully tighten the bottom of the blade assembly. This always remedied the situation but it was frustrating to deal with it over and over.
What's the Warranty?
The Oster 1200 Pro Blender Combo comes backed by Sunbeam's 3-year satisfaction guarantee. This ensures that the appliance will be free from defects in material or workmanship for up to 3 years. If you encounter a failure with your appliance simply contact the customer service support line and begin a service ticket.
To take advantage of the warranty you will need the original receipt of purchase for the Oster 1200 Pro. This warranty is non-transferrable as is the case with most appliances.
Verdict
I truly enjoyed the Oster Pro 1200 Blender and found it easy to assemble, clean, and operate. Thanks to its intuitive design, powerful motor, and large capacity, it easily handled everything I threw its way without issue. From smoothies to crushed ice and veggie purees, this blender was a dream to use.
With the ease of assembly I've rarely seen in a blender I was able to quickly disassemble the pitcher after each test and have it cleaned in a matter of minutes. Thanks to its dishwasher-friendly design I could have simply loaded the parts into my dishwasher if I didn't have the time to clean the pieces by hand, which is a real-time saver as well.
Oster has been making blenders since 1946 and their 75+ years of experience in this appliance segment really shows. They have managed to create a high-quality blender at an extremely affordable price point. With their dual-direction blade technology, the Oster Pro 1200 blender handled a lot of different tasks with ease, and with so many pre-programmed settings almost all my tests were accomplished with the push of a button.
At such a low price for this entire system, the Oster Pro 1200 Blender (on Amazon here) is an incredible value. I would recommend this blending system to anyone who wants to replace their current blender while also adding the functionality of a food processor to their kitchen arsenal. Moreover, if you are purchasing your first blender, there are few better options to equip your kitchen with at this low of a price point.
How does it Compare?
While the Oster 1200 Pro Blender Food Processor Combo is an awesome appliance, there are several competitors to compare this system to. Check out these other options and how the Oster Pro 1200 Blender stacks up below.
The Oster Pro 1200 blender/food processor combo and the Ninja Mega Kitchen System are incredibly similar offerings. Both are high-powered, well-designed blending systems, and both come equipped with a food processor attachment in addition to the blender pitcher.
Overall the Ninja blender is a more powerful system and makes incredible smoothies, crushed ice, cookie dough, and salsa. It also costs almost double what the Oster Pro 1200 Blender retails for.
If you are looking for a great blender either of these products will suit your need, but if you are looking for a more functional option and the price is not an issue, go for the Ninja Mega Kitchen System. If you want to get a great blender, as well as a food processor for your kitchen and you're looking to keep the price down, the Oster Pro 1200 Blender Combo, will provide you with years of awesome service.
These blending systems are about as different as blenders can be. The Oster Pro 1200 Blender is a well-priced, high-end blender with a lot of power and a pretty strong list of functions, while the Hamilton Beach Wave Crusher is an inexpensive but classic blender that will handle a lot of different recipes at almost half the price.
The Hamilton Beach Wave Crusher is an incredibly classic and familiar design. With over 100 years of food appliance experience the folks at Hamilton Beach have figured out a winning format and they are sticking with it in this blender.
Thanks to a thick glass pitcher and high-powered motor this blender can handle a lot of different recipes. From hot soups to smoothies, the Hamilton Beach Wave Crusher is a winner, and thanks to the patented Wave design you need to stir/pulse the machine less when in use. Overall, the Oster Pro 1200 Blender is more powerful and better equipped, but if you are looking for a great blender that costs as little as possible, the Hamilton Beach Wave Crusher is the choice for you.
If you are looking for a high-tech blender and food processor that is still a great value then the Oster Pro 1200 is the best option.
Where the Hamilton Beach Wave Crusher goes towards value over design, the Ninja Foodi Hot & Cold Swings in the opposite direction.
The Ninja Foodi Hot & Cold is a high-tech, digital blending system that has the ability to heat while it blends allowing you the ability to cook purees and soups in the blender itself. With 12 preset functions, a super high powered motor, and a high tech digital interface, the Ninja Foodi Hot & Cold is definitely a cutting-edge blender.
While the Ninja Foodi Hot & Cold is definitely on the more expensive side, its price tag is middle of the road compared to some super high-end blenders at just under $200. While it doesn't come equipped with a food processor attachment, its overall functionality more than makes up for the loss of that appliance.
One thing to note here is that the Ninja Foodi Hot & Cold is not fully dishwasher compatible, while the Oster Pro 1200 is. This is because the Ninja Foodi contains a heating element in the base of the blender pitcher. While this allows the blender to actually cook products during the blending process it does rule out submersing the assembly in water. You can place the blender top, tamper, and center cap in the dishwasher but the blender pitcher should be hand washed.
One neat feature that is possible because the heating element in the pitcher is a "heated clean program" that self cleans the blender by heating and pulsing almost boiling liquid. Though it's not quite as convenient as if the model was fully dishwasher safe it is an elegant solution to the problem.
I would recommend the Ninja Foodi to anyone who is thinking about purchasing a high-end blender and is ready to spend ~$200. On the other hand, if you want to keep the price down and also get the added functionality of a food processor attachment you should check out the Oster Pro 1200.