It's time to make this oolong milk tea with boba! This insanely delicious and refreshing beverage requires just five simple ingredients and less than 15 minutes of your time. And you can serve it either hot or cold with ice.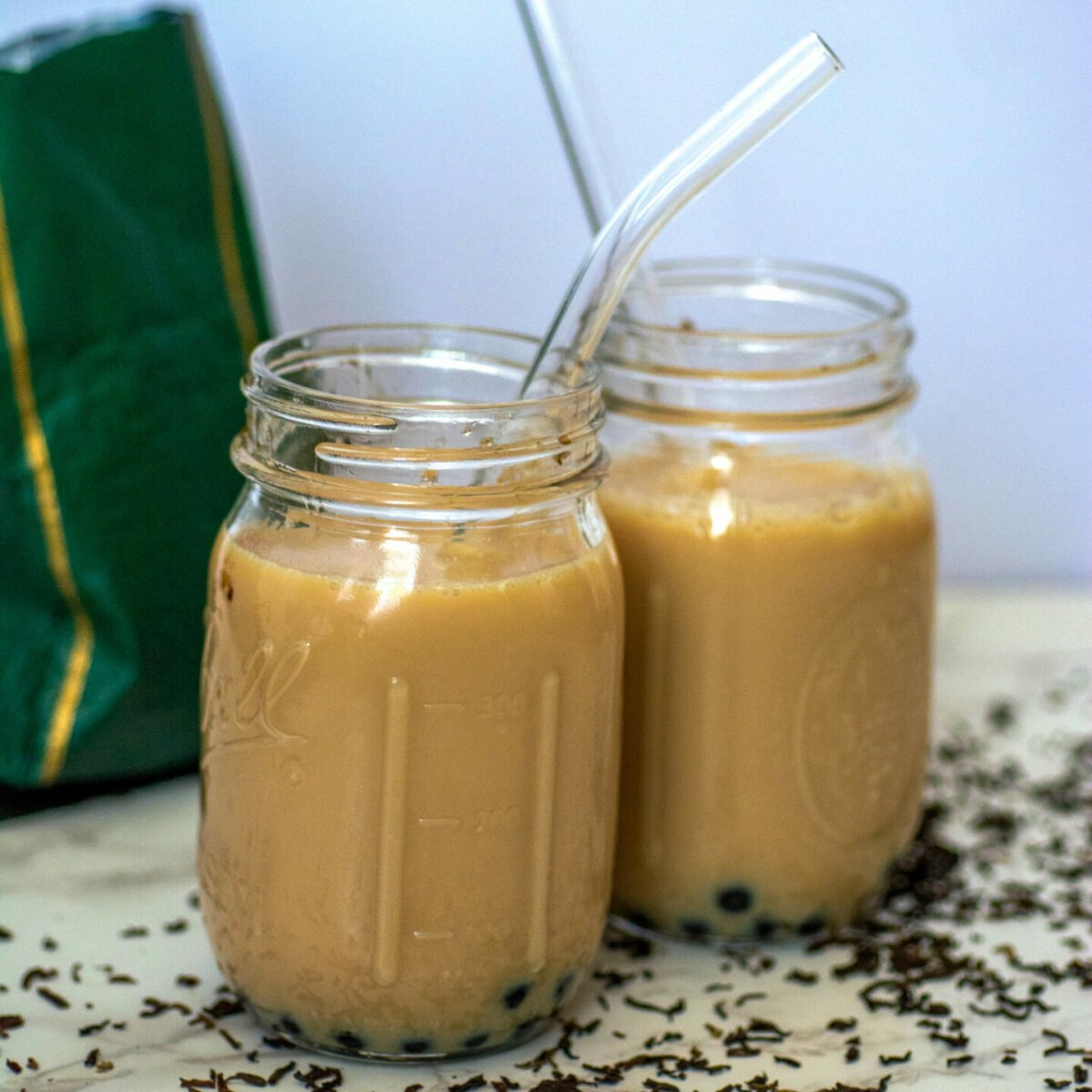 This oolong milk tea isn't just another drink. Aside from the fact that it is unbelievably flavorful, it's also packed with a few health benefits.
You can even make this oolong tea in advance and store the ingredients separately in your fridge for a few days. When the right time comes, you'll have everything ready to serve and impress your friends and family with this fantastic drink.
Table of Contents
Is Oolong Tea Good for You?
Yes, of course! Even if you drink oolong tea every day, nothing bad will happen to you, only the opposite. Oolong tea is known to have many health benefits. For example, it increases fat burning and therefore helps you lose weight. Moreover, it can also improve brain activity, strengthen bones, and reduce stress.
Does Oolong Tea Go Well With Milk?
It seems like almost any type of black tea or green tea tastes well with milk. And oolong tea is no exception. It tastes amazing with any milk, and if you make it the way described here, you'll definitely be surprised by how good it tastes with these ingredients.
You can make this oolong milk boba tea with any milk type that you prefer (oat milk, coconut milk, whole cow's milk, hazelnut milk, or any other type), and the drink will be delicious either way.
Oolong Milk Tea Ingredients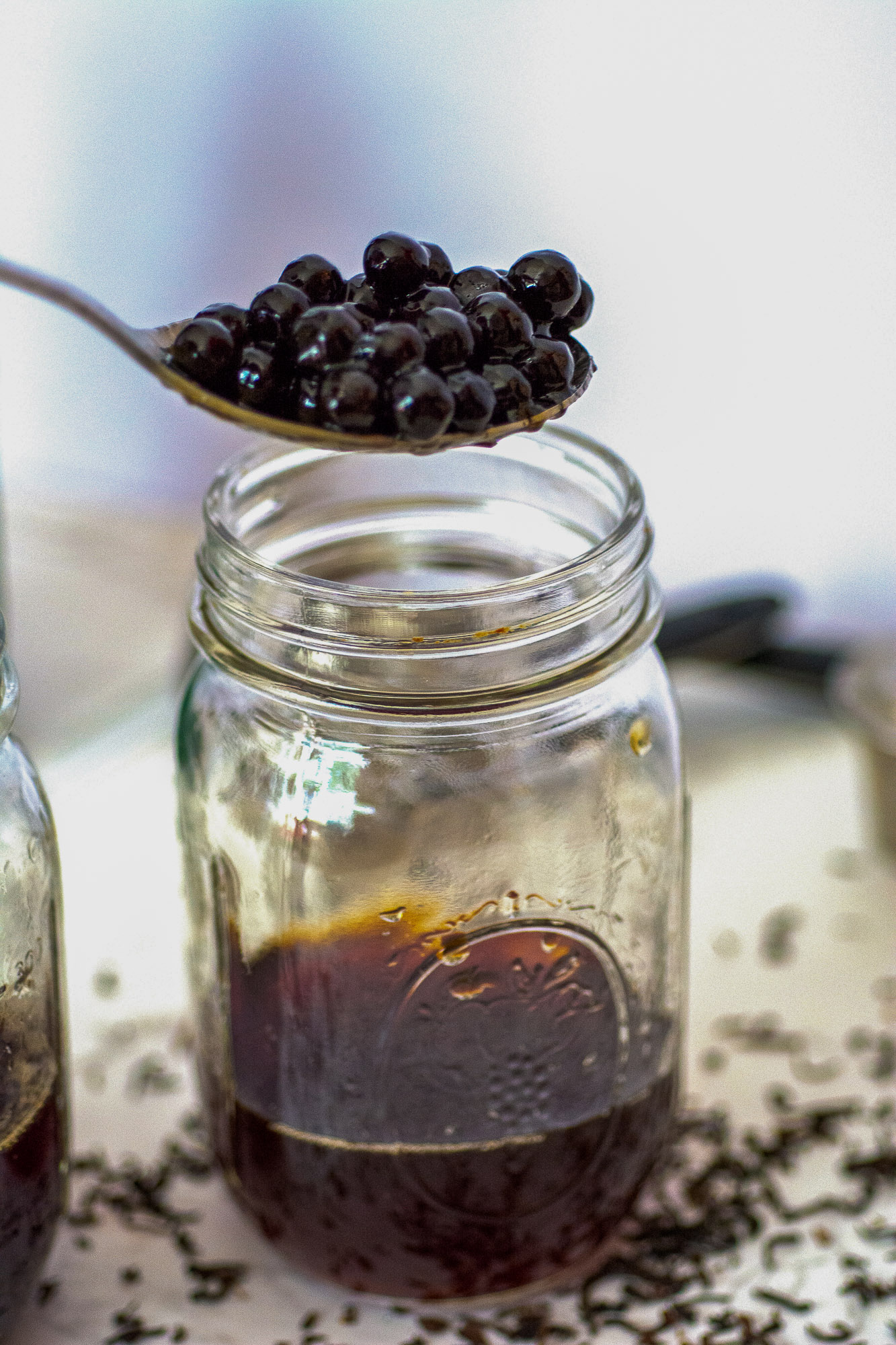 To prepare oolong bubble tea using this recipe, you'll need the following ingredients:
Oolong leaf tea: I prefer to brew the oolong tea from loose leaves, but you can use tea bags instead if that's easier for you.
Water: you'll need some to cook the tapioca pearls and some hot water to brew the oolong tea for your boba beverage.
Tapioca pearls: I bought the boba pearls on Amazon, but now it seems like you can get them from basically any grocery store. Or, if you have some more free time, you can always make them yourself from tapioca flour.
Brown sugar: I love using brown sugar as the sweetener for most of my boba tea recipes. It's easy to add and tastes great. But if you don't have it in your kitchen and don't want to go to the store to purchase it, you can definitely use honey, agave syrup, erythritol, stevia, or even the usual white sugar instead.
Almond milk: I've tried making this oolong bubble tea with different fresh milk options, but it tastes the best with precisely almond milk. However, if you want, you can definitely use the usual cow's whole milk instead, or coconut milk, oat milk, or hazelnut milk.
How to Make Oolong Boba Milk Tea
If you've made any boba milk tea types before, you'll master this recipe on the first try. And even if you've never made it from scratch, you should have no trouble making it as well, since the cooking process is pretty straightforward and quick.
Basically, this is what you should do to make this oolong boba milk tea:
Brew the tea: you can do it in any way to prefer; either brew it in a tea bag or if you're using loose leaf tea, then brew it and then pass through the sieve to remove the leaves.
Cook the tapioca balls: to do that, simply place the needed amount of tapioca pearls in a small pot and cover them with water. Then let the boba simmer until ready, which is for about 3-5 minutes, depending on the type of tapioca pearls. Once they are ready, drain the boba, add the brown sugar, and simmer on low heat until it dissolves.
Mix together: prepare the glasses and equally divide the cooked tapioca pearls in each one. Then pour in the brewed tea and milk and stir.
Also, depending on whether you want your oolong milk tea to be hot or cold, you can either use hot tea and preheat the milk or add everything cold and throw in some ice to make your iced tea.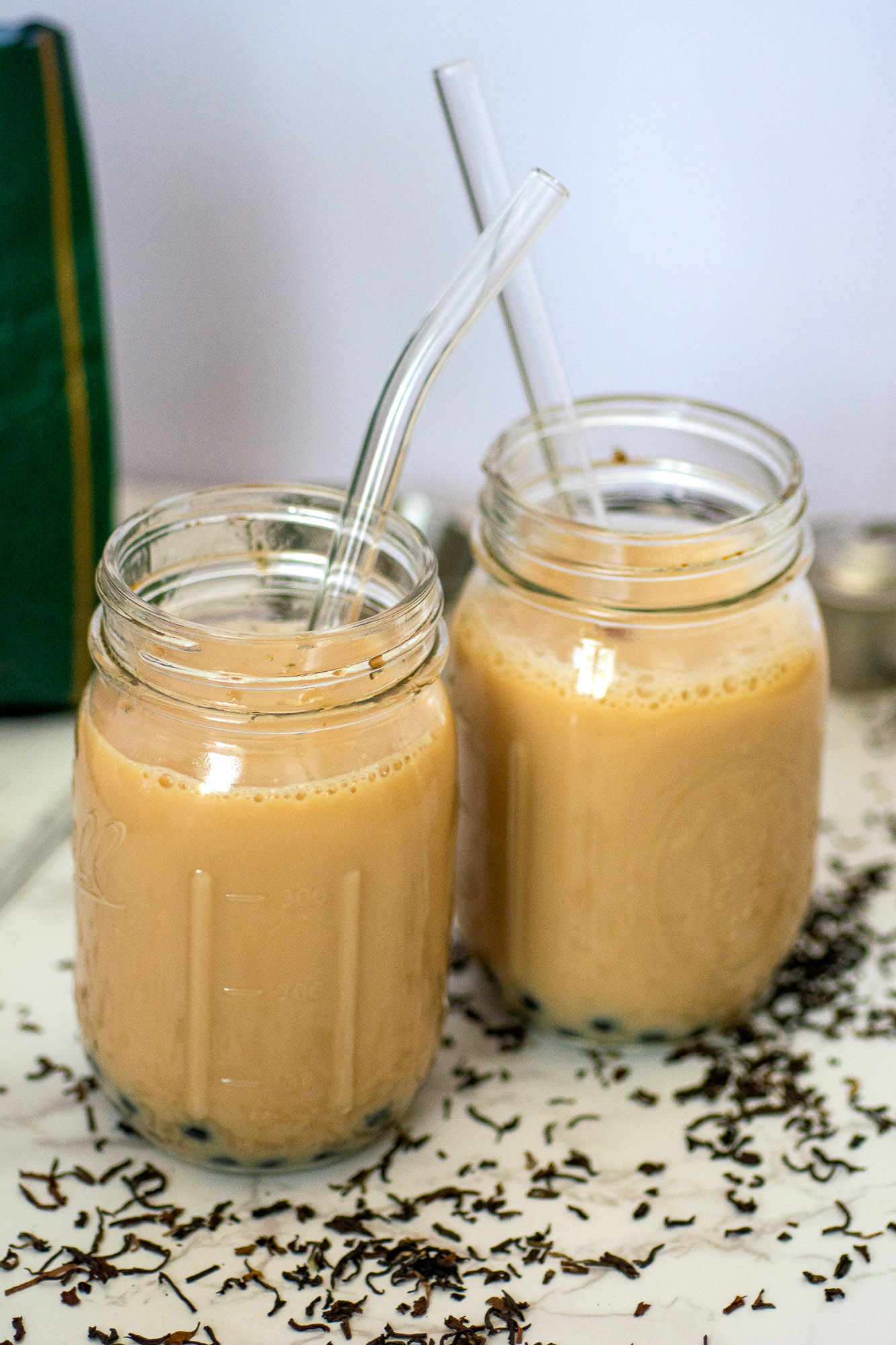 Storing Instructions
Just like with any other boba drink, it's essential to serve it as soon as the milk Oolong tea is ready. However, it's possible to store it in the refrigerator for up to 24 hours. And even more, if you want to make this beverage in advance, you can use this Oolong milk tea recipe for that. Only remember that you should prepare all of the necessary ingredients and store them in separate containers or glasses in the fridge. As soon as you wish to serve the drink, mix all of the prepared ingredients. This way, you can make it 2 to 3 days in advance.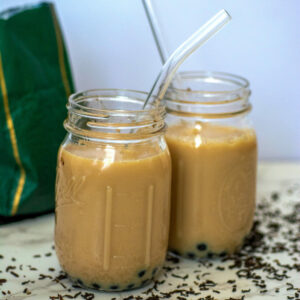 Oolong Milk Tea With Boba
It's time to make this oolong milk tea with boba! This insanely delicious and refreshing beverage requires just five simple ingredients and less than 15 minutes of your time. And you can serve it either hot or cold with ice.
Ingredients
3

tbsp

oolong tea leaves

4

cups

hot boiling water

2

tbsp

tapioca pearls

2

tbsp

brown sugar
Instructions
Brew the oolong tea and pass it through a sieve. Set aside while preparing other ingredients.

Place the tapioca pearls into a small pot and cover them with water. Cook over medium heat for about 2 to 3 minutes. Drain the tapioca pearls and rinse them with cold water.

Put the cooked tapioca pearls back into the pot and add the brown sugar. Cook over low heat (stirring occasionally) until the sugar dissolves.

Pour the tea into two glasses, cups, or mason jars. Add the tapioca pearls and almond milk.
Nutrition
Calories:
91
kcal
Carbohydrates:
23
g
Protein:
0.04
g
Sodium:
28
mg
Potassium:
26
mg
Fiber:
0.1
g
Sugar:
12
g
Calcium:
27
mg
Iron:
0.3
mg