Whether you picture a classic Southern breakfast, cowboys on the range at the chow line, or a steak sizzling to perfection, the common ingredient in all of these scenarios is the durable, convenient, cast iron cookware that's stood the test of time and stood up to diverse cooking techniques.
Cast iron cooking looms large in cooking myth and lore. The first cast iron artifacts come to us from China in the early 5th century BCE. After that, cast iron likely made its way to Europe, probably via the Silk Road, although not commonly used until the 14th century.
Then, in 1707 in England, Abraham Darby revolutionized cast iron cookware when he patented a means for creating relatively thin kettles and pots. These were more like today's Dutch ovens, designed for use over an open fire, resting on a base with three legs, and possessing a handled lid.
Yet, despite its long and storied use, there are many myths about cast iron cooking. Cast iron, unfairly, possesses a bit of a reputation for being the diva of cookware—intense yet temperamental, which is unfair. It's iron that's been cast. By its very definition, it's the epitome of rugged durability!
Relax and have fun! The main thing to consider with cast iron cookware is that there isn't too much that you can do that is irredeemably and irreparably bad.
Get cooking with classic iron cookware that you'll love for its flexibility, strength, rugged appeal, cooking properties, and easy upkeep. So let's explore nine cast iron myths, fables, and rumors.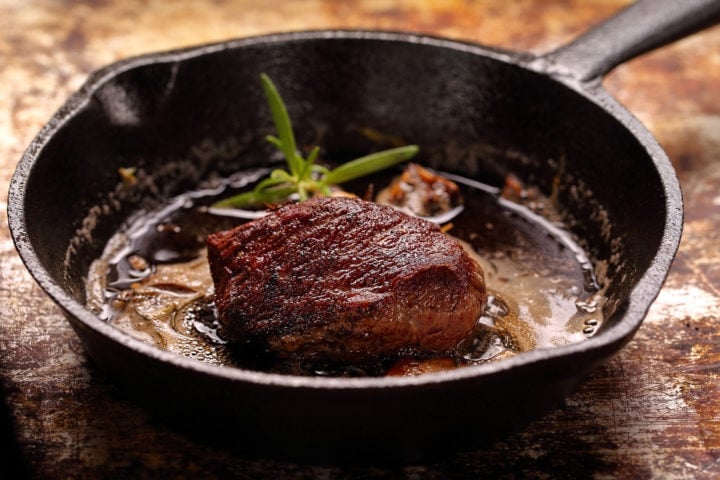 Fable #1: Cast Iron Use and Care are Demanding
The truth is that unless your cast iron pot is chipped, rusted all the way through, or cracked, you simply need to scrub it down with steel wool to remove rust or thin spots in the seasoning, wash it with warm water and soap, make sure that it's thoroughly dry, re-season it, and then you're cooking. Literally.
Fable #2: Seasoning Your Cast Iron Skillet is an Art Form
The word "seasoning" conjures exotic spices. Instead, it's simply a coating created with oils and fats that bond with the skillet, giving it nonstick properties. Sure, you can immediately cook with pre-seasoned iron cookware, and people do use their unseasoned skillet immediately.
Still, your pot will be even better after acquiring a few layers of cast iron seasoning—achieved by placing your piece, spread with a thin layer of vegetable oil, such as olive oil, bacon fat, or melted shortening, in a 375-degree oven and baking for an hour. The stovetop method involves coating the interior and exterior of your iron pot, moving the skillet to ensure that the polymerized oil is evenly heated.
Indeed, cast iron pans work best when the pan's seasoning, which is a coating that protects and aids the nonstick properties, is a thin layer. And you maintain and enhance your well seasoned cast iron through regular use, so it's richer for employment and enjoyment, just like friendship.
Fable #3: You Shouldn't Clean Cast Iron with Soap and Water
Not true. The well-seasoned skillet fears no soap and water. Using dish soap is a good cleaning option, so yes, soap and water are just fine.
The main point is not to damage the seasoning by using an overly abrasive scrubber. Make sure the cookware is thoroughly dry before putting it away to avoid rust. And consider seasoning cast iron before tucking it away. The goal is to maintain a thin layer of seasoning for that non stick property.
Fable #4: Metal Utensils and Cast Iron Don't Play Well Together
Cast iron can withstand just about anything, which is why cast iron skillets show up as the punchline in in-law jokes and the answer to mysterious deaths with blunt objects in police mysteries. If there were to be an altercation between your cast iron, carbon steel, and your metal utensils, guess who would win?
What may have caused this rumor is confusing it with nonstick pans that, if scratched, are finished. Cast-iron cookware doesn't have a chemical coating like a nonstick pan. Instead, cast iron attains a sleek, silky, and practically nonstick finish by seasoning.
When we speak of seasoning, we're talking about the polymerized and carbonized cooking fats that bond with the skillet to create its nonstick coating. And this means that if your pan's seasoning gets scraped by overly-enthusiastic use of metal utensils, zealous scrubbing, or any other abrasion of the seasoned surface, it's an easy fix. Take it down to the base, re-season, and you're good to go.
Fable #5: Antique Iron Cookware is Superior to Contemporary Pieces
Cooks have enjoyed cast iron as we know it since the 18th century, yet there is one thing different about today's cookware. Modern pans crafted after the 1950s have a slightly bumpier surface because producers skipped the final process of sanding down the surface to make manufacturing more efficient. As a result, while the vintage models have their devotees who appreciate the older models' super satin-smooth finish, modern cast iron works wonderfully, too.
Fable #6: You Shouldn't Cook Acidic Food in Cast Iron
You may have heard stories about acidic food acquiring a metallic taste when cooked in cast iron, so you may be unsure what to cook in cast iron and what you should forgo.
If your skillet is seasoned correctly, then all that the food will come in contact with is the seasoned layer of your skillet, so a brief contact with acidic foods is all right. However, here we're going to look at the element of time, which is a consideration when cooking with acidic ingredients, such as tomatoes.
At the same time, indeed, you may not want to create a tomato sauce in a cast iron pan because any spots where the seasoning is sparse might let the food interact with the iron, which at worst might impart a metallic flavor. But brief meetings of acidic foods with a well-seasoned iron pan is no problem, and many experienced chefs practice deglazing with vinegar or wine, which is fine.
So, yes, you can use cast iron cookware for preparing acidic foods, plus you can consider enameled cast iron. And, if the acid should wear down the cast iron skillet's seasoning, which is iron cookware's signature protection, be sure to re-season your skillet.
Fable #7: Cast Iron Adds Iron to Your Cuisine
Conversely, there's a rumor flying around the kitchens of foodies that if you cook something super-acidic in a cast iron pan that's unseasoned, then you'll have added iron to your food. However, if you're using a well-seasoned iron pan, the seasoning acts as a natural barrier food.
Fable #8: Cast Iron Pans Heat Evenly
This one is a myth. Place an iron skillet on a heat source, and it will take at least 10 minutes to heat thoroughly, concentrating most of the warmth over the heat source. What cast iron cookware excels at is retaining heat due to its high volumetric heat capacity, unlike stainless steel, so when it's hot, it stays hot.
Cast iron also possesses high emissivity, releasing a great deal of heat energy from its surface. So, you're not just cooking the area that's in contact with the pan, but also a good deal above, explains J. Kenji López-Alt, James Beard Award winner and creator of "The Food Lab: Better Home Cooking Through Science." These qualities make it an excellent skillet for sizzling a steak, poaching a fillet, or braising a portobello mushroom.
The best way to evenly heat your skillet is to rotate the pan continuously, or you can place it for 20 minutes in a pre-heated oven.
Fable #9: Rust Means Your Iron Cookware is Capute
It happens to the most diligent cooks, and your cast iron cookware shows a spot of rust. No worries, despite cast iron myths. All you've got to do is to use steel wool to remove the rust spot. Or, you can make a paste made from coarsely ground kosher salt, then add water and rub it with a paper towel.
You can also rub out the offending spot with a slightly abrasive cleanser. The only caveat: make sure that anything that you rub into your cast iron cookware is non-toxic because you want to avoid the risk of any chemicals leaching into the surface of your ironware.
Beyond Cast Iron Myths
Beyond the myths about cast iron cooking, the truth about cast iron cookware is that it gets better with use. As the natural oils coat the iron skillet, it brings an enhanced nonstick surface that delights chefs.
Iron cookware will acquire the natural patina of the well-loved and used kitchen tool. In addition, it's an excellent option for healthy cuisine because it works wonderfully for cooking techniques such as braising, poaching, grilling, and broiling, which require no or little oil.
Your cast iron works fabulously in the intense heat of the oven, and it sizzles as a stovetop skillet. It is strong, sturdy, forgiving of any number of foibles and missteps, and it presents wonderfully at the table for a rustic plating. Enthusiasts and health experts laud and love it. And the 75-year-old cast iron pots that collectors covet prove that cast iron is the model of sustainable, safe, durable, and heirloom cookware.