Maggi Seasoning is a useful flavor enhancer in the kitchen that was invented back in the 1800s in Switzerland. The thin, dark sauce is used in recipes around the world to boost the umami in food like chicken, shrimp, beef, and vegetables. Its concentrated taste lends itself well to Asian cuisine and is perfect for sauces and stir-fries.
Don't have any Maggi Seasoning in the pantry? Maybe you dislike its taste, high sodium levels, or MSG content? Whatever the reason, we've pulled together a list of excellent Maggi Seasoning substitutes so that you can cook any recipe without the original ingredient.

Table of Contents
What can I use to replace Maggi Seasoning in my next dish?
The best substitute for Maggi Seasoning is combining Worcestershire sauce and soy sauce in equal quantities. Other good options are Kitchen Bouquet, tamari sauce, Gold Mountain Seasoning Sauce, or beef bouillon. Although none of these options will perfectly mimic the original ingredient, they will all boost your dish with delicious savory flavor.
1. Worcestershire sauce and soy sauce
If you enjoy the taste of Maggi Seasoning, then the best way to replace it is to combine equal parts Worcestershire sauce and soy sauce. This mixture will help you recreate the salty, savory flavor which is perfect for adding to soups, stews, and meat. We use dark soy sauce for adding mouth-watering color to food.
If you choose this option, keep in mind the ingredients are high in sodium and some brands contain MSG which may not be suitable for your diet.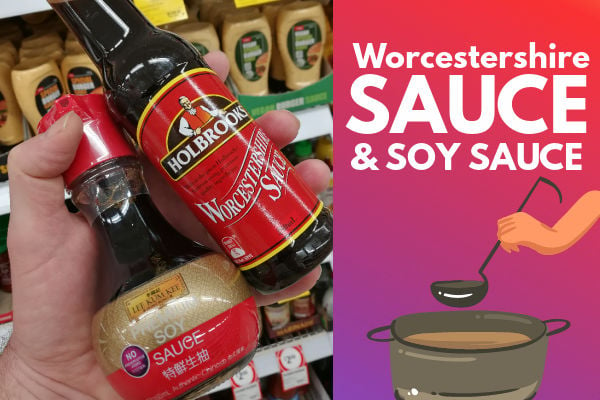 2. Kitchen bouquet
Kitchen bouquet is a branded product that has been flavoring food since around 1873. It will add a delicious boost of flavor to any recipe that calls for Maggi Seasoning including soups, marinades, and stews. But we think its best use in the kitchen is for browning and thickening gravy.
Are you looking to reduce your salt intake? Kitchen Bouquet is a much better option thanks to its low sodium content. You'll get 30mg from one tablespoon which is very low for this type of product. As a comparison, Maggi Seasoning sauce has 1850mg per serve.
Kitchen bouquet doesn't have the same levels of saltiness that Maggi Seasoning provides. To get closer to the original taste you may want to add extra salt.
3. Tamari sauce
Tamari is a type of soy sauce that is less hard-hitting and doesn't contain the saltiness that you get from a regular soy sauce. Thanks to being wheat-free, it also doesn't have that sharp burst of flavor which some people can find too intense.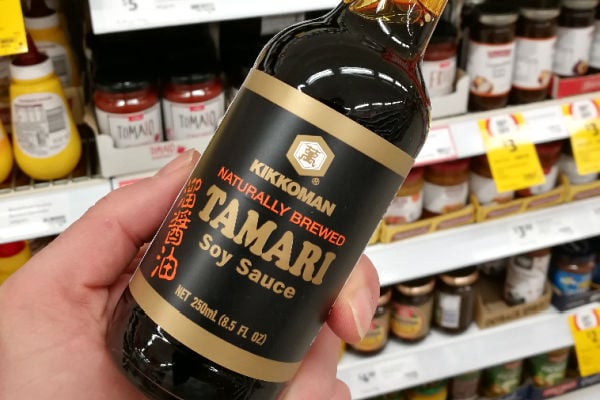 You'll find that tamari won't have the same complex flavor profile that you get from Maggi Seasoning and it also has a very subtle sweet undertone. Choose this option if you're cooking for people that don't like strong flavors.
4. Gold Mountain Seasoning Sauce
Gold Mountain Seasoning Sauce is a Thai product that is virtually interchangeable with Maggi Seasoning. We would have mentioned this product higher up the list if it weren't for the fact that it can be hard to find in stores. The sauce is mostly made from fermented soybeans and salt, but it is saltier than soy sauce.
5. Beef bouillon
Beef bouillon cubes are also known as stock cubes in some countries. They provide a similar burst of salty, umami seasoning to any food. Bouillon cubes are sold as dried cubes and can be mixed with water then added to food.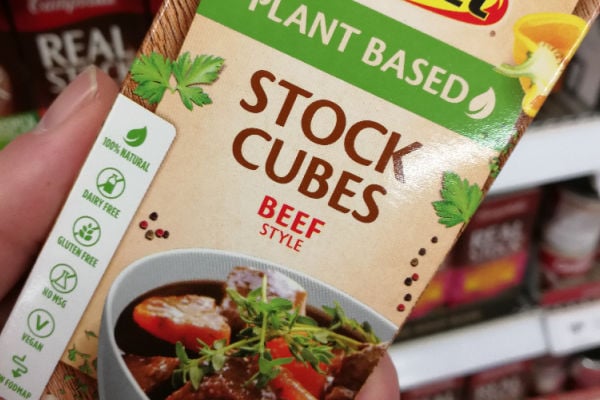 There are a variety of products on the market that suit a range of diets so if you're looking for a low sodium, gluten-free, or vegan option then this may be an ideal solution.
6. Gravy Master
Gravy Master combines ingredients like garlic, onion, caramel, celery, parsley, cane sugar, and a few others to produce a concentrated flavor enhancer. As the name suggests it is excellent for taking gravy to a new level. However, it has many extra uses like enhancing stews, sauces, soups, and marinades. Add intense flavor to meat like burgers, steaks, and roast meat by brushing Gravy Master over their surface.
Gravy master is suitable for vegan and vegetarian diets.
7. Lovage
Using lovage may seem like a strange Maggi Seasoning alternative. It is a flavorsome herb that's best described as a mix of celery, fennel, and parsley. However, flavor experts believe the two ingredients share some similar flavor notes. When you first taste test Maggi, you will be hit by an overwhelming salty, savory flavor. But once that initial burst dies down, there is definitely an herbal undertone to the seasoning. In Europe, some Dutch cooks refer to lovage as "maggiplant" while the Germans refer to it as "maggikraut".
If you decide to use lovage as a replacement, then we recommend adding a liberal dose of salt to try and match the flavor provided by Maggi Seasoning. This option is great for those on a plant-based diet.
8. Bragg's Liquid Aminos
Although Bragg's Liquid Aminos is a brand that is marketed as a soy sauce alternative, it is a closer relation to Maggi Seasoning. The biggest differences are that it's much less salty and has no MSG so you may want to add extra seasoning.
Fast facts about Maggi Seasoning
It is a hydrolyzed vegetable protein-based sauce that provides an intense flavor to any dish it gets added to - it is best used sparingly.
The Maggi brand was acquired by Nestle in 2019 and the product comes in different formats depending on the country it is sold in.
Although the flagship product is a liquid that is sold in a bottle, it is also produced in cubes and granulated powder.
Maggi masala is a popular type of instant noodle product.
It is very high in sodium; 1850mg per serving.

Summing up
Maggi Seasoning is a household name in many countries and is used to add a salty, savory flavor to food. If you can't find the product, or you don't want to use it for dietary reasons, then the best replacements are a combination of Worcestershire and soy sauce mixed in equal parts. Alternatively, you could choose Kitchen Bouquet or tamari sauce as backup options.
Although all the choices on this list won't perfectly replace the ingredient you're trying to substitute, they will enhance the flavor of your food deliciously and won't be out of place in any recipe.
What dish are you looking to cook that calls for Maggi Seasoning? Please let us know in the comments below.