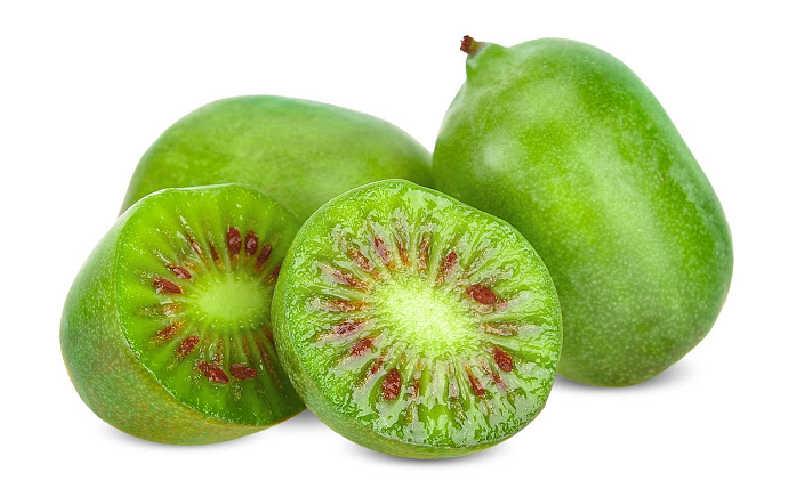 Wouldn't it be nice to get delicious-tasting kiwi that's easy to eat like an apple? The kiwiberry could be that perfect fruit. Its smooth skin is more user-friendly than the furry kiwi. But does a kiwiberry tick all the boxes? Should we be tossing our kiwis into the bin and stocking up on these berries instead? We'll reveal all in this ultimate guide to kiwiberries.

Table of Contents
What is a kiwiberry?
A kiwiberry has a striking resemblance to its popular cousin, the kiwi. The obvious difference being that it is much smaller, more like a grape.
Once sliced in half, you'll notice the flesh also looks similar to a kiwifruit, with green flesh and the same pattern of many edible black seeds.
This fruit variety is starting to pop up in stores around the world in greater numbers as the demand for it increases.
Kiwiberry taste
The kiwiberry is similar to a kiwi in taste - sweet, and slightly tangy. It has subtle hints of passionfruit, pineapple, strawberry, and feijoa. The flesh is bright green with loads of tiny black seeds that are edible, like a mini version of the kiwi.
The fruit turns a purple shade as it matures and there are also different varieties which can differ in color.
Kiwiberries have an intoxicating aroma that's hard to resist. Unlike kiwis that have thick, furry skin that most people discard, these fruits have smooth green skin that's edible.
Culinary Uses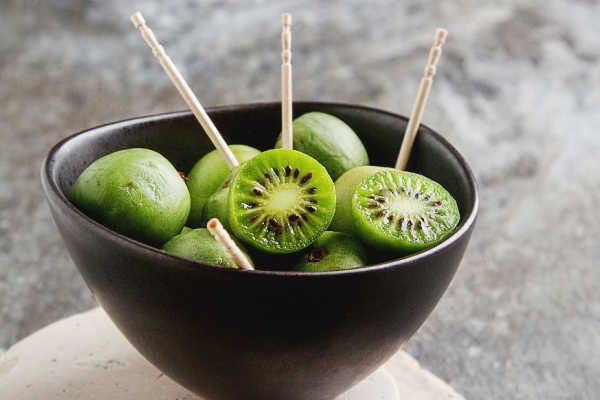 The kiwiberry is purpose-built for consuming fresh, out of hand. Pop them in your mouth and eat them like grapes! They're the perfect size for kid's lunch boxes. Pop a handful in their lunch for a fun change to bananas, apples, or any other fruit varieties they're getting tired of. Keep in mind the skin doesn't provide as much protection as a kiwi so they may need to be wrapped to avoid bruising.
Other uses for the fruit include:
Boil the fruit into a jam without the need for a "jam setter", thanks to the high levels of natural pectin.
Add to marinades to tenderize meat like beef and pork.
Use in a romantic picnic basket or include in a fruit platter when entertaining.
Add kiwiberries to pies, fruit salads, smoothies, sorbet, ice cream, and chutney.
Replace olives with a kiwiberry in cocktails for people who don't enjoy the bitterness of an olive.
The kiwiberry is a tasty accompaniment to savory dishes and is delicious paired with seafood like prawns, scallops, or white fish. It also goes well with pork, beef, venison, and chicken.
For a unique-looking garnish, top tarts, pavlovas, and cheesecakes with this fruit.
The fruit can be dried and kept for 12 months – they're excellent used baked goods like cakes and muffins.
How to make a Kiwiberry salsa
Ingredients
8 cherry tomatoes, sliced in half
15 kiwiberries halved
1 red onion, roughly chopped
1 clove garlic, peeled and chopped
¼ cup coriander leaves, roughly chopped
1 jalapeno pepper, de-seeded
1 tsp sugar
2 Tbsp lemon juice
Black pepper, to taste
Method
Add all ingredients to a blender and pulse in short bursts until ingredients are combined. The texture should have some bits in it, so avoid over-processing.
Serve immediately with grilled chicken or fish, or transfer to an airtight container and store for a day or two at most.
Notes:
-Some texture makes a better salsa so don't over-process.
-The fresher the ingredients the better the result.
-Chill the salsa before serving to help make the flavors pop.
How to eat a kiwiberry
A fresh kiwiberry can be eaten out of hand, skin and all. If eating the skin isn't appealing, then use your fingers to break the fruit in half and suck the flesh out. It's much easier than a kiwi to get the flesh out.
Nutritional value
Kiwiberries are packed with nutritious benefits and contain vitamin A, C, and E, as well as antioxidants, carotenoids, and minerals. They are also a useful source of lutein, chlorophylls, and dietary fiber.
Nutrition in raw kiwiberry (4½ oz serve)
| Energy | 403kJ |
| --- | --- |
| Protein | 1.5g |
| Total Fat | 0.7g |
| Carbohydrates | 22g |
| Dietary fiber | 4g |
| Sugar | 9.5g |
Storage
Kiwiberries can be stored in the refrigerator for 10-14 days before they start to lose their quality. They can also be frozen whole, sliced, or mashed, in airtight containers or ziplock bags for up to 12 months.
If your berries aren't as ripe as they should be then pop them into a bag with an apple or banana to speed up the ripening process.
Related reading: How to ripen a pineapple.
Frequently asked questions
Do kiwiberries taste like a kiwi?
A kiwiberry has a similar flavor to the kiwi, but it is a little sweeter and packs extra flavor.
What is a good substitute the kiwiberry?
To replace kiwiberries in a dish, you can use kiwifruits or pitayas. They all have a similar taste and texture.
Are kiwiberries genetically modified?
The kiwiberry is not genetically modified and has grown wild for centuries in countries with cold climates like Korea, Siberia, and Japan. It is believed to have existed prior to its cousin, the kiwifruit.
Where are kiwiberries grown?
Kiwiberries are cultivated in the United States, Canada, Korea, Europe, Chile, New Zealand, and China. They were introduced to the United States in 1877 but have struggled to develop commercially as the fruits have a short storage life.
Fast facts about the kiwiberry (hardy kiwi)
Its botanical name is the Actinidia arguta and it is a member of the Actinidiaceae family.
The fruit grows on a perennial vine that's native to Korea, Russia, China, and Japan.
Kiwiberry vines can live for 50 years, producing fruit for 30 of those years.
The fruit ranges from 5-20 grams in weight.
The plants are deciduous and require a male and female vine for pollination.
The fruit is a popular snack for monkeys and deer.
Kiwiberry vs. kiwi - which is best?
The kiwiberry is a fun play on the regular old kiwi which everyone is used to. When our team tested this fruit, we enjoyed the flavor. Better still, the smooth edible skin was a big positive. However, the flesh contained in each fruit isn't hugely different. We don't think many people would prefer the kiwiberry over the kiwi based on taste alone.
Cost is usually a factor to consider when choosing fruit. The kiwiberries we purchased were fairly expensive compared to regular kiwis. For the price of a small punnet, which the average kid could gulp down in under a minute, you could buy a whole bag of kiwis.
Kiwiberries are more of a novelty, which makes them expensive. Based on the price, we wouldn't recommend them as an everyday fruit that you'd buy like apples. However, they're a great fruit to buy for a fun spin on a dessert or if you're keen to get the kids to eat some fruit. Most people haven't seen them before so if you're entertaining add them to an antipasto platter with toothpicks inserted.
Unlike kiwis, which are available all year round, kiwiberries are only available for a couple of months. At this stage, they'll never replace their fur-covered rival, the kiwi. But they're a novel fruit to buy for something a little different.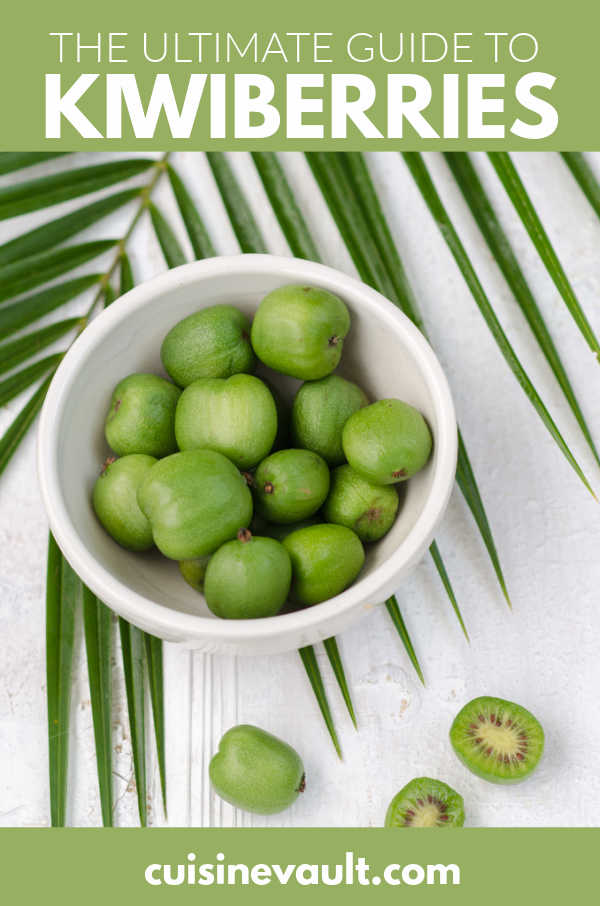 Have you tasted a kiwiberry before? Please let us know whether you think they're worth the money in the comments below.