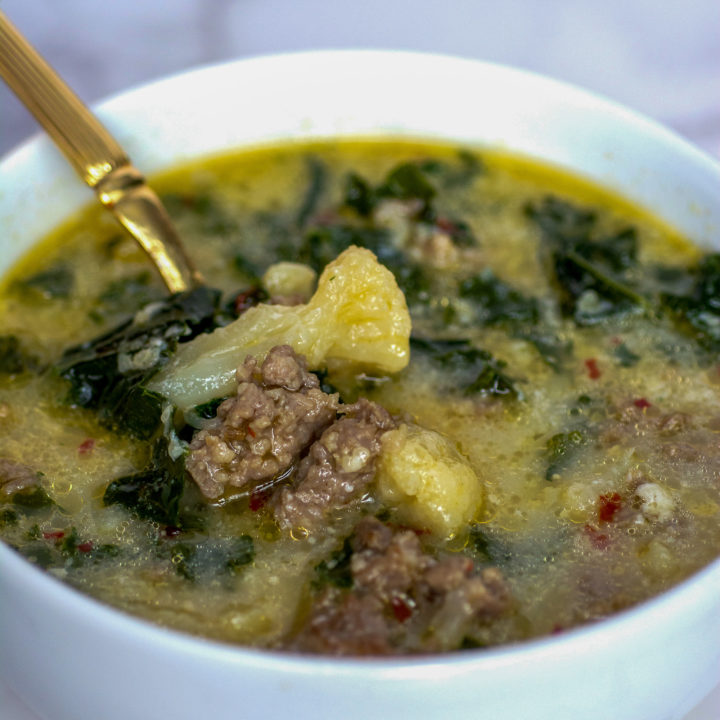 This keto Zuppa Toscana is my all-time favorite low-carb soup. It is loaded with rich flavor from the Italian sausage, kale, tender cauliflower, cream, and delicious broth. It has everything you need for a quick, delicious, and hearty lunch or dinner option.
If you still think that comfort food can't be low carb, you're completely wrong. This keto soup proves the opposite. One serving of this Zuppa Toscana has only 5 grams of carbs and is the most delicious soup I've ever tried (and I'm not lying).
It's just like the Olive Garden soup, just minus the carbs. Moreover, it doesn't take up much time to cook it - just 30 minutes. So even if you're in a hurry, you can quickly make this soup. Your kids won't be able to resist it.
Table of Contents
Is the Olive Garden Zuppa Keto-Friendly?
Unfortunately, no. The classic Olive Garden soup is nothing close to being keto-friendly since it has potatoes in it. And as you might already know, potatoes are loaded with carbs making such a soup not suitable for the low carb lifestyle.
But the good news is that there is a way out! If you want to make this soup so bad, you can use cauliflower instead of potatoes. Yes, it does taste different. But in this case, different is not bad. It's just simply different.
Here's What You'll Need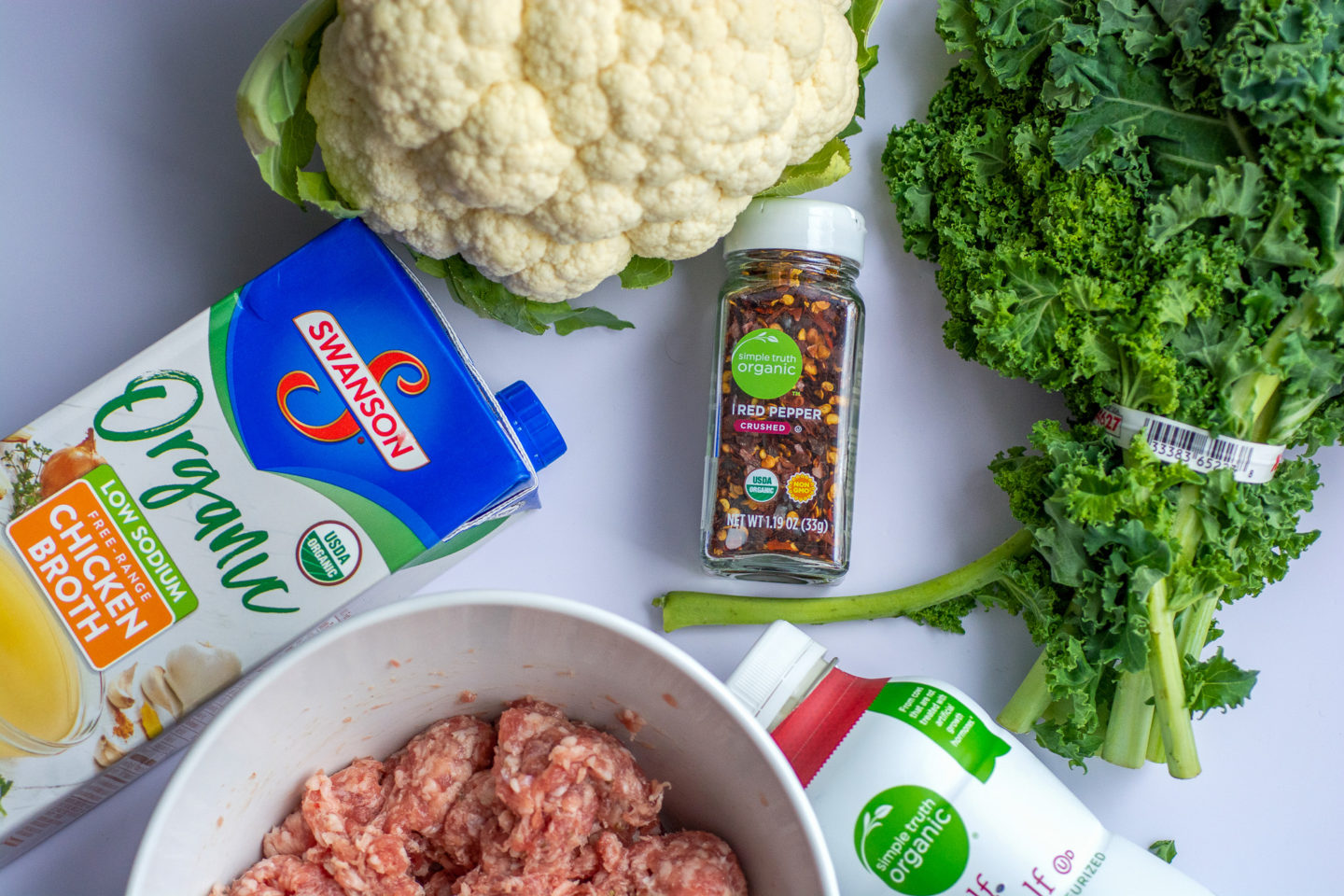 So, to make this keto Zuppa Toscana soup, you'll need less than 10 ingredients. I love such recipes since they don't require you to gather lots of ingredients and spend too much time grocery shopping. I bet you already have some of these ingredients in your fridge.
Here's what you should prepare for this keto soup recipe:
Italian sausage. If you want, you can replace it with some ground pork, beef, chicken, or turkey. Or just mix your favorite ground meat and use it for the soup. I've tried all possible options, and Italian sausage is still the best variation for me.
Cauliflower. This is the best replacement for the potatoes in the original Zuppa Toscana recipe.
Kale. I love kale, which is why I make this soup very often. But if you're more a spinach person, you can definitely use it instead of kale.
Garlic cloves. What can spice up this soup better than freshly minced garlic? This ingredient gives the most flavor to the soup. But if you want, you can substitute it with garlic powder.
Chicken broth. You can use chicken broth, chicken stock, or beef broth. All of it goes perfectly here.
Water. I don't like to cook my soups only on chicken broth — which is why, I always add some water to it.
Half-and-half. This gives a creamy texture to the soup. If you have some heavy whipping cream in your fridge, you can use it instead.
Red pepper flakes. I like this keto Zuppa Toscana to be spicy, so I always add some red pepper flakes to it. Sometimes I even add some extra before serving.
Salt and pepper. Once the soup is fully cooked, you should adjust the amount of salt and pepper by yourself. I usually add ½ teaspoon of salt and a teaspoon of ground black pepper.
Sometimes I also like to add some diced onion to this soup. If that's what you want, just cook it together with the Italian sausage. Also, you can add some bacon. But keep in mind that this will slightly increase the number of calories in the soup.
How to Make Low-Carb Zuppa Toscana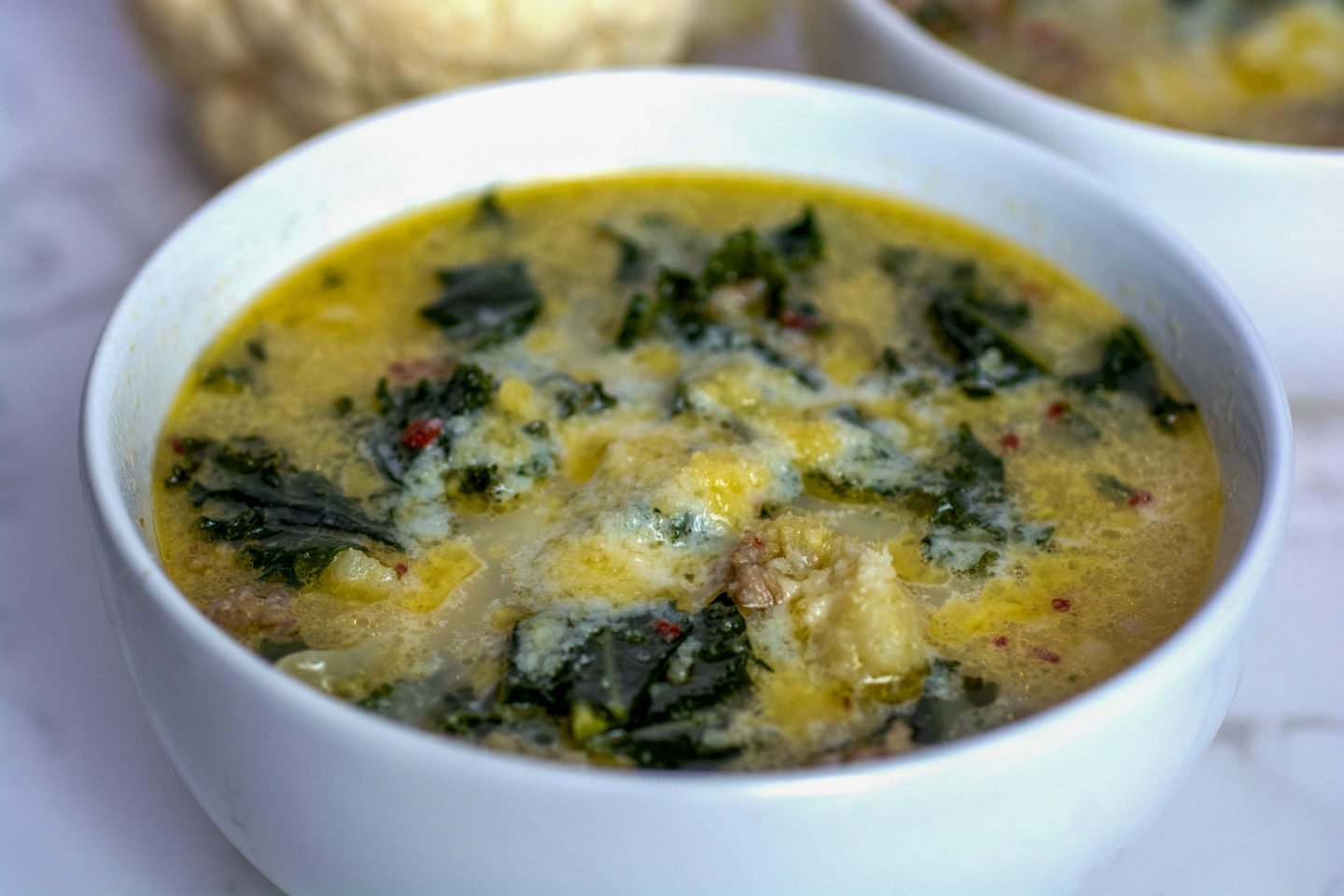 The cooking process is fairly simple. Just a couple of steps, and you'll have your Zuppa Toscana ready in no time. So once you've gathered your ingredients, here's what you should do next to cook this keto Zuppa Toscana recipe:
Cook the Italian sausage. Just take the soup pot in which you want to make the low-carb Zuppa Toscana and stir fry the sausage in it. This way, all of the fat from the meat will stay in the soup, making it more filling.
Add other ingredients. Place everything from the ingredients list except for the half-and-half and the kale.
Finish off. Once the cauliflower is fully cooked, add the kale and half-and-half into the soup. Cook for a few more minutes.
That's it! Now you can serve the soup and enjoy. But before serving, you can sprinkle the soup with some parmesan cheese (it doubles the flavor, trust me).
Storing Tips
You should store this keto Zuppa Toscana in your refrigerator for up to 2 days. Then whenever you want to serve it, just reheat the soup either on the stovetop or in your microwave.
I do not recommend freezing this soup. Since it contains dairy, once you thaw such a soup, it'll have a weird texture.
Recipe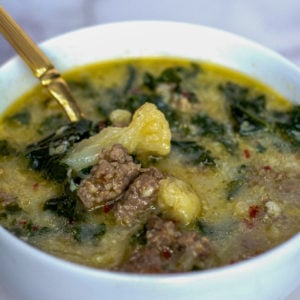 Keto Zuppa Toscana Soup
This keto Zuppa Toscana is my all-time favorite low-carb soup. It is loaded with rich flavor from the Italian sausage, kale, tender cauliflower, cream, and delicious broth. It has everything you need for a quick, delicious, and hearty lunch or dinner option.
Ingredients
1

pound

Italian sausage

1

small

cauliflower head

divided into florets

1

tsp

red pepper flakes

1

bunch

kale

chopped

4

garlic cloves

minced

32

oz

chicken broth

5

cups

water

½

cup

half-and-half

salt and pepper to taste
Instructions
Place a large pot over medium heat and add the Italian sausage. Cook it until the sausage browns (for about 10 minutes).

Add the minced garlic, cauliflower florets, red pepper flakes, chicken broth, and water. Cover with a lid and cook for about 15 more minutes.

Pour in the half and half, add the chopped kale, and cook for 5 more minutes. If needed, add more salt. Pour in a bowl, and sprinkle with some parmesan cheese before serving.
Nutrition
Calories:
321
kcal
Carbohydrates:
7
g
Protein:
14
g
Fat:
27
g
Saturated Fat:
10
g
Polyunsaturated Fat:
3
g
Monounsaturated Fat:
12
g
Cholesterol:
65
mg
Sodium:
1151
mg
Potassium:
591
mg
Fiber:
1
g
Sugar:
1
g
Vitamin A:
2338
IU
Vitamin C:
60
mg
Calcium:
97
mg
Iron:
2
mg