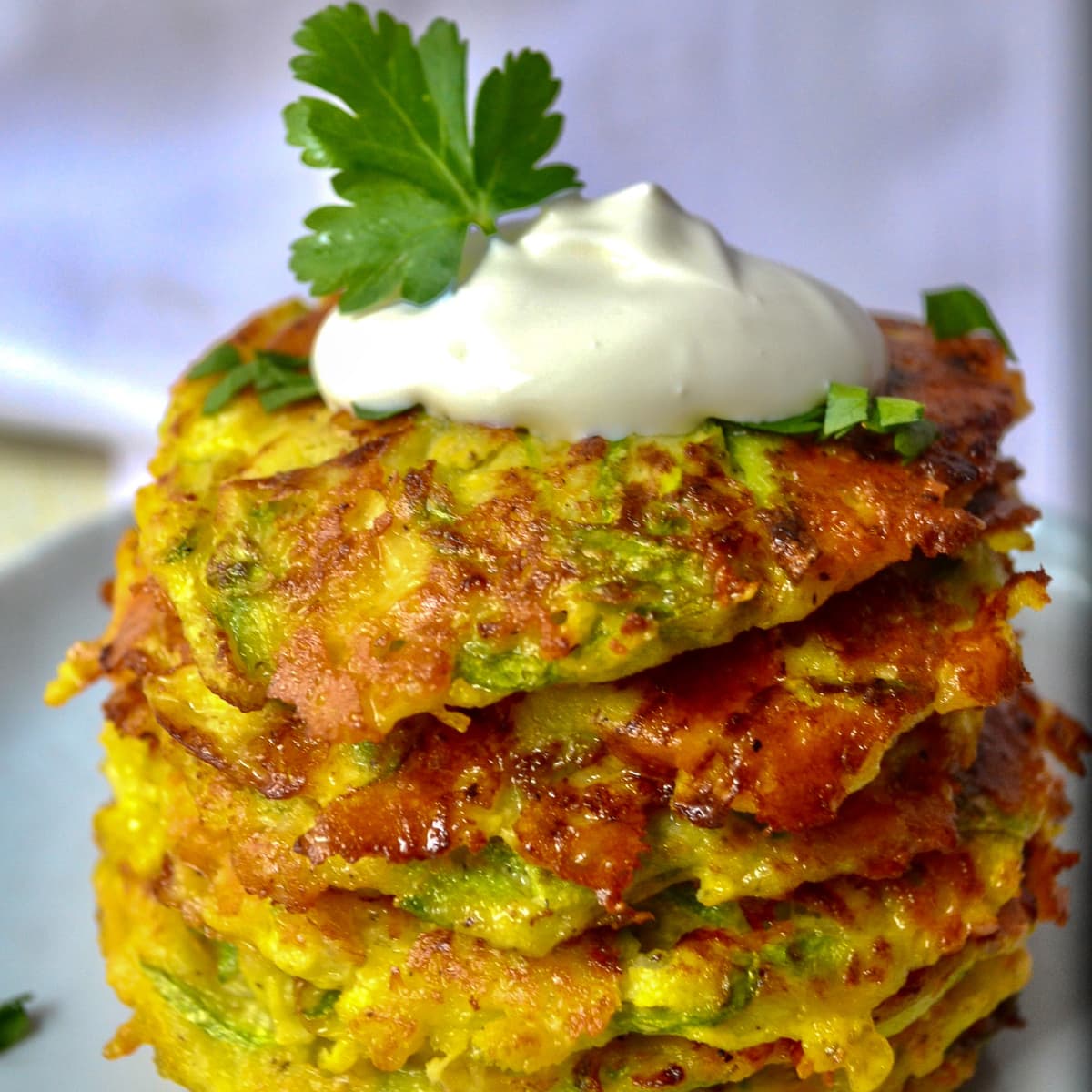 Keto zucchini fritters or zucchini pancakes—no matter what you call them, it doesn't change the fact that they are unbelievably delicious! You can make them on a frying pan, in the oven, or the air fryer, and they'll turn out equally tasty. This recipe is perfect for a filling breakfast, lunch, dinner, or even a quick snack.
If your child is a picky eater and refuses to eat veggies of any kind, these zucchini fritters will be a life-saver. My little one hated all veggies. But these fritters are his favorite dish, and he even asks for seconds.
As for me, I've always had a thing for potato fritters, and since I decided to start eating low-carb, that became a forbidden treat for me. But, this recipe helps me satisfy that craving. Now, I don't even think of having potato fritters since the zucchini ones are better in every way—fewer carbs, fewer calories, gluten-free, healthier, and they're simply impossible to resist.
Table of Contents
Tips for Making the Keto Fritters
This recipe is the first one that I ever made from zucchinis. My first batch of keto zucchini fritters was nothing even close to perfect. I didn't have any idea how to cook them properly, so my first try results made me think it would be impossible for them to be good.
But after some experimenting and a few more tries, I created the perfect recipe for low-carb zucchini fritters. If you're worried that you won't get everything right from the first time, here are a few tips that will help you when cooking the fritters:
Always drain the grated zucchini. This is an important step that cannot be skipped because no one wants soggy fritters. There are multiple ways to drain the excess liquids from this vegetable. I usually place the shredded zucchini in a bowl, add some salt, and let it sit for about 10 to 15 minutes. Then, I take a part of that zucchini and squeeze out the liquids with my hands. Alternatively, you can also use a colander or a muslin cloth to do it.
There's no need to separate dry ingredients from wet ones. Simply mix everything in one bowl—zucchini, mozzarella, egg, almond flour, garlic, and spices.
Shape the zucchini fritters in your hands. The texture of the zucchini mix allows you to form the fritters on your hand. This way, you'll get a nice round shape. If the zucchini mix sticks to your hand, wet your hands a little before making them.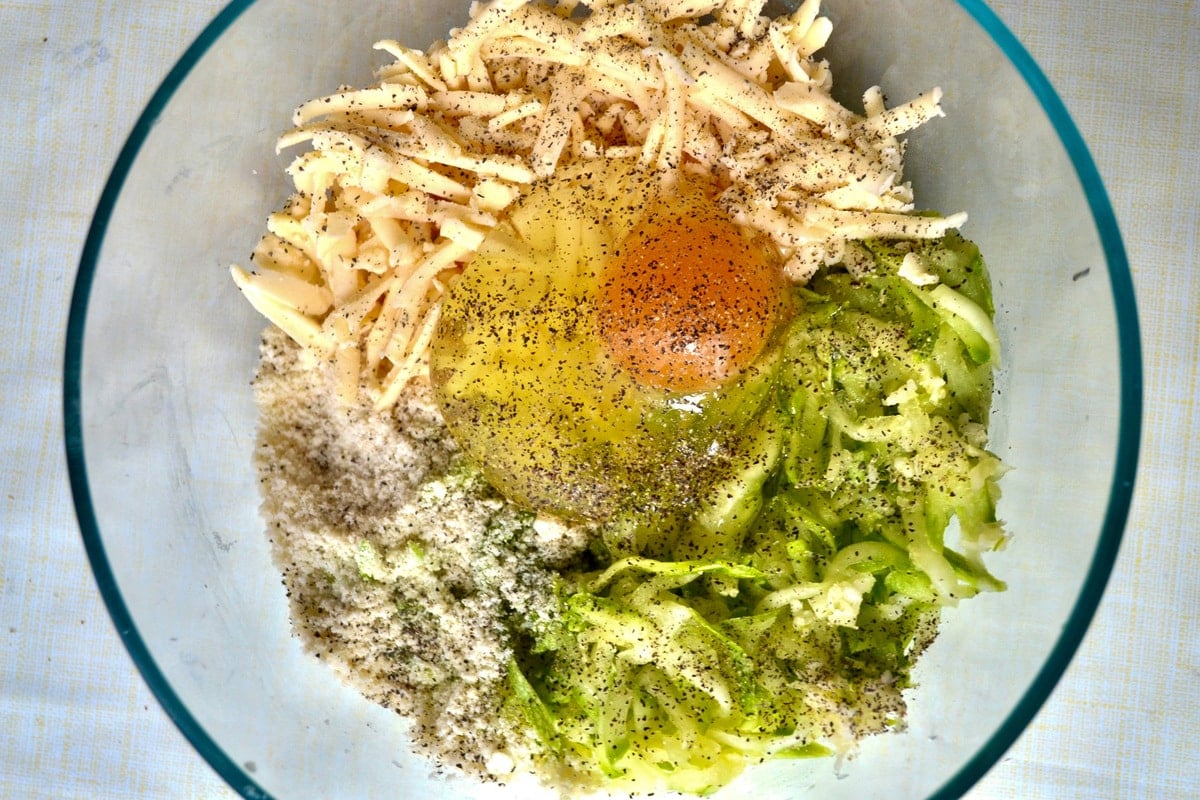 Cooking Methods
Frying the zucchini fritters on a pan is not the only way to make them. While I usually choose this cooking method since it takes the least amount of time, you can also bake them in the oven or cook them in the air fryer.
Here's a more detailed description of the two other cooking methods:
Baking in the oven. Preheat the oven to 375F and prepare the baking pan by placing a piece of parchment paper on the bottom of it. Then, add a bit of oil on the parchment paper, place the formed zucchini fritters, drizzle with some more oil over the top, and bake for about 5-8 minutes, depending on the thickness of your fritters.
Cooking in the air fryer. Place a piece of parchment paper on the bottom of the frying basket. Place the zucchini fritters over the parchment paper and drizzle with olive oil. Fry for about 6 minutes at 390F. Make sure to flip the zucchini fritters halfway.
How to Store Them
You can keep these keto zucchini fritters in your fridge for up to 3-4 days. And yes, they are also freezer-friendly, so you can make the fritters ahead of time. But, since they are better freshly fried and served immediately, I don't freeze them that often.
If you do decide to freeze these low-carb zucchini fritters, then reheat them on a hot frying pan before serving them so that they'll taste freshly cooked.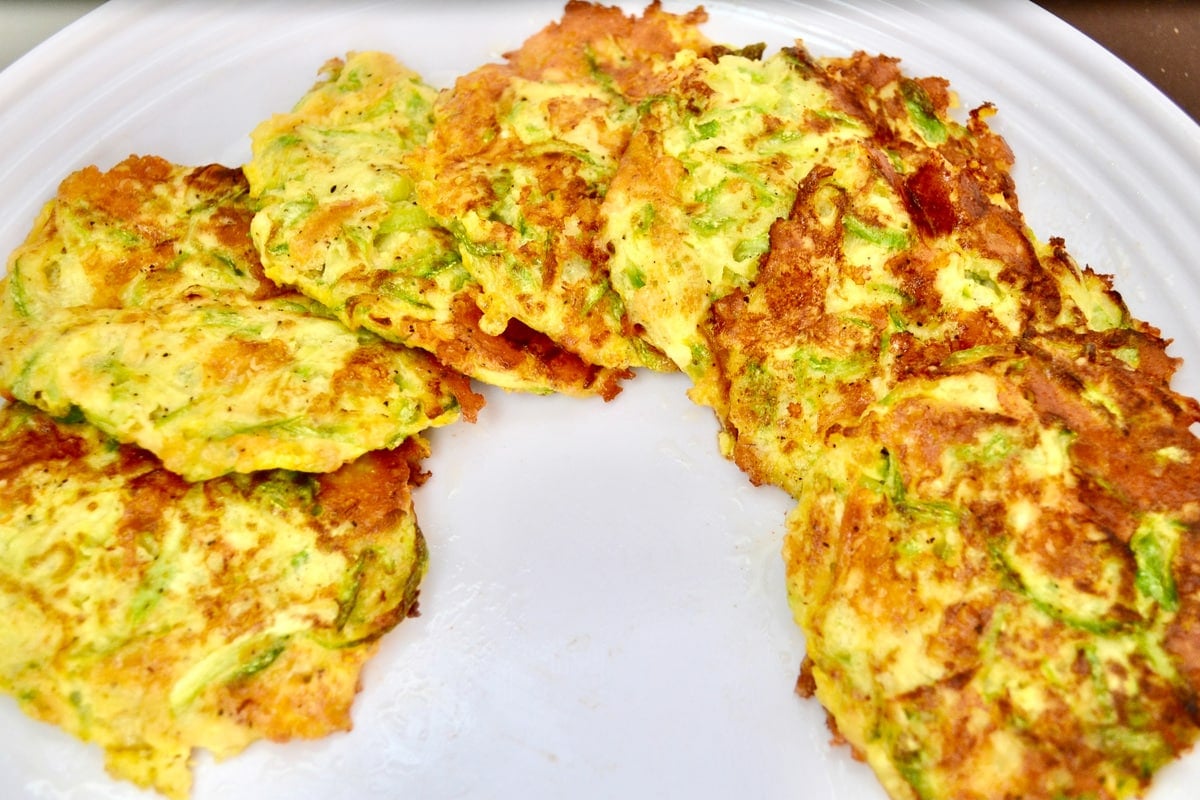 Serving Ideas
You can serve the fritters in whatever way you like. They are pretty versatile, especially when it comes to eating keto and thinking of a possible dinner idea. Here are some ways that you can try serving these zucchini fritters:
Use the fritters as burger buns. Here's an amazing recipe for the sausage patties.
Make a fun sandwich. Stack them with tomatoes, some lettuce, and bacon.
Top the zucchini fritters with some of this slow cooker pot roast.
Serve it as a side dish.
Place avocado slices, pulled chicken, and some melted mozzarella cheese on top.
Recipe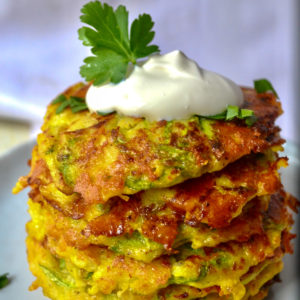 Keto Zucchini Fritters
Whether you call them keto zucchini fritters or zucchini pancakes, they are unbelievably delicious! You can make them on a frying pan, in the oven, or the air fryer, and they'll turn out equally tasty. This recipe is perfect for a filling breakfast, lunch, dinner, or even a quick snack.
Ingredients
1

small

zucchini

2

tbsp

almond flour

1

large

egg

2

garlic cloves

minced

4

oz

mozzarella cheese

shredded

salt and pepper to taste
Instructions
Grate the zucchini, add salt, and set it aside for about 10 minutes to release liquid. Squeeze the liquid out of the grated zucchini with your hands and place it in a bowl.

Add the egg, almond, flour, minced garlic cloves, mozzarella cheese, and pepper. Mix together.

Heat a large frying pan over medium fire and pour in enough oil to cover the bottom of the pan entirely.

Using a tablespoon, scoop a portion of the zucchini mixture and place it into your hand. Form a circle and put it on the frying pan. Then, cook each fritter for about three minutes on each side. When you see that the bottoms of the fritters start to darken, remove them from the pan.

Place the zucchini fritters on a paper towel before serving.
Nutrition
Calories:
248
kcal
Carbohydrates:
5.4
g
Protein:
19.5
g
Fat:
18.2
g
Saturated Fat:
9
g
Trans Fat:
1
g
Cholesterol:
138
mg
Sodium:
396
mg
Potassium:
244
mg
Fiber:
1
g
Sugar:
2
g
Vitamin A:
637
IU
Vitamin C:
11
mg
Calcium:
330
mg
Iron:
1
mg