White country gravy will always be the ultimate keto comfort food. And if you're following the keto diet, luckily, there is an easy way to make it low-carb. It takes less than 15 minutes to whip it up, and there are numerous delicious ways of serving it.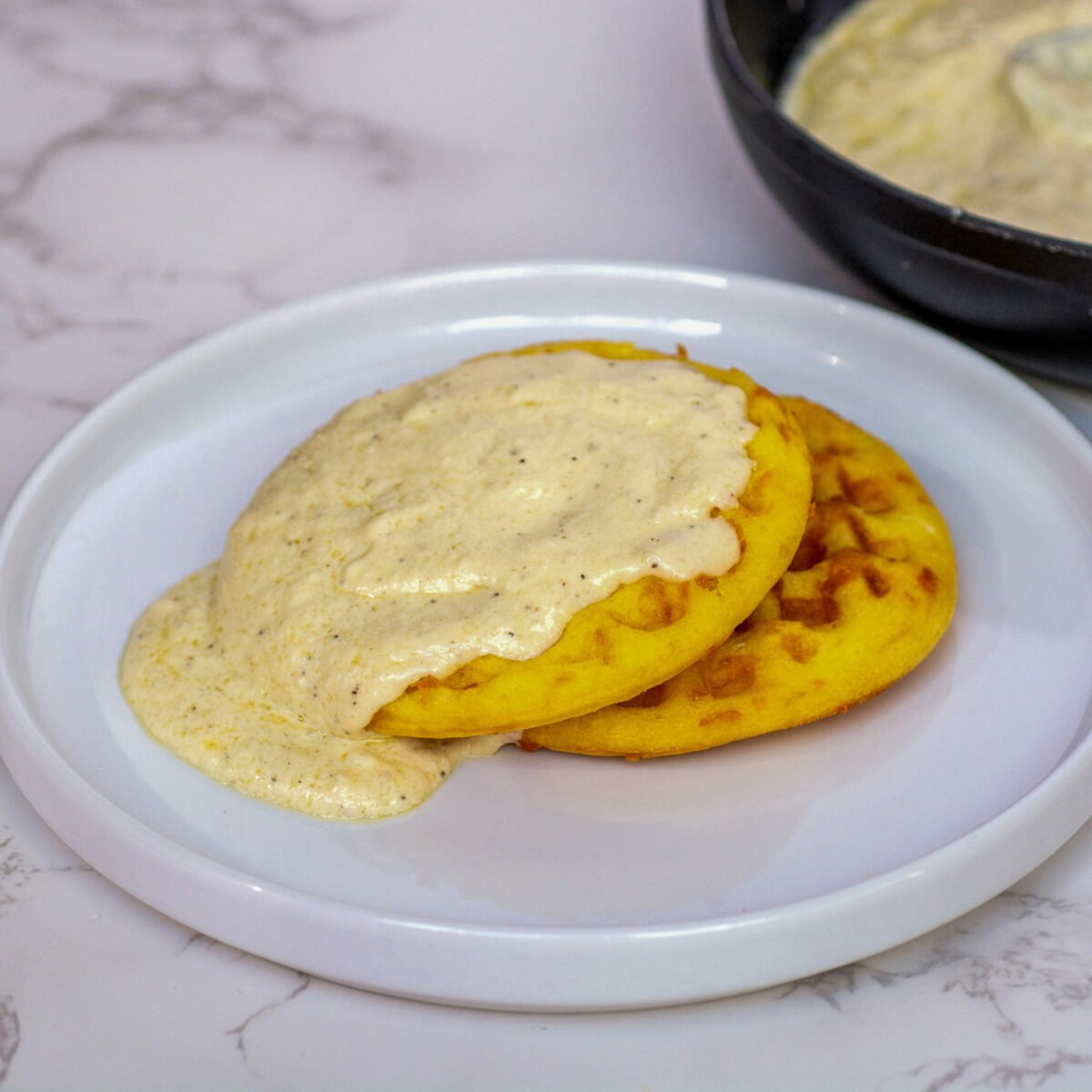 One serving of this keto white gravy contains slightly over 2 grams of carbs. And basically, it's a fat bomb since it has around 18 grams of fat. So there's no need to keep yourself from enjoying it with mashed cauliflower, cheese waffles, or a nice meat patty.
I know it might be overwhelming making low-carb gravy for the first time. But actually, it's even easier than making the original one.
Table of Contents
Is White Gravy Keto-Friendly?
Unfortunately, no. The classic white gravy has all-purpose flour listed as its main ingredient, making it not even close to being compatible with the keto diet.
But this recipe has proved that it's possible to make it without the usual flour, and it actually turns out to be even tastier than the traditional gravy version.
Needed Ingredients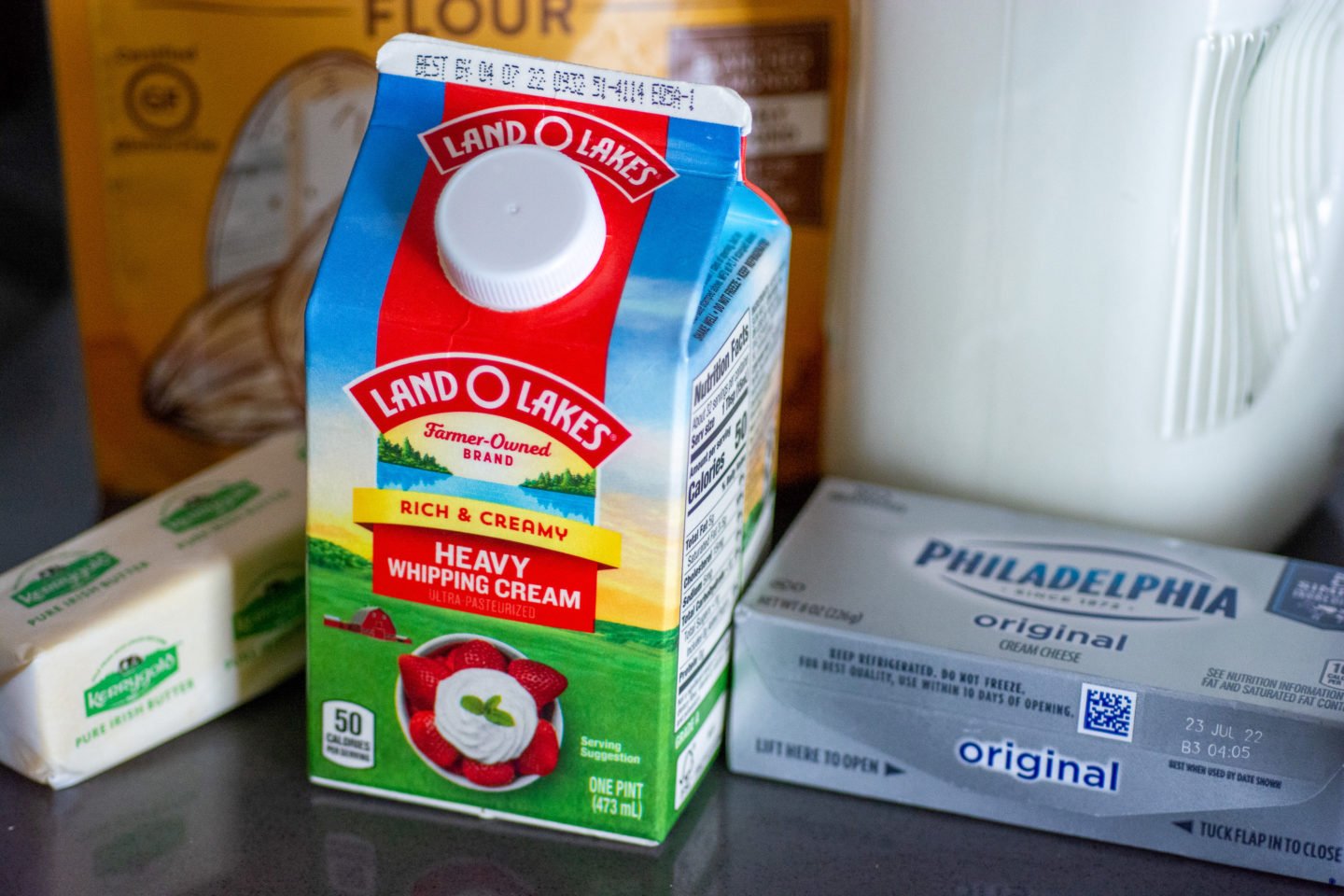 To make this keto white gravy, you should gather only 5 simple ingredients, and that's it. They can be found in almost any local grocery store, so don't wait any longer, and let's get cooking!
Here's what you need for this keto gravy recipe:
Almond flour - this all-purpose flour substitute fits perfectly into this gravy recipe. It doesn't leave any lumps and makes the keto gravy thick and creamy at the same time (coconut flour won't give you the same results);
Butter - just a tablespoon of butter is just right;
Cream cheese - I know that many keto dieters tend to add mozzarella cheese to their gravy, but truth be told, cream cheese is a game-changer here;
Heavy cream - to add some more creaminess, I always add some heavy cream into my low carb gravy;
Milk - I used whole milk, but feel free to substitute it with any low carb plant-based milk (almond milk, coconut milk, hemp milk, or soy milk);
So the good news is that there's no xanthan gum in this keto sausage gravy recipe. And there is definitely no need to add it since it turns out pretty thick.
I don't like to add any herbs or spices to my homemade gravy. All I add is some salt and freshly ground black pepper. But if you want, there's definitely no harm in adding some garlic powder, cayenne pepper, or Italian seasoning (as long as that's what you really like).
If you want your white gravy to have a smoky flavor, replace the butter in this keto recipe with the same amount of bacon grease.
How to Make Keto White Gravy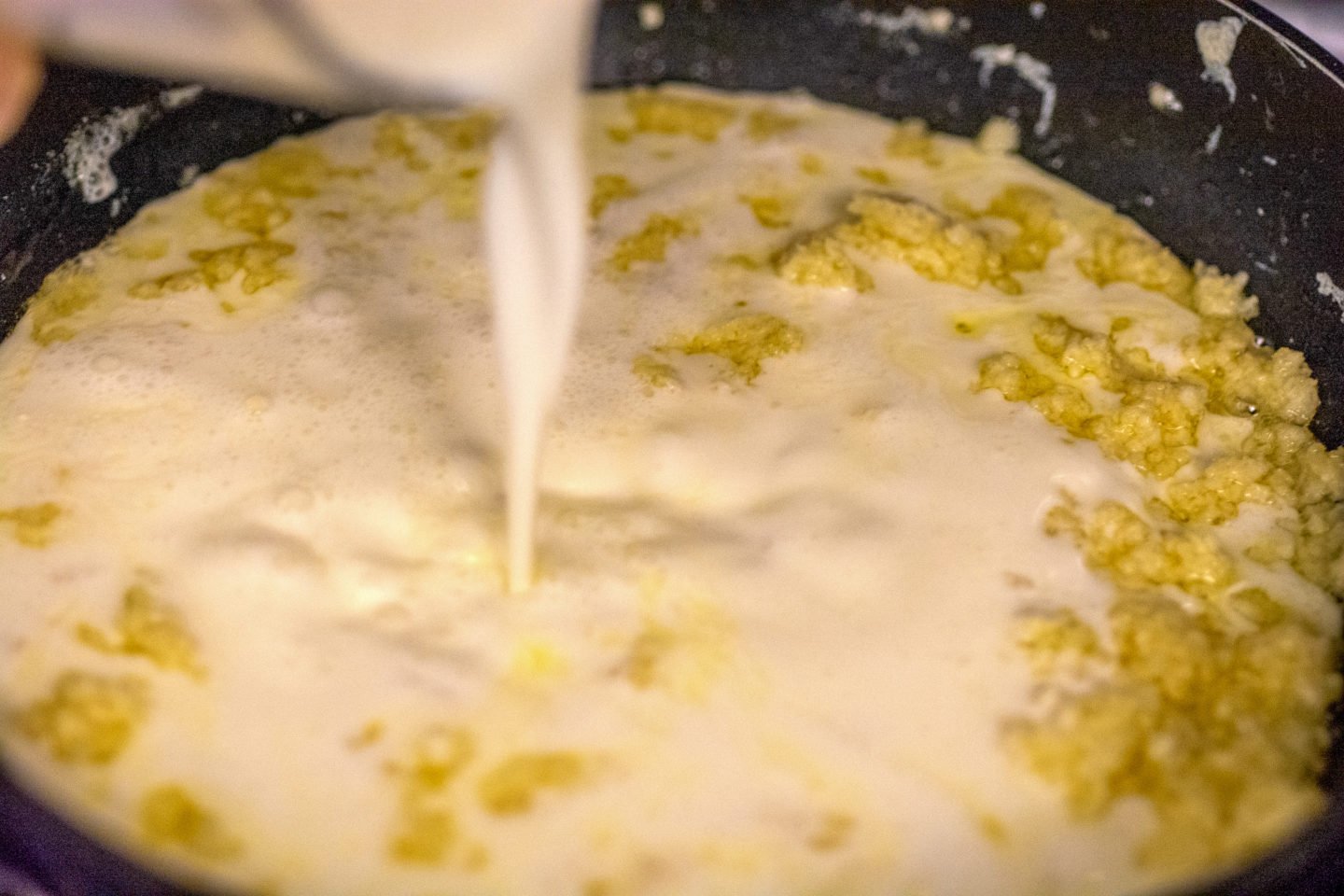 Everything's insanely simple when it comes to making keto gravy. Here's a rough description of what you'll need to do to make it:
Place a skillet or a small pot over medium heat.
Add the butter and cream cheese. Stir until it melts.
Add the almond flour and stir for a few minutes.
Pour in the milk and heavy cream.
Stir until the almond flour lumps dissolve.
Add salt and pepper, stir again, and serve.
And there you have it! Your perfectly creamy and keto-friendly white gravy is ready to be served.
To give you a bit more confidence, here are a few tips that may become helpful when making this low-carb white gravy:
Use a nonstick pan
Use a small whisk to make sure that there are no almond flour lumps left
Don't add salt to your gravy before tasting it; it's very easy to over-salt it
Serve the gravy hot (when it starts to cook down, it will become very thick)
Tip: For an even more filling option, add cooked ground meat to the gravy for an even more filling option. But if you're counting calories, keep in mind that this will slightly increase them and change a bit the nutritional information of this white sausage gravy.
Serve with Keto Waffles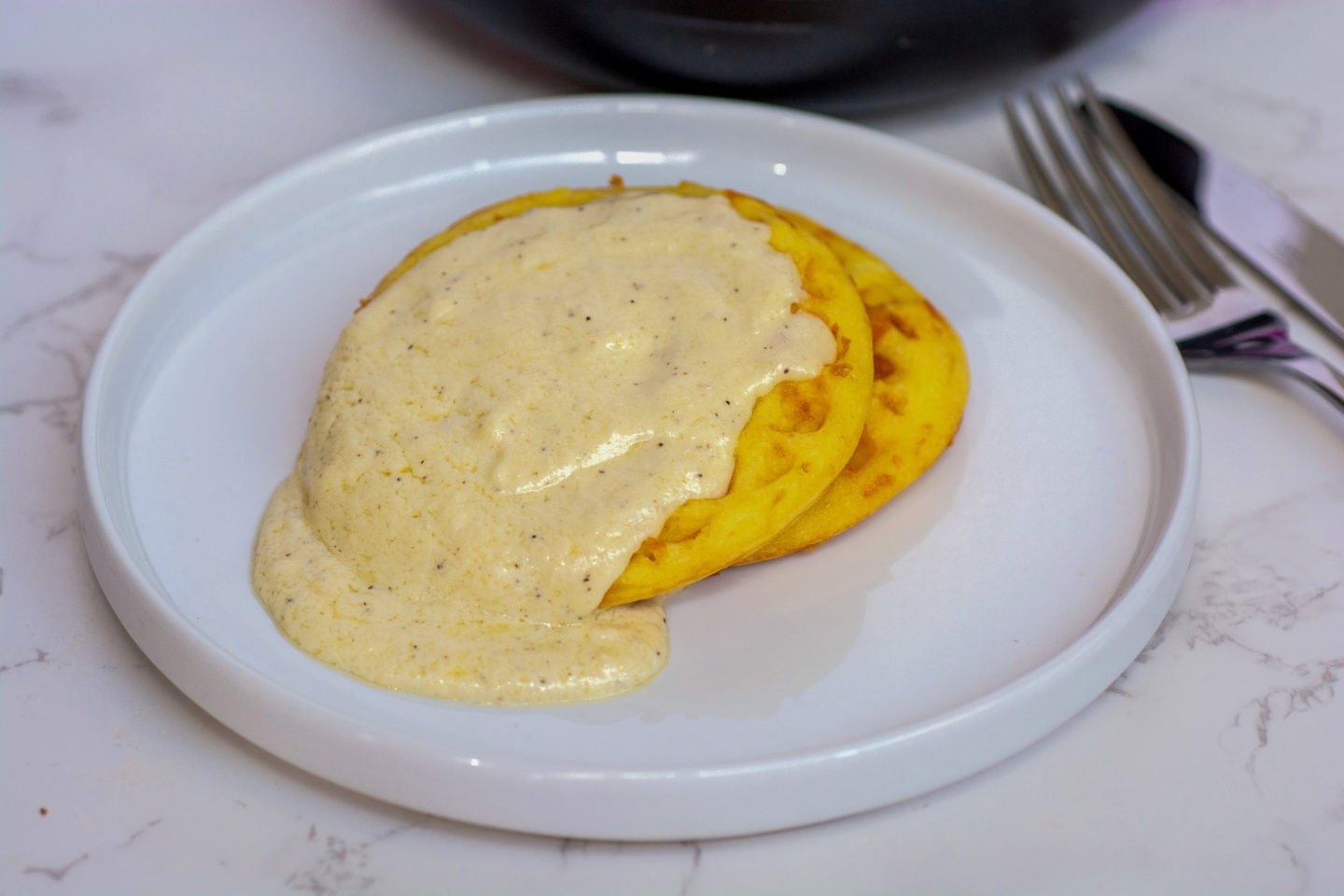 I don't know about you, but I love this Dash mini waffle maker. And my favorite cheese waffle goes perfectly with this keto white gravy sauce. So if you'd like to try it, here's what you need for the waffle and how to make it:
1 tbsp shredded cheese
1 large egg
1 tbsp almond flour
All you need to do is combine these three ingredients and add some salt and pepper. Then turn on your waffle maker, place the dough inside, and bake until ready (for about 1-2 minutes).
Storing Instructions
If you have any keto white gravy leftovers, simply place them in an airtight container and store them in your refrigerator. This way, the gravy will last up to 2-3 days.
Keep in mind that the gravy will become very thick after storing in the fridge, so whenever you wish to serve it, simply reheat it in your microwave for a minute or two until nice and smooth.
Recipe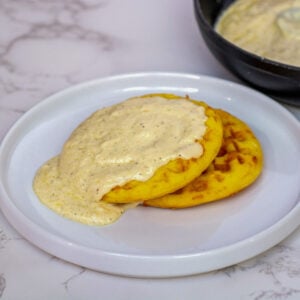 Keto White Gravy
One serving of this keto white gravy contains slightly over 2 grams of carbs. Basically, it's a fat bomb since it has around 18 grams of fat. Plus, it takes less than 15 minutes to whip it up. And there are numerous delicious ways of serving it.
Ingredients
1

tbsp

butter

1

tbsp

cream cheese

5

oz

heavy whipping cream

3

oz

milk

1

tbsp

almond flour

salt and pepper to taste
Instructions
Place a skillet over medium heat and melt the butter with cream cheese.

Add the almond flour and stir for 2-3 minutes.

Pour in the heavy cream and milk. Cook on low heat until the gravy thickens, stirring from time to time to dissolve the lumps.

Add salt and ground pepper, stir, and set aside.
Nutrition
Calories:
158
kcal
Carbohydrates:
3
g
Protein:
2
g
Fat:
16
g
Saturated Fat:
9
g
Polyunsaturated Fat:
1
g
Monounsaturated Fat:
4
g
Cholesterol:
47
mg
Sodium:
33
mg
Potassium:
75
mg
Fiber:
1
g
Sugar:
2
g
Vitamin A:
610
IU
Vitamin C:
1
mg
Calcium:
61
mg
Iron:
1
mg