Everybody loves a sweet and flavorful vanilla cake. And this keto cake recipe will surely make a delicious dessert while staying on the low-carb and low-calorie side. Moreover, making this keto dessert only requires less than an hour of your time.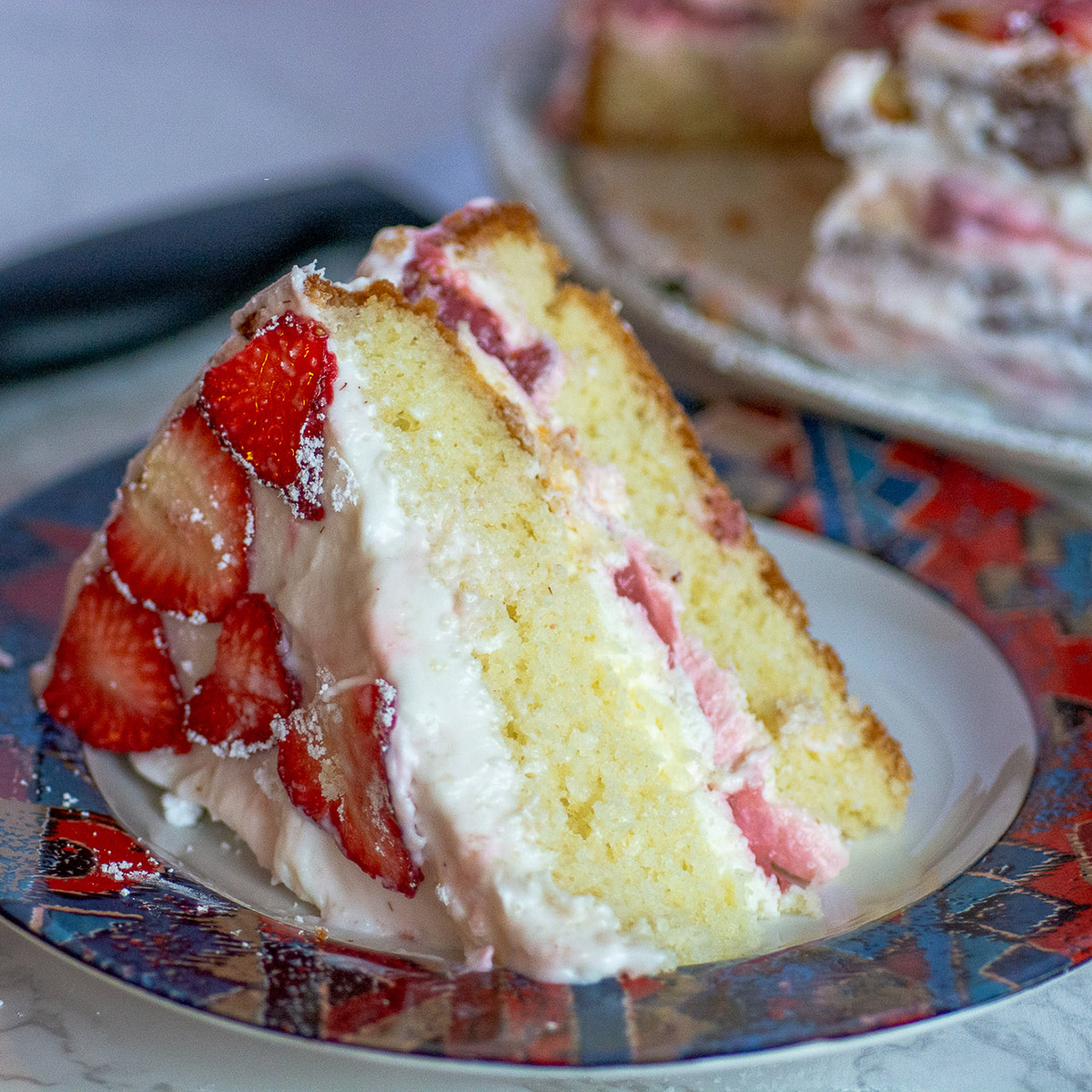 This low-carb birthday cake turns out incredibly moist and fluffy, and the tasty cream cheese and strawberry filling will make your mouth water as soon as you take your first bite of this sugar-free cake.
I love making everything from scratch, but for this keto recipe, my goal was to make a tasty white cake that was easy and quick to make at the same time, which is why I decided to use a store-bought cake mix for it. But trust me, this way, it's even better than the traditional version.
Table of Contents
Can You Have Cake on Keto?
Yes, you can. But unfortunately, not all cakes are keto-friendly. If you want to make a keto cake for a birthday or simply are missing this flavor and want to enjoy such a dessert, you can definitely make a low-carb cake yourself at home.
It's possible to make a low-carb alternative for almost any cake flavor, including a keto white cake (scroll down for the recipe). All you need to do is choose the right ingredients to cut down on carbs (use coconut flour or almond flour).
Keto White Cake Ingredients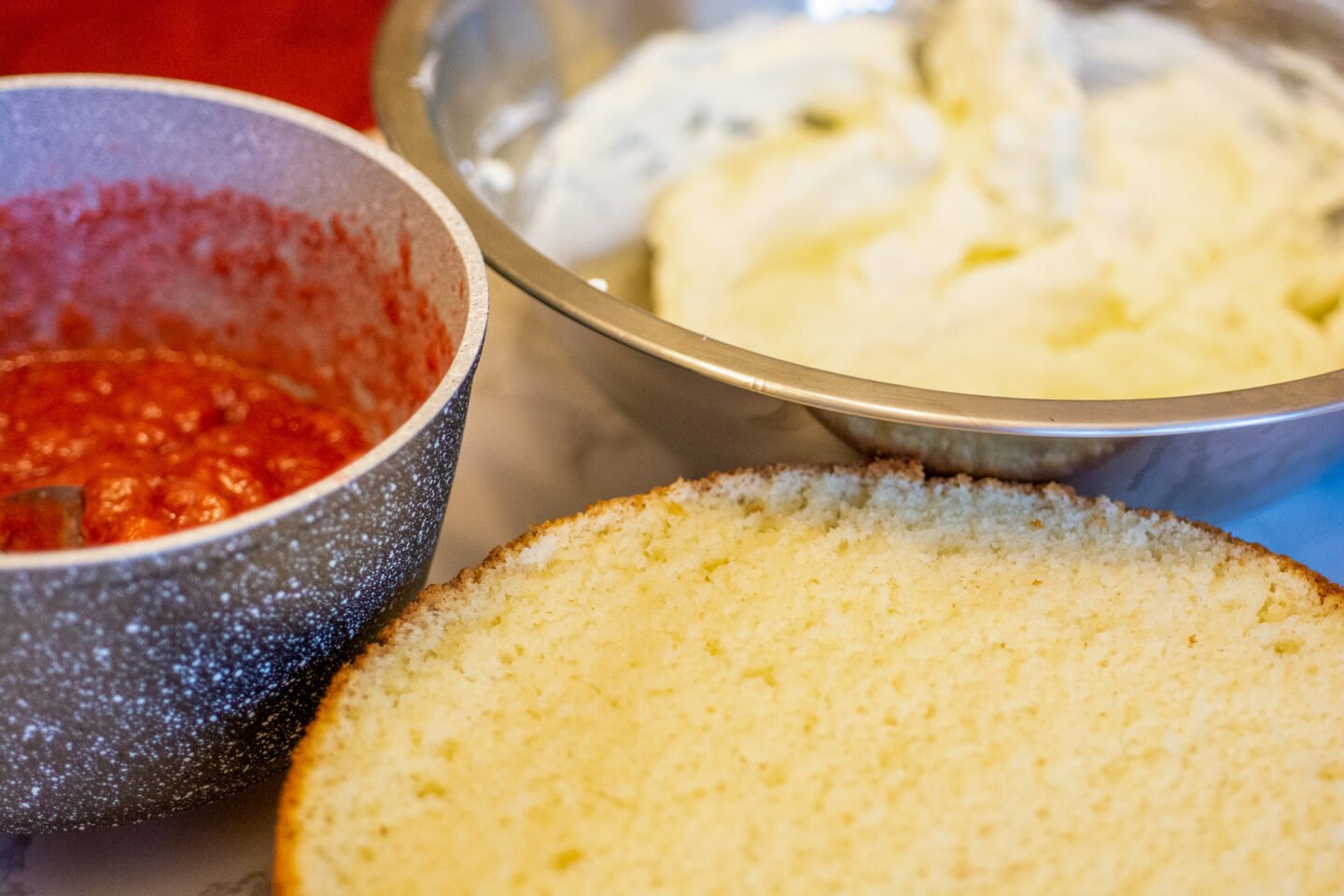 If you're busy and don't have much time to gather a lot of ingredients and really want to make a keto vanilla birthday cake, then I recommend you use a ready-made, store-bought low-carb cake mix for your cake. This will help you cut down on some time, and the cake itself will turn out healthy and incredibly delicious, just like the traditional white cake.
To make this low-carb white cake, you need to prepare the following:
Cake batter: Lakanto Keto Cake Mix (this is the basis for your white cake). You'll need only one cake mix, and then once the cake is baked, you can simply cut it in half (also, for the cake base, you'll also need some eggs, water, melted butter, and vanilla extract).
Frosting: I used this ready keto vanilla frosting for this recipe. It's keto-friendly and sweetened with allulose, which is perfect for keto.
Cake filling: For the cake filling, you'll need some cream cheese, heavy cream, xanthan gum, strawberries, and powdered sweetener (for example, Swerve confectioners or monk fruit). If you want, you can skip the strawberries; this will cut down the number of carbs even more. And as the sweetener, I used powdered erythritol (but you can use whatever keto-friendly sweetener you prefer).
How to Make Keto White Cake
It's very easy to make this keto white cake. Basically, the whole cooking process consists of the following steps:
Bake the cake: you'll need to mix all of the ingredients for the cake base together with the cake mix and then put the dough in a cake pan and bake it in your oven until ready.
Prepare the filling: for this keto pound cake, I decided to make a filling from scratch, and to make it taste even better, I added some strawberries to it. If you want to do the same way, you should first simmer the strawberries in the pan for a few minutes together with the sweetener and wait for it to cool down. Then using a mixer, beat the heavy cream until peaks form, then add the cream cheese and strawberries.
Assemble: once you've got that ready, you'll need to cut the baked keto vanilla cake in half. Then place the filling on top of one part of the cake, spread it around, and cover it with the other cake layer. Then use the frosting to frost your cake. Optionally, you can decorate the top of the cake with strawberry slices.
Storing Instructions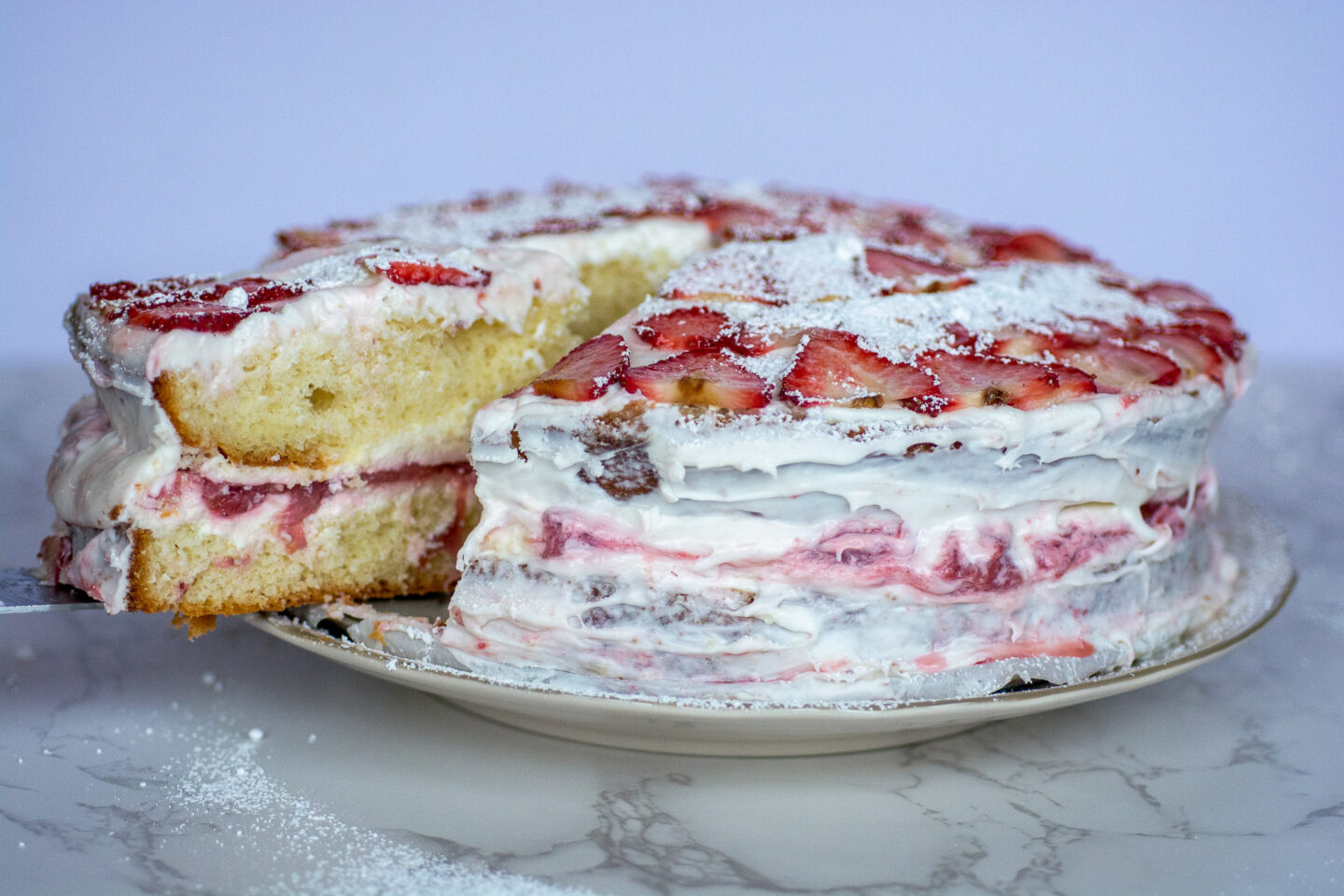 You can store this low-carb white cake in your refrigerator for 3 to 4 days if it is already assembled. Or, if you want, you can bake the cake in advance and wrap it up in food wrap. This way, it will last a bit longer.
Also, you can freeze this keto white cake. But my recommendation is to freeze it without assembling it since the frosting and the filling contain dairy ingredients that don't freeze well.
Recipe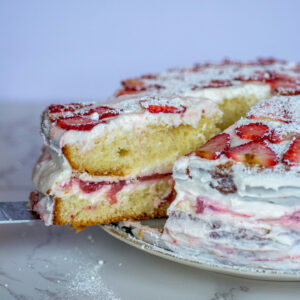 Keto White Cake
This low-carb birthday cake turns out incredibly moist and fluffy, and the tasty cream cheese and strawberry filling will make your mouth water as soon as you take your first bite of this sugar-free cake.
Ingredients
For the frosting:
For the filling:
6

oz

cream cheese

1

cup

heavy cream

2

cups

strawberries

½

tsp

xantham gum

1

cup

erythritol powder
Instructions
Prepare a cake pan with a removable bottom and line it with parchment paper.

Preheat the oven to 375 degrees Fahrenheit.

In a large bowl, mix everything needed for the cake dough: cake mix, eggs, melted butter, water, and vanilla extract.

Pour the cake mixture into the pan and bake for 20 to 25 minutes. Let it cool down completely.

Slice the strawberries and place them in a small pot. Cook over medium heat for about 5 minutes. Then add the xanthan gum and stir until dissolved. Wait for the strawberries to cool down.

Pour the heavy cream into a bowl and add the erythritol powder. Beat with a mixer until stiff peaks form. Add the cream cheese, and beat until smooth. Add the cooked strawberries and, using a spatula, mix them together.

Cut the cake into two parts. Spread the filling on top of one of them and place the other cake part on top of the filling.

Cover the cake in vanilla frosting. Optionally, decorate it with strawberry slices.
Nutrition
Calories:
428
kcal
Carbohydrates:
68
g
Protein:
5
g
Fat:
23
g
Saturated Fat:
12
g
Polyunsaturated Fat:
3
g
Monounsaturated Fat:
6
g
Trans Fat:
0.4
g
Cholesterol:
97
mg
Sodium:
446
mg
Potassium:
127
mg
Fiber:
1
g
Sugar:
32
g
Vitamin A:
710
IU
Vitamin C:
14
mg
Calcium:
135
mg
Iron:
1
mg