Jump to Recipe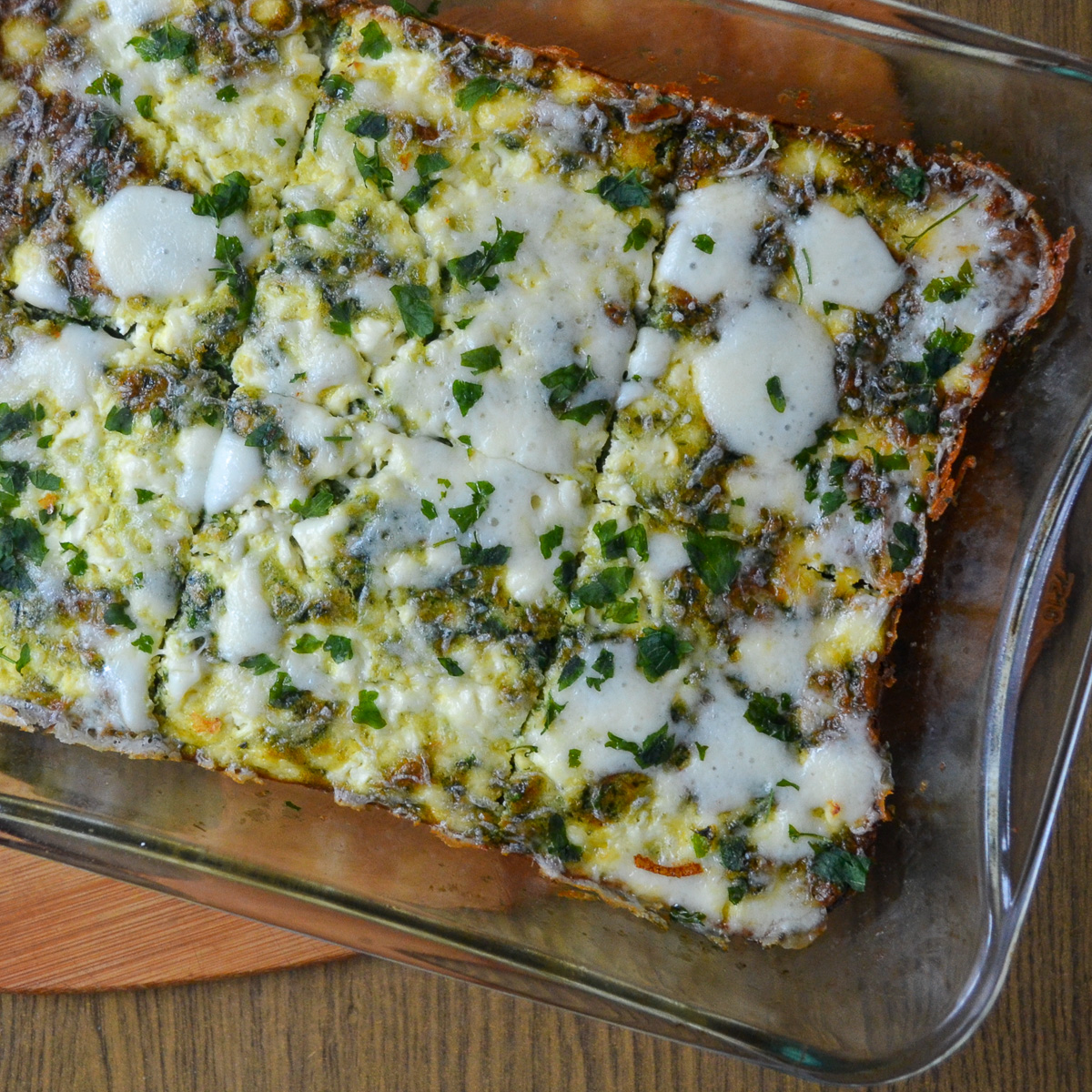 I've tried so many amazing variations of casseroles in the past few years, but this one is my personal favorite since it is easy to make and consists of only 3 main ingredients — eggs, cheese, and heavy cream.
The best thing about this spinach casserole is that it has no bread, flour, or potatoes, making it as low-carb as possible.
It will take only 45 minutes of your time to cook this vegetarian breakfast casserole. You can make it beforehand and leave it overnight to have a delicious breakfast ready in the morning.
Table of Contents
Make It Your Way
This recipe is highly customizable. You can add almost anything to this keto casserole. Here are the ingredients which I like to mix and match:
Peppers
Spinach
Onion
Asparagus
Broccoli/cauliflower
Mushrooms
Tomatoes
Garlic
Sausage
Ground beef
Bacon
Cottage cheese
Feta
I decided to stick with the no-meat option for this keto casserole and add spinach and cottage cheese.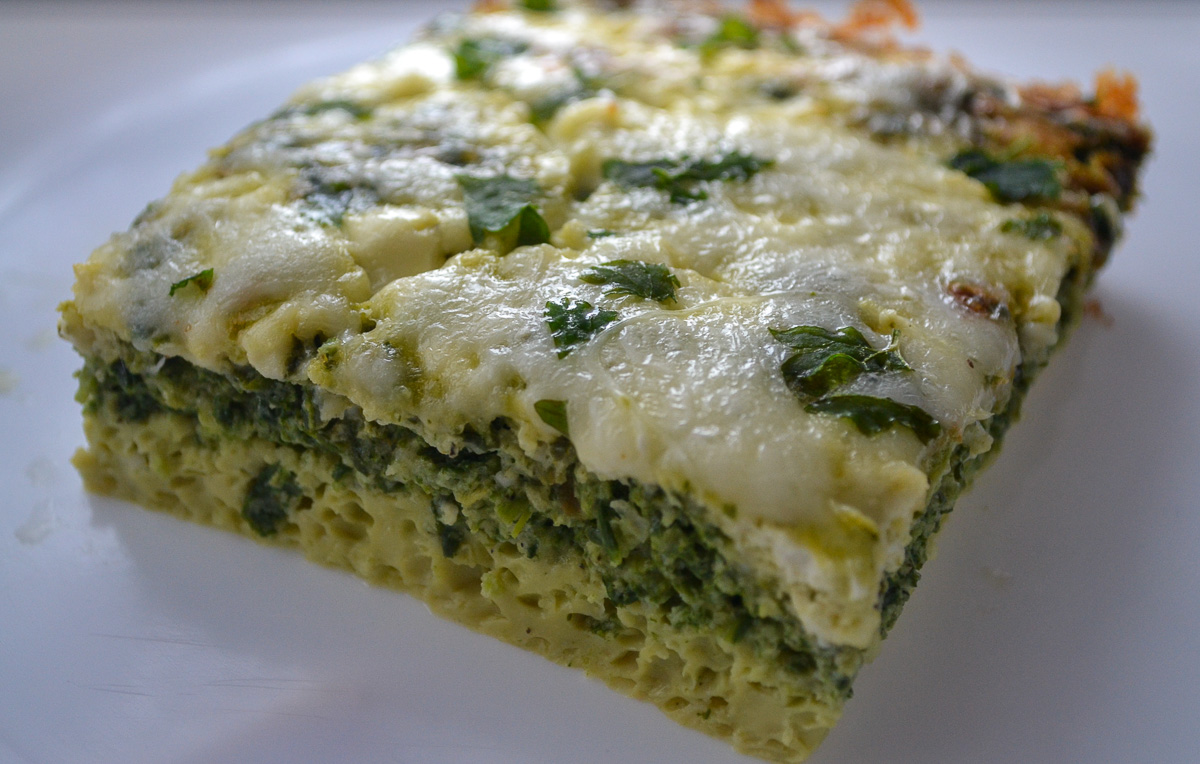 What You Should Know Before Cooking
Remember that if you're adding meat or vegetables to this casserole, you need to prep them. If you want to throw in some ground beef, make sure that you fully cook it beforehand. When it comes to adding veggies, you can boil or pan fry them. I prefer to roast them for even better flavor.
To make it cheesier, leave some mozzarella to top it off with at the end. When the dish is almost ready, take it out of the oven, sprinkle the cheese on top, and place it back into the oven for a couple more minutes.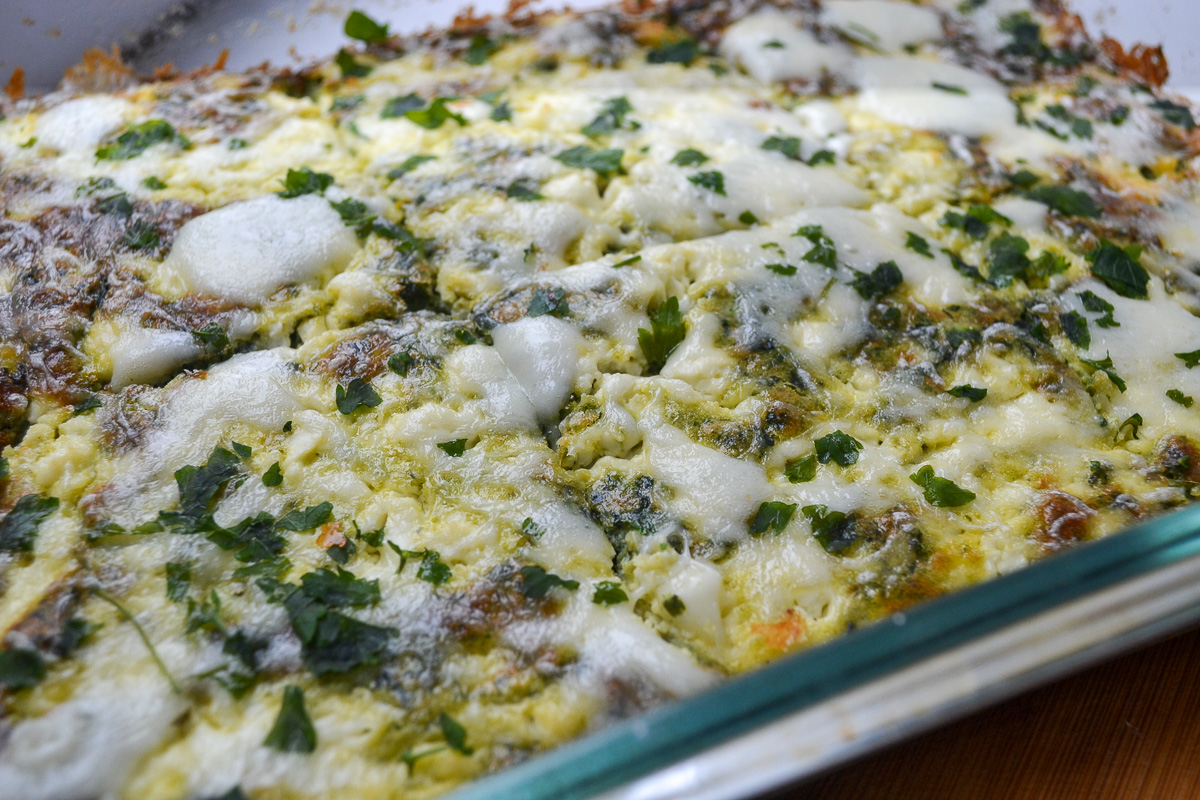 Freeze It To Save Even More Time
The low-carb keto casserole is very convenient for those who don't have much time to cook. You can make it whenever you like and freeze. Just follow the instructions from this recipe. But instead of placing it into the oven, cover it with foil, then place it into the freezer.
The day before you want to cook it, take it out of the freezer and let it thaw overnight in the fridge. On the following day, you can bake it as instructed in the recipe card.
Tips On Storing The Leftovers
You can also freeze the low-carb keto casserole after it has already been cooked. Just cut it into individual pieces, wrap them separately, and place them into the freezer.
To thaw your ready-made delicious breakfast, use your microwave defrost mode. It will be ready to eat in about 5 minutes.
You can store the cheesy keto casserole in the fridge for up to 2 days. When heating it in the microwave, make sure that you don't leave it there for too long; 1-1.5 minutes is more than enough.
Recipe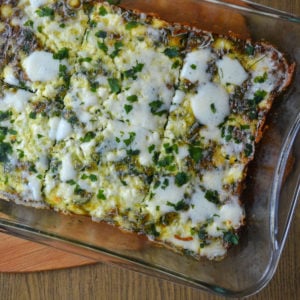 Keto Vegetarian Cheesy Spinach Breakfast Casserole
This spinach casserole has no bread, flour, or potatoes, making it as low-carb as possible. This recipe is highly customizable, so you can add almost anything you want!
Ingredients
6

large

eggs

3

oz

heavy whipping cream

½

cup

mozzarella cheese

shredded

1

cup

spinach

frozen

4

garlic cloves

minced

½

cup

cottage cheese

or feta

2

tsp

olive oil

salt and pepper to taste
Instructions
Preheat the oven to 350 F.

If you're using frozen spinach, thaw it, and drain the excess water.

In a frying pan, fry the minced garlic in olive oil until it turns brownish.

Throw the spinach into the frying pan. Cook until the liquid from spinach evaporates and set aside.

In a separate bowl, beat the eggs with the heavy whipping cream. Then add the shredded mozzarella cheese and salt, pepper, or any other favorite seasoning to taste.

Take a glass or crockery casserole dish and grease it with some olive oil.

First, move the spinach with garlic into the dish and spread it out evenly.

Pour the egg mixture on top of the spinach. Use a spoon to combine the two layers.

Sprinkle with cottage cheese or feta.

Place the casserole dish into the oven. Let it cook for 30 minutes.
Nutrition
Calories:
215
kcal
Carbohydrates:
11
g
Protein:
82
g
Fat:
101
g
Saturated Fat:
7
g
Trans Fat:
1
g
Cholesterol:
216
mg
Sodium:
203
mg
Potassium:
141
mg
Fiber:
1
g
Sugar:
1
g
Vitamin A:
1035
IU
Vitamin C:
2
mg
Calcium:
107
mg
Iron:
1
mg