This keto teriyaki sauce can be ready in just 10 minutes and from only a few simple ingredients. The benefits of replacing this sauce with a store-bought one are never-ending: it's much healthier, sugar-free, low carb, and has the perfect taste ever.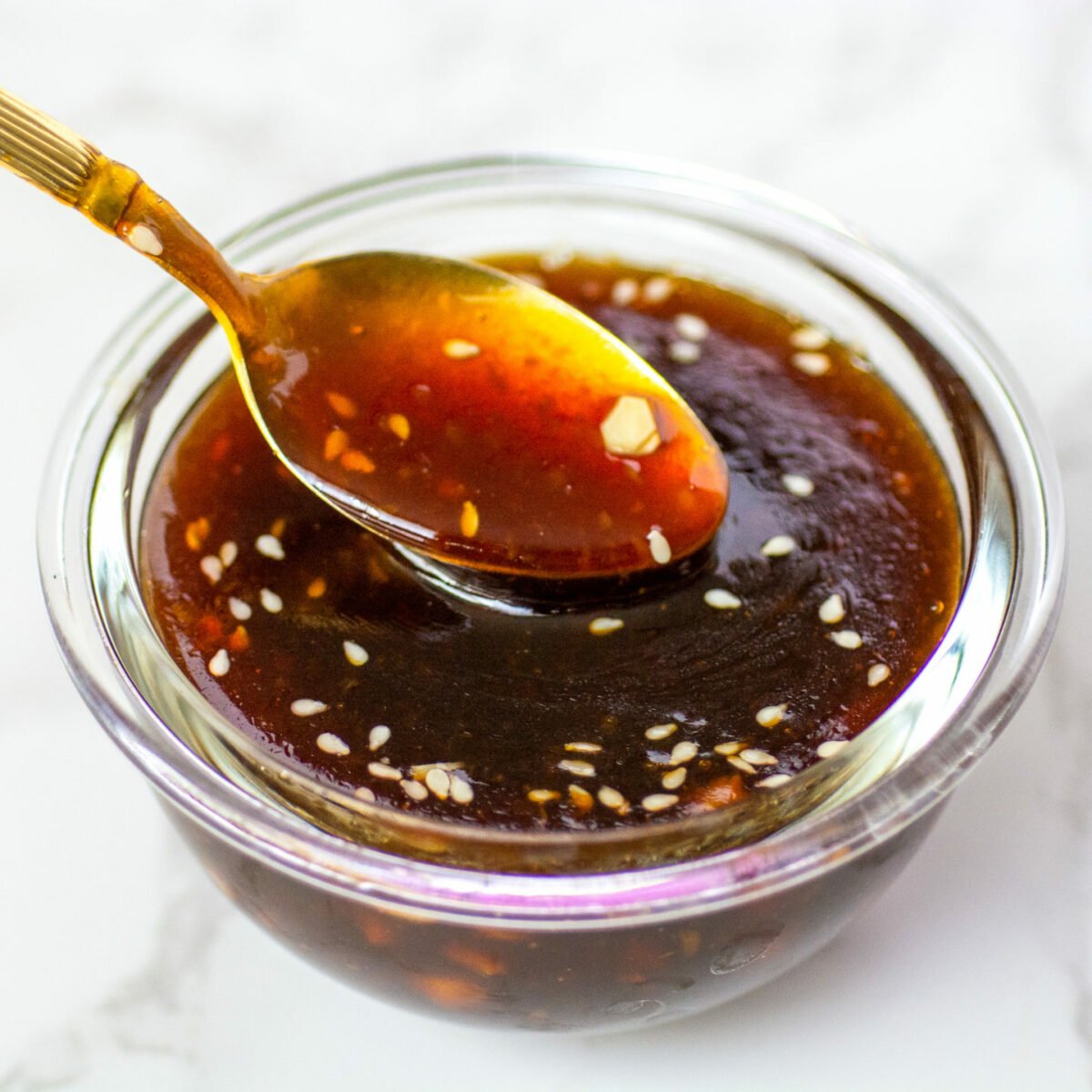 There are many amazing ways to use this low-carb teriyaki sauce. It's great for marinades, meat glaze, stir-frying, and more. My personal favorites are keto teriyaki chicken, teriyaki green beans, and teriyaki beef and broccoli.
Another reason why I love this teriyaki sauce is that it doesn't go bad fast. So you can just make double the sauce and store it in your fridge and use it whenever you want.
Table of Contents
What Is Teriyaki?
Teriyaki is a Japanese sauce used for marinating and cooking meat, vegetables, or fish. It has a salty-sweet taste and can be used to marinade, grill, stir fry, etc. It is mostly made of soy sauce, ginger, mirin, sake, and sugar.
Is Teriyaki Sauce High in Carbs?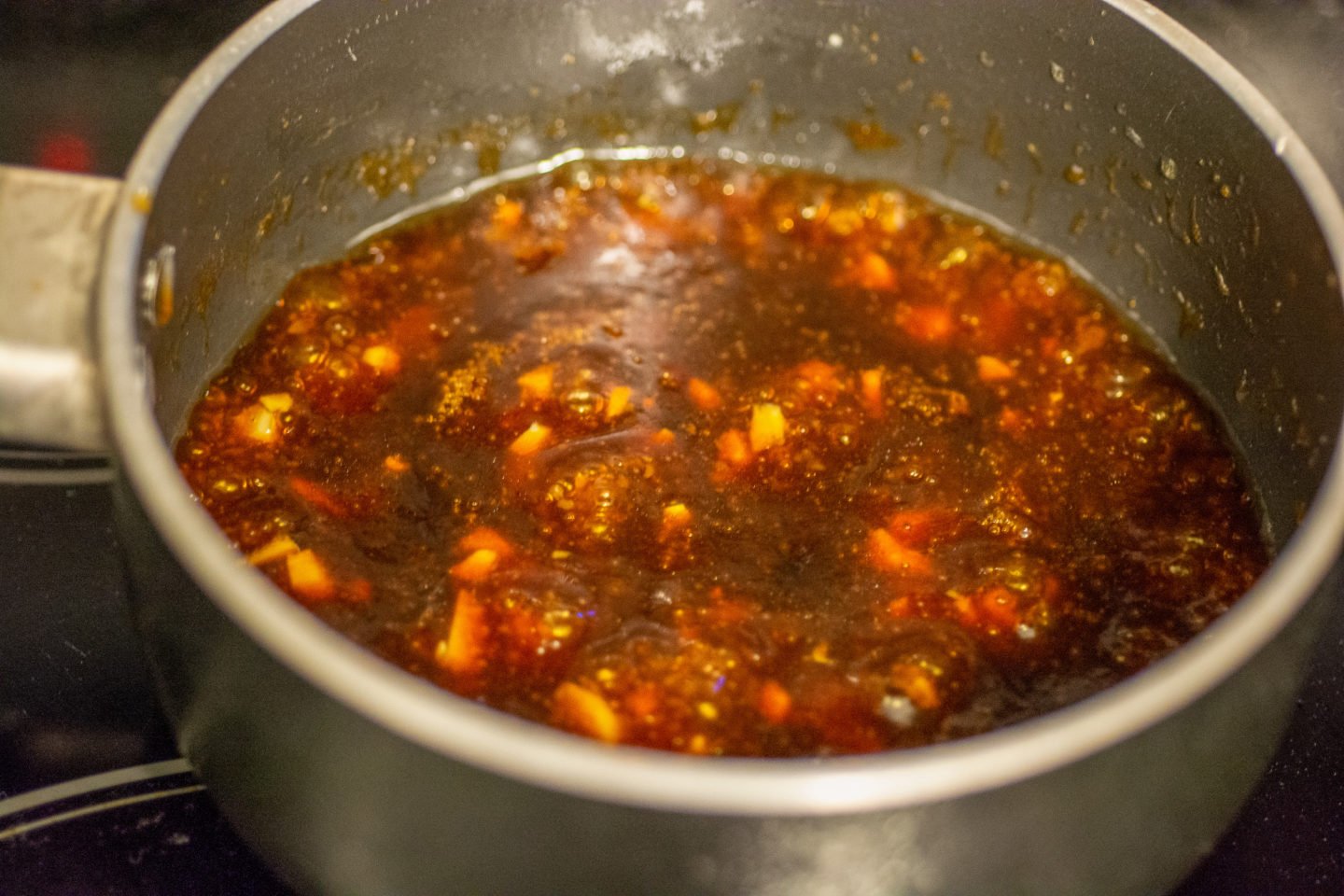 Yes, one tablespoon of teriyaki sauce has around 2.5 grams of carbohydrates. Aside from being high in carbs, teriyaki sauce also is usually loaded with high fructose corn syrup and other sugar additions.
The biggest advantage of making teriyaki by yourself is being the one to control the ingredients that you add. This way, you'll be certain that the sauce is completely sugar-free and is made of healthy ingredients.
This teriyaki sauce recipe is low-carb, keto-friendly, sugar-free, and incredibly easy to cook. So if you want to try a homemade keto sauce, this recipe is the one you need.
Keto Teriyaki Sauce Ingredients
To make this keto teriyaki sauce, you should gather the following ingredients:
Coconut aminos: I used this organic coco aminos. It's better than soy sauce since it's made of coconut nectar and sea salt. But if you want, you can use soy sauce instead. Just make sure to choose a low-sodium option.
Sweetener: Monkfruit sweetener with erythritol is my favorite option for this teriyaki sauce recipe. You can use a different sweetener, as long as it's low-carb (erythritol, stevia, xylitol, etc.).
Agave syrup: either agave syrup or sugar-free maple syrup works great for this teriyaki sauce.
Garlic: use fresh garlic only (garlic powder or granulated garlic won't give the needed taste here).
Ginger: I used ginger paste; if you have fresh ginger, you can grate it and use it instead.
Sesame oil: definitely add some; you won't regret it.
White wine vinegar: add some of the flavor similar to mirin. If you want, you can replace it with apple cider vinegar.
Xanthan gum: this is a low-carb thickener that is used instead of corn starch.
Sesame seeds: this is optional; you can either add them to the sauce or when cooking another dish that calls for this keto teriyaki sauce.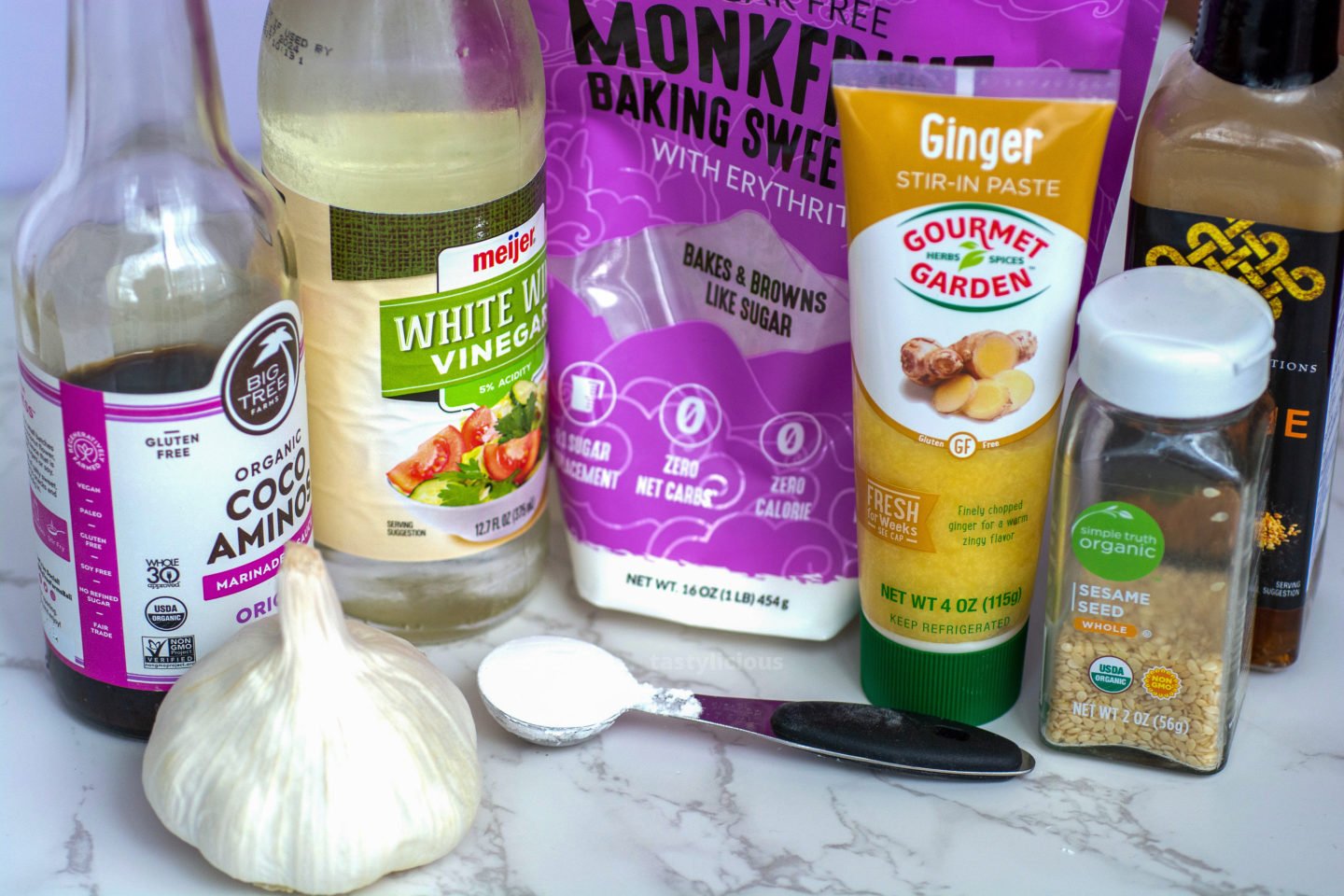 That's it! Now that you know the ingredients for this sugar-free teriyaki sauce, gather all of them, prepare a small saucepan, and start making it.
How to Make Low Carb Teriyaki Sauce
It's insanely easy to make this keto teriyaki sauce. Here's what you should do:
Place all of the ingredients into a small saucepan, mix, and cook over medium heat.
After simmering for a few minutes, add the xanthan gum and stir.
When the sauce thickens, it means that you can set the saucepan aside and use your homemade keto teriyaki sauce.
Ways to Use Teriyaki Sauce
One of the best ways to use teriyaki sauce is for marinades. Whether it's chicken, beef, pork, or fish, marinading it with this keto teriyaki sauce will take the dish to the next level of deliciousness.
Another way to use low-carb teriyaki is to add it when stir-frying veggies, noodles, or rice. You can mix up your favorite veggies, add some rice or noodles, and add this sauce to boost the flavor.
Storing Instructions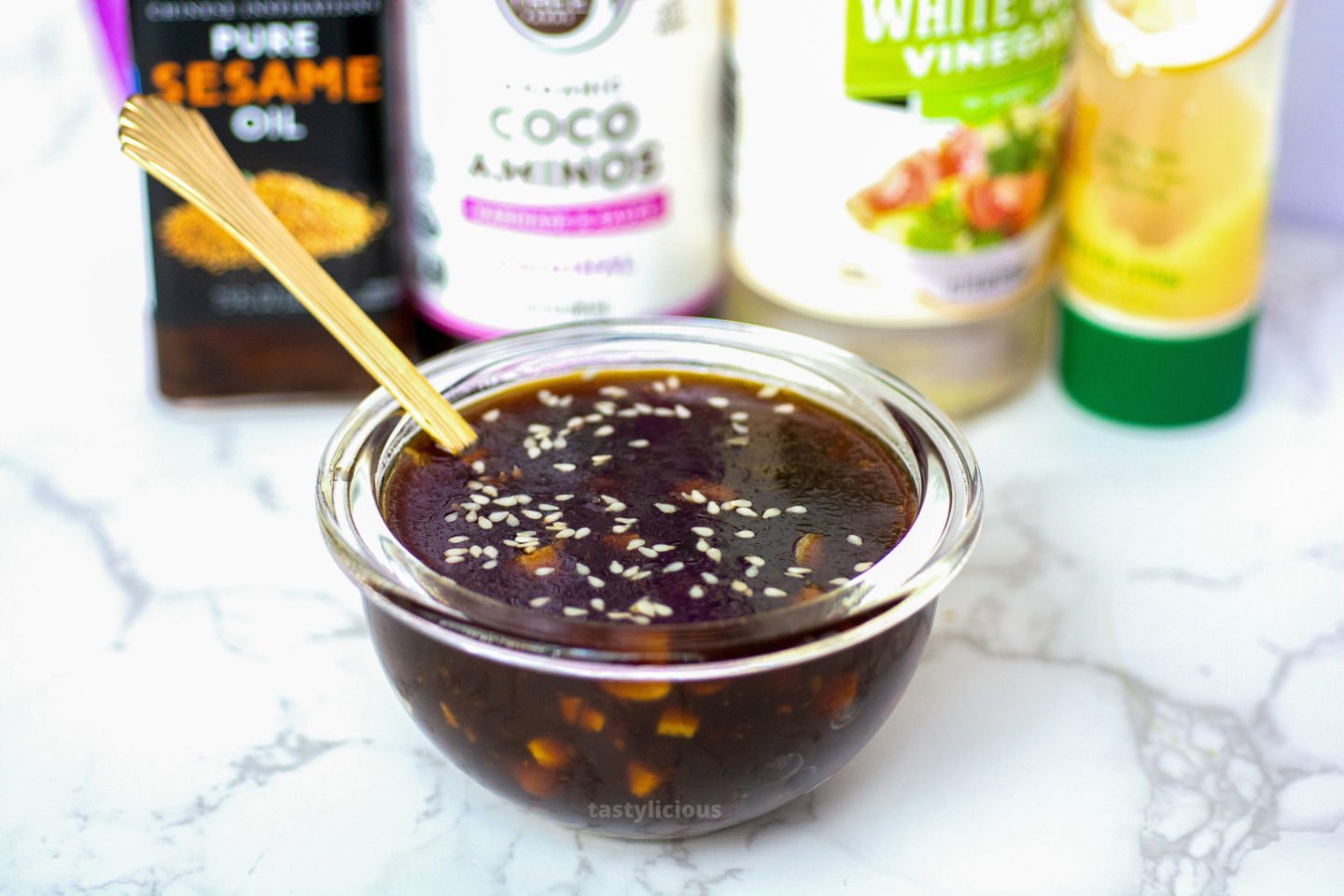 Once your low-carb teriyaki sauce is ready, wait for it to cool down completely. Then pour the sauce into a mason jar or a glass bottle, and place it into your fridge. The sauce should last for up to 2 weeks, but I doubt you won't use it up until then.
If you want to, you can definitely freeze this keto teriyaki. All you need to do is transfer the sauce either to a zipper bag or a freezer-friendly container and store it in your freezer. The sauce should be good for up to 2-3 months. Then whenever you wish to use it, simply place the container with the sauce into your fridge and let it thaw overnight.
Recipe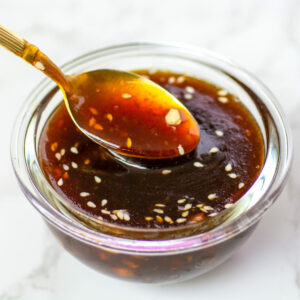 Keto Teriyaki Sauce
This keto teriyaki sauce can be ready in just 10 minutes and from only a few simple ingredients. The benefits of replacing this sauce with a store-bought one are never-ending: it's much healthier, sugar-free, low carb, and has the perfect taste ever.
Ingredients
½

cup

coco aminos

1

tbsp

agave syrup

1

tsp

ginger paste

2

garlic cloves

diced

1

tsp

sesame oil

1

tbsp

white wine vinegar

½

tsp

xantham gum

1

tbsp

sesame seeds

optional
Instructions
In a small saucepan, mix coconut aminos, sweetener, syrup, ginger paste, garlic, sesame oil, and vinegar. Place it over medium heat and bring to a slight boil.

Simmer the sauce for 2-3 minutes, then add xanthan gum. Stir for the gum to dissolve and continue cooking until it thickens.

Set the sauce aside and add the sesame seeds.
Nutrition
Calories:
143
kcal
Carbohydrates:
23
g
Protein:
1
g
Fat:
4
g
Saturated Fat:
1
g
Polyunsaturated Fat:
2
g
Monounsaturated Fat:
2
g
Sodium:
1380
mg
Potassium:
37
mg
Fiber:
1
g
Sugar:
7
g
Vitamin A:
1
IU
Vitamin C:
3
mg
Calcium:
45
mg
Iron:
1
mg