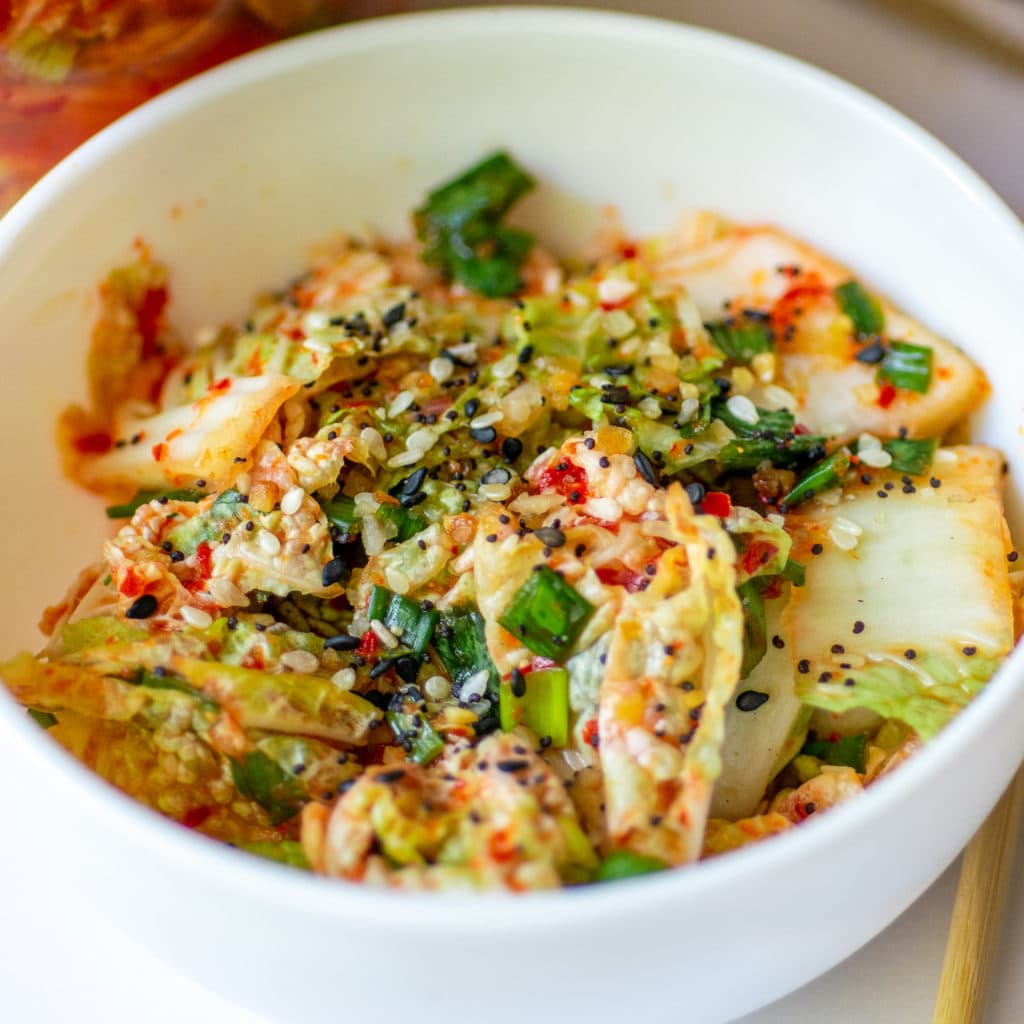 This keto kimchi recipe is insanely spicy, divinely delicious, and impossibly easy to make. I've spent quite a long time looking for the perfect kimchi recipe that would taste amazing but would consist of simple ingredients, and I finally did it.
There are numerous benefits to eating kimchi: it can help lose fat, improve blood sugar levels, help treat health problems, and may improve your immune system.
And since it also is low carb (just 3.5 carbs per serving), you can enjoy this side dish even during your late-night dinner.
Table of Contents
Is Kimchi Keto Friendly?
YES! Almost any kimchi is low carb. So this means that you definitely can eat it when following the keto diet. One serving of this kimchi has only 3.5 g of carbs.
Kimchi Benefits
Being delicious and versatile are not the only benefits of this Korean side dish. Kimchi also has many health benefits:
It's loaded with nutrients. Even though kimchi is low in calories, it is packed with essential nutrients. Of course, the nutritional value of kimchi depends on the ingredients used in making it. But, almost all of the recipe variations have plenty of vitamin B6, vitamin C, vitamin K, iron, folate, and riboflavin.
It may help to prevent severe health conditions. Since kimchi undergoes a lacto-fermentation process, it acquires probiotics, and therefore, may help you prevent or even treat many health issues. For example, kimchi is known to help treat the common cold, constipation, and even improve skin conditions.
It can improve your immune system. Kimchi produces certain bacteria, which is known to boost our immune system.
And the best thing about kimchi is that it can boost weight loss. There's even a study that confirms this fact.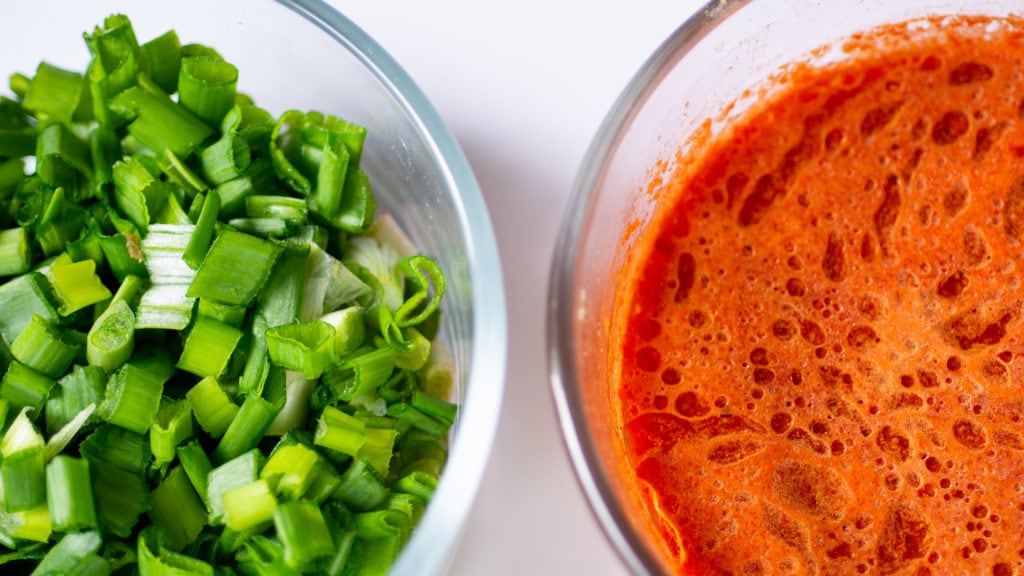 How to Make Keto Kimchi
I love making low-carb kimchi at home since it gives me more control over the kind of ingredients that I use. Here's what I prefer to add to my kimchi:
Napa cabbage. This is the main ingredient of any kimchi, so using it is a must.
Fresh ginger. You can use ginger powder if you want to. But still, it is best to use fresh ginger since it adds more juice.
Red chili pepper. I do recommend using whole red chili pepper rather than cayenne pepper powder or red pepper flakes.
Garlic cloves. You'll need to peel a few garlic cloves and blend them together with the chili pepper and ginger to form the kimchi paste.
Salt. I usually add just a tablespoon of salt, but if you want it to be a bit saltier, you can add even two tablespoons.
Erythritol powder. As you know, many add sugar to their kimchi. But since sugar is not allowed on keto, I substituted it with erythritol. And I decided to use precisely erythritol powder since it would dissolve more easily.
Fish sauce. Fish sauce is a great way to deliver a funky, rich intensity flavor to the kimchi. But it's totally okay if you don't have any, you can just skip it. Or, you can substitute it with shrimp paste or miso.
Sesame oil. This ingredient is also totally optional. The only reason why I add it to kimchi is because I like the way it tastes with it.
Scallions. You'll also need some chopped scallions for your kimchi. It's also okay to skip this ingredient. But, to make your kimchi taste more like the real thing, it is best to add scallions, too.
I know that many people like to add carrots when making kimchi. So, if you like them, you can add them. But be careful, since they're full of carbs.
Also, you can add daikon radish. Just cut it into matchstick strips and add to the kimchi.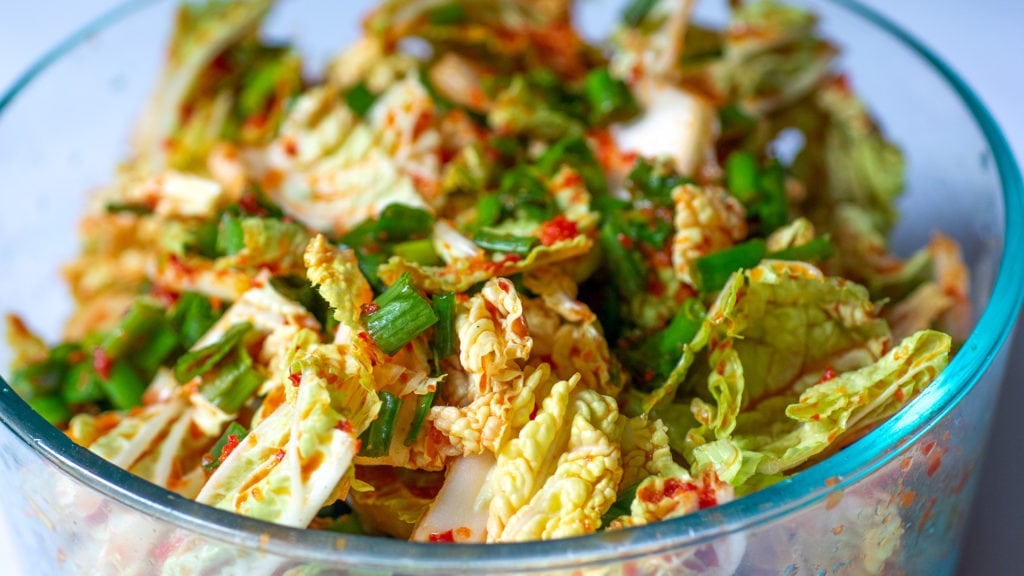 Serving Ideas
Kimchi is typically considered to be a side dish. But I sometimes like to eat it as a snack, and before serving, sprinkle it with a bit of Everything Bagel Seasoning.
Here are some other options that you should try serving keto kimchi with:
Basically, you can eat kimchi with almost anything: chicken, salmon, pork, beef, eggs, or any other main dish.
Storing Instructions
When the kimchi is ready, you should store it in your refrigerator. It should last up to 3 months. However, I doubt that you'll have any kimchi leftovers till then.
I do not recommend freezing kimchi because the fermented cabbage tends to lose some of its flavors.
Recipe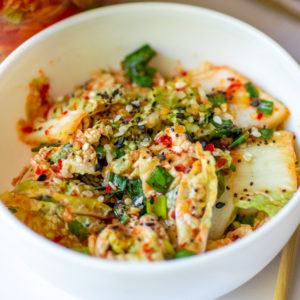 Keto Kimchi
This keto kimchi recipe is insanely spicy, divinely delicious, and impossibly easy to make. And since it's also low carb (just 3.5 carbs per serving), you can enjoy this side dish even during your late-night dinner.
Ingredients
1

head

napa cabbage

1

tbsp

fresh ginger

grated

1

piece

red chili pepper

seeded

5

pieces

garlic cloves

peeled

1

tbsp

salt

1

tsp

erythritol powder

1

tsp

fish sauce

1

tbsp

sesame oil

5

tbsp

scallions

chopped
Instructions
Cut the napa cabbage in half (lengthwise). And then cut the halves also into two pieces (lengthwise). Then chop them into squares and place them in a large bowl. Wash them in water and drain.

Place the chili pepper, garlic cloves, ginger, erythritol powder, salt, pour in the fish sauce, and sesame oil into an immersion blender cup, and using a hand blender, blend everything.

Pour everything from the cup onto the chopped napa cabbage, add the scallions, and mix them all together. Then move everything from the bowl into a jar and close it.
Nutrition
Calories:
78
kcal
Carbohydrates:
10
g
Protein:
3
g
Fat:
4
g
Saturated Fat:
1
g
Polyunsaturated Fat:
2
g
Monounsaturated Fat:
1
g
Sodium:
1885
mg
Potassium:
609
mg
Fiber:
3
g
Sugar:
4
g
Vitamin A:
898
IU
Vitamin C:
79
mg
Calcium:
184
mg
Iron:
1
mg