Jump to Recipe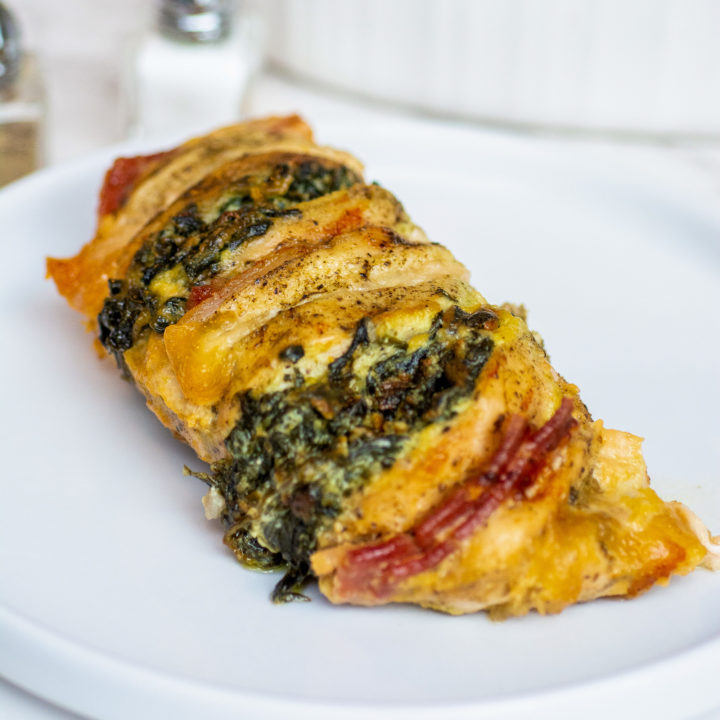 This keto Hasselback chicken is low-carb, gluten-free, and healthy. It is stuffed with three different fillings: bacon, mozzarella, and creamy spinach. You won't believe how delicious this is until you actually try it.
One serving of this low-carb Hasselback chicken has only 2 g of carbs. That is why this dish is perfect for a keto-friendly lunch or dinner meal. It can also be used for meal prep, making this recipe pretty versatile.
You can serve this chicken with almost any low-carb side dish. My favorite way to serve it is with some cauliflower fried rice on the side. But, it also goes perfectly delicious with a green salad.
Table of Contents
Is Chicken Breast Keto?
Yes, by all means, chicken breast is a keto-friendly product. It is loaded with protein and has almost no carbs. Moreover, it is pretty versatile and can be used for many delicious keto recipes.
However, it is recommended to eat dark meat chicken instead since it has more fat than chicken breasts. But still, chicken breasts are always a great idea for keto.
How to Make Keto Hasselback Chicken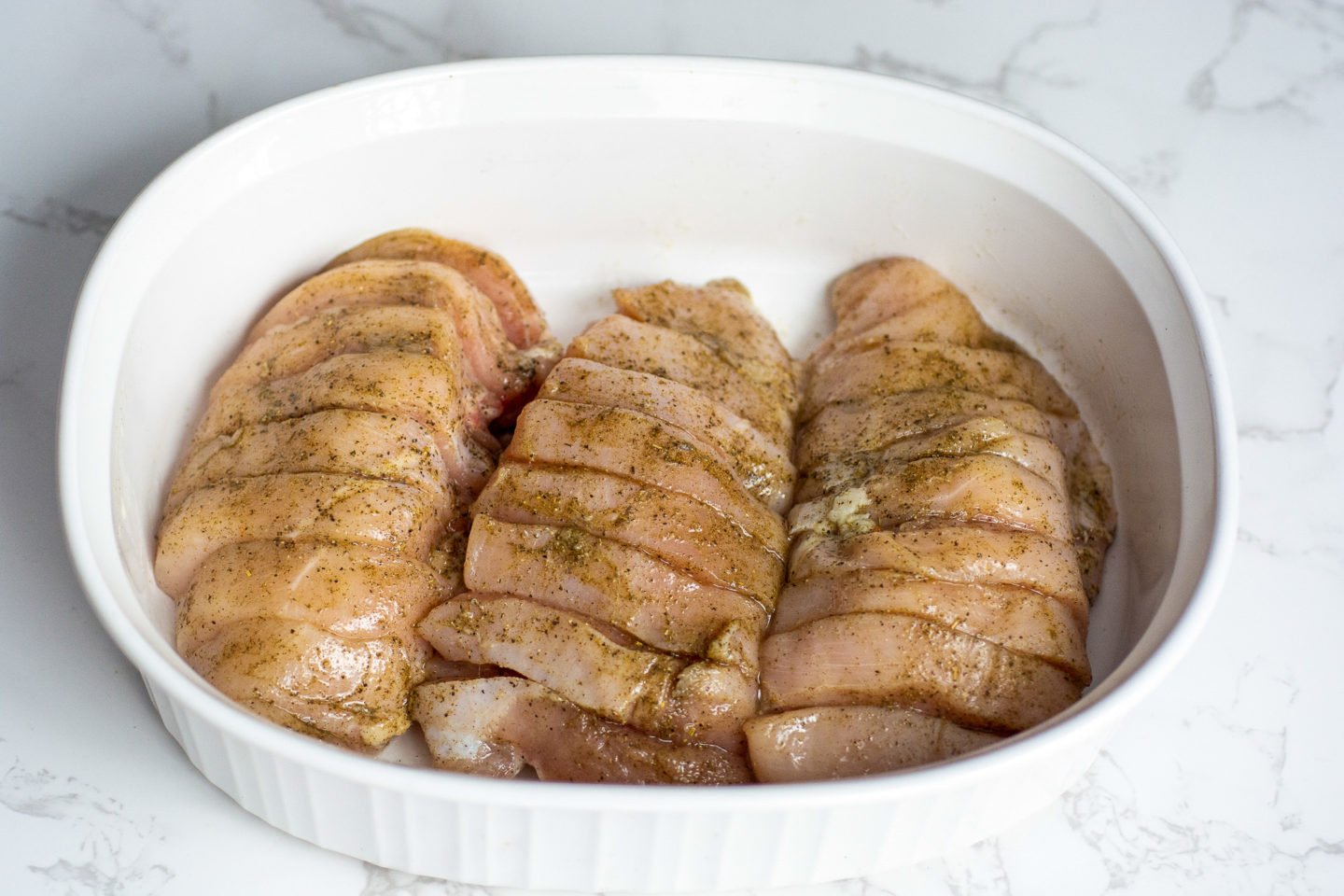 First of all, you'll need to prepare ingredients for this low-carb Hasselback chicken recipe. Here's what you should get:
Chicken breast: for this recipe, you'll need three small chicken breasts;
Bacon: I used regular bacon slices. You'll need to cut them in half to fit into the chicken cuts;
Fresh mozzarella cheese: make sure to get fresh (not shredded) mozzarella cheese;
Spinach: if you want, you can replace it with kale (it will also taste pretty delicious);
Cream cheese: its necessary to make the creamed spinach filling;
Olive oil: you'll need just a bit of olive oil to cook the spinach;
Garlic: I used fresh minced garlic, but if you want, you can definitely use garlic powder instead;
Poultry seasoning: I used this poultry seasoning, but you can add any herbs or spices that you like (chili powder, Italian seasoning, dried oregano, thyme, red pepper flakes, etc.)
Salt and pepper: add as much as you like;
Once you've gathered all of the ingredients, you can start cooking. The overall process is very simple, so you'll definitely get this recipe right the first time. Just follow these steps:
Make the creamed spinach. In a skillet, cook the spinach until ready. Then add the cream cheese and garlic.
Cut the chicken breast. You should slice the chicken breast almost to the end (but don't actually cut it through). There should be around 6-8 cuts, depending on the size of the chicken breast.
Place the filling. Since there are three types of filling for this Hasselback chicken, you should place them one after the other.
Bake the Hasselback chicken. The best way to cook the chicken is in the oven. This way, it will thoroughly cook and stay moist at the same time. If you want, you can cook it in an air fryer, but keep an eye on it as it turns out a bit drier.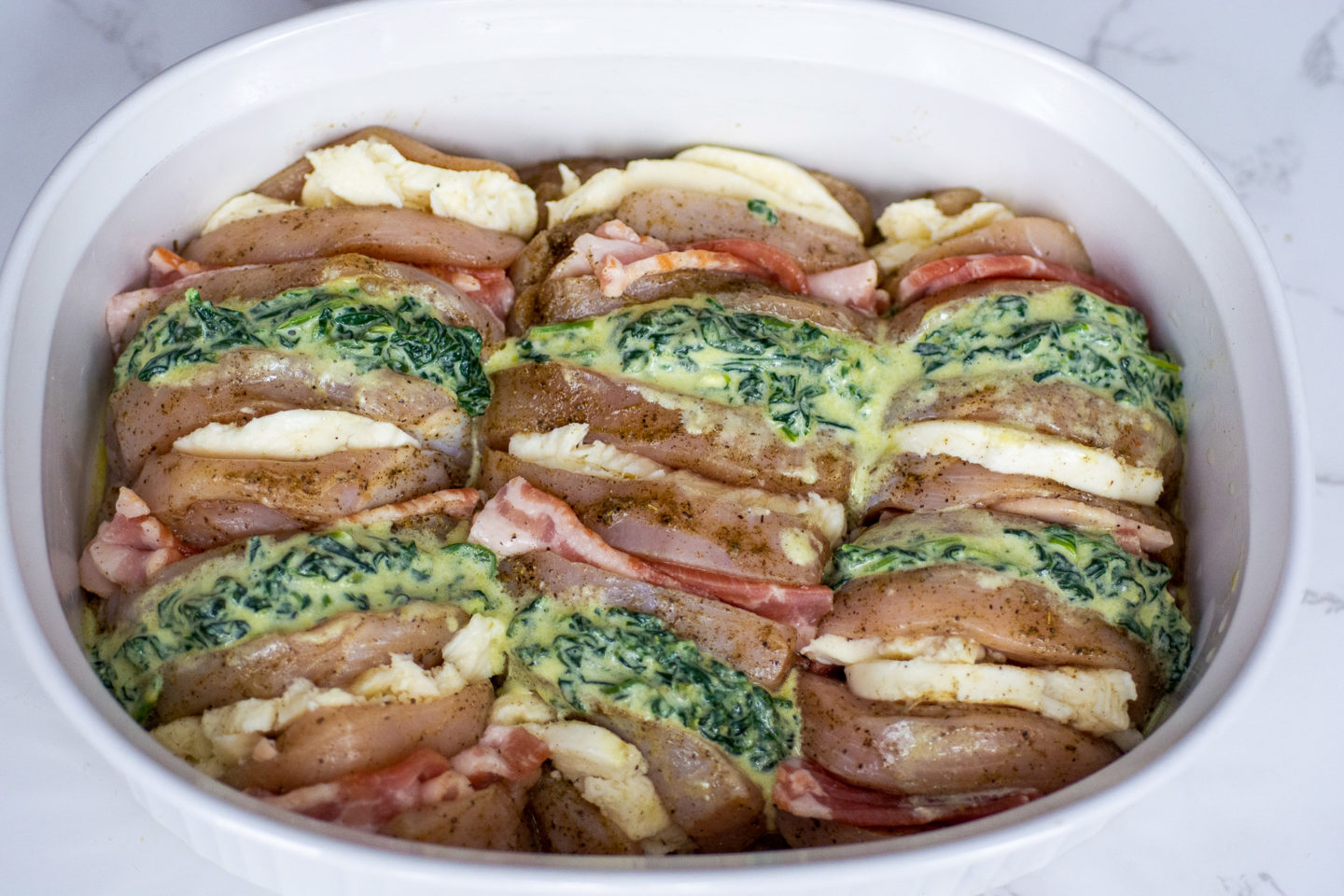 That's it! Now, you can serve the chicken straight from the oven. Garnish it with some chopped fresh parsley or green onions.
Alternative Filling Ideas
Don't be afraid to experiment with this keto Hasselback chicken recipe. If you get bored of this filling combination, here are a few great ideas to try:
Pepperoni and cheddar
Ham and mozzarella
Fresh basil, ham, and mozzarella
Ricotta and bacon
Jalapeno and fresh mozzarella
Salami and kale
Creamed spinach and bacon
Bell pepper and prosciutto
Whatever your favorite meat is and cheese, you can use it for the filling combination for this Hasselback chicken.
Serving Ideas
Since this is a low-carb recipe, you should serve this Hasselback chicken also with a keto-friendly side dish. I love to eat it with some fried cauliflower rice on the side. But if you're not a fan of it, here are a few other ideas: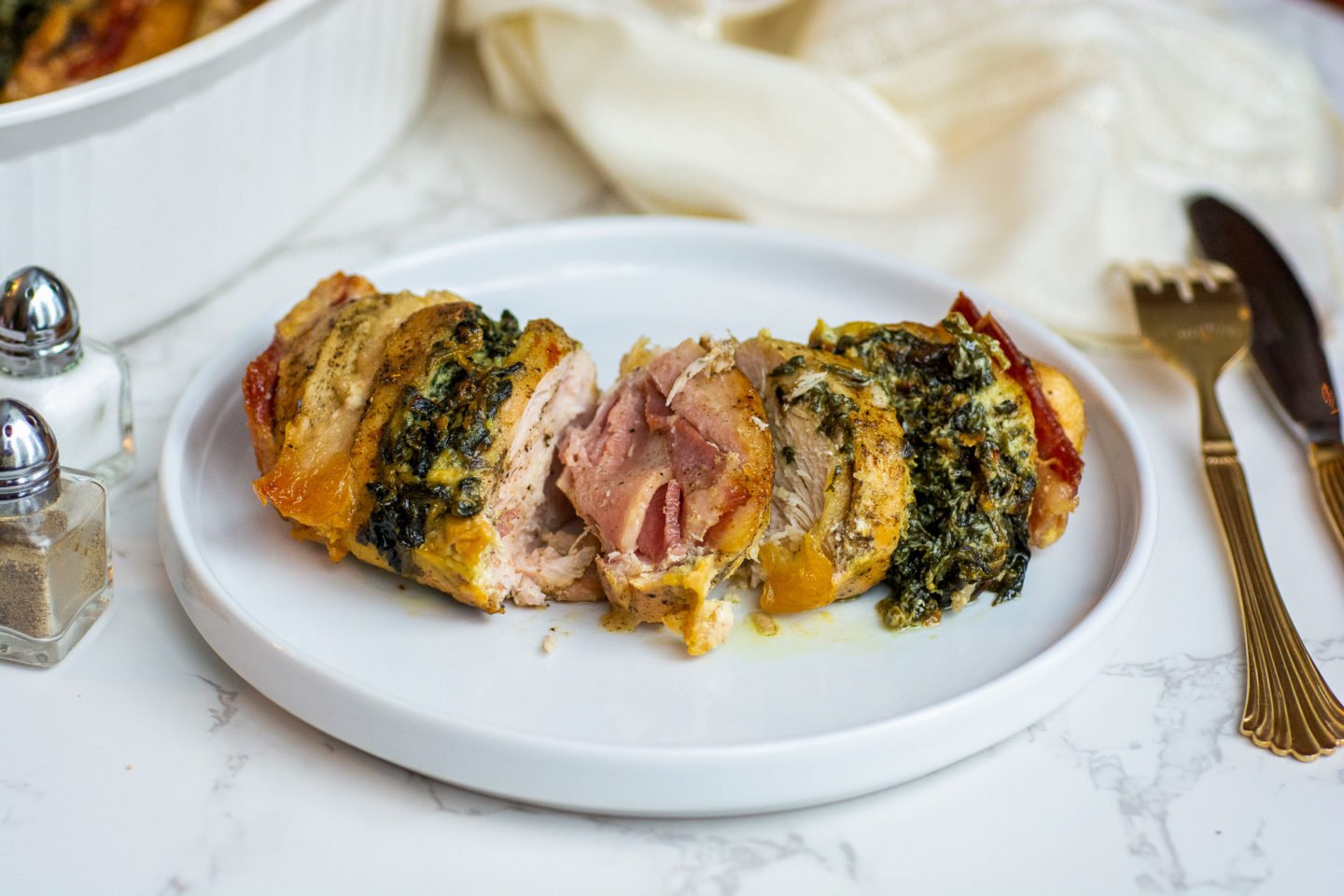 Storing Tips
You can store this keto Hasselback chicken in your refrigerator for up to 3-4 days. Then whenever you want to serve it, simply reheat it in the microwave.
Also, you can fully cook this dish and place it in your freezer. It will stay good for up to 2 months. Then, just throw it into the air fryer, oven, or microwave to thaw and reheat.
Recipe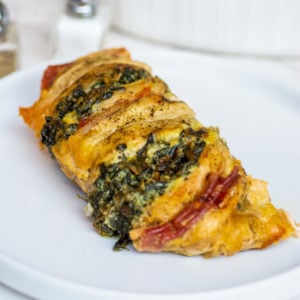 Keto Hasselback Chicken
This keto hasselback chicken is low-carb, gluten-free, and healthy. It is stuffed with three different fillings: bacon, mozzarella, and creamy spinach. You won't believe how delicious this is until you actually try it!
Ingredients
3

chicken breasts

5

bacon strips

cut in half

8

oz

fresh mozzarella cheese

2

cups

spinach

chopped

2

oz

cream cheese

1

tbsp

olive oil

2

garlic cloves

minced

1

tbsp

poultry seasoning

salt and pepper to taste
Instructions
Place a skillet over medium heat, pour the olive oil, add the spinach, and cook it for about 5 minutes. Next, add the cream cheese, minced garlic, a bit of salt, and then pepper. Cook for a few more minutes and set aside.

Slice the top of each chicken breast; there should be about 6-8 cuts (don't cut it all the way!). Evenly cover the chicken breasts in the poultry seasoning, salt, and pepper.

Place the chicken breasts in a baking dish.

In the first slit, place the spinach filling, then fold the bacon slice and place it in the next one, and fit a slice of fresh mozzarella in the next slit. Do the same with all slits.

Preheat your oven to 380 degrees F and bake the chicken for about 25-30 minutes until the chicken is fully cooked.
Nutrition
Calories:
377
kcal
Carbohydrates:
3
g
Protein:
36
g
Fat:
24
g
Saturated Fat:
10
g
Polyunsaturated Fat:
2
g
Monounsaturated Fat:
9
g
Trans Fat:
1
g
Cholesterol:
125
mg
Sodium:
528
mg
Potassium:
561
mg
Fiber:
1
g
Sugar:
1
g
Vitamin A:
1378
IU
Vitamin C:
5
mg
Calcium:
225
mg
Iron:
1
mg