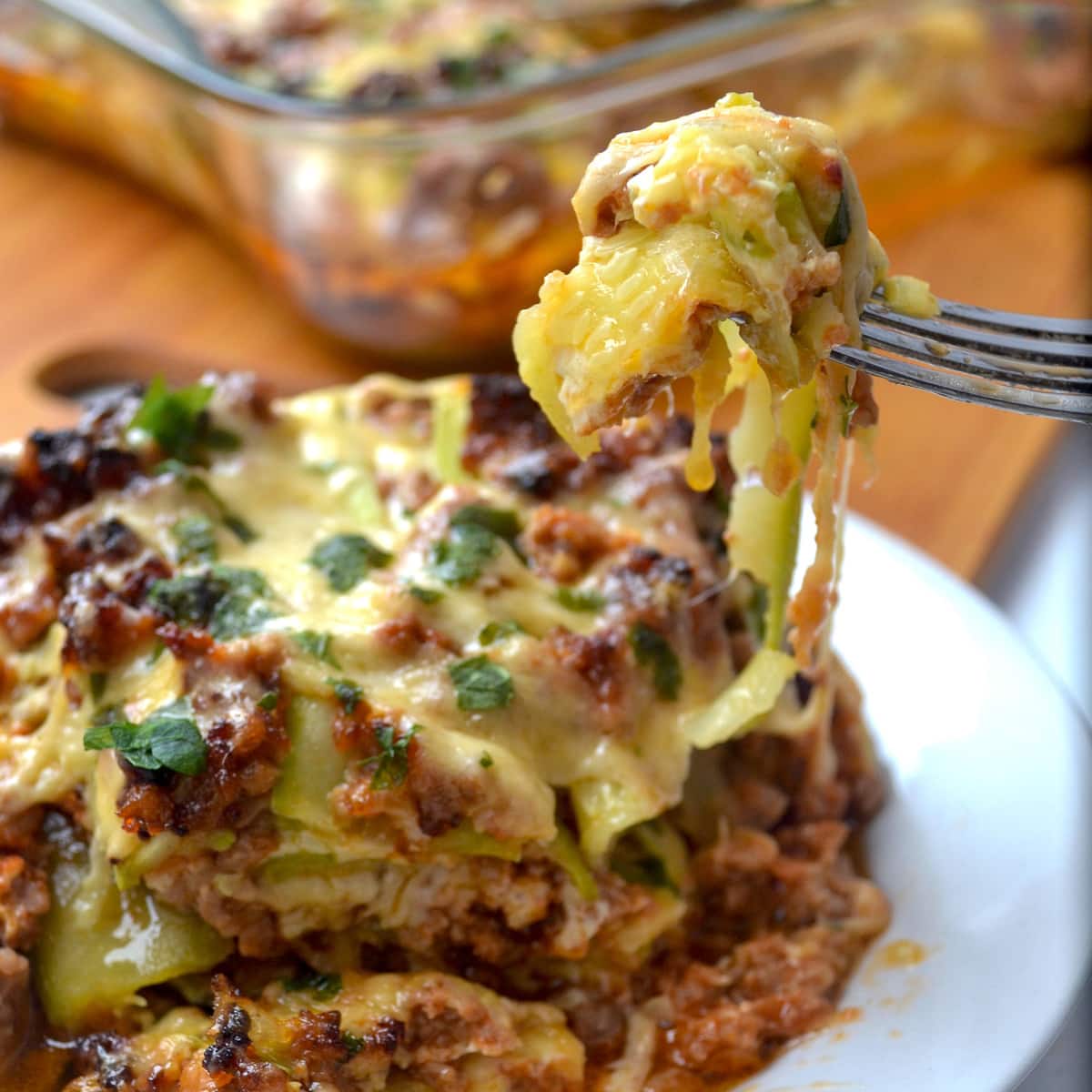 If it makes your mouth water when you hear someone say lasagna, this zucchini lasagna recipe is just for you. It's a much lighter take on the Italian classic, so you won't have to worry about the number of carbs and calories. This recipe is simple, quick, healthy, and delicious — what more do you desire from dinner?
Even though 4.4 grams of carbs per serving of lasagna may sound unrealistic, it's no exaggeration for this one. With this recipe, you'll be able to enjoy a delicious and surprisingly low-carb dinner.
Moreover, you can prepare this zucchini lasagna very quickly and without much effort. You can even make it ahead whenever you have the time, freeze it uncooked, and then just put it into the preheated oven for an even quicker keto-friendly dinner option.
Table of Contents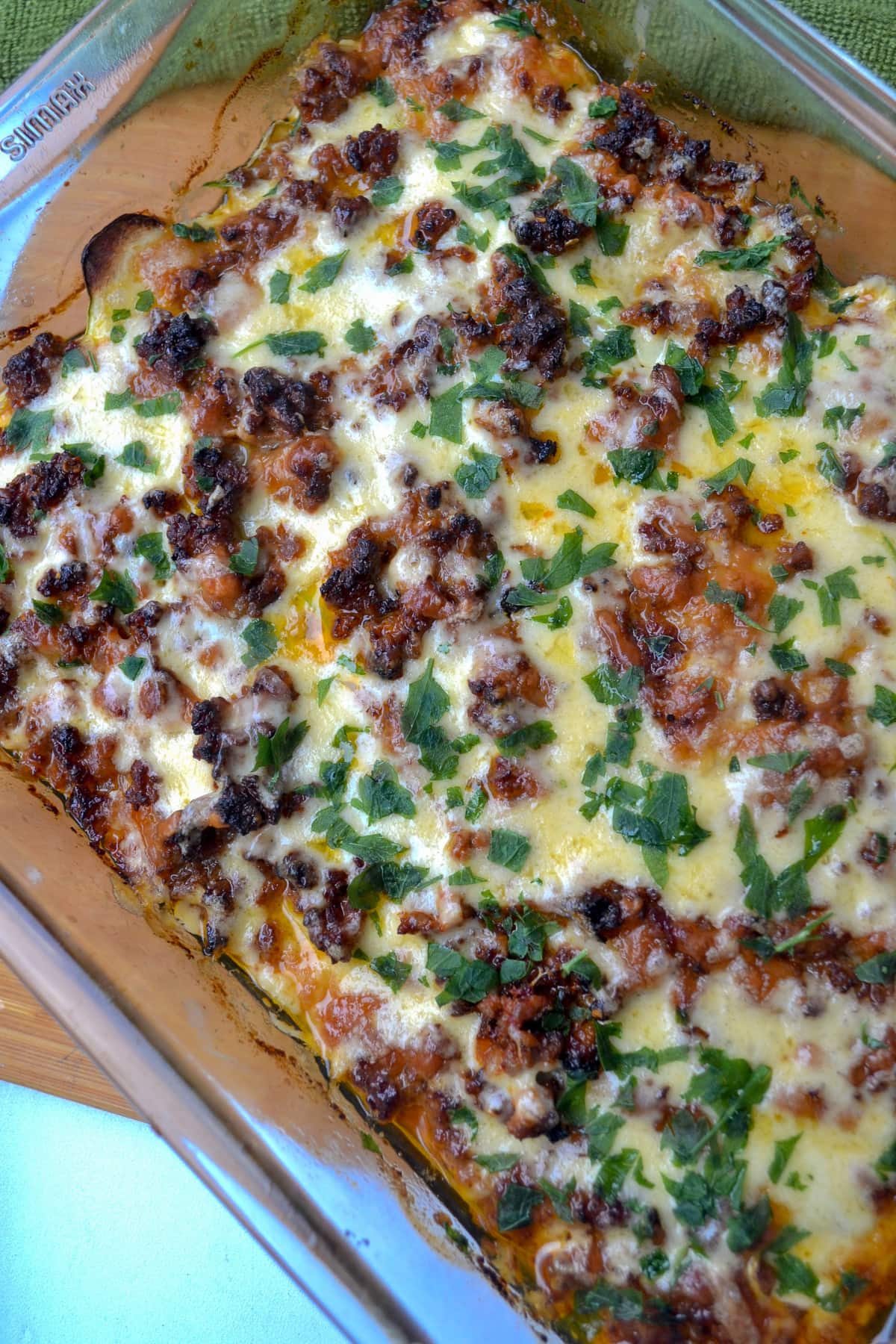 What Is Lasagna?
Lasagna is an Italian dish that originated in the 13th century. It was first mentioned in ancient culinary books found during excavations in Naples, and the first recipe was written with the Latin alphabet.
The traditional lasagna has a long and impressive history, and this makes it even more interesting to experiment with it. Meet my all-time favorite — the keto-friendly and gluten-free zucchini lasagna.
Perhaps substituting lasagna pasta with zucchini isn't appreciated by pasta fans, but for adherents of healthy food, this zucchini lasagna is a dietary treasure.
Depending on what your preferences are, the number of lasagna layers can be reduced or increased, and the ingredients can be added, removed, or changed to ones that have fewer calories or are more suitable for your personal diet.
As a result, it still turns out juicy, tasty, and aromatic, just like everything else that is prepared with zucchinis!
There are many other great variations of the lasagna recipe that you should definitely try, such as vegetarian zucchini lasagna, zucchini lasagna with cottage cheese, or mushroom zucchini lasagna. After you bake it once, you'll never be able to resist it again.
How to Get the Zucchini Ready For Lasagna
There are a few tips that you should know before making a keto zucchini lasagna. They will help you a lot if you've never cooked lasagna before. If you don't want your lasagna to be too watery or mushy, here's what you should do:
Cut the zucchini lengthwise into thin slices. It is much tastier when you cut it into slices as thin as possible. If you have a cutter that you can use for this, use it since it a bit difficult to cut the zucchini into perfect slices with a knife.
Sprinkle the zucchini slices with salt so that they release any excess juice. Set them aside until you prepare the other ingredients for the lasagna.
Use a paper towel to dry the zucchini slices from the juices.
You can cut the zucchini into thicker slices if you prefer, and the lasagna will still turn out delicious. I only choose to go with thin zucchini slices because I like the lasagna to be a bit mushy.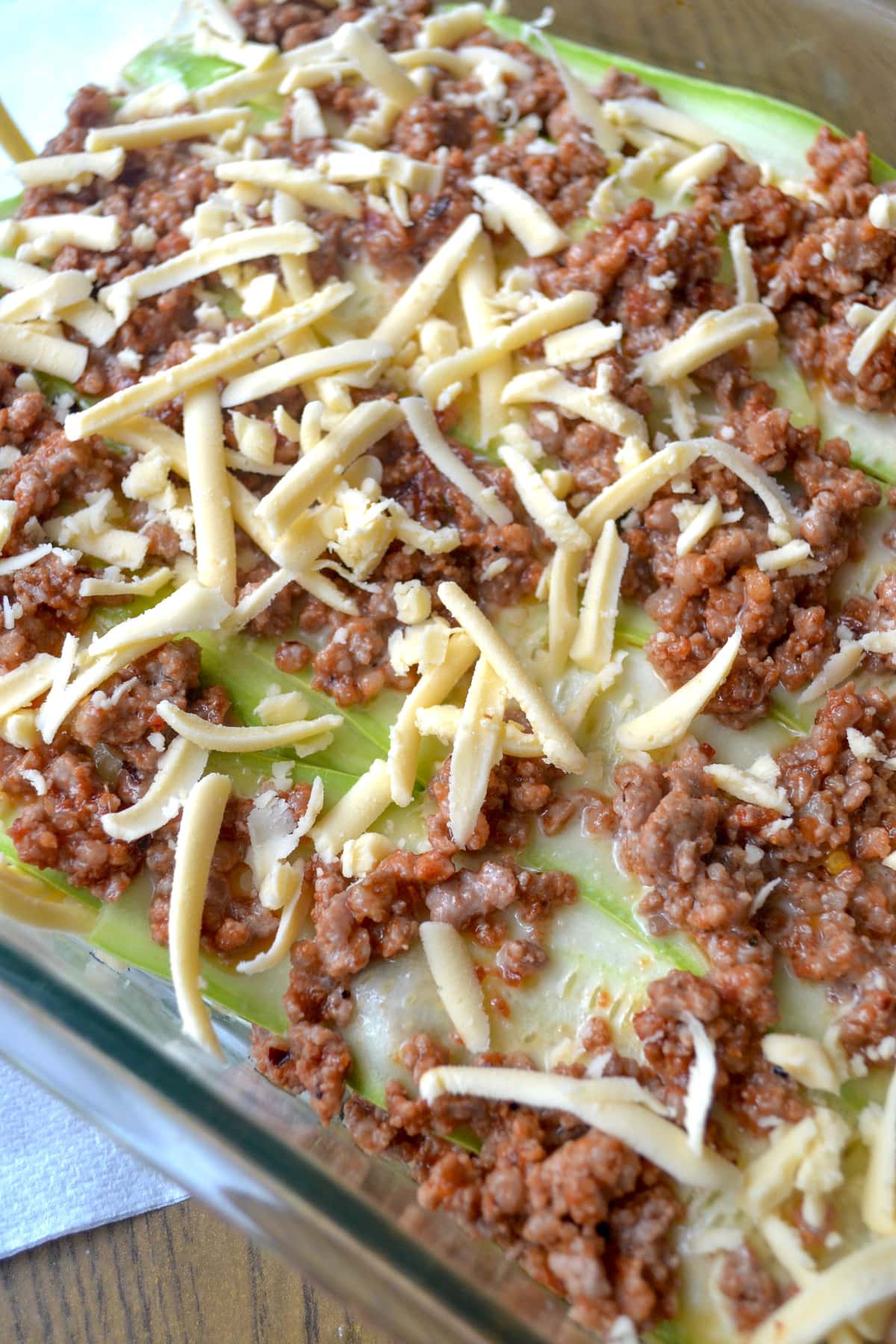 How to Assemble It
Usually, there should be 3 or 4 layers for lasagna to really count as lasagna. For this zucchini lasagna recipe, I chose to settle on 3 layers. But if you want to make 4 layers, it's also possible with the amount of the ingredients listed on the recipe card.
It's pretty easy to assemble this lasagna. First, place the zucchini slices, then the meat sauce, followed by the white sauce, and finally the shredded mozzarella cheese. Some people like to make the top layer out of zucchini slices, but I personally think that finishing the lasagna off with the usual layer is better.
Serve It This Way
Since this recipe is a complete meal, you don't need any side dish to go with the zucchini lasagna. But if you want to add some vegetables to your dinner, you can steam some broccoli, Brussel sprouts, or cauliflower.
Another good option is to make a salad from fresh vegetables and top it off with some lemon juice and olive oil.
Don't Throw Away the Leftovers
If you store the zucchini lasagna in the refrigerator, you can still eat it for up to 3 more days. Simply place a slice into the microwave for 2 minutes and enjoy that mouthwatering lunch or dinner.
If there are too many leftovers, you can freeze them. You can store the lasagna in the freezer for up to 3 months. Whenever you feel like having it, put the lasagna in the fridge to defrost overnight and then reheat it in the microwave.
Instead of making just one zucchini lasagna, you can make two. But make sure to bake only one of them—the other one should go into the freezer. This way, when you have no time or desire to cook but need to satisfy your hunger, simply bake the extra lasagna in the oven and you can enjoy your dinner in just 30 minutes.
Recipe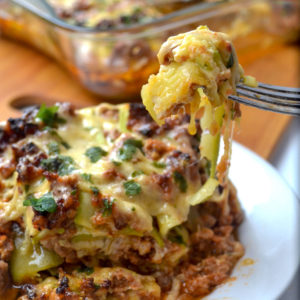 Keto Guilt-Free Zucchini Lasagna
This zucchini lasagna is a much lighter take on the Italian classic, so you won't have to worry about the number of carbs and calories. This recipe is simple, quick, healthy, and delicious — what more do you desire from dinner?
Ingredients
2

medium

zucchini

1

lb

ground beef

5

oz

mozzarella cheese

grated

2

eggs

½

cup

heavy cream

2

tbsp

tomato paste

½

tsp

red pepper flakes

½

tsp

oregano

½

tsp

garlic powder

salt and pepper to taste
Instructions
Preheat the oven to 375F. Oil your baking dish and set it aside.

Slice the zucchinis lengthwise. Salt the slices and set them aside for 15 minutes. Drain the juice away. Divide the zucchini slices into 3 parts.

Prepare the meat sauce: On a pan, fry the ground beef for about 10 minutes and add the pepper flakes, oregano, salt, pepper, and tomato paste.

In a separate bowl, whisk together the eggs, heavy cream, and garlic powder.

Cover the baking dish bottom with one part of the zucchini slices, then place the meat sauce followed by the white sauce and cheese. Repeat three to four times.

Cook for 30 minutes. Let it cool down for about 10 minutes before cutting and serving the lasagna.
Nutrition
Calories:
309
kcal
Carbohydrates:
4.4
g
Protein:
22
g
Fat:
24.6
g
Saturated Fat:
14
g
Trans Fat:
1
g
Cholesterol:
154
mg
Sodium:
277
mg
Potassium:
490
mg
Fiber:
1
g
Sugar:
3
g
Vitamin A:
795
IU
Vitamin C:
13
mg
Calcium:
170
mg
Iron:
2
mg