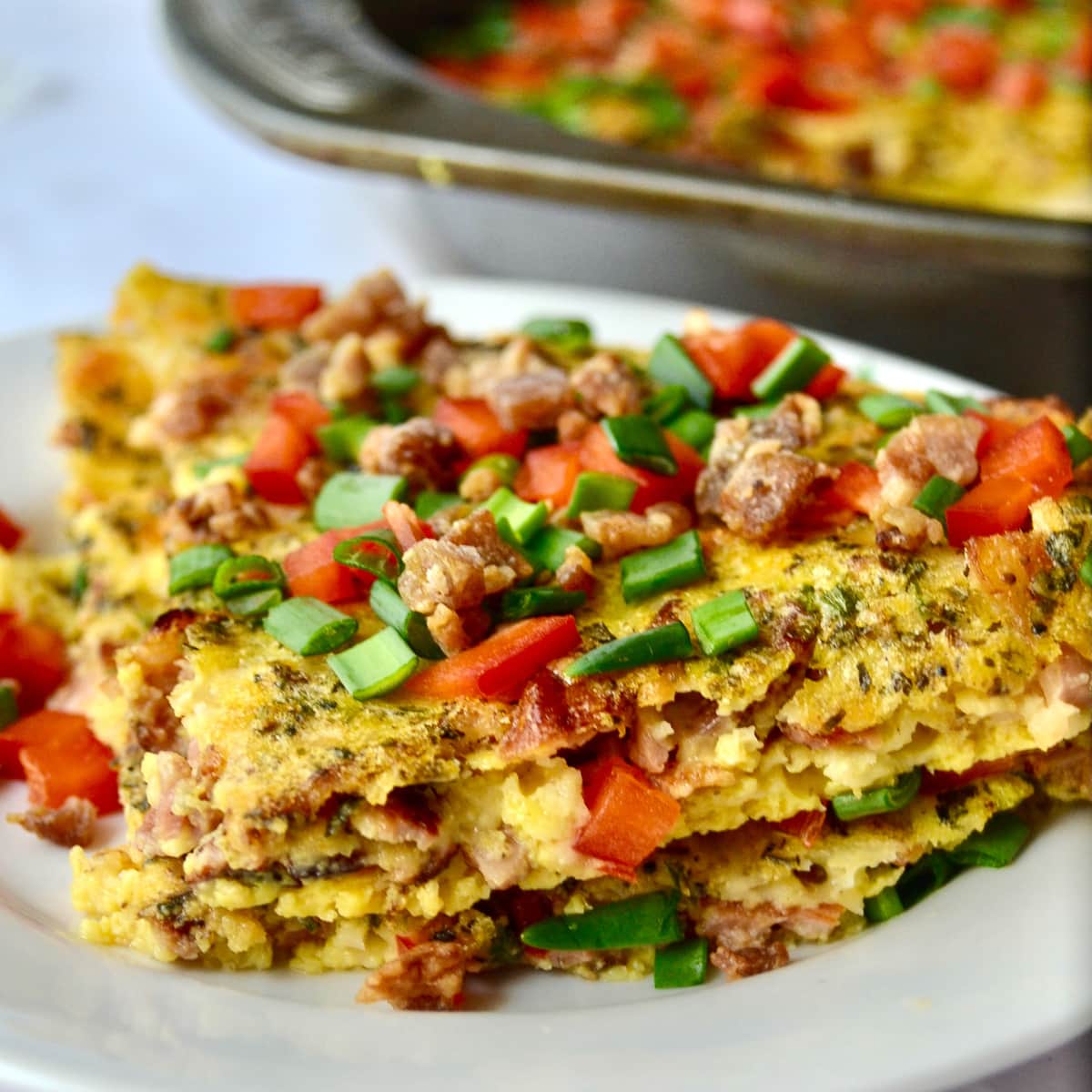 This keto crustless bacon-cheese quiche is incredibly suitable for the keto diet with just 1.5 grams of carbs and 225 calories per serving. It is perfect for any occasion and any meal of the day. It's filled with bacon and cheese; what more can you want from a crustless quiche?
If your mornings are similar to mine and you are always short on time, this recipe will become one of your favorites. You'll spend less than an hour cooking this low-carb quiche. Plus, it is freezer-friendly so you can always make it in advance and store it in the freezer.
I've been feeding this keto quiche to my son since he turned one year old, and he loves it even now. I like to experiment with the ingredients that I add to the quiche, and I always add extra veggies such as broccoli or spinach for my son.
Jump to:
Is Quiche Keto-Friendly?
Yes and no. Since I tweaked the original recipe that everyone is used to, this recipe turned out to be a perfect option for people following the high-fat, low-carb diet. I decided to omit the crust altogether, and as a result, I got an incredibly low-carb quiche recipe.
If you want to make the quiche as close to the traditional one as possible, you can make an almond flour crust. To make it, you will need to combine almond flour, an egg, melted butter, and salt. The amount of the ingredients will depend on the size of your chosen quiche pan. Keep in mind that if you add a crust, the quiche will contain more carbs and calories.
You'll Need These Ingredients
You'll only need a few ingredients to make this keto crustless bacon and cheese quiche. They are pretty basic ingredients that can be found in almost everyone's home. If you're leading a keto lifestyle, then you definitely have all of the needed ingredients in your kitchen.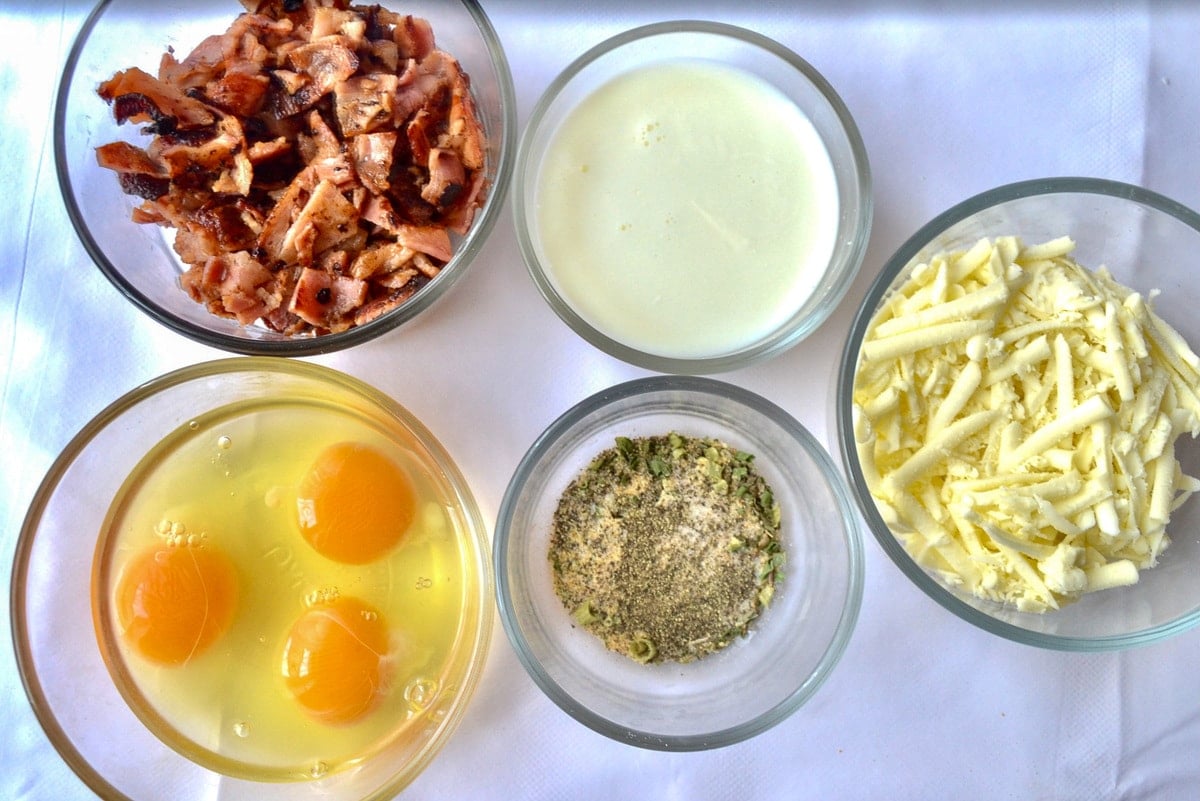 Bacon. This is the main ingredient for the low-carb crustless quiche. Whenever you buy bacon, check whether it is sugar-free. Before chopping it up and adding it into the quiche mix, fry it in a skillet until crisp. You can either throw away the fat that the bacon released during frying or add it into the quiche for more flavor.
Eggs. While most of the keto quiche recipes use around ten large eggs, this one requires only three. The result should turn out perfectly, but if you want it to be thicker, then add two more eggs.
Cheese. I usually go with shredded mozzarella cheese for most of my recipes, but you can add any other keto-friendly cheese—Monterey Jack, Swiss, or Colby Jack.
Almond milk. It is a great substitution for cow's milk. But if you'd rather use cow's milk, you surely can.
Spices. I love to add dried scallions, oregano, and garlic powder to the keto quiche. If you want to add some heat to it, you can add a bit of cayenne pepper powder.
Add Veggies
Since this keto quiche is loaded with bacon, cheese, and eggs, you might want to add some veggies to it for a better nutritional value. Here are some options that you can try:
Spinach
Broccoli
Zucchini
Bell pepper
Onion
However, be careful when adding extra ingredients since the final carb, protein, and fat ratio may vary depending on the ingredients.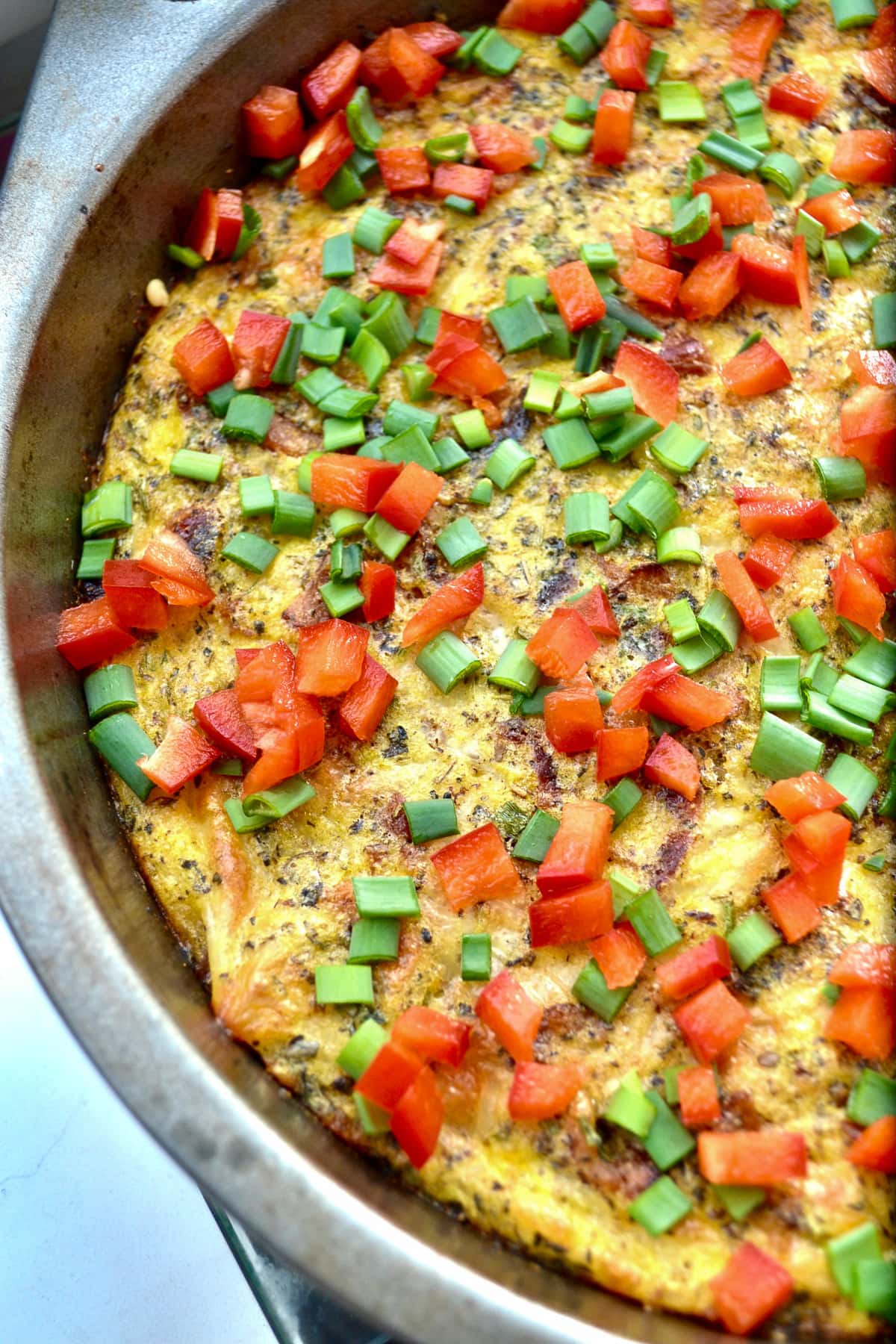 Serving Ideas
This keto bacon and cheese quiche is quite filling, so you may not need much for your breakfast. Just one slice of the quiche should be enough for you. But if you didn't add any veggies into the quiche, you can have them on the side.
How to Store the Quiche
If you have leftovers, you can store them in the refrigerator for up to 3 days. Wait until the keto bacon quiche is completely cold, then wrap up the slices using food wrap or keep them in a container with a lid.
Whenever you're ready to serve the quiche, simply reheat it in the microwave for a minute or less. I like to serve this quiche warm, but my family prefers it cold. So, try out both of the options to know which you prefer.
Furthermore, this cheesy keto quiche is also freezer-friendly. Simply wrap the slices using food wrap and place them in the freezer. You can store it there for up to 3 months. The night before serving, I recommend moving the quiche into the refrigerator and letting it thaw. Then, reheat it in the microwave or serve cold.
Recipe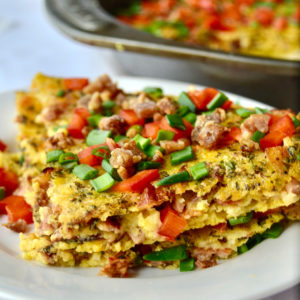 Keto Crustless Bacon And Cheese Quiche
This bacon and cheese quiche is perfect for any occasion and any meal of the day. It's filled with bacon and cheese; what more can you want from a crustless quiche?
Ingredients
6

oz

bacon

3

large

eggs

1

tsp

baking powder

3.5

oz

mozzarella cheese

½

cup

almond milk

1

tsp

garlic powder

1

tsp

dried oregano

½

tsp

dried scallions

salt and pepper to taste
Instructions
Preheat the oven to 350F.

Fry the bacon on a non-stick pan on both sides. Let it cool down, and then chop it up.

In a large bowl, whisk up the eggs, pour in the almond milk, add the bacon, shredded mozzarella cheese, baking powder, and the herbs and spices—garlic powder, dried oregano, dried scallions, salt, and pepper. Thoroughly combine everything.

Take a standard non-stick round quiche pan and spray it with some olive oil. Pour in the quiche mixture, then bake it in the oven for 30 minutes.

Let the quiche cool down a little before cutting and serving it.
Nutrition
Calories:
225
kcal
Carbohydrates:
1.5
g
Protein:
17.5
g
Fat:
17.4
g
Saturated Fat:
21
g
Trans Fat:
1
g
Cholesterol:
199
mg
Sodium:
420
mg
Potassium:
86
mg
Fiber:
1
g
Sugar:
1
g
Vitamin A:
379
IU
Vitamin C:
1
mg
Calcium:
251
mg
Iron:
1
mg