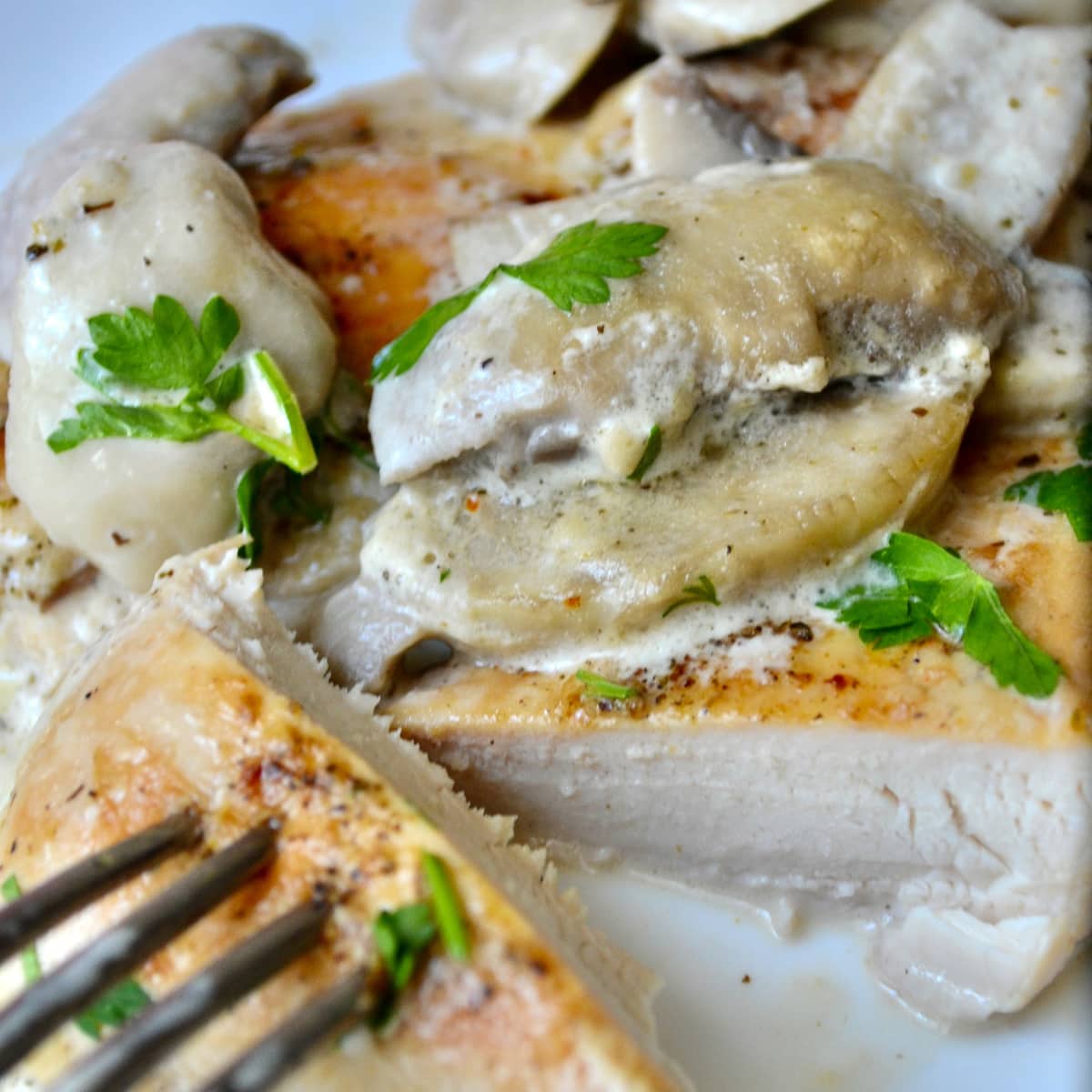 This keto cream and mushroom chicken is a perfect easy weeknight dinner option packed with flavor for the whole family to enjoy. You're definitely going to love this recipe since it is low-carb, easy to make, and insanely delicious.
This easy keto dinner has less than 2 net carbs per serving and can be ready in 30 minutes. All that you'll need to make this dinner are just a few simple ingredients: chicken breast, mushrooms, garlic, heavy cream, olive oil, and some spices.
The serving options that you can try with this keto creamy mushroom chicken are numerous—a fresh salad, zucchini pasta, steamed veggies, cauliflower rice, and more. Even if you choose to serve this chicken without anything else, you'll enjoy it to the very last bite.
Table of Contents
How to Make It
As I already mentioned, this recipe consists of simple and easy-to-find ingredients. But when combined together into this keto one-pan meal, everything starts to taste incredibly delicious. Here are the ingredients that you'll need:
Raw chicken breasts. For this creamy chicken recipe, I used two medium raw chicken breasts. Together they weighed 14 ounces. If you choose to weigh the chicken breasts, then it is best to weigh them raw.
Mushrooms. You can use any type of mushrooms, but it is best to choose either white or baby Bella mushrooms.
Minced garlic. This is the secret to the perfect one-pan creamy mushroom chicken. Garlic gives the most flavor to this meal.
Heavy cream. Well, of course, this is another essential ingredient. Without it, the recipe won't work.
Olive oil. You'll need it to fry the chicken breast slices.
Spices. I think there's no need to add tons of different herbs and spices to this meal. The perfect option is some garlic powder, smoked paprika, salt, and pepper.
Fresh parsley. It highlights the overall taste of the creamy mushroom chicken.
First, you'll need to rub the chicken breast slices with garlic powder, smoked paprika, salt, and pepper. Then, fry them on a skillet and cook the mushrooms. After that, add the heavy cream and minced garlic. And that's it! You'll need to take just a few simple steps and spend about 30 minutes to make this keto creamy mushroom chicken.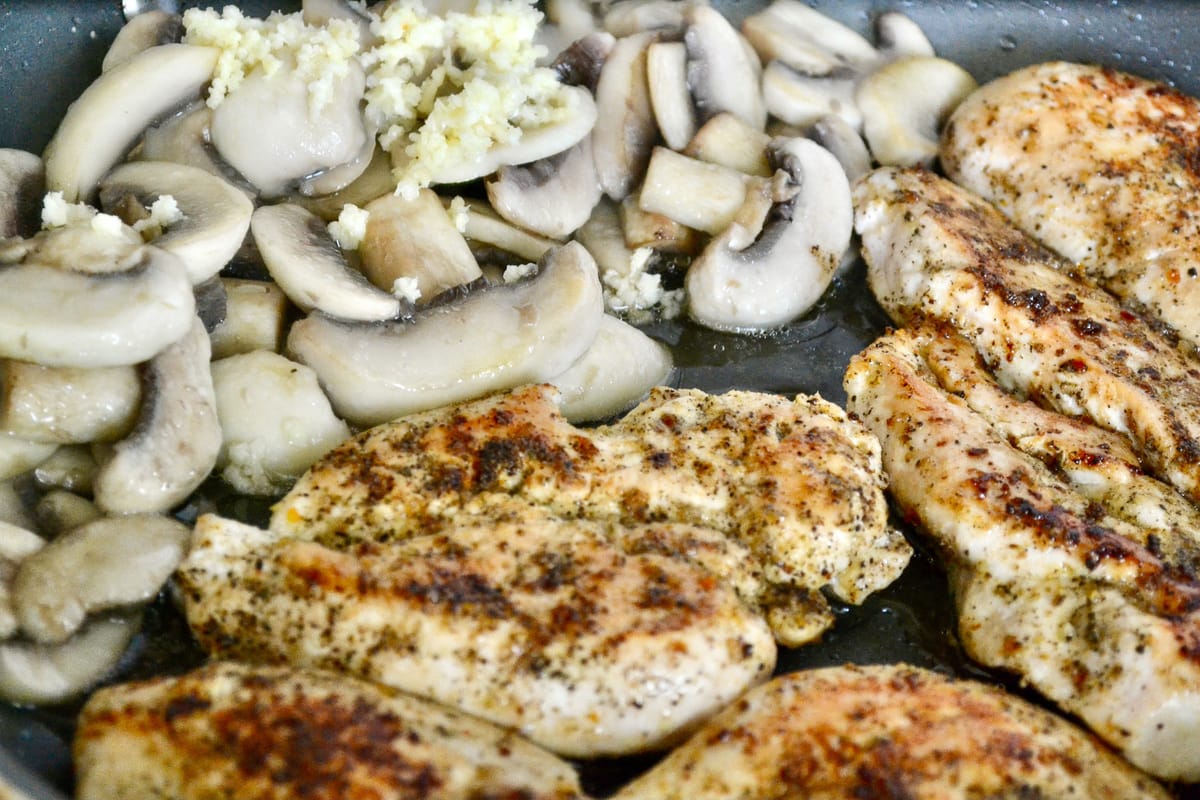 Optional Ingredients
It's best not to go overboard with the ingredients for this keto dinner recipe. But, there are some ingredients that can be added to this creamy mushroom chicken and not ruin the meal. Here's what you can also add to this recipe:
Cheese. You can add any low-carb cheese of your choice to this meal. It's best to top the chicken with the shredded cheese when it is fully cooked and cover the skillet with a lid to let it melt. I like to add some swiss cheese, parmesan, or mozzarella.
Onion. If you are a fan of this ingredient, you can add it to this keto creamy mushroom chicken recipe. You'll need to finely chop it up and cook it together with the sliced mushrooms. This ingredient gives a nice caramelized flavor to the cooked meal.
Optional herbs. As I already said, it's quite easy to go overboard with unnecessary spices and herbs. But if there are any that you like, you can add them. Some of the herbs that I add to this meal from time to time are chives, dill, rosemary, and basil.
Spinach. I love it, but my kid doesn't, so I rarely include it when cooking this keto dinner. But when I do add it, I can't help myself but eat almost two full servings.
Cherry tomatoes. You can slice them in half and throw them into the ready meal.
However, if you're thinking of making any changes to the original recipe, remember to include the nutritional value of that ingredient in the ready meal.
Storing Tips
You can keep the low-carb creamy mushroom chicken leftovers in your refrigerator for 3-4 days. Simply move it onto a plate and cover it with some plastic food wrap.
If you're thinking of freezing this dish, it's best not to do it. Since there's lots of heavy cream in this recipe, it can taste a bit weird after thawing it.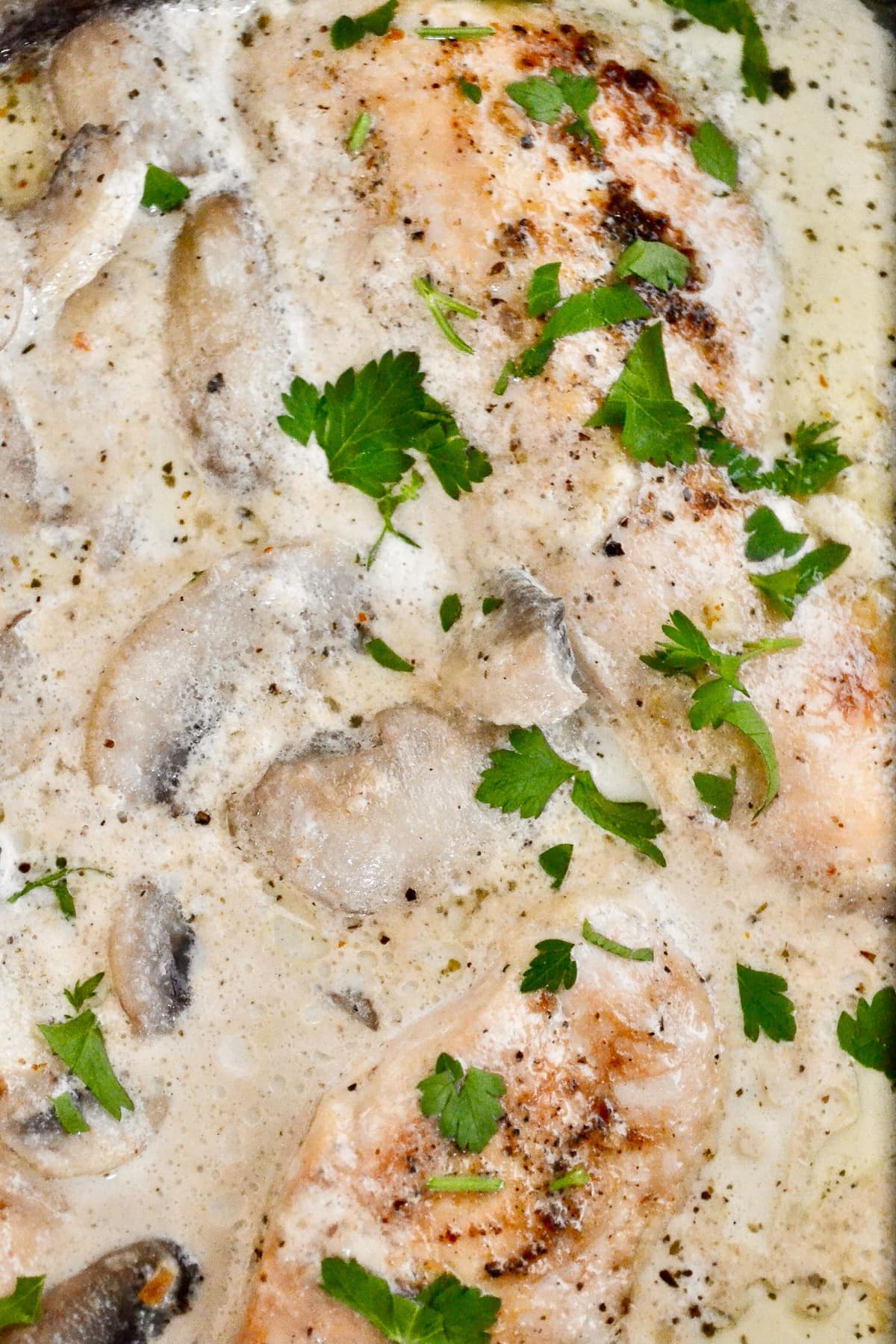 Ways to Serve
You can serve this keto dinner practically with everything. Since it is very filling, I sometimes serve it on its own. Or, a great option would be to serve it with some fresh salad on the side.
Another idea that you should try is to serve the chicken with some fried cauliflower rice or steamed veggies. For example, this air fryer garlic brussels sprouts recipe goes perfectly with this keto dinner.
Recipe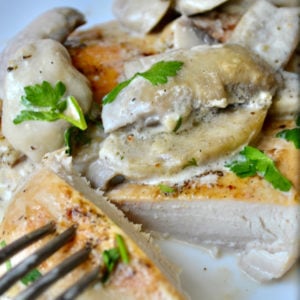 Keto Creamy Mushroom Chicken
Perfect for weeknights, this keto creamy mushroom chicken recipe is easy to make. You're definitely going to love this recipe since it is low-carb and insanely delicious.
Ingredients
2

medium

chicken breast

6

large

mushrooms

2

tbsp

olive oil

3

cloves

garlic

minced

1

cup

heavy cream

½

tsp

smoked paprika

salt and pepper

to taste

chopped fresh parsley

for garnish
Instructions
While heating the olive oil on a large skillet over medium heat, cut the chicken breasts into thinner pieces and season with garlic powder, smoked paprika, salt, and pepper.

Fry them on the skillet for 3-5 minutes on each side until golden brown. Transfer the chicken slices onto a plate.

Clean the mushrooms and slice them. Cook for a few minutes on the skillet.

Add the chicken back to the skillet, place the minced garlic, and pour in the heavy cream. Simmer for around 8-10 minutes, occasionally stirring.

Garnish with chopped parsley and serve warm.
Nutrition
Calories:
318
kcal
Carbohydrates:
1.7
g
Protein:
23.3
g
Fat:
28.6
g
Saturated Fat:
12
g
Polyunsaturated Fat:
2
g
Monounsaturated Fat:
10
g
Trans Fat:
1
g
Cholesterol:
123
mg
Sodium:
125
mg
Potassium:
470
mg
Fiber:
1
g
Sugar:
1
g
Vitamin A:
826
IU
Vitamin C:
3
mg
Calcium:
40
mg
Iron:
1
mg