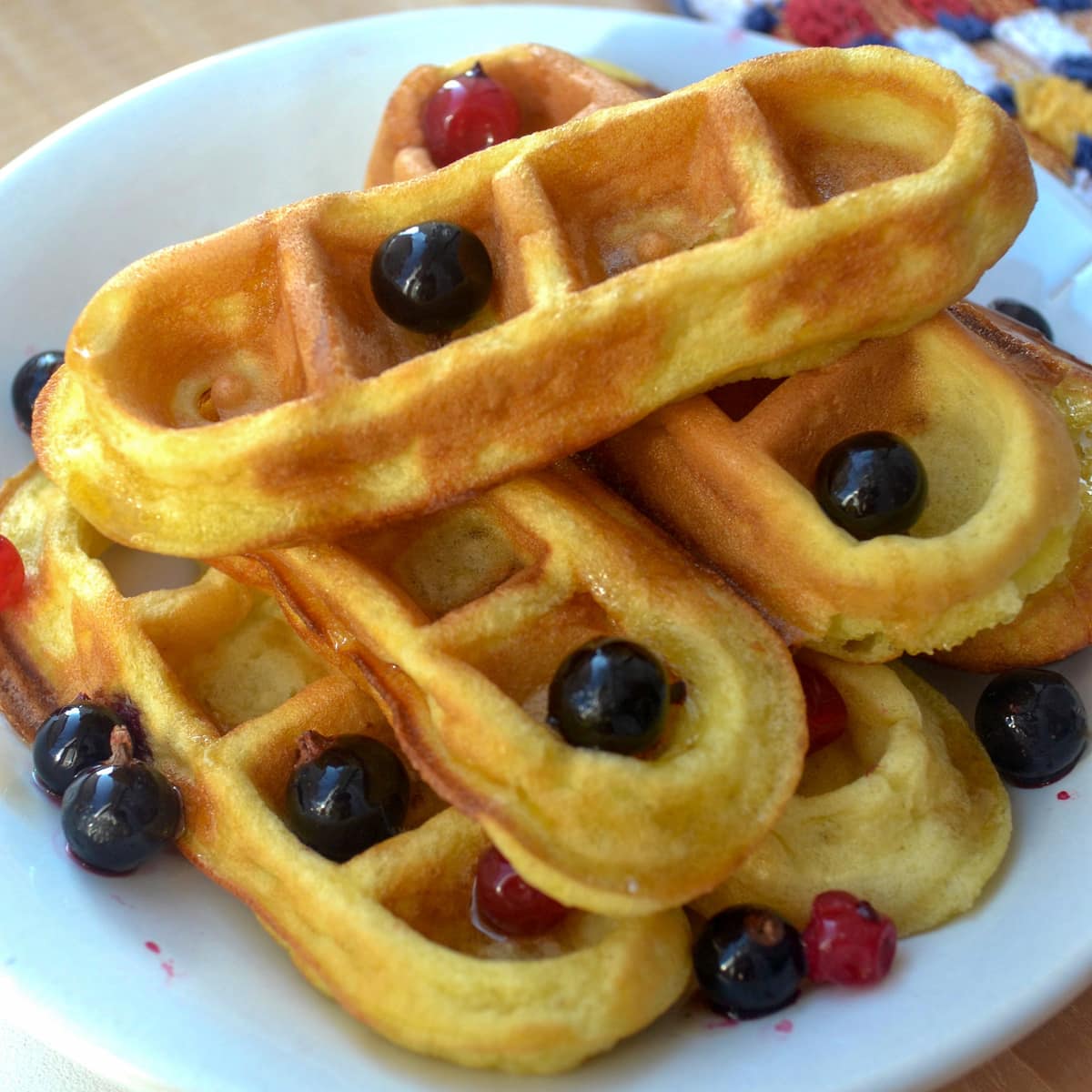 Do you prefer a sweet breakfast over a savory one? These keto waffles are a great option since they are not only low-carb but also gluten-free. Most importantly, they're extremely delicious! With just six ingredients and 15 minutes of your time, you can make a mouth-watering breakfast for yourself and your family.
Trust me—these waffles will be the fluffiest ones you'll ever try! If you want to make them even tastier, you can try adding some keto-friendly berries into the batter, such as raspberries, strawberries, or blueberries.
For this recipe, I decided to use almond flour instead of whole wheat, making these keto-friendly waffles gluten-free. The other five ingredients used in the recipe are also gluten-free — eggs, milk, cream cheese, baking powder, and erythritol.
Table of Contents
Easy Healthy Keto Breakfast
This recipe is healthy, low-carb, and gluten-free. It contains only healthy and keto-friendly ingredients! Since it contains no wheat, barley, rye, or triticale, it's safe for those allergic to gluten.
Plus, the fact that one serving has less than 7 grams of carbs and not even 300 calories means that you can serve these keto waffles with almost anything! You can serve a different delicious breakfast every time that the entire family will love—even picky eaters!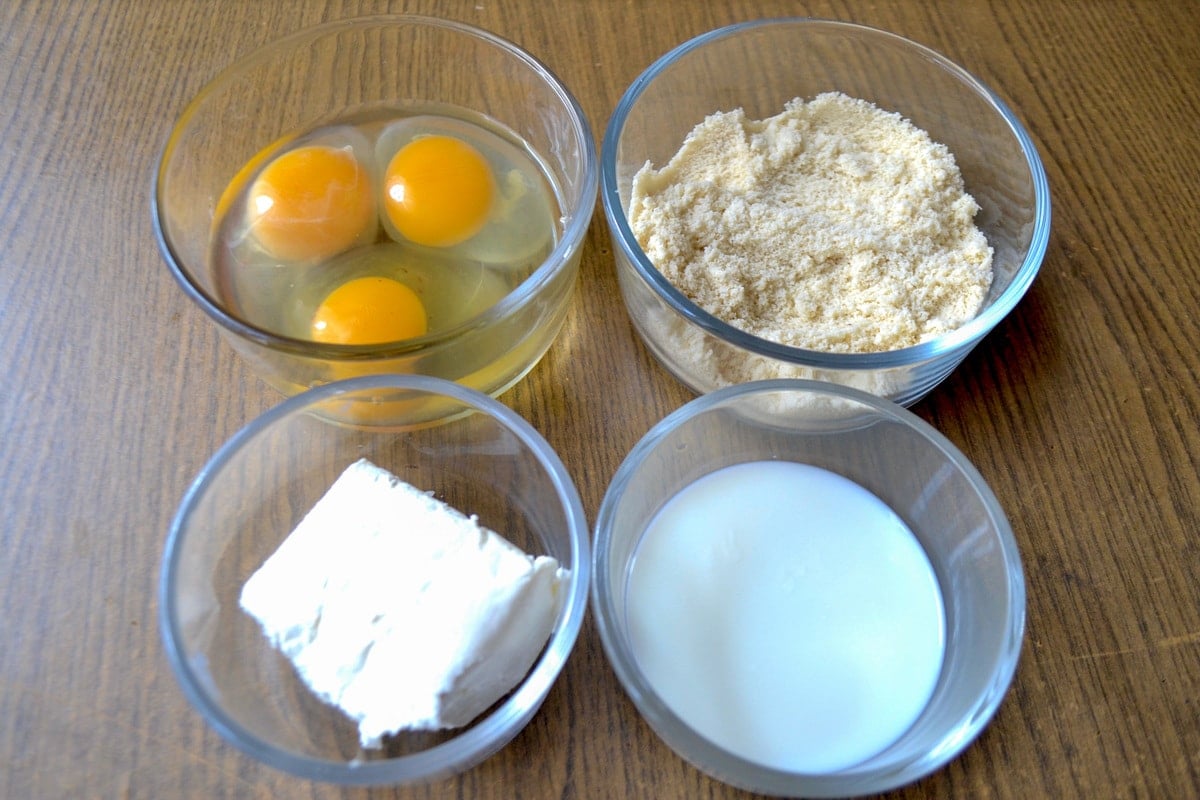 Here's What You'll Need
To make these keto cream cheese waffle sticks, you'll need a waffle maker, a mixing bowl, and a hand mixer. I have a Babycakes Waffle Stick Maker, but you can use any other waffle maker. It doesn't have to make only waffle sticks.
And if you don't own any kind of waffle maker, you can use this recipe to make pancakes instead. I promise you'll be positively surprised once you taste them! Just remember to oil the pan before pouring the batter for pancakes.
Next, you'll need these ingredients:
Cream cheese
Milk
Eggs
Almond Flour
Baking powder
Erythritol
Salt
Cooking spray oil
I used the usual whole fat milk for the waffles, but almond or coconut milk works equally well. For the flour, I chose the almond kind. I don't recommend replacing it with any other flour type since they have different properties, and it will be difficult to choose the right amount.
Since erythritol is a perfect keto-friendly sweetener option, I choose to go with it for most of my recipes. However, any other sweetener that you prefer should also work. Even if you decide to cook the waffles without any sweetener, you'll still get delicious savory cream cheese waffles!
You'll need some oil to grease the waffle maker sections, and you can use either olive or avocado oil for this. I decided to use an olive oil cooking spray since it is more convenient to apply on the waffle maker.
If you don't have cooking spray, you can use a pastry brush to oil the waffle maker sections evenly instead.
Remember that if you make any changes to the ingredients, the number of calories, fat, protein, and carbs may also change.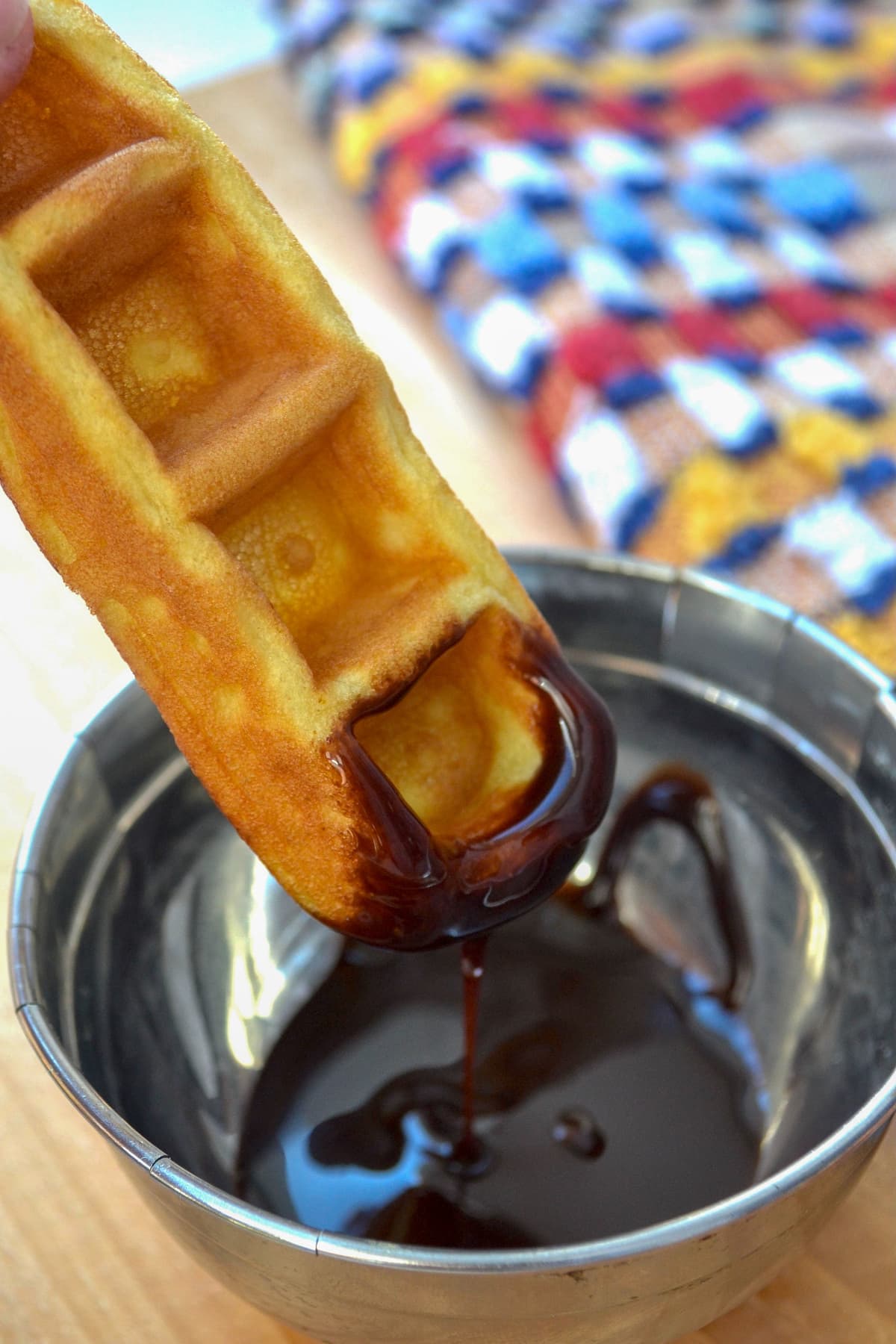 How to Serve the Waffle Sticks
I often have these keto cream cheese waffles with ChocZero's Chocolate Syrup. Both the chocolate and vanilla syrup taste perfect with the waffle sticks. If I don't add any berries into the waffle batter, then I serve the cooked waffles with some berries or fruits.
If you want to make these waffles savory, just don't add any sweetener. Instead, add more salt and some garlic powder. It's just as tasty—if not more!
Savory waffles can be served with some eggs and bacon on the side or with fresh salad. Both of these options are equally delicious!
How to Store Them
You can store the keto waffles in the refrigerator for 2-3 days. Before serving, I recommended reheating them in the microwave on high for approximately one minute. Or, you can also serve them cold if you wish!
I like to make three or four times more waffle sticks and freeze them as a part of my keto meal prepping. This way, I always have a ready breakfast option in my fridge for the mornings I don't have enough time to cook.
These waffle sticks can be kept in the freezer for up to 3 months. Just make sure to place them in the refrigerator the night before you eat them to defrost. By doing so, you'll preserve the waffle sticks' soft structure, and they will taste as if they were freshly made!
Recipe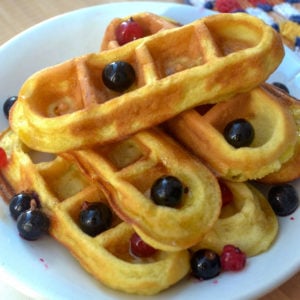 Keto Cream Cheese Waffle Sticks
These keto waffles are a great option since they are not only low-carb but also gluten-free. Most importantly, they're extremely delicious! With just six ingredients and 15 minutes of your time, you can make a mouth-watering breakfast for you and your family.
Ingredients
½

cup

milk

3

large

eggs

4

oz

cream cheese

5

tbsp

almond flour

2

tbsp

erythritol

1

tsp

baking powder

olive oil cooking spray

1

pinch

salt
Instructions
In a medium bowl, blend the cream cheese with erythritol until smooth. Add the eggs one by one while mixing everything together.

Keep mixing and pour in the milk. Slowly add the almond flour, baking powder, and salt. Mix until it acquires a creamy and smooth texture.

Preheat your waffle iron for at least 5 minutes. Spray some oil into the irons. If you don't have cooking spray, then use a pastry brush to evenly oil the surface.

Pour in the waffle batter.

Bake for 2-3 minutes, depending on the waffle maker kind that you are using.

Once cooked, transfer the waffles to a cooling rack for a minute or two before serving.
Nutrition
Calories:
297
kcal
Carbohydrates:
6.7
g
Protein:
12.4
g
Fat:
25.9
g
Saturated Fat:
10
g
Trans Fat:
1
g
Cholesterol:
232
mg
Sodium:
364
mg
Potassium:
175
mg
Fiber:
1
g
Sugar:
4
g
Vitamin A:
844
IU
Calcium:
214
mg
Iron:
2
mg