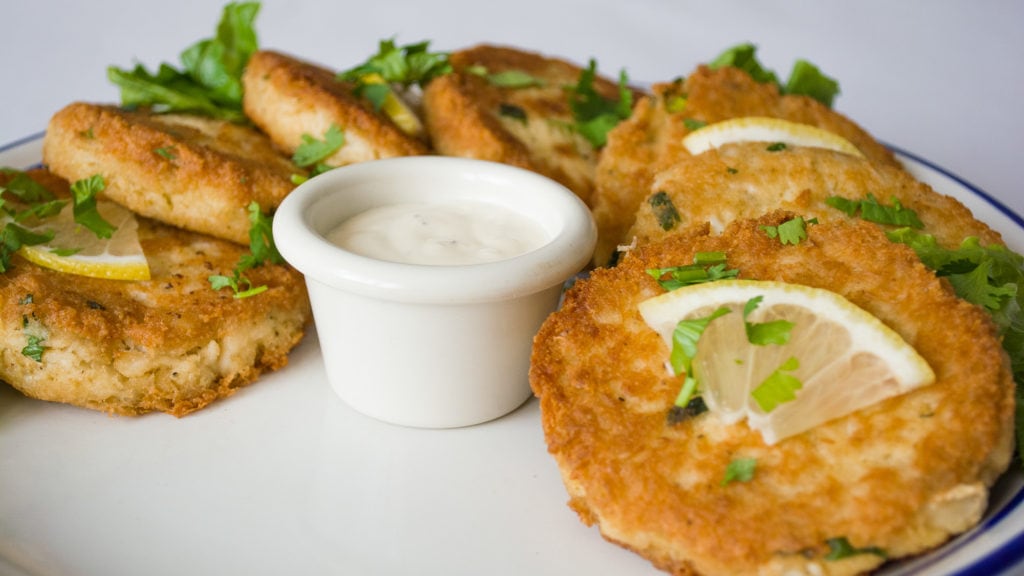 These keto crab cakes are insanely quick to make and can serve both as a main dish or as an appetizer. Instead of the usual breadcrumbs, this recipe requires using almond flour. Therefore, the dish is entirely gluten-free and keto-friendly.
After trying this keto recipe at least once, you'll never stop craving it. Thanks to the right ingredients, the carb cakes turn out perfectly tender on the inside and ideally crispy on the outside. And, well, of course, loaded with flavor.
If you don't have much time to cook and want to make something both delicious and easy to make, this four-step crab cake recipe is your best option. With less than ten simple ingredients and about half an hour to prepare, you can have a mouthwatering lunch, dinner, or snack for your whole family to enjoy.
Table of Contents
Here's What You'll Need
The ingredients that you will need to prepare for this keto crab cakes recipe are very simple and can be easily found in almost any grocery store. Here's a list of the ingredients:
Lump crab meat. This crab meat type is perfect for crab cakes since it is made of broken pieces of Jumbo Lump. But be careful when choosing the manufacturer and always read the label before purchasing the meat. It's okay to use either the canned crab meat or the one in a plastic container.
Almond flour. As you might already know, most crab cakes contain wheat flour. So to make the recipe keto-friendly, I chose to substitute it with almond flour.
Egg. You'll also need one egg for the recipe to make sure that the crab cakes don't fall apart.
Mayonnaise. I chose avocado mayonnaise since it is a bit healthier than the usual one. But it's okay to use any type of mayo.
Dijon mustard. This ingredient enhances the overall taste and gives more flavor to the crab cakes.
Worcestershire sauce. It also adds more deep flavor to the meal.
Hot sauce. Personally, I don't like to add heat to the crab cakes. But since my husband likes them this way, I add this ingredient to about half of the crab cakes.
Fresh parsley. It's always a good idea to add something green to the crab cakes, and parsley fits here the best.
Salt and pepper. Just a tiny pinch of salt will be more than enough. Pepper is totally optional.
Olive oil. If you choose to fry these keto crab cakes in a pan, then you'll need some olive oil to ensure that they don't stick to the pan.
There are a few additional ingredients that you can either add or not. I like to experiment with this keto crab cakes recipe from time to time to get a slightly different taste. Here's what you could try adding to this recipe:
Garlic powder
Old Bay Seasoning
Pepper flakes
Diced onion
Lemon juice or lemon zest
Chopped scallions
Chopped bell pepper
Dried basil
Parmesan cheese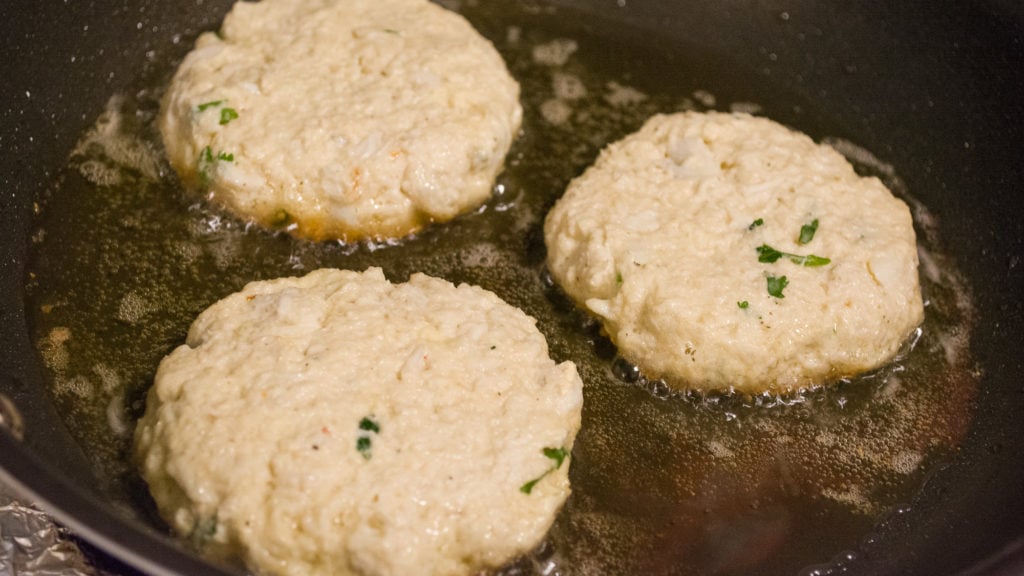 A Secret For The Crispiest Crust
When you follow all of the recipe instructions, you'll get a crispy crust. But if you want it to be even crispier, you should do it in a slightly different way. And the main ingredient for that crispy crust is crushed pork rind.
If you are familiar with the traditional panko-style breadcrumbs, these are quite similar to them. Only there is one main difference between them — the pork rind crumbs are zero carbs. Therefore, they are perfect for keto recipes.
All you need to do is grab your favorite pork rinds. I like to go with the Utz Original Pork Rinds, but any other kind is also okay. Then, just place them in your food processor and pulse a few times. After that, cover the formed crab cakes with the crumbs on all sides and cook them in any preferred way.
Serving Ideas
There are plenty of amazing ways you can serve low-carb crab cake. Depending on the number of calories you can consume and what you prefer the most, here's how you can try serving the crab cakes:
On top of some salad
With tartar sauce
Grilled veggies
With remoulade sauce
With a green salad on the side
With hollandaise sauce
With salsa
With aioli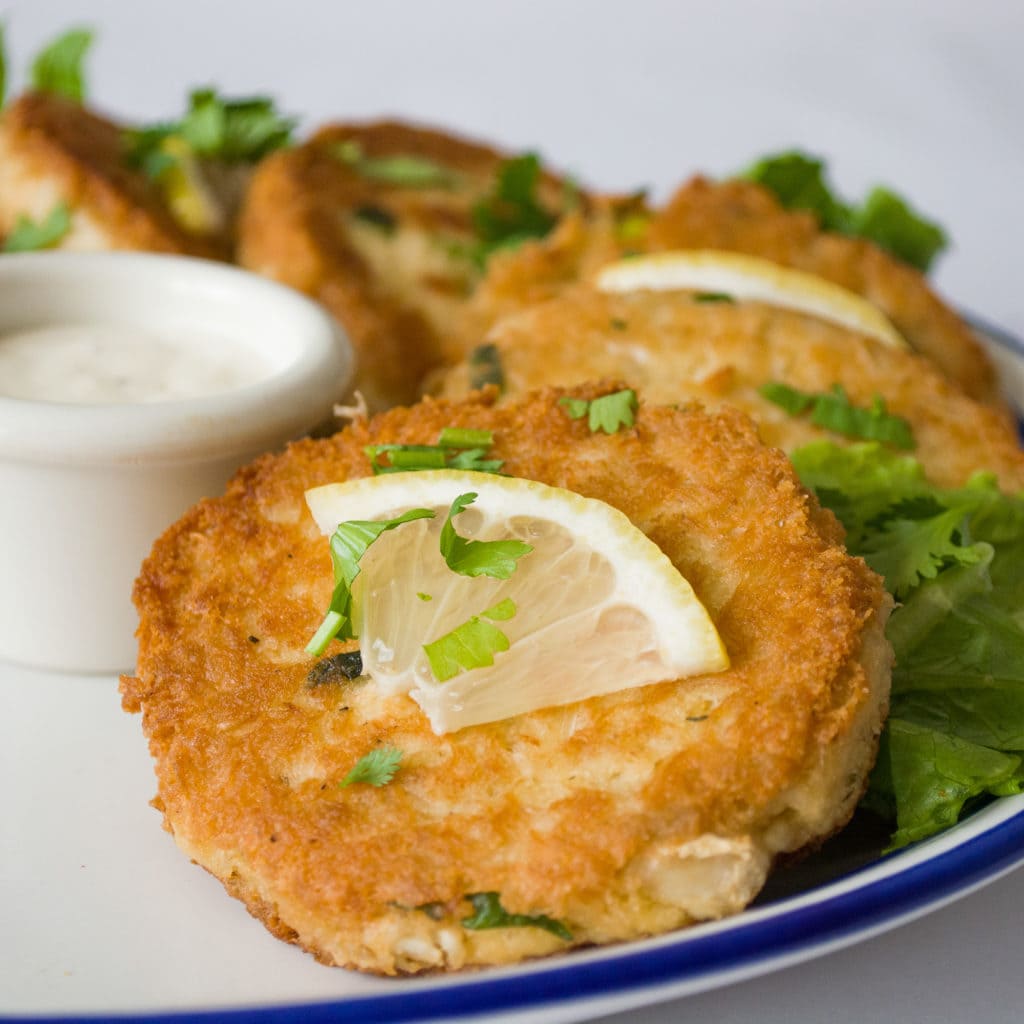 P.S. I usually enjoy these crab cakes with a glass of Chardonnay. The wine balances out the overall flavor of the meal and, well, helps you relax after an unbelievably long day.
Storing Tips
If you have any leftovers, place them in an airtight container or on a plate and wrap them with some food wrap. It's okay to store the keto crab cake leftovers in the refrigerator for up to 3 days. You can either serve them right from the fridge or, if you like the cakes warm, then reheat them in the microwave.
I know that you might also be thinking of whether you can freeze these keto crab cakes. And the answer is YES, of course, you can. You can either freeze them raw or after frying. I usually freeze them fully cooked and then, whenever needed, just thaw them in the microwave or place them in the fridge overnight.
Recipe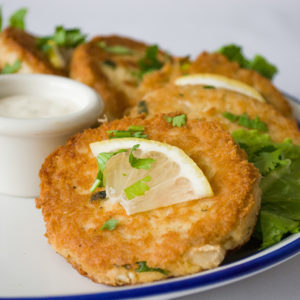 Keto Crab Cakes
After trying this keto recipe at least once, you'll never stop craving it. With less than ten simple ingredients and about half an hour to prepare, you can have a mouthwatering lunch, dinner, or snack for your whole family to enjoy.
Ingredients
1

lb

lump crab meat

5

tbsp

almond flour

1

large

egg

2

tbsp

avocado mayonnaise

1

tsp

dijon mustard

1

tsp

Worcestershire sauce

1

tbsp

fresh parsley

chopped

¼

tsp

hot sauce

optional

salt and pepper to taste

3

tbsp

olive oil

for frying
Instructions
In a large bowl, combine the lump crab meat, almond flour, an egg, mayo, dijon mustard, Worcestershire sauce, chopped parsley, hot sauce (optional), a tiny pinch of salt, and some ground black pepper.

Place a pan over medium heat and pour in the olive oil.

Using a tablespoon, scoop some of the crab mixture, and form a patty in your hands. You should get nine crab cakes from that mixture. Fry them in the pan covered with a lid for about 5 minutes on each side.

Remove the crab cakes from the pan and place them on a piece of paper towel to remove excess oil.
Nutrition
Calories:
115
kcal
Carbohydrates:
1
g
Protein:
11
g
Fat:
7
g
Saturated Fat:
1
g
Polyunsaturated Fat:
1
g
Monounsaturated Fat:
4
g
Trans Fat:
1
g
Cholesterol:
42
mg
Sodium:
445
mg
Potassium:
119
mg
Fiber:
1
g
Sugar:
1
g
Vitamin A:
81
IU
Vitamin C:
4
mg
Calcium:
36
mg
Iron:
1
mg