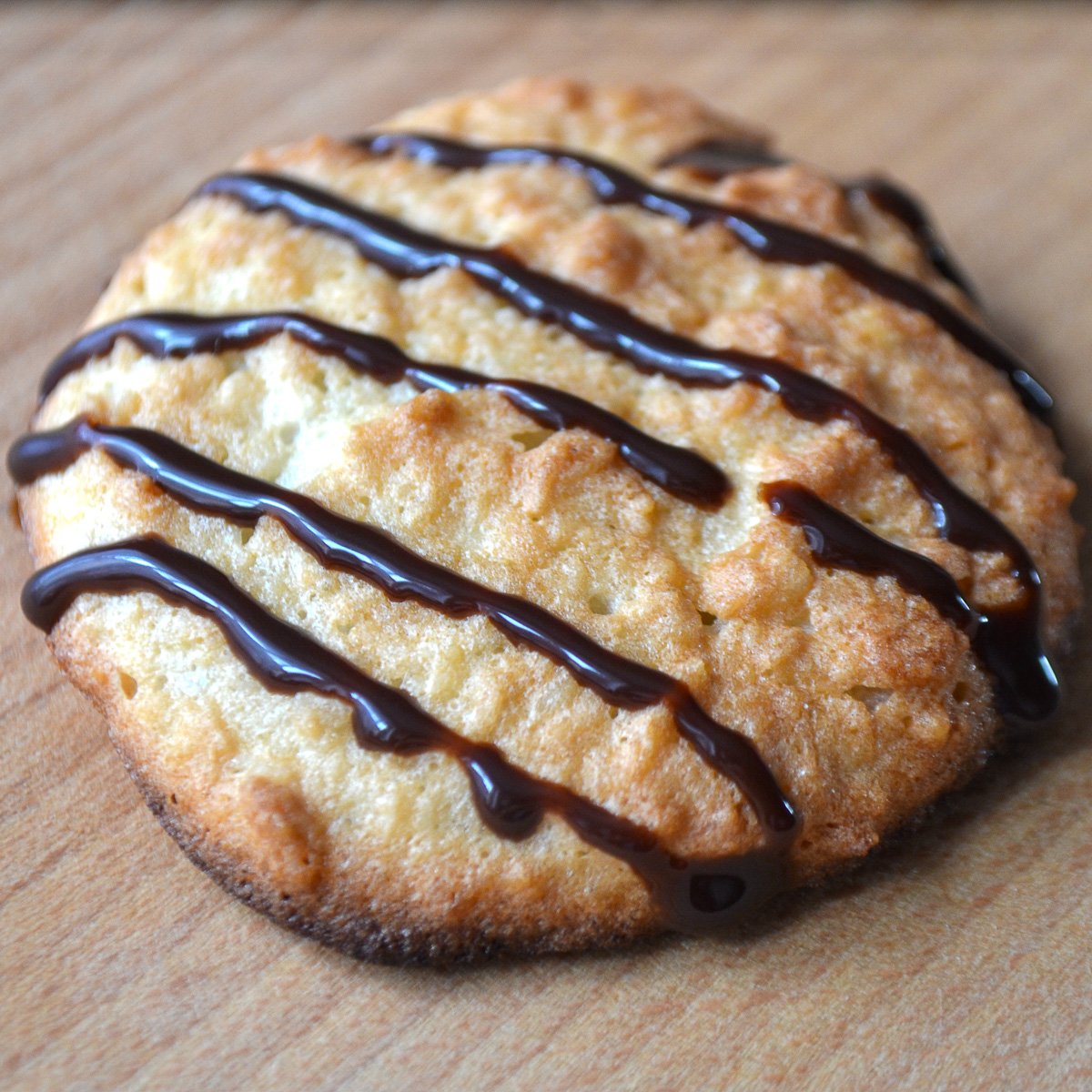 If you can't go a day without eating something sweet, having a batch of these low-carb cookies in the house is always a good idea. This way, whenever you get that strong need to munch on a dessert, you'll have the right type beside you.
With just four main ingredients and half an hour of your time, you can bake these delicious coconut cookies. Even if you don't have much practice in baking keto desserts, you'll be able to handle this one just fine.
I decided to use a combination of almond flour and coconut flakes to even out the carbs-fat ratio. By using just the egg whites instead of the whole egg, I cut down on the calories, making these cookies a yummy and keto-friendly dessert.
Table of Contents
How Many Cookies Can You Make From This Recipe?
The number of cookies that you can make from the ingredients listed in the recipe card will vary depending on the cookies' size. But approximately, you'll get 20-30 cookies. If you want to make more and freeze them, just double the ingredients.
Are Coconut Flakes Keto-Friendly?
Coconut is a healthy food with many nutritional benefits for everyone. It is also a product that is widely used in paleo and keto diets. It has a moderate amount of carbs and is naturally high in fat.
But you should be careful when choosing coconut flakes for your desserts since many of them usually contain sugar, which isn't good for keto followers. Remember to check whether there is no sugar in them before buying.
For these keto coconut cookies, you can use both coconut flakes or shredded coconut.
Can You Substitute the Almond Flour?
It is not recommended to do this. If you want to use coconut flour instead of the almond one for this recipe, you should be very careful since they have different properties and can't be substituted in the same proportions.
It's also not a good idea to use regular whole wheat flour since it is lighter than almond flour, so you may have a hard time guessing whether you chose the right amount. It also has more carbs, which is a crucial factor when following the keto diet.
What Sweetener to Use
Any keto-friendly sweetener is a good option for these coconut cookies. But I always choose to go with erythritol since it has a low glycemic index. Other sweeteners that you can try include monk fruit, stevia, sucralose, xylitol, yacon syrup, etc.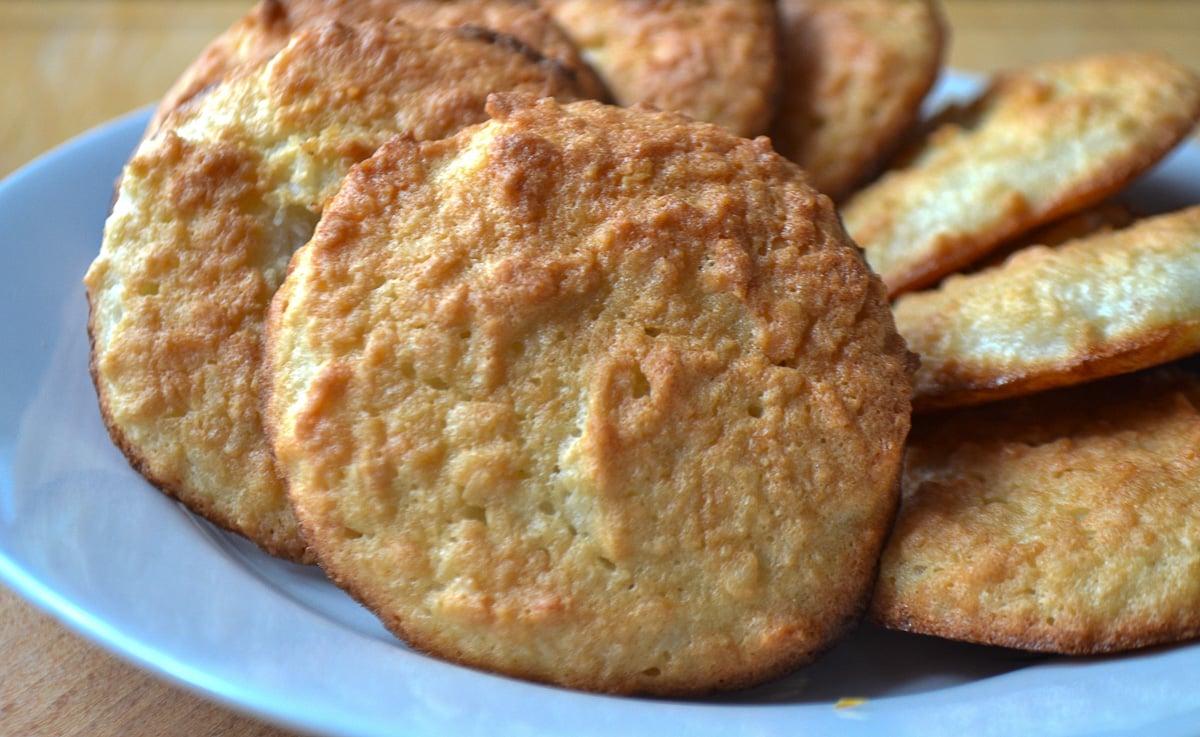 How to Tell If the Cookies Are Fully-Baked
I bake the cookies for about 20 minutes in the oven preheated to 350F, but you should always keep an eye on them since they can quickly burn!
They may look like they need to be baked for 5 more minutes, but they can burn in a couple of minutes. Therefore when you notice that they are turning brown, take them out of the oven.
Can They Be Cooked in the Air Fryer?
Yes! It's possible to cook these keto coconut cookies in an air fryer. If you want them to be softer, then you should go with the air fryer instead of the oven. Try to make them thinner so that they fully bake and set the temperature to 350F. They'll be ready in about 25 minutes.
Just remember to keep a close eye on them so that they don't burn. Personally, I prefer to bake these cookies in the oven since I like them crispy and I always make large batches.
One More Tip Before Baking
This recipe depends on how well you beat the egg whites. You should beat them until stiff peaks form. If you're not sure how to do it, read this:
Make sure that the eggs are at room temperature.
Use a hand mixer. It is a more reliable way to beat the egg whites than beating them by hand.
First, beat the whites on low and slowly increase the speed to high.
The peaks should start forming in about 3-4 minutes. Only then should you add the sweetener.
It's easier to reach the stiff peaks if you add the sweetener as powder.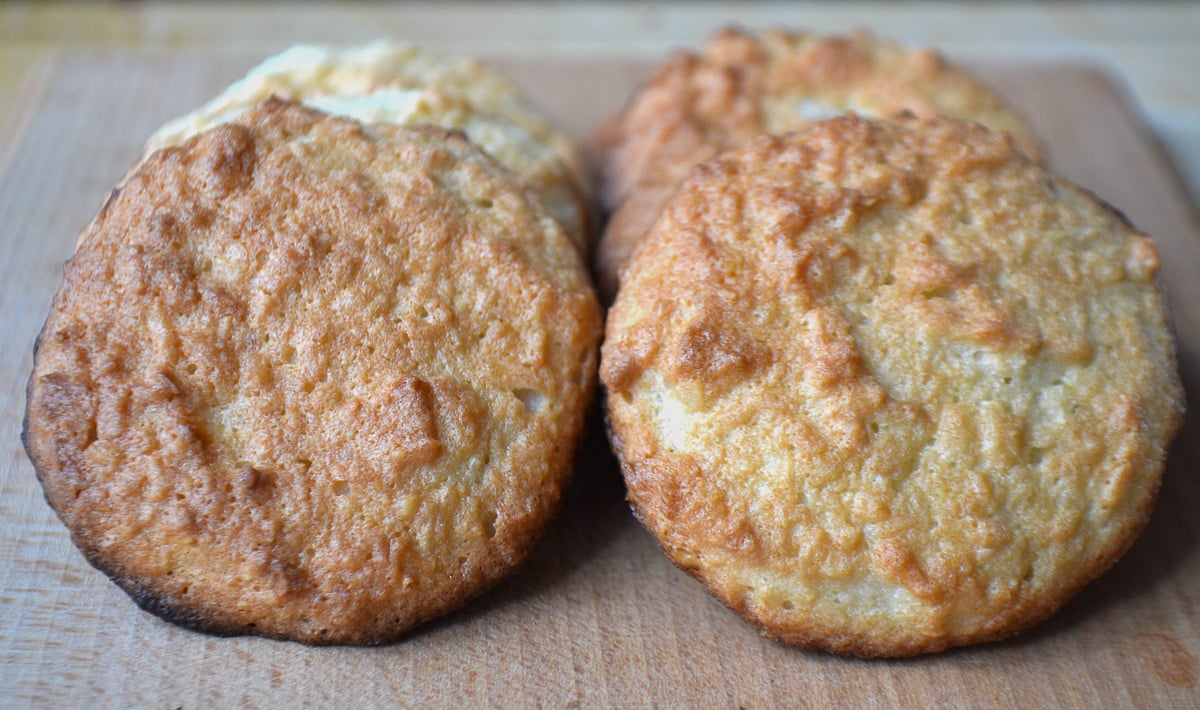 How to Store Them
You can store the leftovers from these keto coconut cookies in the refrigerator for up to a week.
Also, you can make a larger batch and store them in the freezer for up to 3 months. If you're planning to do so, freeze them after they've been fully baked. When you want to eat them, place them in the refrigerator overnight to thaw.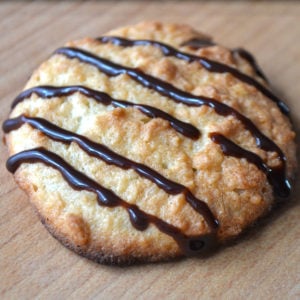 Keto Coconut Cookies With Almond Flour
If you can't go a day without eating something sweet, having a batch of these low-carb cookies in the house is always a good idea. This way, whenever you get that strong need to munch on a dessert, you'll have the right type beside you.
Ingredients
½

cup

almond flour

5

oz

coconut flakes

¼

cup

butter

melted

4

egg whites

5

tbsp

erythritol

1

tsp

vanilla extract

1

pinch

salt
Instructions
Preheat the oven to 350 F. Place a piece of parchment paper on a baking pan.

In a large bowl, mix together the almond flour, coconut flakes, melted butter, and vanilla extract.

Beat the egg whites with the erythritol until stiff peaks form.

In small parts, add the whites to the other bowl and carefully, with a spatula, mix everything together.

Using a tablespoon, place the batter onto the baking pan and form the cookies. Depending on the cookie size and thickness, you should bake for around 15-20 minutes. When they turn brownish - they're ready.
Nutrition
Calories:
66
kcal
Carbohydrates:
1.6
g
Protein:
1.6
g
Fat:
6.3
g
Saturated Fat:
4
g
Cholesterol:
1
mg
Sodium:
18
mg
Potassium:
53
mg
Fiber:
1
g
Sugar:
1
g
Vitamin A:
5
IU
Vitamin C:
1
mg
Calcium:
12
mg
Iron:
1
mg