Jump to Recipe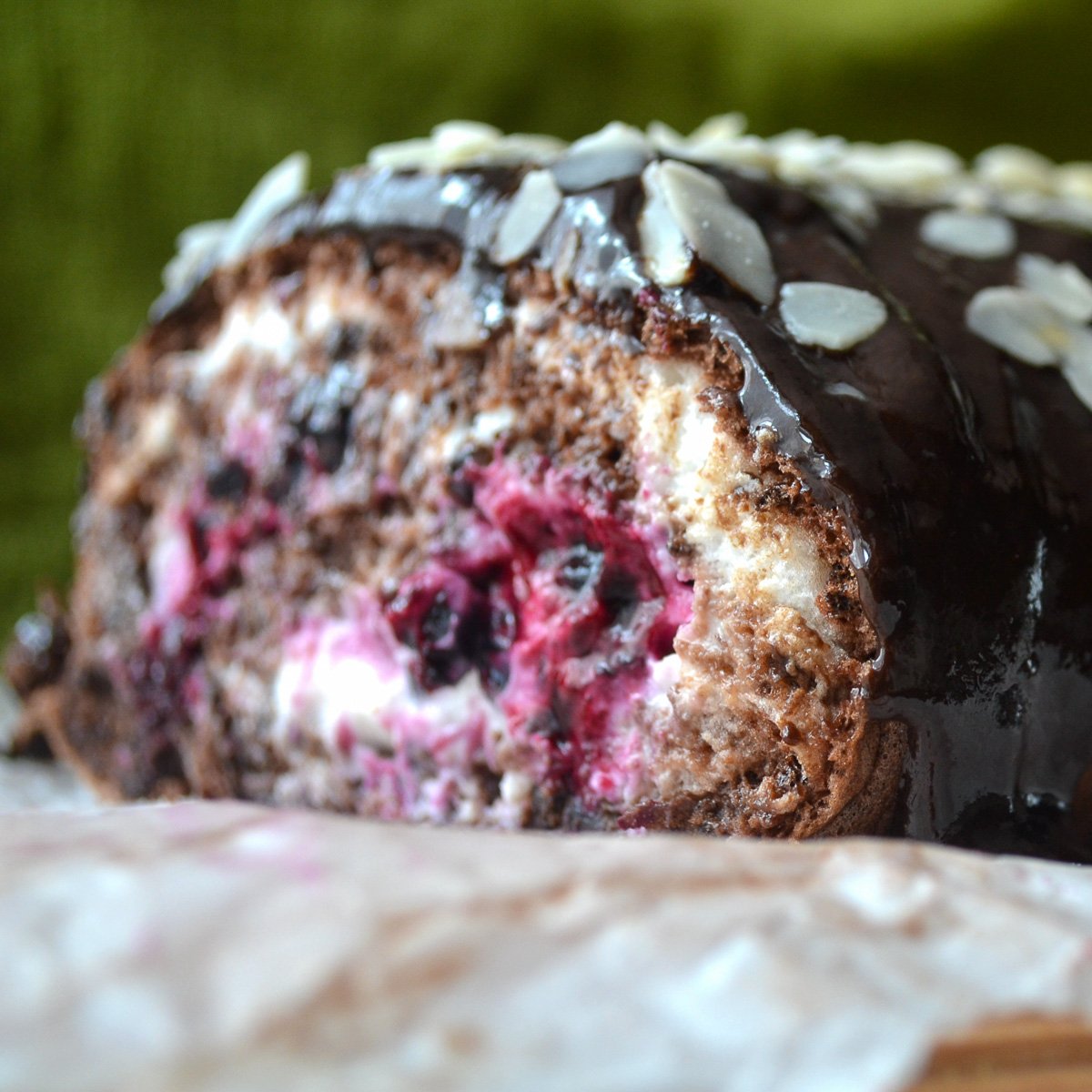 If you love chocolate as much as I do, then this roll cake will become your number one dessert for all occasions. The best part about it is that you don't need to add flour to it, and each slice has only 7 grams of carbs.
In less than an hour, you'll be able to cook this delicious dessert. I guarantee that you and your whole family will fall in love with it! I know how tasty this keto chocolate roll cake is, which is why I always make two of them so that everyone gets a nice big slice.
You can use this recipe as the basis and just mix and match what ingredients you'll put inside the cake. For example, you can add black currant just like I did, but raspberries, strawberries, or any other keto-friendly berries or fruits will be perfect for this dessert as well.
Table of Contents
Tips That Will Help You Make a Perfect Roll Cake
I remember the first time I tried to make a roll cake without flour, I had to dump everything into a garbage bag. I can't even describe how bad it was. Then I started experimenting, reading some blogs, and it turned out that it's quite easy to make such a dessert.
Just in case you've never made a keto roll cake before, here are some tips that can help you get it right the first time:
Don't over bake it. I always leave it in the oven for 10-12 minutes. If you bake it longer, it may not turn out as soft.
Beat the egg whites correctly. Make sure that they turn into soft peaks. To do so, you should beat on high. Here's a test you can do: if the egg whites don't fall out of the bowl when you invert it, they're ready.
Use a wet towel to remove the parchment paper. This is where I used to have an issue. It's quite difficult to remove the parchment paper from the roll cake and make sure it'll remain in one piece. I found that by placing a slightly wet towel on top of the parchment paper for about 30 seconds, you'll be able to remove it without any problems.
Don't be afraid to add xanthan gum to the cheesy filling. If you notice that the cheesy filling turns out too runny, add half a teaspoon of xanthan gum to make it thicker.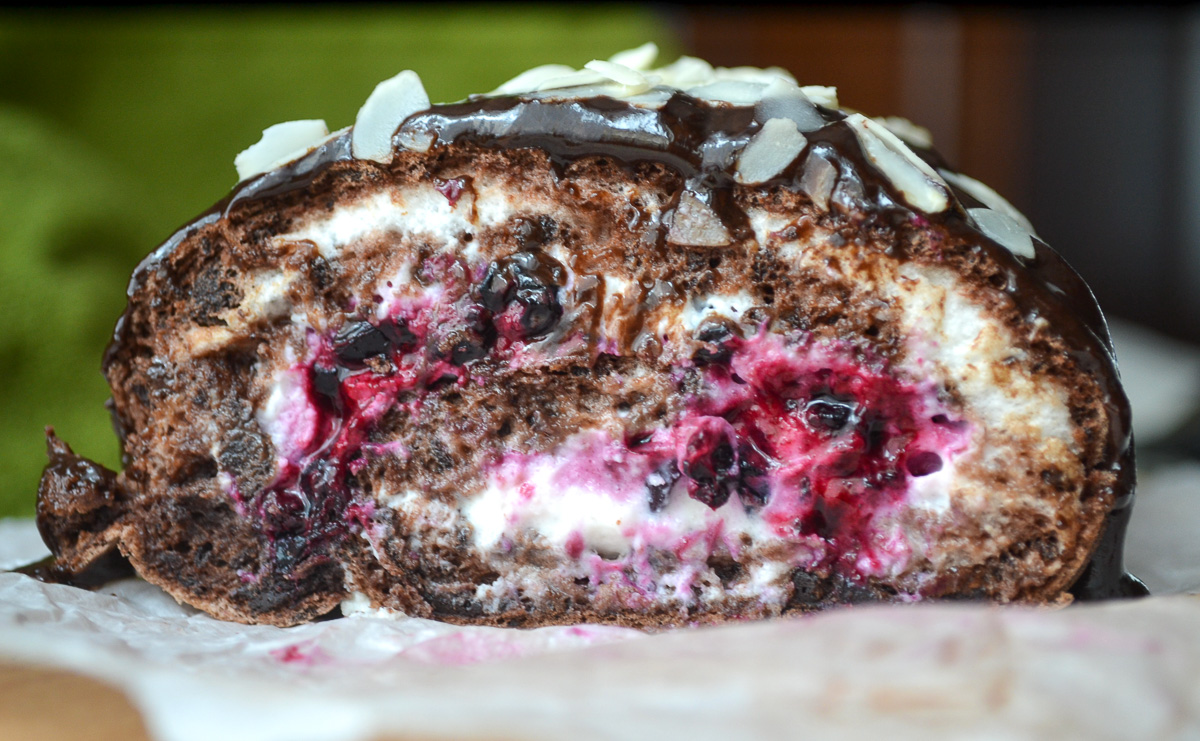 What Pan To Use
When making this keto chocolate roll cake, I used a 7x12-inch pan. It's just right for this recipe since the roll cake turns out perfect. But if you want your roll cake to be thicker, simply add one more egg to the recipe.
What Berries Are Best For This Roll Cake Stuffing?
Not all fruits and berries are keto-friendly. I chose black currant for this cake since it has a very small amount of carbs. Other berries that you can add are raspberry, blackberry, and strawberry. Blueberries are also okay, but they have a slightly higher amount of carbs — 12 g of net carbs per 3.5 ounces.
If you'd rather add fruits, then you can choose peaches, oranges, or plums. These fruits have less than 10 grams of carbs per 3.5 ounces.
Keep in mind that if you make any changes to the original recipe, the calories, fats, protein, and carbs may vary.
Is Chocolate a Keto-Friendly Product?
Yes and no. The usual chocolate that people are used to has almost 100 g of carbs per bar, which is way too much for a person following the keto diet. Also, remember to check whether the chocolate has sugar added to it.
A perfect option would be no-sugar low-carb chocolate, such as one that has stevia sweetener instead of the usual sugar.
How to Store It
I never actually get to store this dessert because my family never leaves even a slice of the cake uneaten. But if you do have leftovers, you can keep them in the fridge for up to 2 days. It's best not to freeze this keto chocolate roll cake since the texture won't be the same after that.
Recipe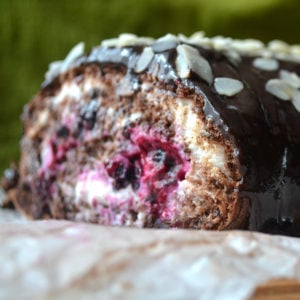 Keto Chocolate Roll Cake (No Flour)
Each slice of this keto chocolate roll cake has only 7g of carbs, and it takes less than an hour to bake! You can also add any berry or fruit to the roll cake, and it'll taste just as good—if not more!
Ingredients
5

large

eggs

3

tbsp

cocoa powder

10

tbsp

erythritol powder

6tbsp + 2tbsp + 2tbsp

6.35

oz

cream cheese

5.3

oz

black currant

1

cup

heavy cream

divided in two

¼

cup

butter

½

cup

chocolate

low-carb
Instructions
In a pot bring to boil the black currant with 6 tablespoons of erythritol. Add just a bit of water and cook it until everything thickens. Set aside.

Preheat the oven to 350 F. Prepare your pan by placing parchment paper on the bottom.

Separate the egg whites from the yolk. First, use a mixer to beat up the whites until stiff. Then slowly add 2 tablespoons of erythritol powder. If when you flip the bowl upside down the whites don't fall out, then you can stop beating them. Set aside.

Whisk the yolks with 2 tablespoons of erythritol powder for about 5 minutes. Add the cocoa powder and mix them together.

Add the whites to the yolk in small parts and each time you add it carefully mix with a spatula from the top to the bottom of the bowl.

Pour the mixture into the pan and smooth with the spatula. Bake for 12 minutes. Let it cool for a couple of minutes and then cover it with a plastic wrap, place your cutting board, and flip it on it. To easily remove the parchment paper from the cake, place a slightly wet towel on top.

For the cream, mix the cheese, ½ cup of heavy cream, and erythritol together. Spread it over the cake and place the currants. Roll it and leave it in the fridge for 2 hours.

For the chocolate top, mix together the ½ cup of heavy cream, chocolate, and butter in a pot and melt it. Pour over the rolled cake and place it back into the fridge to thicken.
Nutrition
Calories:
315
kcal
Carbohydrates:
7
g
Protein:
16
g
Fat:
28
g
Saturated Fat:
20
g
Trans Fat:
1
g
Cholesterol:
243
mg
Sodium:
184
mg
Potassium:
303
mg
Fiber:
2
g
Sugar:
9
g
Vitamin A:
1285
IU
Vitamin C:
46
mg
Calcium:
110
mg
Iron:
2
mg