I love keto desserts, and this keto chocolate milk is an amazing example. It is low-carb, vegan, gluten-free, sugar-free, and insanely easy and quick to make. All you need for it is 4 simple ingredients and only 5 minutes. And, trust me, this is the best healthy chocolate milk alternative out there.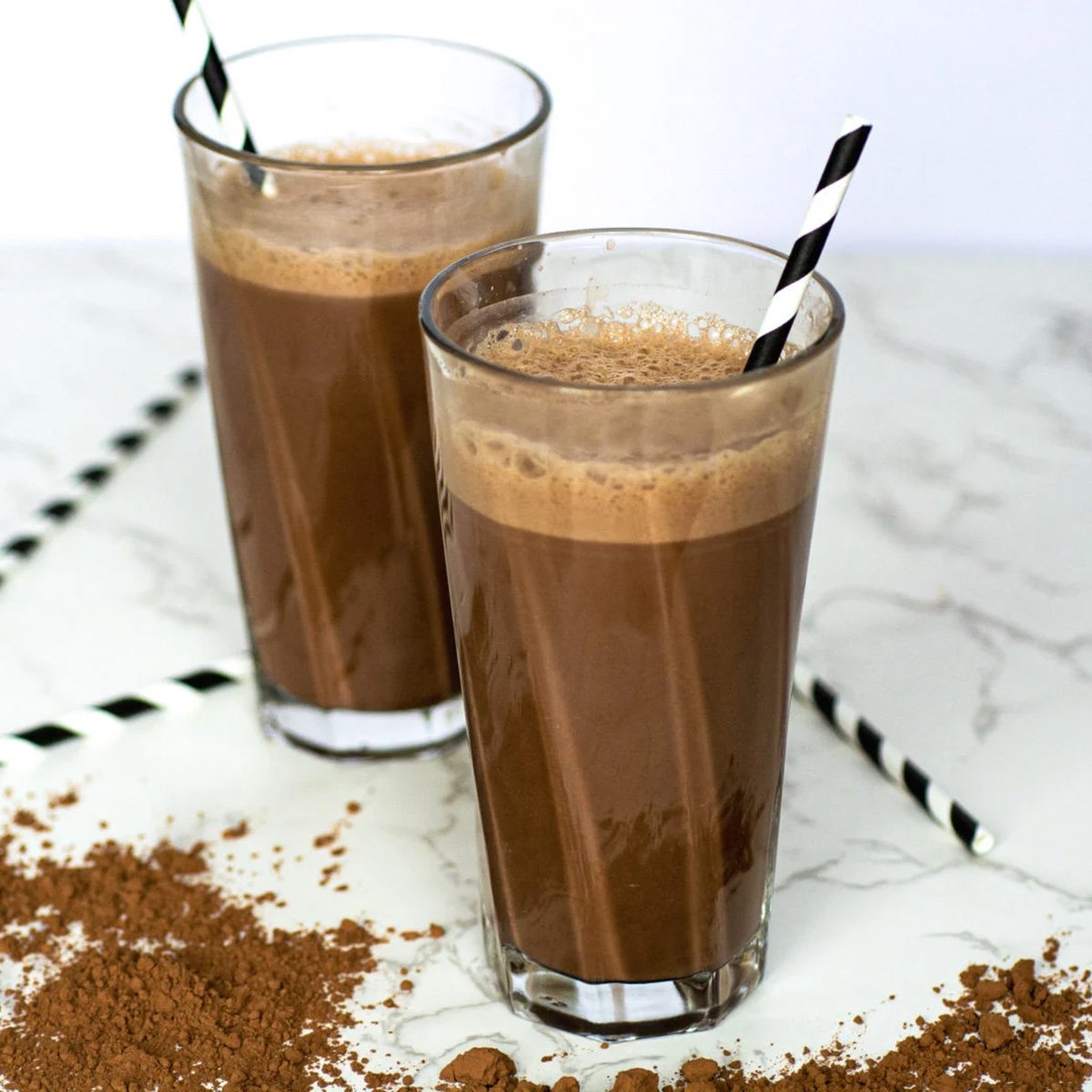 The biggest advantage this chocolate milk offers for a person on ketosis is that one glass has only 5 grams of carbs, which is perfect for the diet. Also, only healthy ingredients are used.
It's impossible to tell the difference between this keto chocolate milk and the store-bought one. It actually is much tastier when made this way. And if your kids love chocolate milk, this recipe is a great way to boost their nutrition and make a switch to the healthier side.
Table of Contents
Can You Have Chocolate Milk on Keto?
Yes! You can definitely have chocolate milk on keto, but you must be careful with your ingredients. Unfortunately, the store-bought regular chocolate milk is not compatible with the keto diet since it has lots of sugar and uses cow's milk.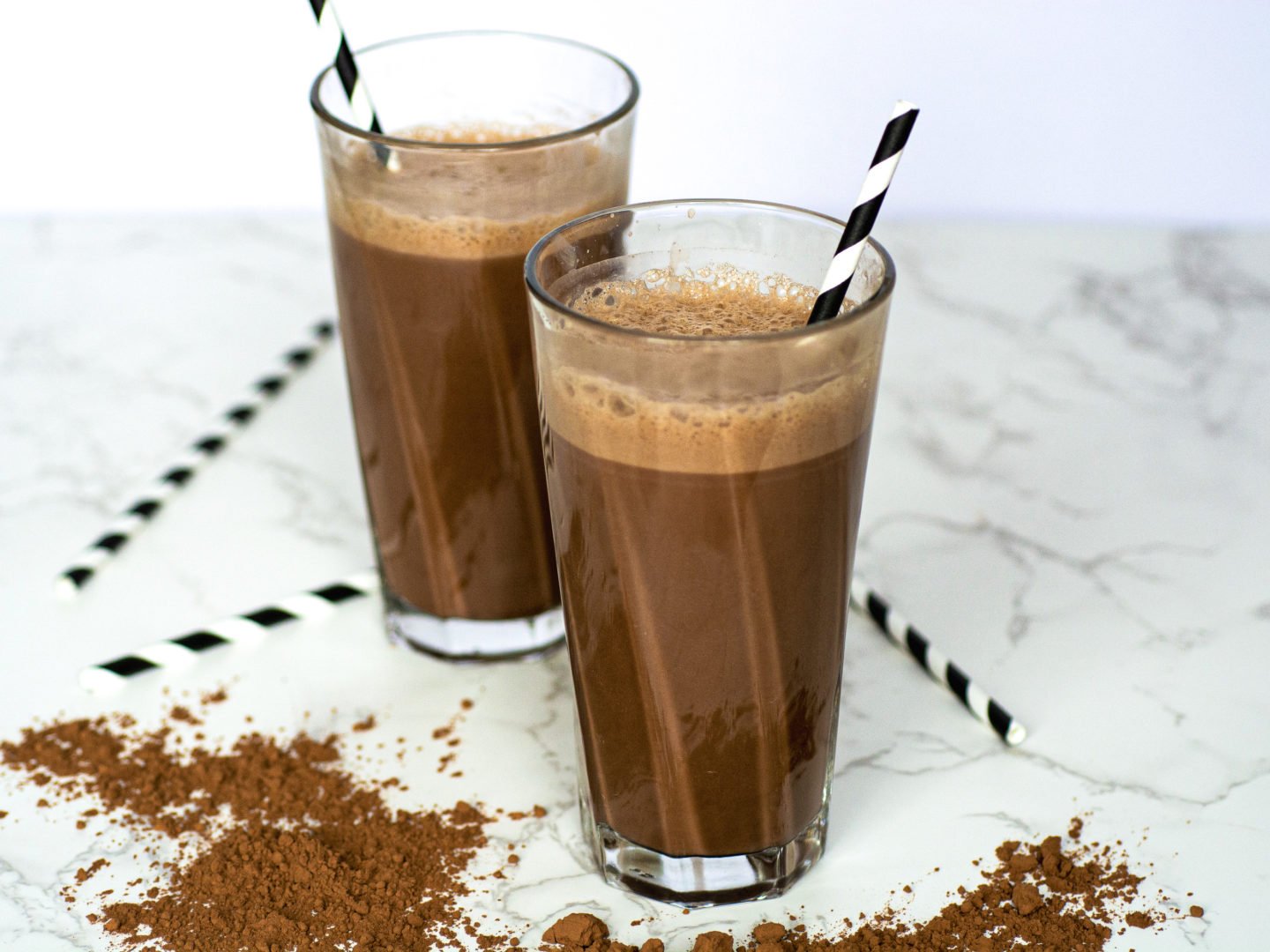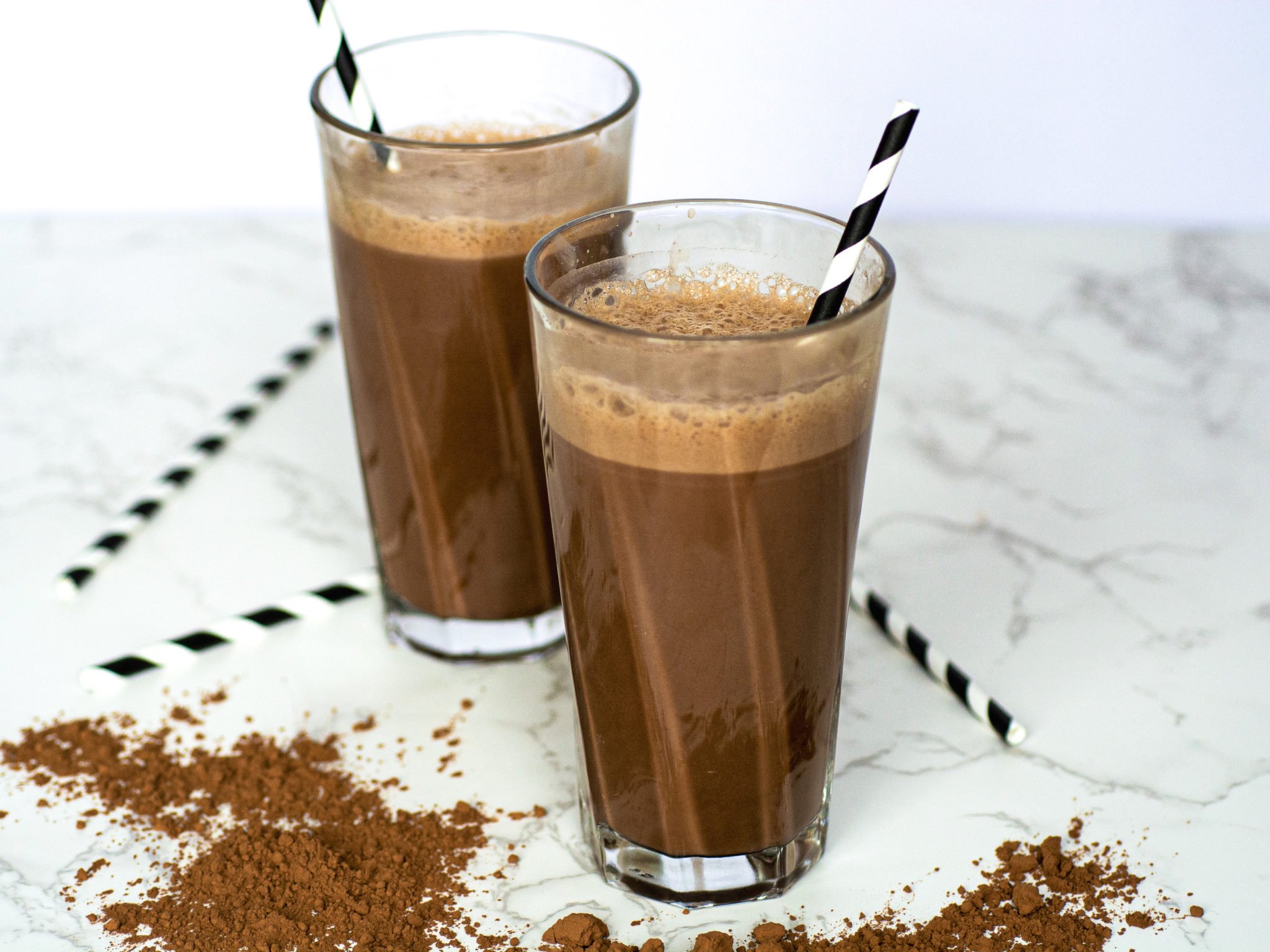 If you are craving a glass of chocolate milk badly, then I recommend you make it by yourself. And trust me, it is very easy to make with this keto recipe, and it is insanely delicious!
What Milk to Use?
Like with any chocolate milk recipe, the main ingredient you should choose is the type of milk to use. But when it comes to making keto chocolate milk, you must know what milk is lowest in carbs.
The first thing that you should know is that the usual cow's whole milk is off the table here. Since one cup of such milk contains somewhere around 12 grams of carbs, it's not compatible with the keto diet.
So, here's a quick list of the most keto-friendly milk options:
Macadamia milk
Hemp milk
Almond milk
Coconut milk
Flax milk
Tip: When buying plant-based milk, double-check the ingredient list since the milk may contain lots of unnecessary gums. Alternatively, you can make the milk yourself, which is pretty easy.
To make this milk chocolate more filling, try using a half-milk-and-half-heavy-cream mixture. If you want a vegan option, then add some coconut cream instead.
Needed Ingredients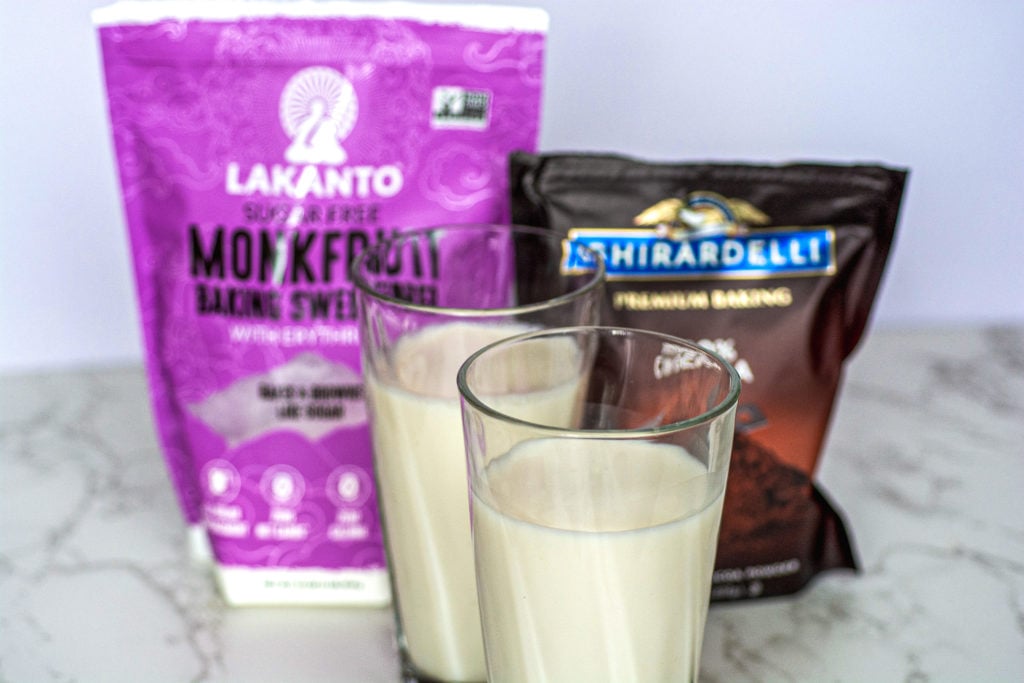 What I love about this recipe is that it can be made in just 5 minutes and requires only 4 simple ingredients. Aside from milk, you'll also need three essential ingredients:
Cocoa powder. It's essential to choose unsweetened cocoa powder. That is the only ingredient you'll need for the chocolate flavor.
Keto sweetener. My personal favorite is the Lakanto powdered monkfruit sweetener. But you can choose any other type as long as it's keto-friendly. For example, you can replace it with erythritol, allulose, Splenda, etc.
Salt. Just a pinch of Himalayan pink salt is more than enough to boost the flavor of your low-carb chocolate milk.
Also, you can add some vanilla extract. The truth is I usually make my low-carb chocolate milk without it, but my kid really likes how the milk tastes with vanilla, so I add it for him.
If you want your milk to have a nutty flavor, you can easily add a teaspoon of peanut butter or almond butter. It's a great way to add more healthy fat to your diet.
Tip: To add more protein to the chocolate milk, add a scoop of your favorite protein powder.
How to Make Keto Chocolate Milk
Once you've gathered all of the necessary ingredients, you can move on to the main part. But before you do, there's one more thing that you should get: a handheld milk frother.
That simplifies the process of making keto chocolate milk even more since it makes sure that there are no lumps in the milk and everything is thoroughly combined.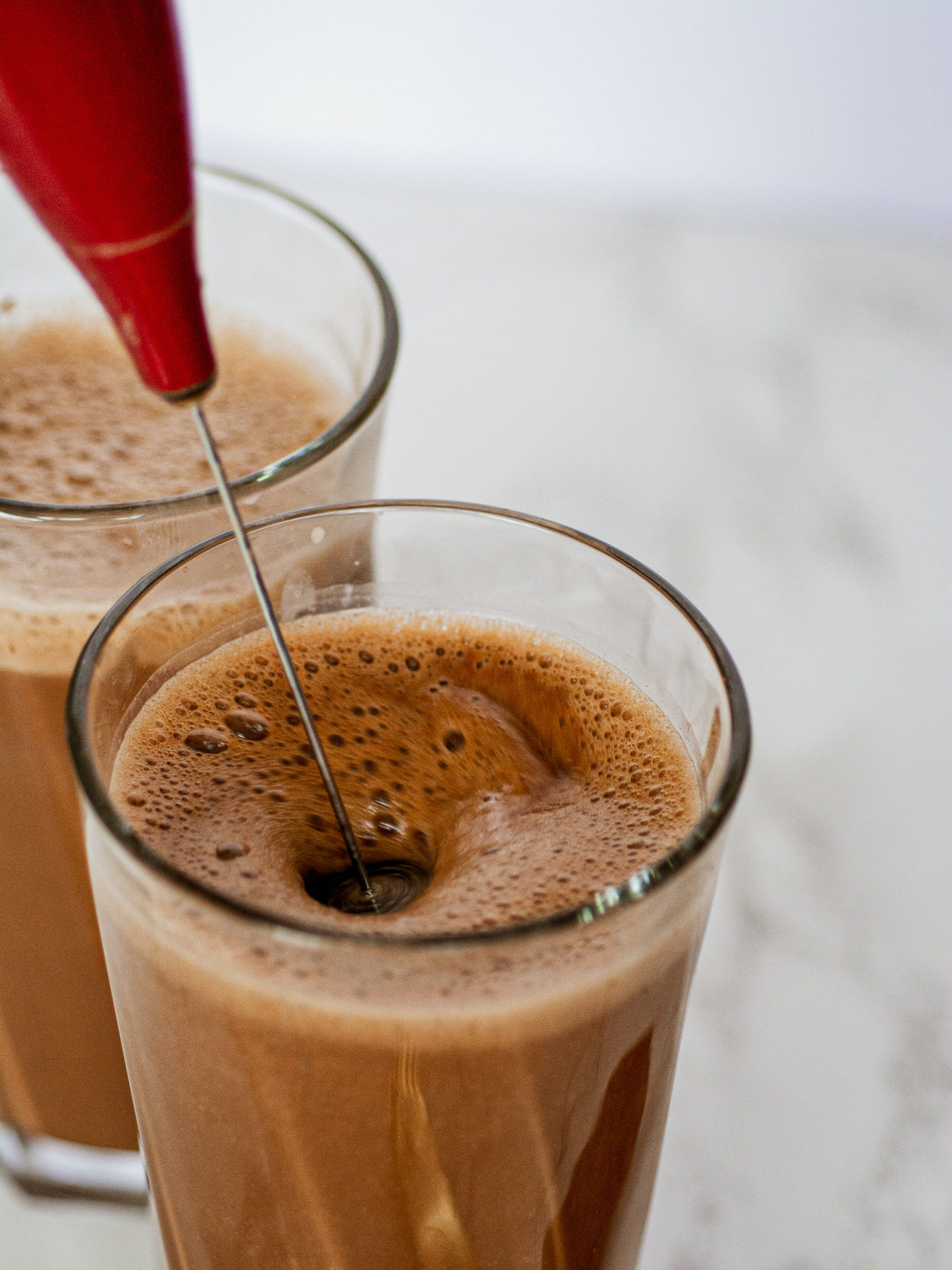 Here's what you should do to make a glass of this delicious keto chocolate milk:
Heat your milk. Even if you like to drink the chocolate milk cold, you must heat it first to make sure that the sweetener and cocoa powder dissolve completely. You can do it either with the help of your microwave or by pouring the milk into a small pot and heating it on the stovetop. The milk should be hot but not boiling.
Add cocoa powder, monk fruit sweetener, vanilla, and a pinch of salt.
Mix. Use the frother to combine all of the ingredients. Keep beating until there are no lumps.
That's it. You can either serve the milk hot or wait for it to chill and add some ice cubes.
Storing Instructions
You should store your homemade chocolate milk in the refrigerator. I love to pour it into glass jars and store it that way. Then whenever my kid or I want some chocolate milk, it's already poured into servings and ready to be served. Your chocolate milk should last up to 3-4 days.
Recipe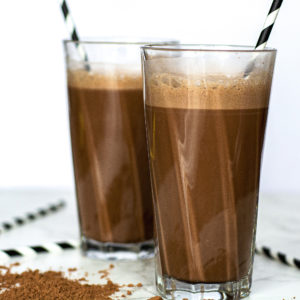 Quick Keto Chocolate Milk
This keto chocolate milk is simply amazing! It is low-carb, vegan, gluten-free, sugar-free, and insanely easy and quick to make. All you need are 4 simple ingredients and only 5 minutes. And, trust me, this is the best healthy chocolate milk alternative out there!
Ingredients
2

cups

unsweetened almond milk or coconut milk

2

tbsp

sugar-free cocoa powder

4

tbsp

Lakanto powdered monkfruit sweetener

1

tsp

vanilla extract

optional

pinch of salt
Instructions
Pour the milk into glasses and heat it in the microwave for 2 minutes.

Add equal amounts of sweetener, vanilla extract, and cocoa powder into each glass.

Use a frother to mix each glass until everything is thoroughly combined.

Serve the chocolate milk either warm or add ice cubes to serve it cold.
Nutrition
Calories:
52
kcal
Carbohydrates:
4
g
Protein:
2
g
Fat:
4
g
Saturated Fat:
1
g
Polyunsaturated Fat:
2
g
Monounsaturated Fat:
2
g
Sodium:
326
mg
Potassium:
79
mg
Fiber:
3
g
Sugar:
1
g
Calcium:
307
mg
Iron:
1
mg