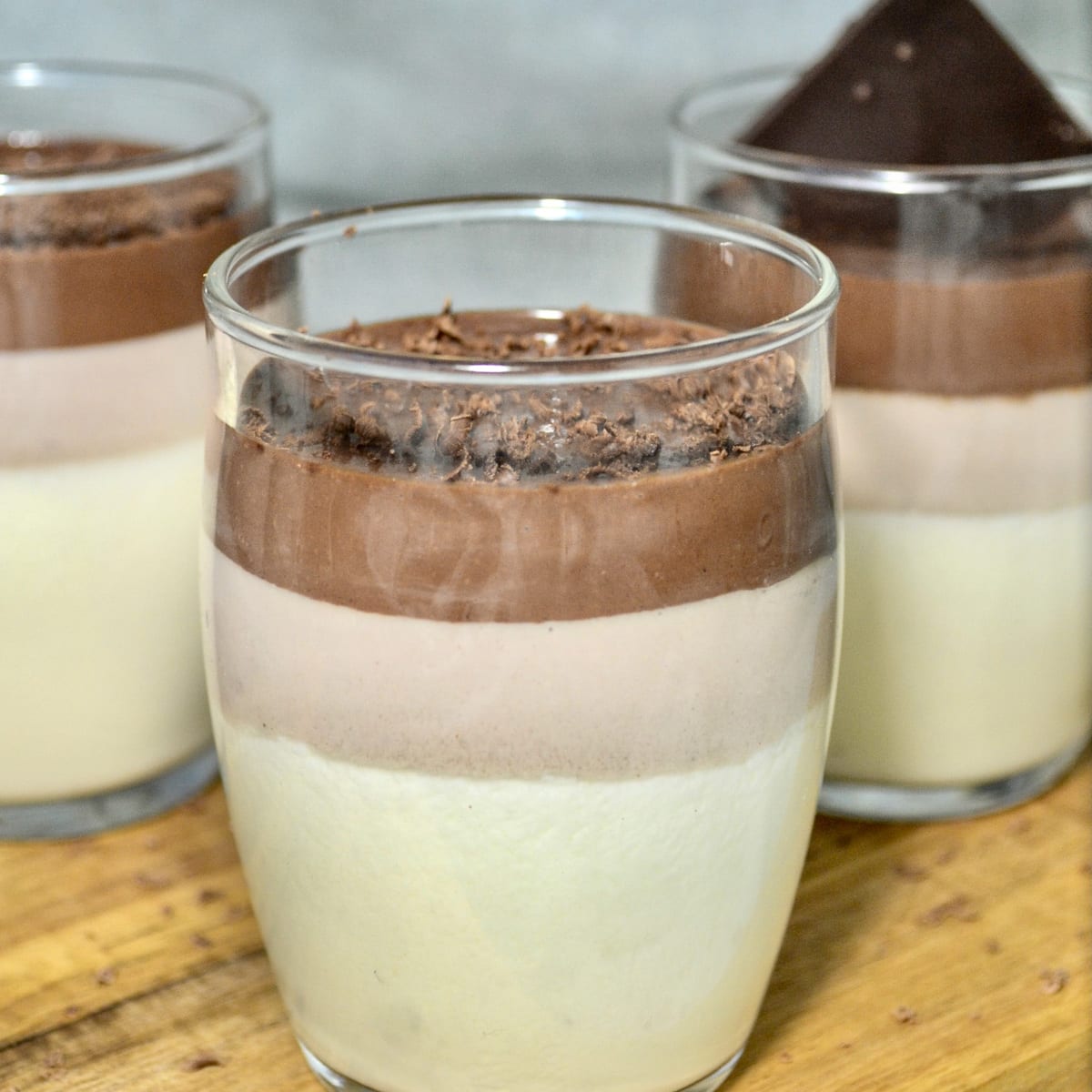 A healthy, chocolatey, and low-carb dessert sounds unrealistic, right? With this keto panna cotta recipe, your dreams will come true. It's a perfect option for those craving something sweet, chocolatey, and with a taste of vanilla. With less than 7 grams of carbs per serving, you can be sure that no harm will be done to your figure!
With this panna cotta recipe, you'll be able to impress anyone — even your kids. The best thing about this is that no one will be able to tell that there is no sugar in the dessert.
You can always experiment with the basic ingredients from this recipe to make a different tasty panna cotta variation each time. Vanilla, raspberry, dark chocolate, and caramel are just a few of the flavors that you can try making.
Jump to:
Don't Make My Mistakes
The first time I gave this recipe a try, I ended up tossing everything away. Well, maybe not just the first time, but a couple of times after that also. With some persistence, I finally got it right, and this keto chocolate panna cotta became the #1 recipe in my all-time favorites list.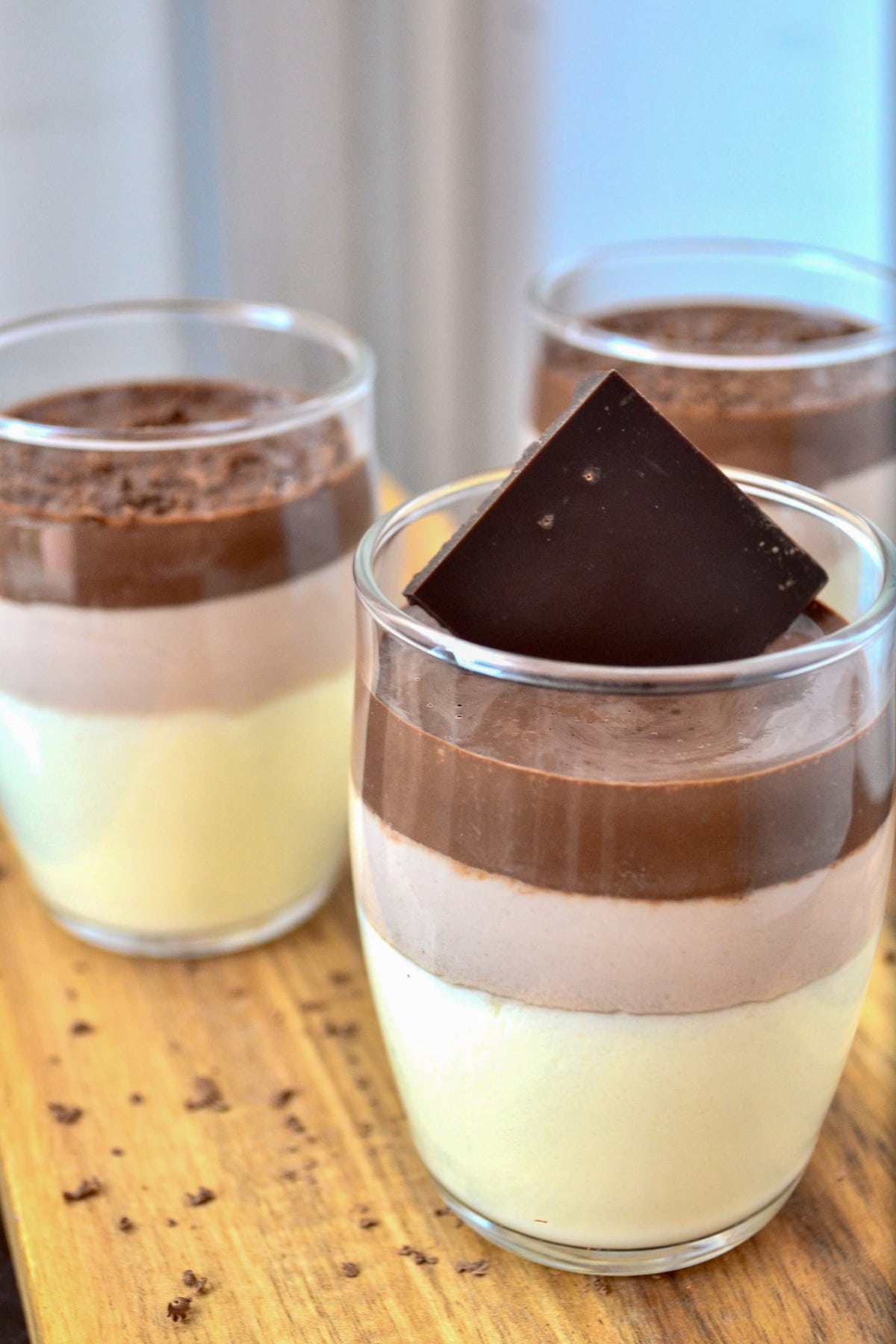 These tips will help you avoid making the same mistakes that I did:
Always filter the mixture through a mesh sieve. Even if it seems that there are no undissolved agar-agar or erythritol, you should strain the mixture to remove any remaining lumps. This will ensure that you get the needed smooth texture.
Don't let your panna cotta cream mixture boil. If by mistake you let the mixture boil, there is a chance that your panna cotta will have bubbles, and it won't look as pretty as it should. So it is best to keep the temperature of the cream mix slightly below the boiling point.
Use pure vanilla extract. Since the bottom layer of this panna cotta is vanilla flavored, you should add a couple of drops of pure vanilla extract. You can also use vanilla bean instead, but it will give you tiny light dots.
Spray the panna cotta mold. If you plan to unmould the panna cotta before serving, it is best to spray the mold with some oil before pouring in the cream mixture. This will help you to separate the panna cotta from the mold easily. Also, you can run a knife around the edge of the mold to release the panna cotta.
What Do You Need For a Keto Panna Cotta?
I had to make a couple of major changes to the traditional Italian panna cotta recipe to make it as low-carb and as healthy as possible. Here are the ingredients that I chose for this keto dessert:
Nut milk — I used almond milk in this recipe, but you can substitute it with any other nut milk that you prefer. Coconut, cashew, macadamia, or half-and-half milk work just as well.
Heavy cream — To make sure the panna cotta sets correctly, you should add heavy cream. However, since it is pretty high in calories, I prefer to add more nut milk than heavy cream.
Erythritol — This is the sweetener that I usually use when making keto-friendly desserts. It is one of the most suitable options for this diet, and it is easy to use. But if you prefer to use something else, you can definitely do so.
Pure vanilla extract — As I already noted, it is best to use pure vanilla extract if you don't want the panna cotta to acquire light dots.
Cocoa powder — For the other two layers, you should add cocoa powder to get that chocolate flavor. It's quite simple to use cocoa powder in this recipe — you'll have to divide the cocoa cream mixture into two parts and add extra cocoa powder into the top layer mixture.
Agar — Since I aimed to make this keto panna cotta as low-carb as possible, I chose to use agar-agar to hold the dessert together. It is the best option here because it has even fewer crabs than gelatin, and it is fairly simple to use. But if you feel more comfortable using gelatin instead, you can do that, too.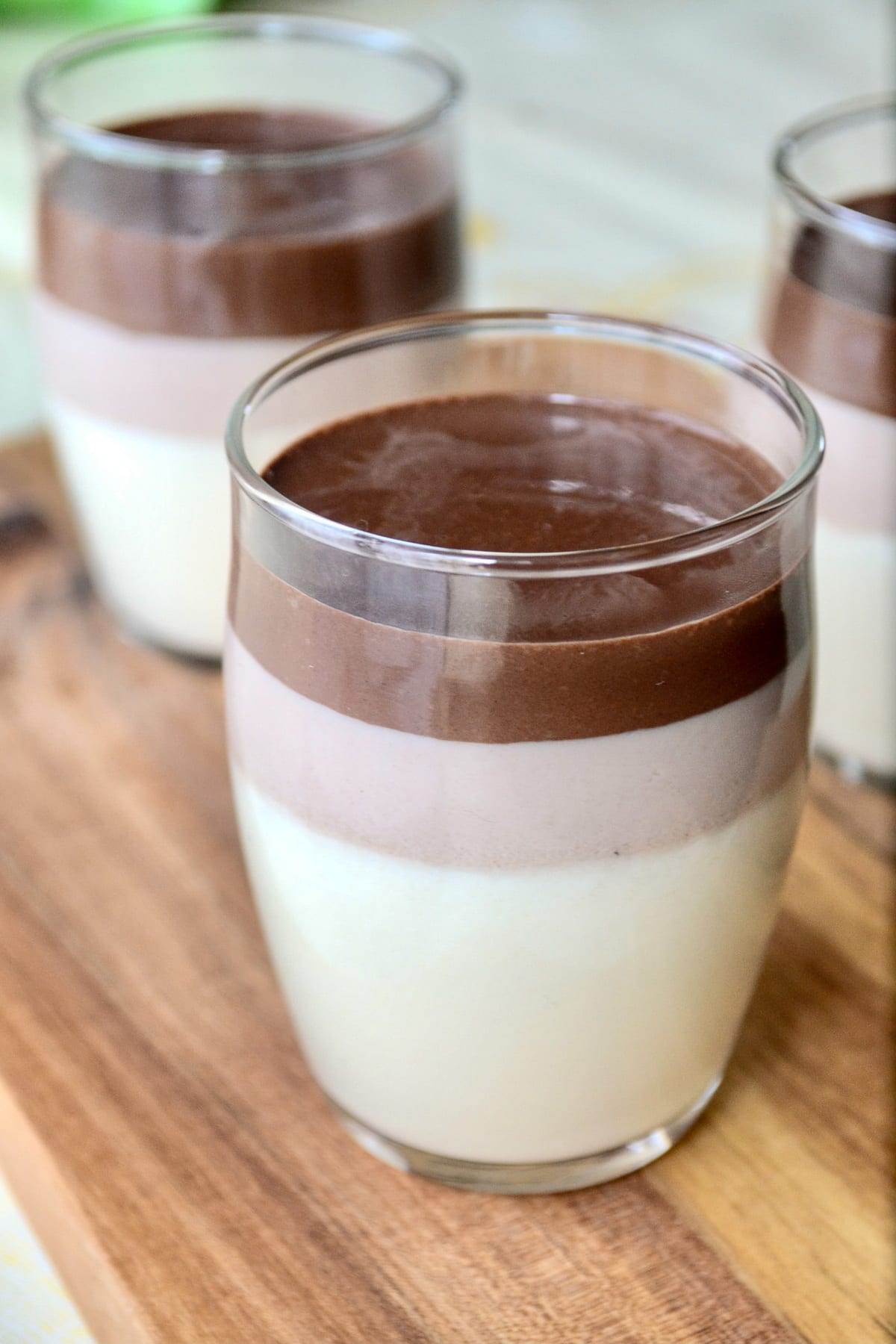 Flavors You Should Try
It takes some time to make this three-layered panna cotta since you will need to play a bit with making those three different layers. But if you are looking for an easier and faster variation of this recipe, here are some flavors you can try:
Coconut. Use coconut extract instead of the vanilla one for the whole panna cotta and make it one layer.
Raspberry. Make just the vanilla panna cotta layer, and for the top layer, use sugar-free raspberry jam.
Dark chocolate. Make only one chocolate layer. For it, simply add two tablespoons of cocoa powder into the mixture.
Vanilla. Use vanilla extract to make only one vanilla layer of the panna cotta.
How to Store
You can store the panna cotta leftovers in the refrigerator for up to 5 days. But if you are thinking of freezing it, it is best not to do so since it will lose the creamy texture. So, the fact that you cannot make the panna cotta in advance and freeze it might be the only disadvantage of the recipe.
Recipe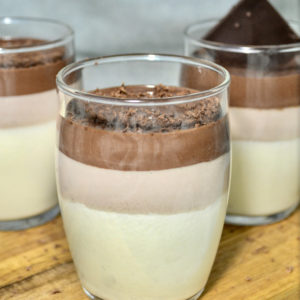 Keto Chocolate And Vanilla Panna Cotta
This keto panna cotta is a healthy, chocolatey, and low-carb dessert. It only has less than 7 grams of carbs per serving. Even kids will love it; they won't even notice there's no sugar in it!
Ingredients
For the bottom vanilla layer
1

cup

almond milk

½

cup

heavy cream

3

tbsp

erythritol

1

tbsp

agar

vanilla extract
For the top and middle layers
1

cup

almond milk

½

cup

heavy cream

3

tbsp

erythritol

1

tbsp

agar

3

tsp

cocoa powder

1 for the middle layer and 2 for the top
Instructions
For the bottom layer
Place a large pan over medium heat. Add the ingredients for the bottom layer, and stir constantly until the sweetener and agar-agar dissolve. Be careful not to let it boil.

Use a fine-mesh sieve to filter the mixture into a clean bowl. Then, pour it into three glasses and place it into the refrigerator for half an hour.
For the middle layer
In a bowl, thoroughly mix the following ingredients for the other two layers—almond milk, heavy cream, erythritol, and one teaspoon of cocoa powder.

Pour half of the mixture into a pan, add half a tablespoon of agar-agar powder, and place it on medium heat. Make sure to constantly stir the mixture.

Before it starts boiling, filter the mixture through a mesh sieve, and pour it into the glasses on top of the bottom layer. Then, place the glasses in the refrigerator for half an hour.
For the top layer
Pour the other half of the mixture into a pan, add two teaspoons of cocoa, and a half tablespoon of agar agar powder.

Place it on medium heat and stir constantly. Again, before it starts boiling, filter the mixture through a mesh sieve.

Once filtered, pour it into the glasses on top of the middle layer and place them in the refrigerator for another half hour.

Sprinkle the top with grated chocolate or serve immediately.
Nutrition
Calories:
315
kcal
Carbohydrates:
6.9
g
Protein:
0.9
g
Fat:
33.8
g
Saturated Fat:
18
g
Cholesterol:
109
mg
Sodium:
250
mg
Potassium:
112
mg
Fiber:
1
g
Sugar:
1
g
Vitamin A:
1166
IU
Vitamin C:
1
mg
Calcium:
274
mg
Iron:
1
mg