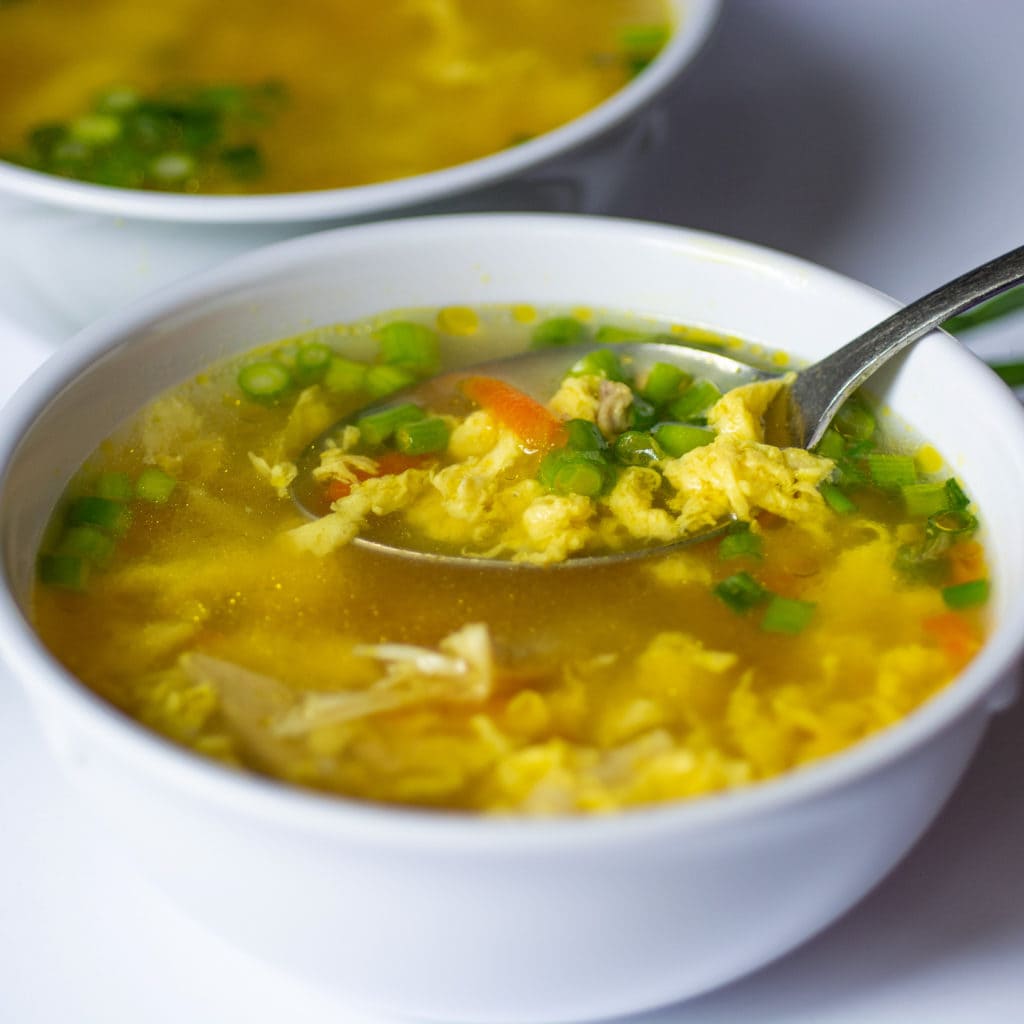 Looking for the perfect low-carb egg drop soup recipe? Here's the best version of the famous classic Chinese soup out there! It is loaded with authentic flavor — fragrant fresh garlic, sweet ginger, and crunchy chopped scallions. Every ingredient of this recipe combines ideally into an unforgettable and comforting lunch option.
Since this keto soup includes chicken and eggs, eating it for lunch is a great way to boost your protein intake. And, considering the fact that one serving of this soup contains just 82 calories, it's safe to double your serving.
It will take you about 40 minutes to cook this egg drop soup. But if you are pressed for time, there is a way to make it much quicker. Although I do recommend the recipe from the bottom of this page, the alternative cooking method is also delicious.
Table of Contents
Here's What You Need
This keto soup recipe calls for only a few simple ingredients. Here's what you'll need to cook this keto egg drop soup (for exact measurements of all ingredients, scroll to the recipe card):
Chicken leg quarter. Since this soup is made of homemade chicken broth, you'll need some chicken to make it. I usually use a chicken leg quarter for this, but any other chicken part is okay for this recipe: chicken breast, wings, thighs, or drum sticks.
Eggs. Of course, you'll need a few eggs to make the egg ribbons for this soup.
Carrot. You can either grate it or chop it up into smaller pieces.
Garlic. I prefer to use freshly minced garlic for this keto soup, but if you don't have any, you can use garlic powder instead.
Ginger powder. If you want, you can use grated ginger instead of the powder one. But I find it easier to use ginger powder.
Turmeric powder. It's okay to skip this ingredient, but I like how it adds that yellowish shade to the egg drop soup.
Soy sauce. This is the one ingredient that this soup can't go without. It doubles the taste.
Sesame oil. If you're not a fan of sesame oil, you can use olive oil instead. However, I do recommend you stick to this ingredient.
Scallions. I don't like to add chopped scallions into the soup right away since they lose that crunch. But if you add them right before serving this keto egg drop soup, they'll taste perfect.
Salt and pepper. It's up to you to choose how much salt and pepper to add.
And of course, the most crucial ingredient in this egg drop soup recipe is water. You can add more or less water depending on what soup consistency you prefer the most and on the pot size.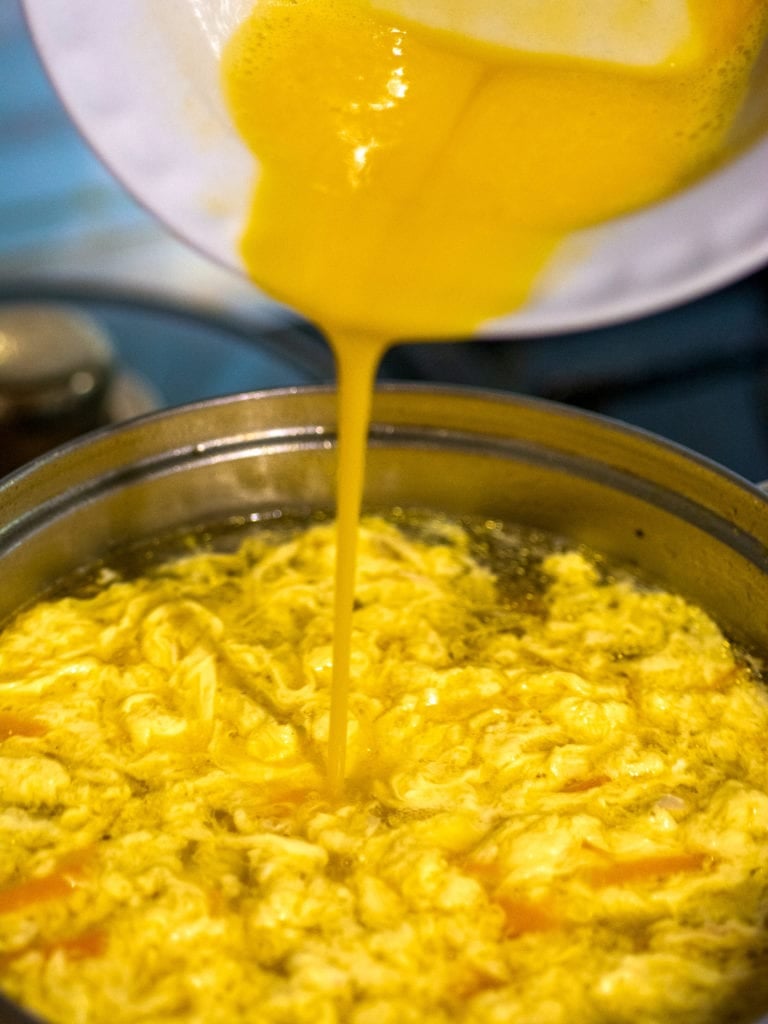 If you want your keto egg drop soup to be thicker, adding cornstarch isn't the best option since it'll increase the carbs in the soup. Instead of cornstarch, it is better to use some xanthan gum. It is safer and more keto-friendly. Simply add a bit of xanthan gum and stir the soup. Then slowly adjust the amount of xanthan gum to get the desired soup consistency.
Alternative (Quicker) Cooking Method
There are two things that you can change in this original egg drop soup recipe to make the cooking process go much faster. Both of the variations lead to an unbelievably delicious outcome.
Here's what you can do to speed up the cooking process:
Use pre-cooked chicken. If you have any chicken leftovers, you can use them instead of raw chicken meat for the soup. Or you can buy cooked chicken (but it is not recommended since there is a slight chance that the chicken is undercooked and, therefore, may harbor bacteria). This change can save you around 20 minutes of the time spent making this low-carb soup.
Use store-bought bone broth. If you use pre-cooked chicken, it's pretty obvious that you can use store-bought bone broth or chicken broth.
However, if you have the time, I recommend you cook this keto soup the long way. Even though there isn't much difference in the taste of the two soup variations, the egg drop soup cooked from scratch is better.
Storing Tips
After letting the egg drop soup completely cool down, you should store it either in the soup pot covered with a lid or in an airtight container in your refrigerator: this way, the soup with last for up to 3 days.
But is it okay to freeze this egg drop soup? I've tried it once, and trust my words: you should never do that. After thawing the soup, the egg ribbons turn into something impossible to consume.
Whenever you're ready to serve this low-carb soup, you should reheat it. There are two ways to do it: either in a pot over low heat or in a bowl using the microwave.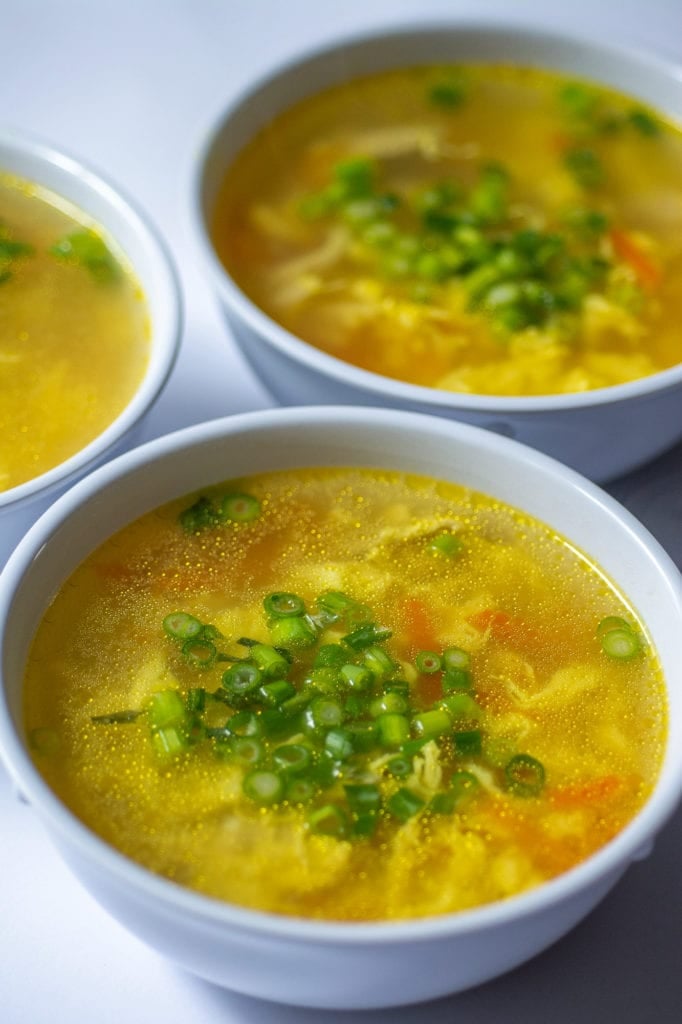 Serving Ideas
The easiest and most delicious way to serve this keto egg drop soup is just like with the original version, with chopped-up green onion. But keep in mind that you should add them into the soup just before serving. If you do it when still in the cooking process, they will lose their crunchy texture.
Also, if you want a slice of bread to go with this chicken soup, you must try this keto feta bread. It is low carb and will make sure that you won't feel hungry until dinner.
Recipe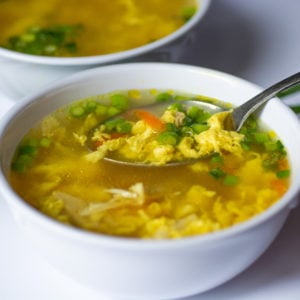 Keto Chicken Egg Drop Soup
Looking for the perfect low-carb egg drop soup recipe? Here's the best version of the famous classic Chinese soup out there! Loaded with authentic flavor, every ingredient of this recipe combines ideally into an unforgettable and comforting lunch option.
Ingredients
1

medium

chicken leg quarter

3

large

eggs

1

small

carrot

grated

2

cloves

garlic

minced

1

tbsp

soy sauce

1

tsp

sesame oil

¼

tsp

ginger powder

¼

tsp

turmeric powder

3

tbsp

scallion

chopped

salt and pepper

to taste

water
Instructions
Wash the chicken leg quarter and place it in a medium-sized soup pot. Pour in water to fill the pot.

Add the grated carrot and minced garlic. Once it starts to boil, turn down the heat, and cover the pot with a lid (but leave the lid slightly cracked). Remove the foam from the chicken broth and let it simmer for about 20 minutes.

Take the chicken out of the pot, discard the skin, and shred the chicken meat. Pour it back into the pot.

Place the shredded chicken back into the broth. Pour in the soy sauce, sesame oil, and add the ginger powder, turmeric powder, some salt, and pepper. Bring the soup to a simmer.

In a separate bowl, whisk together the eggs. Slowly pour the beaten egg into the pot while stirring the soup slowly in a circle.

Garnish each bowl with chopped scallions and serve hot.
Nutrition
Calories:
103
kcal
Carbohydrates:
2
g
Protein:
8
g
Fat:
7
g
Saturated Fat:
2
g
Polyunsaturated Fat:
2
g
Monounsaturated Fat:
3
g
Trans Fat:
1
g
Cholesterol:
117
mg
Sodium:
228
mg
Potassium:
132
mg
Fiber:
1
g
Sugar:
1
g
Vitamin A:
1576
IU
Vitamin C:
1
mg
Calcium:
23
mg
Iron:
1
mg