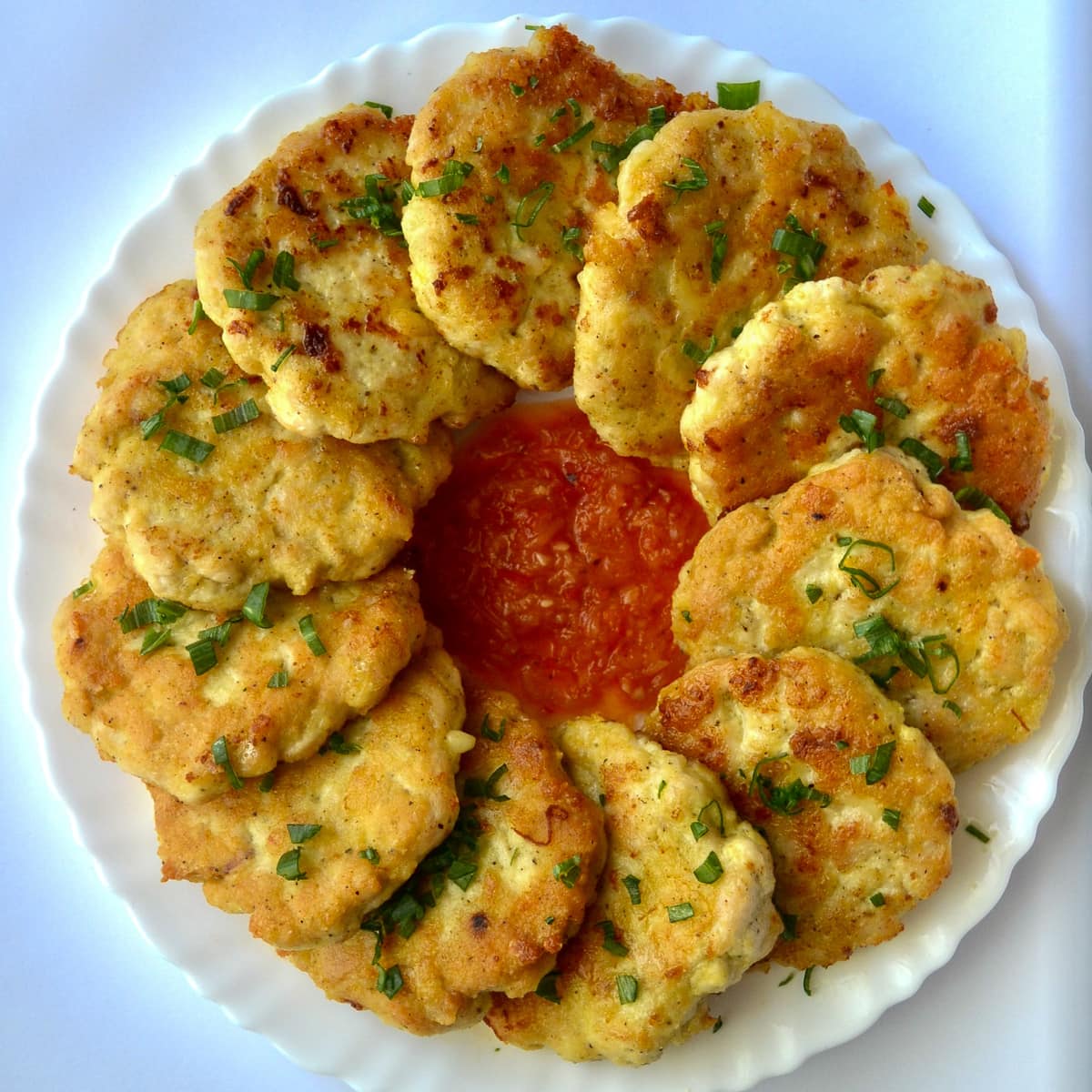 You won't believe how delicious these low-carb cheese chicken fritters are. When cooked this way, chicken breasts turn into a tender, juicy, and flavorful dish. And when served with a garlic sauce or with some homemade lecho, you won't be able to resist it.
One such cheese chicken fritter has less than 1 gram of carbs, which means you'll be able to enjoy as many as you want with no regrets. Moreover, this keto chicken fritters recipe is incredibly quick to make and requires just a few ingredients—chicken breasts, an egg, almond flour, granulated garlic, and mozzarella cheese.
Also, this recipe is freezer-friendly, so you can make a batch of these fritters and freeze them to always have a delicious lunch or dinner option available at any time.
Table of Contents
Keto Chicken Fritters Cooking Tips
Even though this may be the easiest keto recipe ever, there are a few tips that can make the cooking process go even smoother and more effortless:
Use the same spoon to scoop the mixture for all fritters. I used a tablespoon to scoop it, and it is perfect for the job. The chicken fritters turned out to be a perfect size.
Use a nonstick pan. Since you won't be using lots of oil, I recommend using a nonstick pan so the chicken fritters don't stick to the surface.
Fry over low heat. It is best to fry the chicken fritters over low heat since they may get easily burnt or undercooked if fried over medium heat.
Pulse the chicken in a food processor. If you want to make the fritters even quicker, you can save some time by using a food processor to chop the chicken breasts instead of doing it by hand with a knife.
Use ground chicken instead of chicken breasts. This way, you'll save even more time when cooking the chicken fritters. But, know that the texture will be a bit different if you choose to use ground chicken.
With these tips, you're going to make the best and most delicious low-carb cheesy chicken fritters.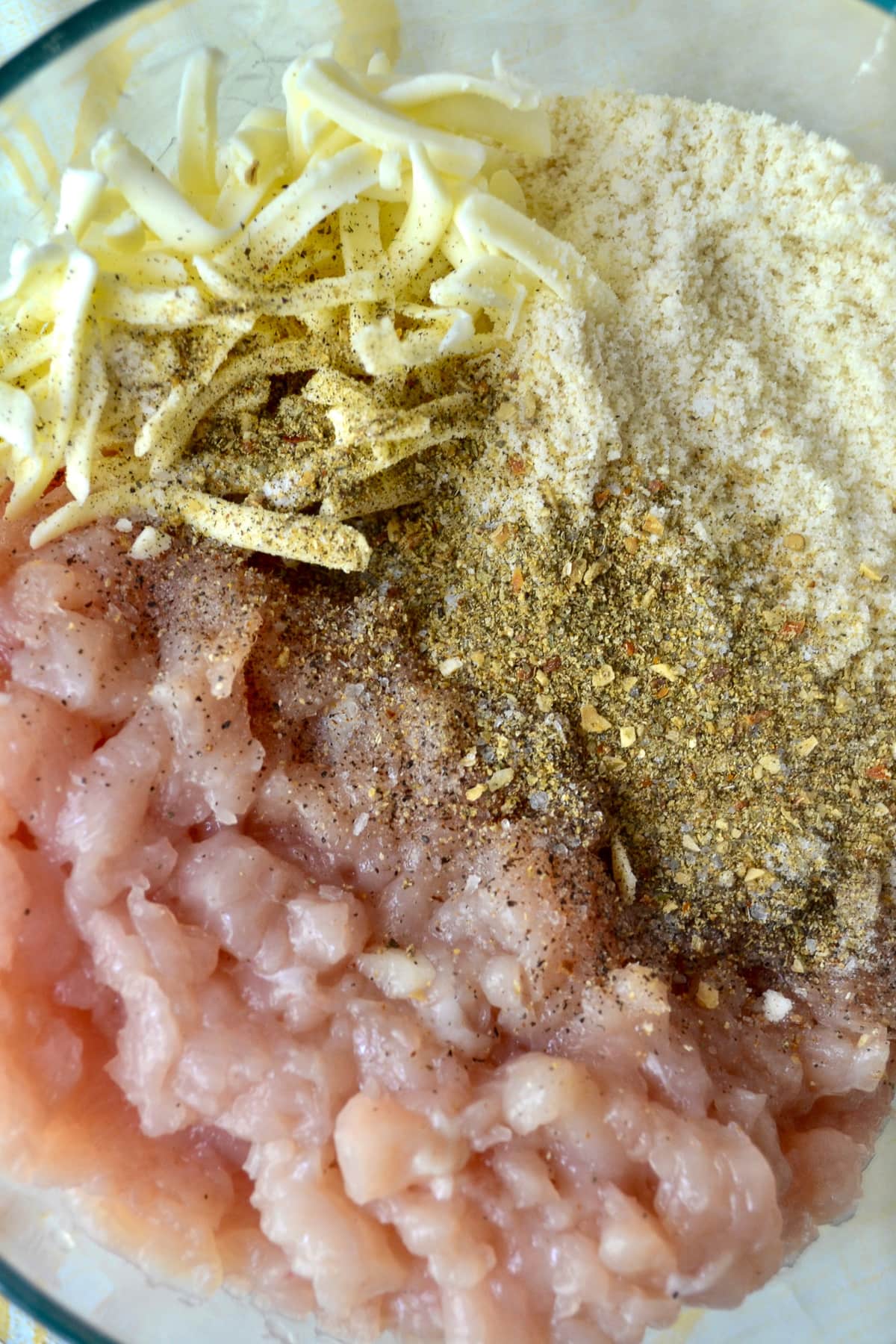 Additional Ingredients
I chose to stick with the simplest possible version of the low-carb chicken fritters. But if you wish, you can add some of these ingredients to the recipe:
Chopped green onions. If you love the taste and aroma of chopped green onion, then definitely go for it.
Italian seasoning. This seasoning enhances the flavor of the chicken fritters.
Sour cream or greek yogurt. With this ingredient, the fritters will be even juicier. But keep in mind that if you add it, the number of carbs will slightly increase.
Parmesan. You can add some for a cheesier texture, but note that the number of calories will change.
So, whether or not you add other ingredients depends only on your own preferences. But before making any changes to this recipe, try out these chicken fritters as described on the recipe card. You'll be surprised how flavorful they are.
Storing and Freezing Instructions
You can store the keto chicken fritter leftovers in your fridge for up to 6 days. Just place them in an airtight container or wrap them in some plastic food wrap before putting them in the refrigerator. Then whenever you want to serve the leftovers, simply reheat the fritter in the microwave for a minute or two.
Also, this keto recipe is freezer-friendly. So if you have a bit more free time and have some cooking inspiration, you can make double, or even triple of the chicken fritters and freeze them.
To do this, follow all of the instructions, fully cook the fritters and then place them on a tray and freeze them separately. Only when they are completely frozen should you transfer them from the tray into a zipper bag.
You can store these chicken fritters in the freezer for 3-4 months. Before serving them, either thaw them overnight in the refrigerator or use the microwave.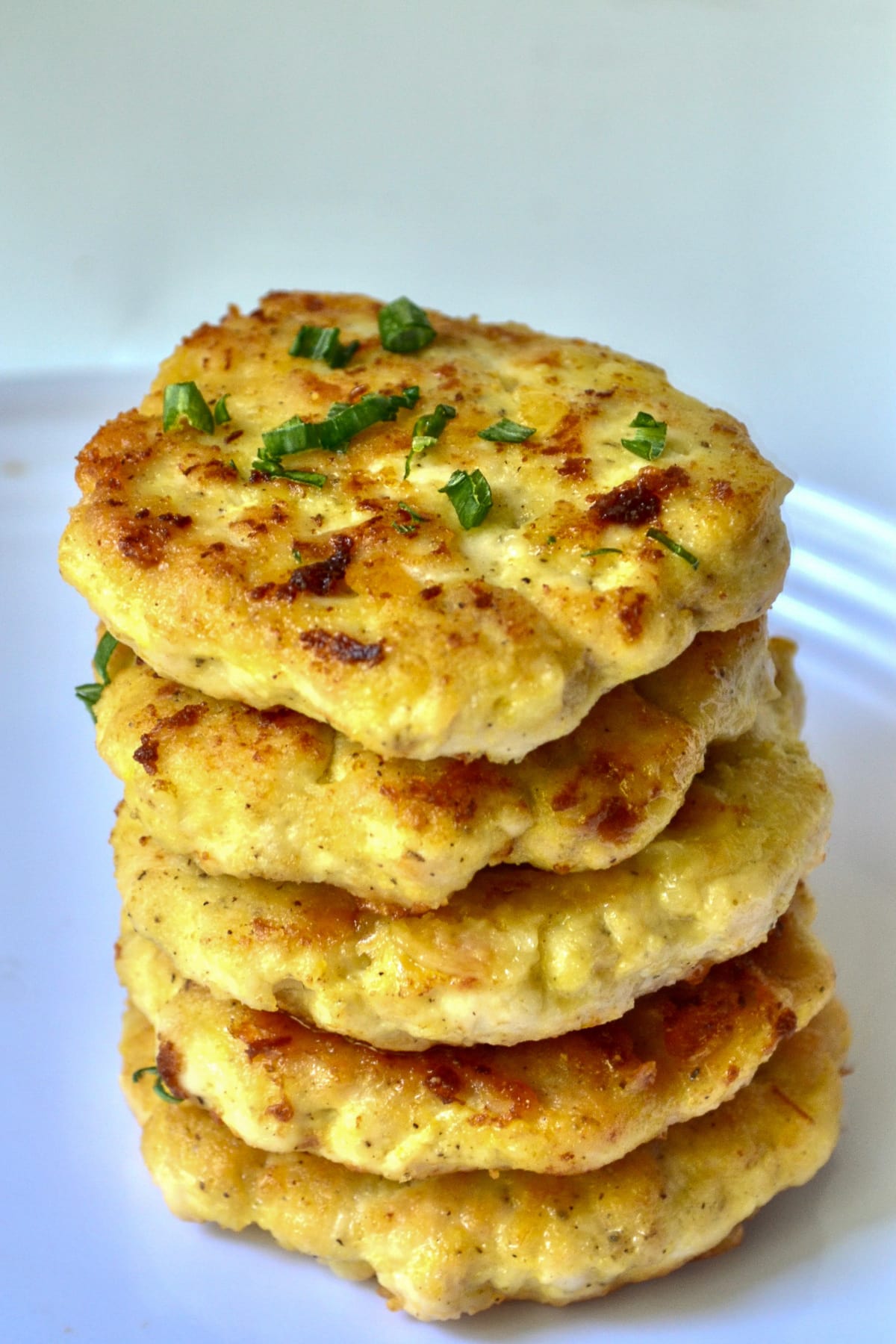 Serving Ideas
If you choose to serve these keto chicken fritters as an appetizer, then go with a low-carb sauce. Something out of this list will work:
Thai dipping sauce
Apricot dijon mustard sauce
Creamy garlic sauce
Or just mix some sugar-free ketchup, avocado mayo, and yellow mustard. It's the easiest and quickest option there is.
If you want to serve the fritters for lunch or dinner, the options you can try are endless. Here's what goes well with this dish:
Recipe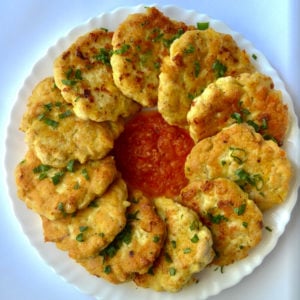 Keto Cheesy Chicken Fritters With Almond Flour
These low-carb cheese chicken fritters are tender, juicy, and delicious. When served with a garlic sauce or with some homemade lecho, you won't be able to resist it. Plus, one cheesy chicken fritter has less than 1 gram of carbs, which means you'll be able to enjoy as many as you want with no regrets.
Ingredients
1.5

lb

chicken breast

or ground chicken

1

large

egg

2

oz

almond flour

1

tsp

granulated garlic

2.5

oz

shredded mozzarella cheese

salt and pepper

to taste

olive oil

for frying
Instructions
If you are using chicken breast for this recipe, then use a sharp knife to chop them up into tiny pieces. In the case of ground chicken, skip this step.

Place the chicken in a large bowl, crack an egg into it, then add the almond flour, granulated garlic, shredded mozzarella cheese, salt, and pepper. By hand, thoroughly combine everything together.

Place a skillet over low heat and spray it with some cooking oil. Use a spoon to scoop up some of the mixture and form the patties with wet hands. Fry the patties for 8-10 minutes on each side.
Notes
The amount of olive oil you will need for frying may vary; therefore, it is not included in the meal's nutritional value.
Nutrition
Calories:
111
kcal
Carbohydrates:
0.6
g
Protein:
17
g
Fat:
4.1
g
Saturated Fat:
1
g
Polyunsaturated Fat:
1
g
Monounsaturated Fat:
1
g
Trans Fat:
1
g
Cholesterol:
48
mg
Sodium:
93
mg
Potassium:
191
mg
Fiber:
1
g
Sugar:
1
g
Vitamin A:
68
IU
Vitamin C:
1
mg
Calcium:
39
mg
Iron:
1
mg