Craving something yummy but don't want to stray from the keto diet? These tiny keto cheesecakes will satisfy even the pickiest eater. With just 140 calories and a little over 2g of carbs per bite, you won't need to worry about going the daily carb amount.
To make these smooth and creamy cheesecake bites, you'll only need a few basic ingredients usually stocked in your kitchen. It's an excellent option for those who don't have much free time to bake; in less than an hour, you'll be able to enjoy this dessert!
Personally, I never get bored with this recipe since you can experiment a lot with the flavor. You can make it with blueberries, strawberries, lemon, chocolate, or add any other flavor that you prefer!
Table of Contents
You Should Know This Before Baking Them
Not once, not twice, but who knows how many times I failed before getting this keto cheesecake right. Even though I have a sweet tooth, I used to have many difficulties with making desserts.
If you've never baked a cheesecake before and are worried that something may go wrong, here are some tips that can help you with it:
Use only room-temperature cream cheese. If you forgot to take it out of the fridge beforehand, you can put it into the microwave on low for 20-25 seconds until it gets a bit soft. This will make it easier for you to combine all of the cheesecake batter ingredients. Otherwise, the cream cheese will get lumps.
To avoid getting cracks on the keto mini cheesecake bites, you can add one teaspoon of cornstarch into the batter. If you do this, remember that the number of carbs in the recipe will slightly go up since one teaspoon of cornstarch contains 2 grams of carbs.
Don't mix the cheesecake batter for too long. Overworking it will create air bubbles and cause it to rise and fall rapidly in the oven. With room-temperature cream cheese and eggs, you'll be able to get the needed texture very quickly.
Let your keto cheesecake bites cool entirely before removing them from the muffin pan. You can use a knife to separate the cheesecake sides from the pan and then just flip it over and let the mini cheesecakes fall out.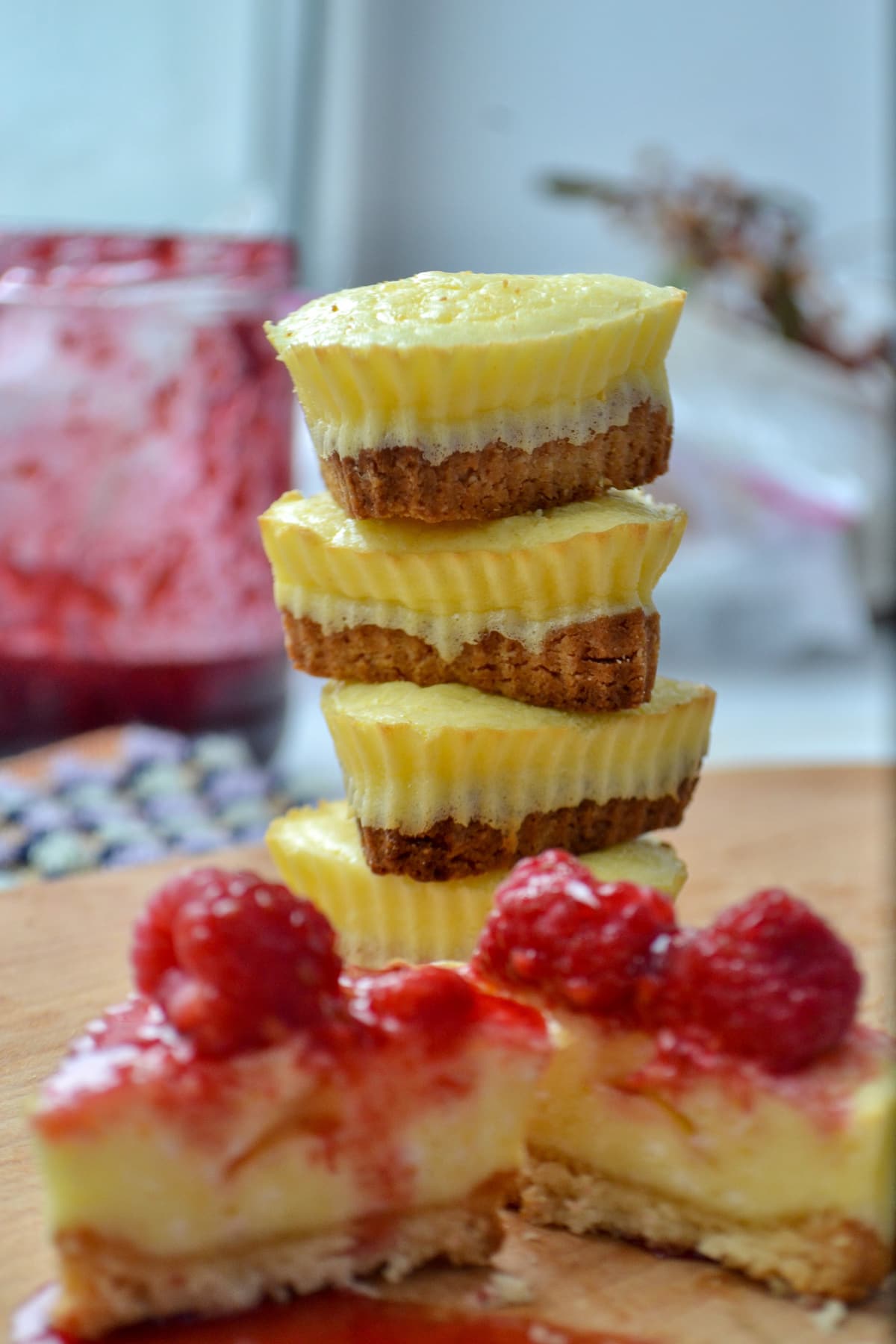 Toppings For the Mini Cheesecakes
Let your food fantasy run wild when choosing the toppings. If you can't wait to eat the keto cheesecake bites right away, you can eat them as they are! They're yummy on their own.
One of my favorite toppings is, of course, whipped cream. I also like to add some fresh fruits or berries.
There are many delicious and keto-friendly syrups and jams that you can drizzle over these cheesecakes. Other tasty toppings that you can try are nuts, cinnamon, and of course, chocolate.
How To Cut Down On the Carbs Even More
Thanks to the almond flour that is used for the keto cheesecake bite's crust, I brought the number of carbs in this dessert to a minimum. But if you want to make them almost 0 carbs, it's possible. Simply skip the crust.
The ingredients listed in the recipe card for the cheesecake batter will make sure that the cheesecake holds together and doesn't crack even if you bake it without the crust. So if that's what you want, go ahead.
What Sweetener Is Best
There are many sweeteners that you can try for a tasty keto-friendly dessert. But for all of my desserts, I like to use erythritol. It has a glycemic index of 0, which means that it doesn't spike blood sugar. Also, it is a sugar alcohol, which is indigestible by humans.
If you don't like the taste of this sweetener, you can try stevia, xylitol, or Splenda.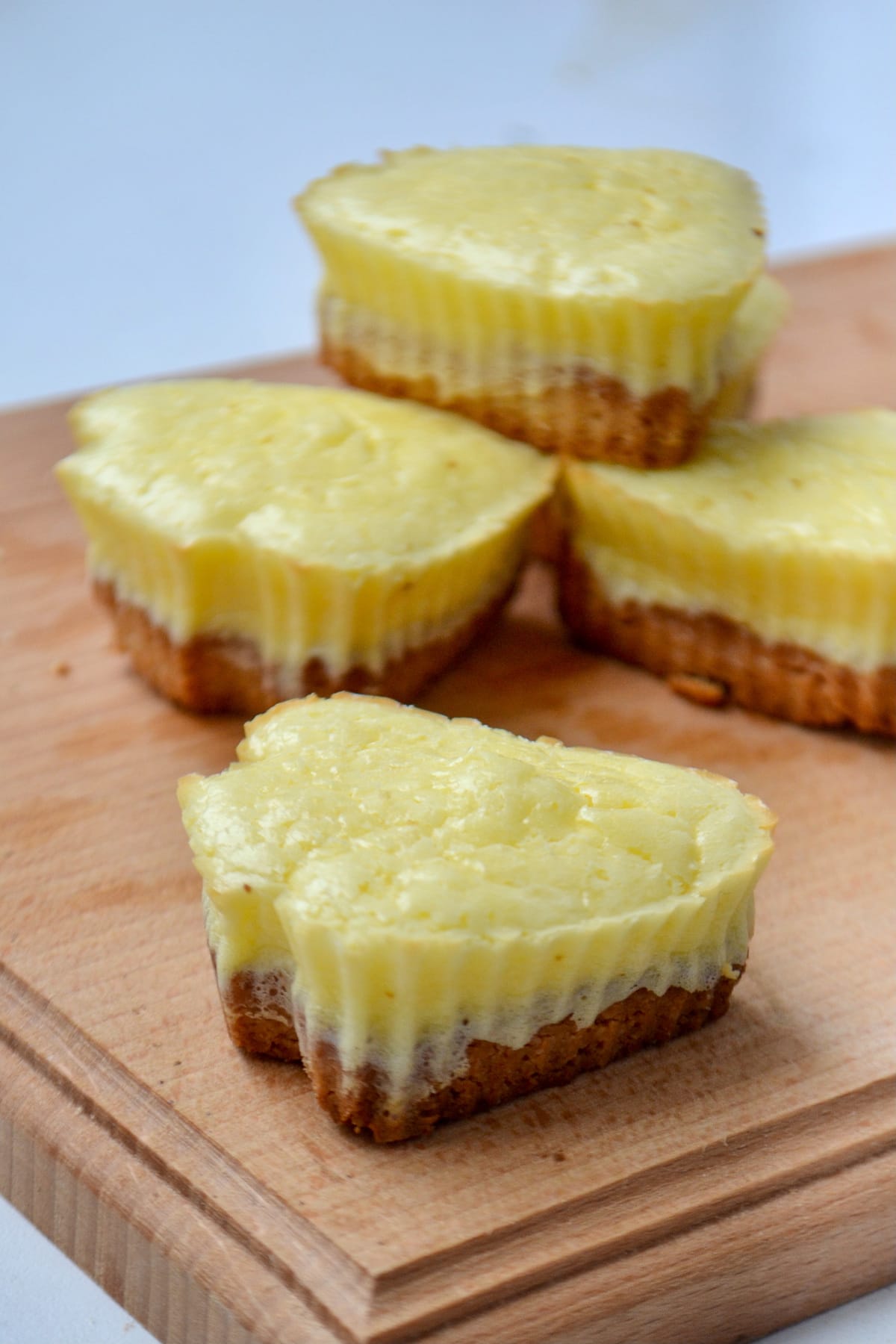 How to Store Them Properly
From the recipe ingredients, you'll get approximately 12 mini cheesecakes. It all depends on the muffin pan's size that you'll use for baking. For a big family, this amount of cheesecakes will be just right. But if you're the only one that's eating keto, you can store the leftovers in the refrigerator for up to 3 days.
You can also bake them ahead of time and freeze them. But if you're planning to store them, don't add any toppings before freezing. It's best to add toppings right after you thaw them. To freeze the mini cheesecake bites, let them cook after baking, remove them from the muffin pan, wrap each of the cheesecakes tightly with a plastic wrap. You can freeze them for up to 3 months.
Recipe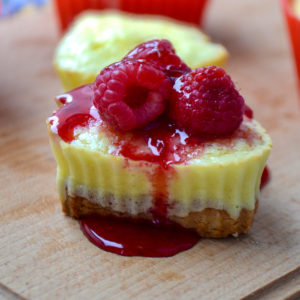 Keto Cheesecake Bites
These tiny keto cheesecakes will satisfy all ketogenic sweet tooths! With just 140 calories and a little over 2g of carbs per bite, you won't need to worry about going over the daily carb amount.
Ingredients
½

cup

almond flour

¼

cup

butter

1 ½

tbsp

erythritol

½

tsp

vanilla extract

8

oz

cream cheese

1

cup

erythritol

2

eggs

1

tbsp

lemon juice

1

tsp

vanilla extract
Instructions
Preheat the oven to 350 F. If you have a silicone muffin pan, then there's no need to grease it. But if you're using a different one, then spay some oil inside.

For the crust - melt the butter and combine all of the ingredients - melted butter, almond flour, erythritol, and vanilla extract. Stir with a fork and break the lumps, if there are any.

Place some of the mixture into each of the muffin pan sections. Use your fingertips to flatten it. Bake for 10 minutes until it browns a bit.

For the batter - beat the cream cheese until it gets a smooth texture, add all of the other ingredients and continue beating - eggs, erythritol, lemon juice, vanilla extract. Pour this mixture on top of the cheesecake crusts and bake for 20 minutes.

Let them cook down for about half an hour before removing them from the muffin pan.
Nutrition
Calories:
140
kcal
Carbohydrates:
2.2
g
Protein:
3.2
g
Fat:
13.5
g
Saturated Fat:
4
g
Trans Fat:
1
g
Cholesterol:
49
mg
Sodium:
76
mg
Potassium:
45
mg
Fiber:
1
g
Sugar:
1
g
Vitamin A:
302
IU
Vitamin C:
1
mg
Calcium:
38
mg
Iron:
1
mg