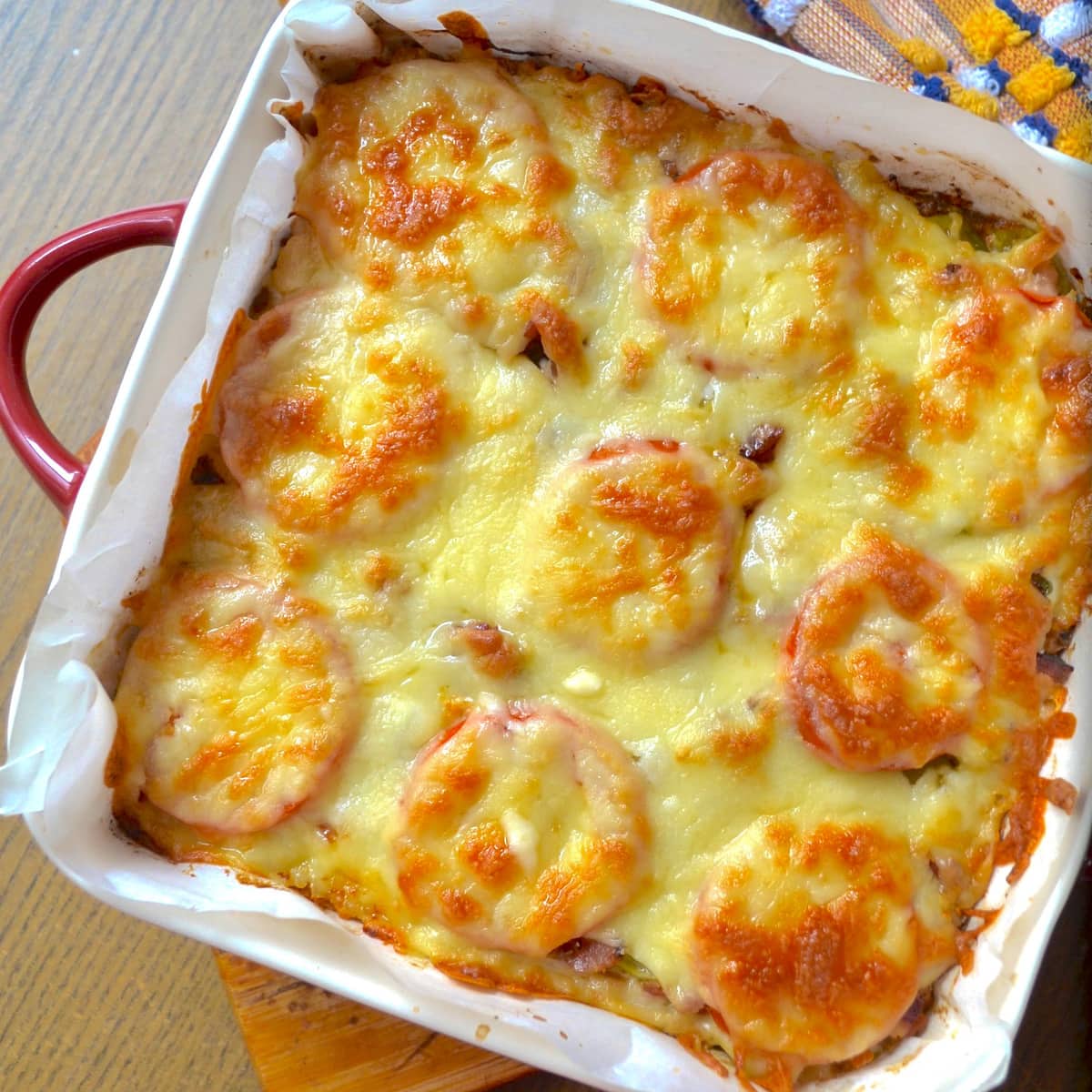 If you're craving a big and juicy bacon cheeseburger, this recipe is for you. Thanks to this keto cheeseburger casserole, you'll be able to satisfy your cravings while living the keto lifestyle. With just a bit over 4 net carbs per serving, this cheeseburger casserole is a perfect option for any meal and any occasion—breakfast, lunch, or dinner.
This recipe is, by all means, one of my favorites! It's quick, hearty, filling, delicious, and keto-friendly. By following the instructions on the recipe card and devoting just 45 minutes of your time, you'll have an undeniably tasty meal ready for the whole family to enjoy.
You can serve this keto cheeseburger casserole any way you like: with lettuce and fresh vegetables on the side, some guacamole, or on a slice of low-carb bread. Since this meal is super filling, you'll feel stuffed after eating it, especially when served with cauliflower rice.
Table of Contents
Here's What You'll Need
You will only need a few simple ingredients for this keto cheeseburger casserole recipe. All the exact measurements of the ingredients are listed in the recipe card below. Here's what you'll need to cook this recipe: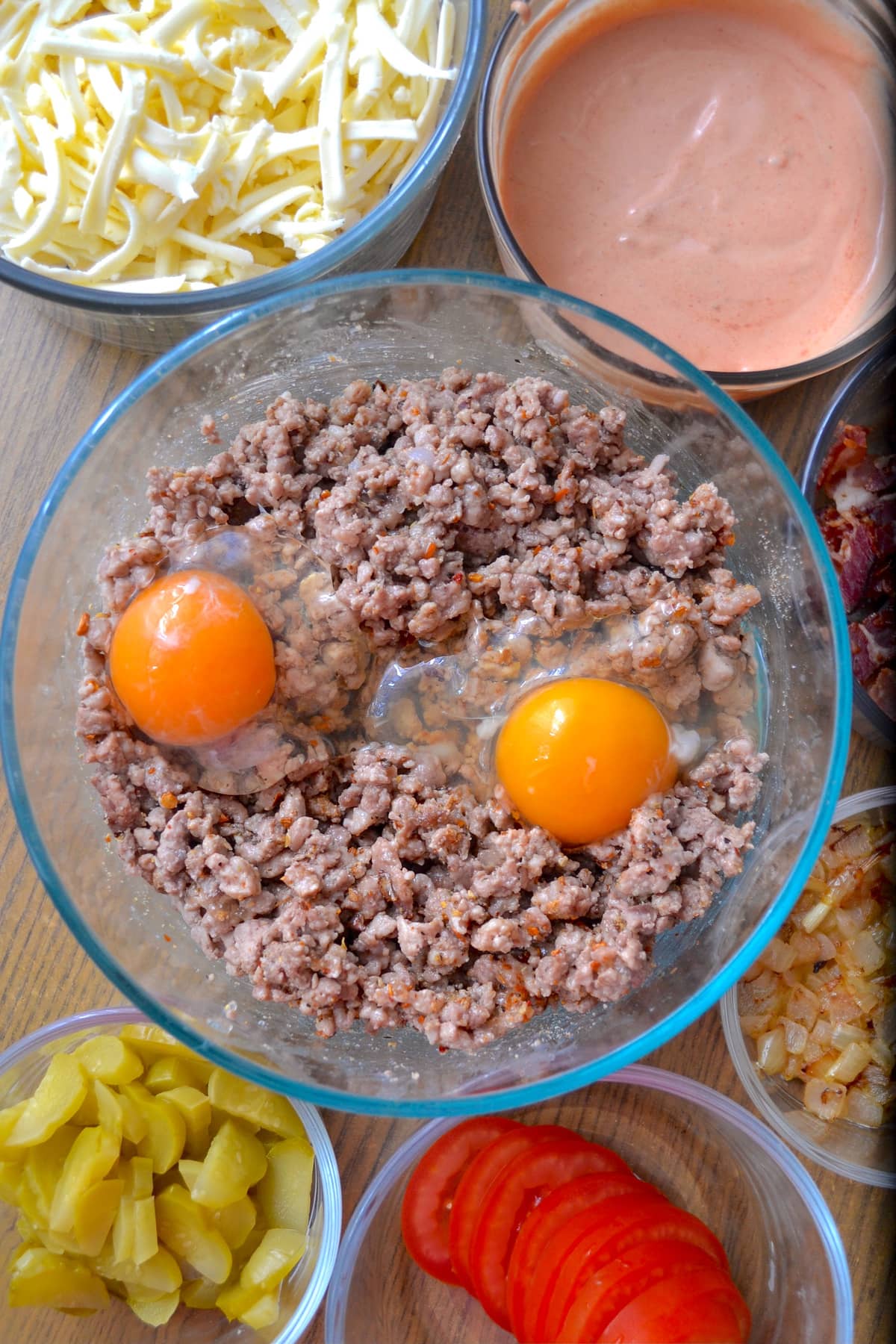 Ground beef. You can choose any ground beef; whether you prefer extra lean or leaner, any kind is fine. Alternatively, you can also use ground pork, ground chicken, or ground turkey instead. But if you change any of the ingredients, remember that the number of calories and fat of the cooked meal will be different.
Eggs. It's okay to skip this ingredient. But I like to add it into the casserole because it gives more flavor, and it holds everything together.
Sauce. For the casserole sauce, you'll need to combine some heavy cream, tomato paste, and some mustard. Just be careful when choosing the tomato paste and make sure that it is sugar-free.
Bacon. I can't imagine eating a burger without bacon. So, this ingredient is a must for this cheeseburger casserole. You'll need to chop it up and fry it in a pan until crisp before adding it into the low-carb cheeseburger casserole.
Onion. Simply chop up the onion and fry it in the fat that was left after cooking the bacon.
Pickled cucumber. This is my favorite ingredient since it adds the needed flavor.
Tomato. If you like tomatoes on your cheeseburger as much as I do, then you must include this ingredient into the keto cheeseburger casserole.
Mozzarella cheese. A cheeseburger without cheese is like a sausage patty without meat. The more mozzarella cheese you add into the casserole, the better.
Seasoning. If you don't like to add any spices or herbs to your meals, you can skip this part. Just adding salt and pepper will be enough. But I prefer my keto cheeseburger casserole with some garlic powder, pepper flakes, and the Grill Mates Hamburger Seasoning.
What Baking Dish to Use
For this recipe, I chose an 8x8-inch baking dish. The keto cheeseburger casserole turned out with the perfect thickness. If you have a slightly larger dish, you can use it, but then the casserole will be a bit thinner.
When I have some friends over, I always make twice the amount of cheeseburger casserole. In that case, I simply double all of the ingredients and use a 13x9 casserole dish instead.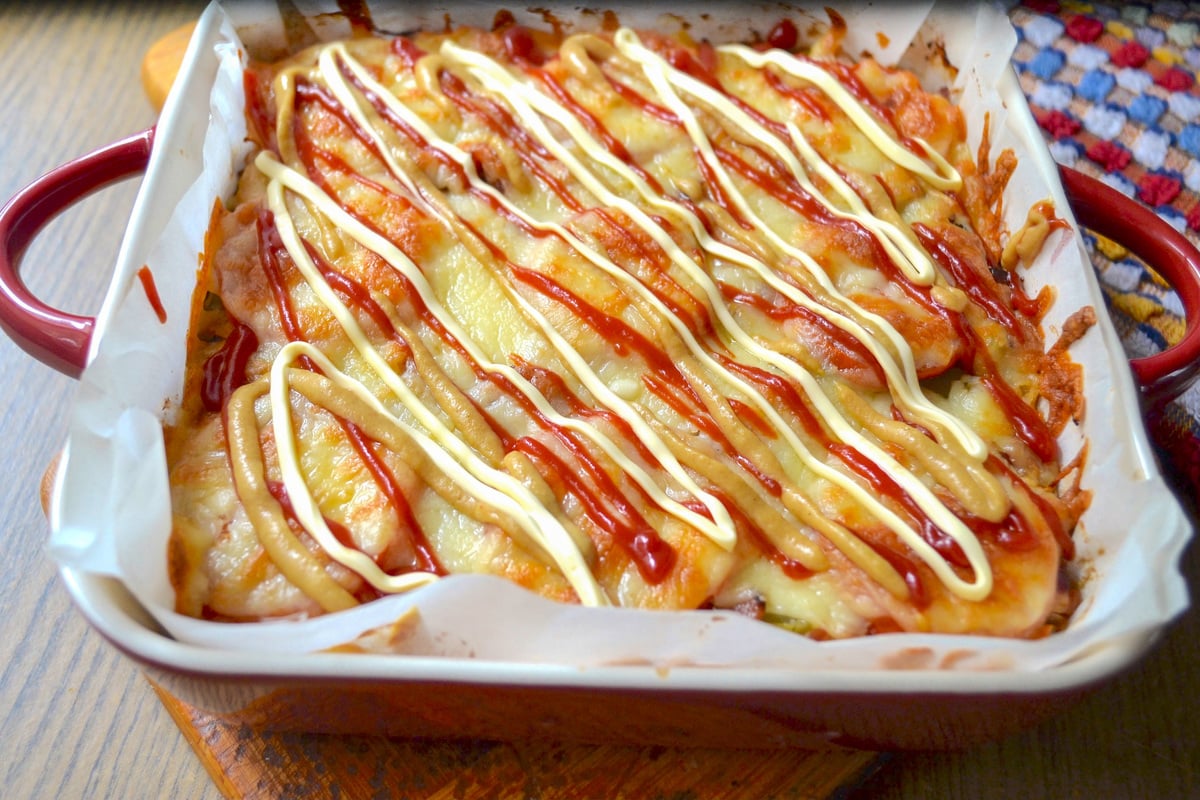 How to Store the Casserole
Cover the keto cheeseburger casserole with some plastic wrap or place it in a container before storing it in the refrigerator. You can keep it in the fridge for up to 4 days. Whenever you want to eat it, simply reheat it in the microwave.
Or, you can also freeze this meal. It's simple—fully cook the cheeseburger casserole, cover it with plastic wrap, then place it in the freezer. Before serving, let the dish thaw in the fridge or at room temperature and then heat in the microwave for a minute or two before serving.
Serving Options
Just like the traditional burgers are best with lettuce, the same applies to this cheeseburger casserole. Since burger buns are definitely a no when it comes to eating keto, simply adding some fresh lettuce when serving this casserole will make it taste as close to a burger as it can get.
Other ways to serve this low-carb cheeseburger casserole is with some cauliflower rice on the side. It's a great way to add more veggies to your diet.
Or, you can also serve the casserole with some guacamole on the side. I love it and can eat it with almost anything, and it tastes perfect with this cheesy casserole.
Recipe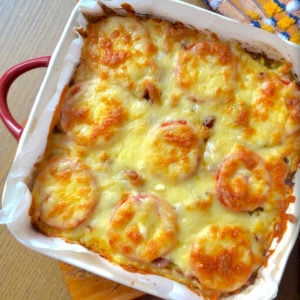 Keto Cheeseburger Casserole
If you're craving a big and juicy bacon cheeseburger, this recipe is for you. This keto cheeseburger casserole is quick, hearty, filling, delicious, and keto-friendly. By following the instructions on the recipe card and devoting just 45 minutes of your time, you'll have an undeniably tasty meal ready for the whole family to enjoy.
Ingredients
1

lb

ground beef

2

eggs

5

tbsp

heavy cream

1

tbsp

tomato paste

1

tsp

mustard

1

large

onion

chopped

1

large

pickled cucumber

chopped

1

large

tomato

sliced

2

oz

bacon

chopped

7

oz

mozzarella cheese

shredded

1

tsp

garlic powder

1

tsp

pepper flakes

salt and pepper

to taste
Instructions
While preheating the oven to 350 F, prepare a baking dish. Line it with parchment paper or spray it with some cooking oil.

Fry the ground beef in a skillet over medium heat for 5-10 minutes until it is fully cooked. Remove the ground beef from the skillet, then fry the chopped bacon in a skillet over medium heat until crisp. Remove the bacon from the skillet.

Fry the chopped onion in the fat that is left from cooking the bacon. Remove the onion when it turns slightly brownish.

In a small bowl, combine the heavy cream, tomato paste, and mustard to make the sauce.

Mix the cooked ground beef with the eggs, onion, sauce, salt, pepper, and all of the herbs and spices. Place the meat mixture into the baking pan, then add the fried bacon and chopped pickled cucumber on top of it.

Layer the sliced tomatoes on top of everything and sprinkle with the shredded mozzarella cheese. Cook for 25 minutes or until the cheese turns golden brown.
Nutrition
Calories:
372
kcal
Carbohydrates:
4.4
g
Protein:
29
g
Fat:
26.5
g
Saturated Fat:
17
g
Trans Fat:
1
g
Cholesterol:
160
mg
Sodium:
337
mg
Potassium:
408
mg
Fiber:
1
g
Sugar:
3
g
Vitamin A:
880
IU
Vitamin C:
7
mg
Calcium:
209
mg
Iron:
2
mg