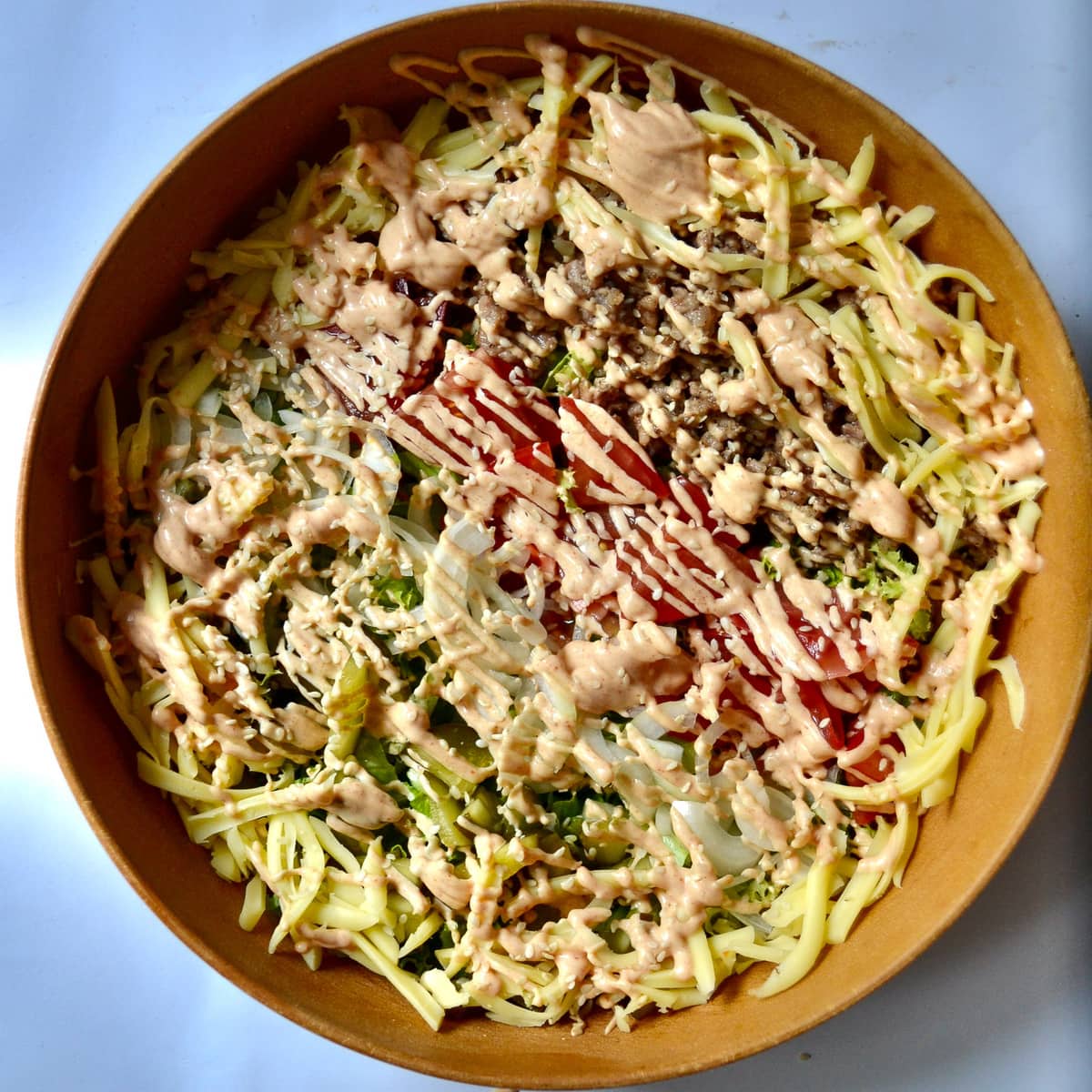 This keto big mac salad is loaded with ground beef, lettuce, dill pickles, cheddar cheese, tomatoes, onions, and topped off with a flavorful and sugar-free big mac sauce. The advantages of this salad are endless: it is low-carb, gluten-free, sugar-free, and impossible to resist.
If you're living the low-carb lifestyle, then there must be nights when you desperately crave a juicy Big Mac. That's when this salad comes to the rescue. The best thing about it is that it tastes just like the real thing—you even won't miss the buns.
This low-carb cheeseburger salad makes for a perfect and filling lunch or dinner. Also, it is ideal for those days when you are pressed for time since it can be ready in just 25 minutes.
Table of Contents
Here's What You'll Need
This low-carb big mac salad has the same ingredients needed for the real thing, with a few changes: there are no buns, and the big mac sauce is healthy and doesn't contain sugar.
So, here are the ingredients needed for this recipe:
Lettuce
Onion
Tomato
Dill pickles
Cheddar cheese
Sesame seeds
Salt and pepper
And there you have it; simply prepare the ingredients, throw everything in a bowl, and top it off with the delicious sauce. Read on to learn how to make the healthy version of the big mac sauce.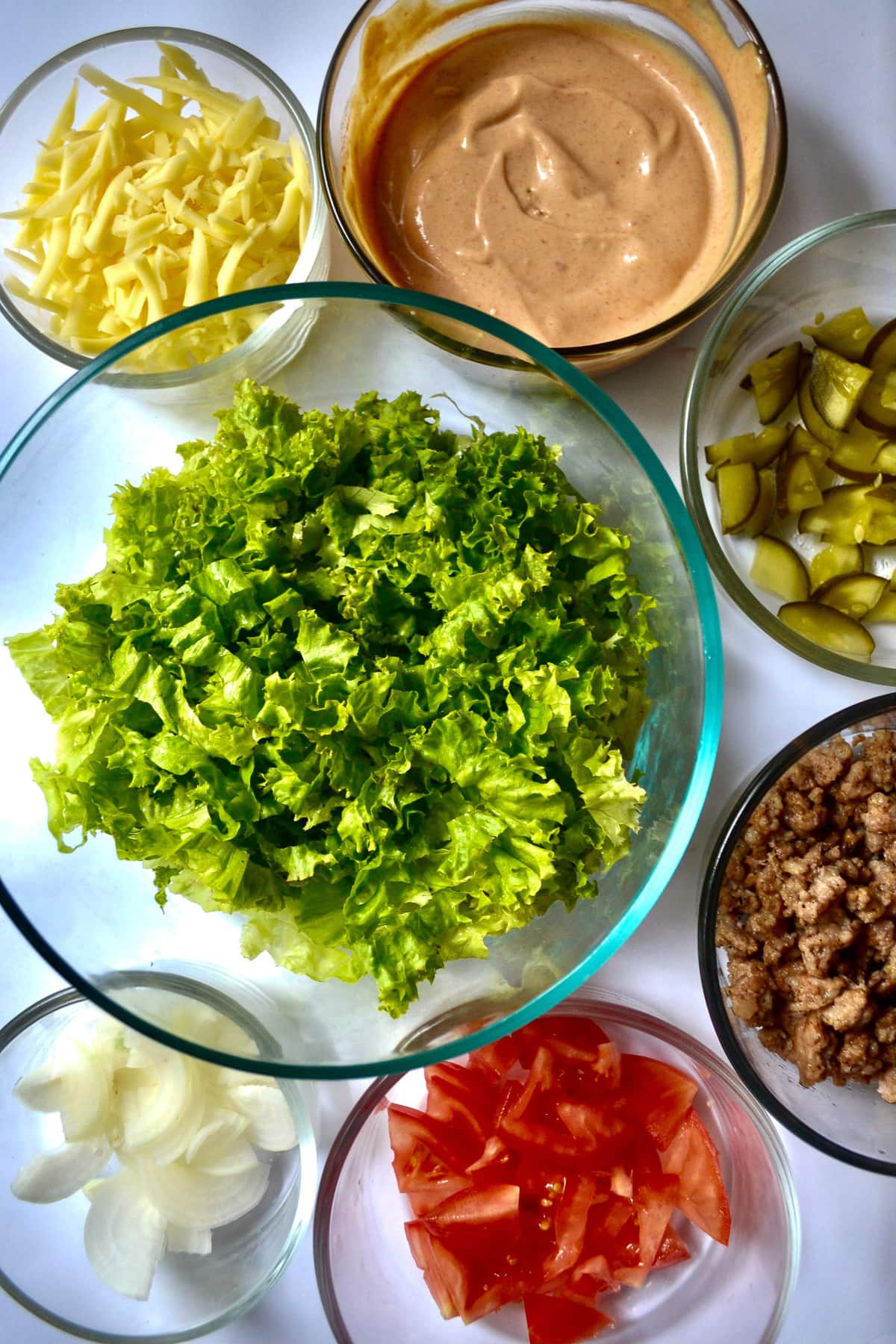 How to Make the Big Mac Salad Dressing
It's insanely easy to make the salad dressing. All that you'll need to do is place all of the ingredients in a bowl and mix everything together—that's it.
For this low-carb big mac sauce, you'll need just six ingredients:
Avocado oil mayonnaise. I prefer to use this kind of mayonnaise since it is much healthier than the usual one, has no sugar in it, and is low in carbs. My personal favorite is Sir Kensington's Mayonnaise, but you can use whichever you prefer.
Ketchup. Any ketchup works fine, but be sure to check the label and choose one that has no sugar in it. I usually go with the Primal Kitchen Organic Ketchup.
Mustard. To make the sauce taste just like the one in the real big mac, you'll need to add some yellow mustard to it. The Heinz Yellow Mustard works perfectly here.
Dill pickle juice. After opening your jar with dill pickles, don't pour away the juice. It is the key ingredient for any big mac sauce.
Erythritol powder. This ingredient serves as the sweetener for this sauce instead of sugar. I recommend using powdered erythritol since the usual one may not dissolve completely.
Onion powder. This is what I think adds even more taste to the sauce. Many choose to skip it, but I do recommend that you add this ingredient.
Big Mac Salad Tips
When it comes to making this keto salad, everything is as straightforward and easy as it gets. But there are a few tips that can make the process and the outcome even better:
Drain the cooked ground beef. The beef may release some fat when frying, so it is best to drain it before adding the cooked beef into the salad.
Use warm ground beef. Add slightly warm cooked ground beef into the salad. This way, it will taste even closer to the real thing.
Add the sauce to the salad right before serving. Keep in mind that the veggies become soft when mixed with the sauce for too long.
Make more sauce. I recommend making extra sauce since it is insanely delicious and goes well with a variety of food. It pairs perfectly with grilled meat and any other meat salad.
Salad Variations
There are a few ingredients that you can change to make this keto big mac salad just as you like it. For example, you can substitute ground beef for any other protein source: ground turkey, chicken, or pork.
Usually, cheeseburgers go with a slice of cheddar cheese, which is why you'll need shredded cheddar cheese for this salad, too. But if you don't like it, you can definitely use shredded mozzarella or pepper jack instead.
Also, it is up to you to choose how you chop the veggies. If you prefer the vegetables to be chopped into larger pieces, there's nothing stopping you from doing it.
Storing Instructions
If you've already assembled the keto big mac salad, it is best to serve it right away. Otherwise, the lettuce and the vegetables will release juice, and the overall taste of the salad won't be the same.
However, you can prepare all of the ingredients and store them in separate containers in the refrigerator. The fried ground beef and the big mac sauce can be stored in the refrigerator for 4-5 days.
Recipe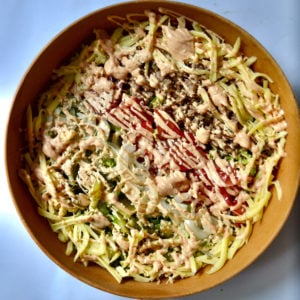 Keto Big Mac Salad
This keto big mac salad is loaded with ground beef, lettuce, dill pickles, cheddar cheese, tomatoes, onions, and topped off with a flavorful and sugar-free big mac sauce. The advantages of this salad are endless: it is low-carb, gluten-free, sugar-free, and impossible to resist.
Ingredients
5

oz

ground beef

salt and pepper

to taste

2

oz

lettuce

chopped

1

small

onion

sliced

2

oz

cheddar cheese

shredded

1

oz

dill pickles

sliced

1

medium

tomato

chopped

1

tsp

sesame seeds
Big Mac Sauce:
5

tbsp

avocado oil mayonnaise

1

tbsp

sugar-free ketchup

1

tsp

yellow mustard

1

tsp

dill pickle juice

½

tsp

erythritol powder

½

tsp

onion powder
Instructions
First, make the big mac salad dressing. Mix together the mayo, ketchup, mustard, pickle juice, erythritol powder, and onion powder in a small bowl. Then, set it aside while you prepare the rest of the salad ingredients.

Place a skillet over medium heat and fry the beef mince until fully cooked for about 10-12 minutes. Add some salt and pepper and stir the meat.

Chop the lettuce, slice the onions, and roughly chop up the pickles and tomato.

Divide all of the ingredients equally into two bowls. Sprinkle the salad with the shredded cheese, pour the sauce over it, and top everything off with the sesame seeds.
Nutrition
Calories:
378
kcal
Carbohydrates:
10.1
g
Protein:
25.3
g
Fat:
33.9
g
Saturated Fat:
12
g
Polyunsaturated Fat:
1
g
Monounsaturated Fat:
9
g
Trans Fat:
1
g
Cholesterol:
80
mg
Sodium:
421
mg
Potassium:
482
mg
Fiber:
2
g
Sugar:
4
g
Vitamin A:
967
IU
Vitamin C:
12
mg
Calcium:
256
mg
Iron:
2
mg