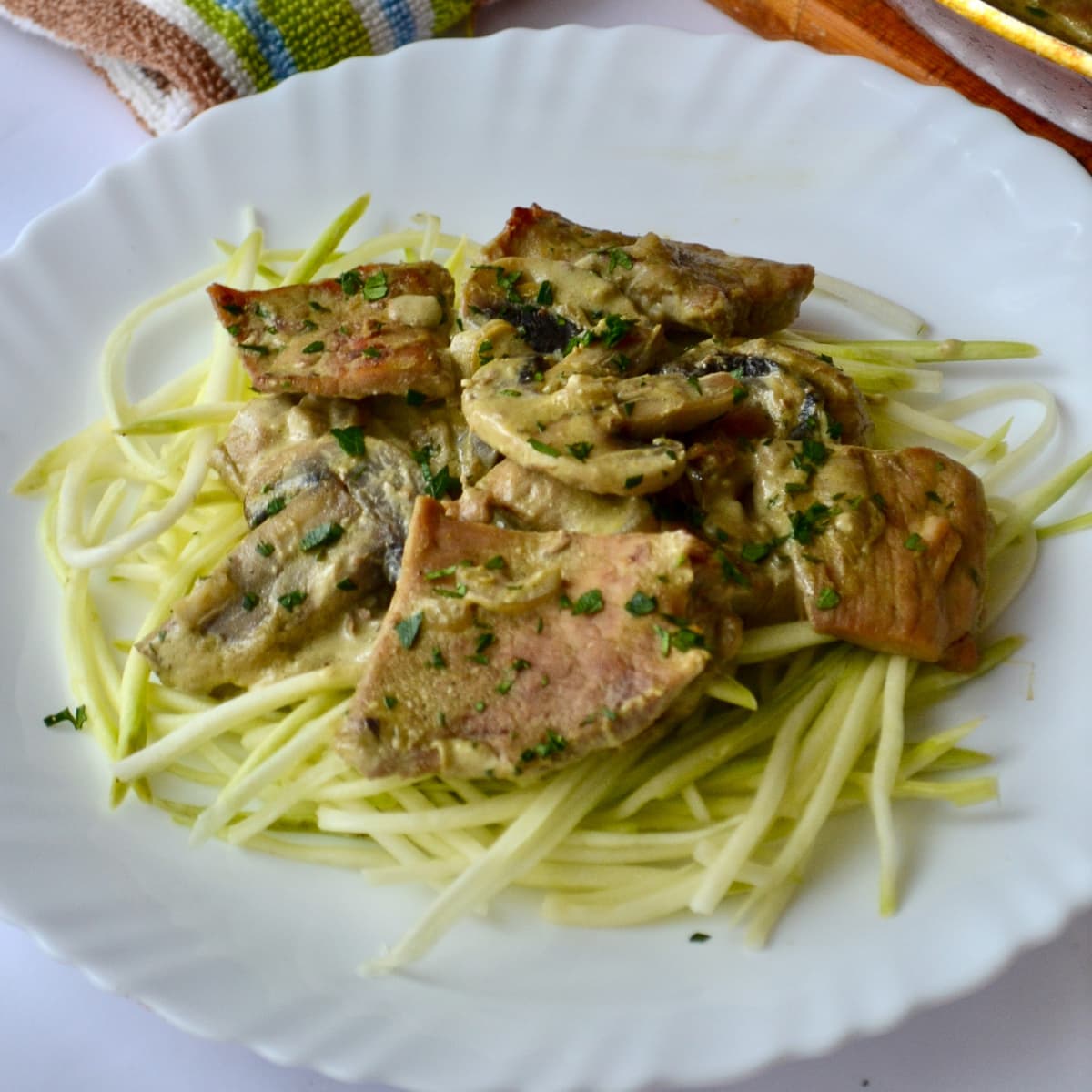 This is the most delicious beef stroganoff you'll ever taste. While keeping everything low-carb, this keto beef stroganoff is loaded with unforgettable flavor. It's a perfect and comforting dinner option for your whole family to enjoy.
You'll definitely go for seconds—the golden juicy beef slices cooked in an incredibly creamy gravy are impossible to resist. And, this 60-minute recipe is going to make cooking the keto beef stroganoff a breeze.
Even though keto followers can't have the noodles that usually go with this dish, there are many other great options to try instead of it. A nice scoop of cauliflower mash, for instance, is a perfect alternative. Alternatively, some zucchini noodles can go perfectly with the keto beef stroganoff served on top of them.
Table of Contents
What Is Beef Stroganoff?
Beef stroganoff is a traditional Russian dish. It originated back in the 19th century and was named after the Governor-General of Novorossiya—Alexander Grigoriyevich Stroganov.
Even though many Russian recipes are pretty complicated and high-carb, this one fits perfectly into the keto requirements. Plus, it is easy and quick to cook, which is a huge advantage.
All of the main ingredients from the traditional recipe are included in this one—beef slices, mushrooms, onions, and sour cream. But since there are many variations of the traditional recipe, I also decided to add some cream cheese and Dijon mustard, which doubles the flavor of this dish.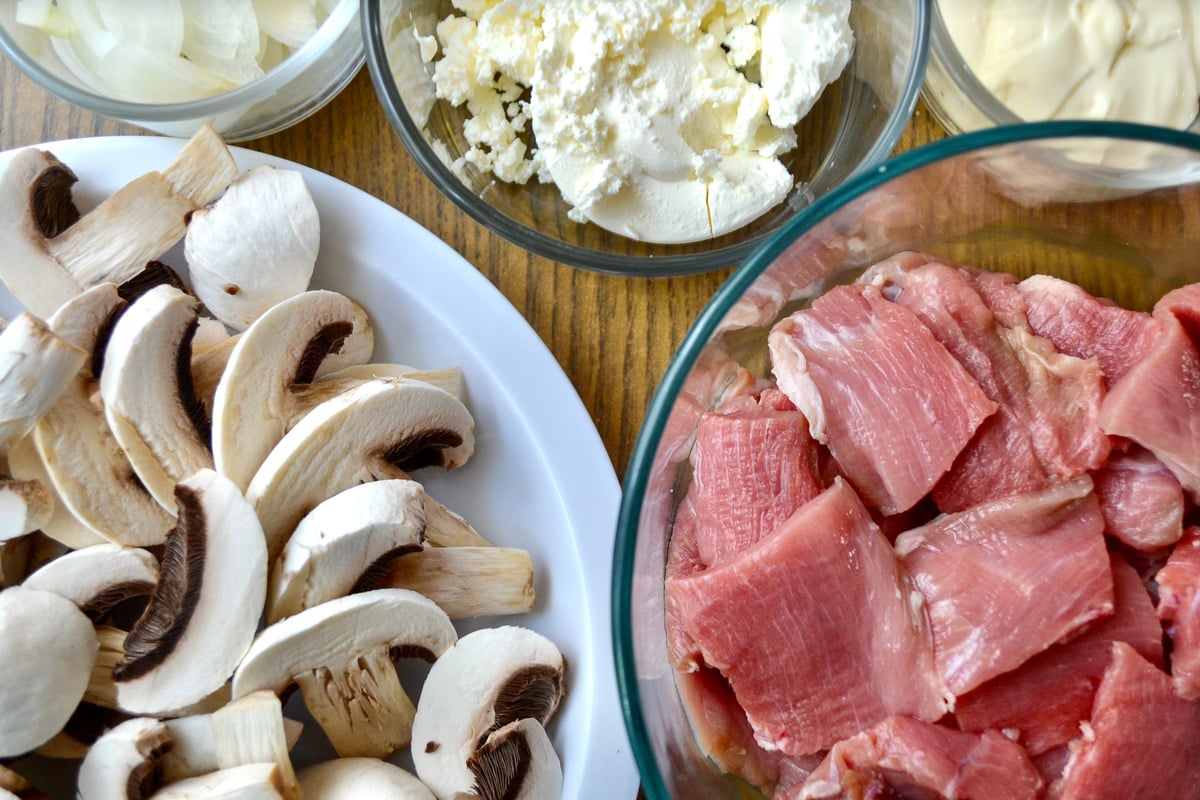 Many prefer to add some wine when cooking the beef. If you like the aroma that wine brings into meat, you can definitely add some when cooking the beef stroganoff. But, make sure to add just a tiny splash of it. And don't worry, the wine will evaporate while cooking, so it is completely harmless.
How to Choose the Right Cut
If you want your beef stroganoff to turn out perfect, then you should choose a tender and juicy cut. Even though such a cut is usually much more expensive, it does make a difference when cooking this dish.
With that in mind, some of the most suitable cuts for any beef stroganoff recipe are boneless sirloin or rib-eye, beef tenderloin, or filet mignon tips. If you really want to, you can try using beef round steak, but it may turn out a bit dry.
Useful Information
Everything in this recipe is simple. But if this is your first time making low-carb beef stroganoff, or you're just afraid that you'll mess it up, here are some tips that should boost your confidence and help you with the cooking process:
Use a non-stick frying pan. This will ensure that you don't burn anything while cooking.
Use a spatula to stir. You don't want to end up scratching your pan, so it is best to use a wooden or plastic spatula to stir the beef stroganoff.
Add some water to the veggies. If you notice that the mushrooms and onions start to stick to the pan, add a tiny splash of water into the pan.
Fry beef in batches. If you have a smaller frying pan, you might need to fry the beef slices in batches. Don't throw in all of the slices into the pan at once because instead of frying, you'll end up sauteing them.
Feel free to add more cream cheese. If you want the sauce to be even creamier, you can add some more cream cheese. But, don't forget to add that to the nutritional value of the meal.
That's all the tips that I have for this keto beef stroganoff recipe. And as you might have already noticed, there's nothing here that you can mess up.
Storing Tips
You can store the leftovers from the keto beef stroganoff in your fridge for 3-4 days. Simply place the leftovers either in an airtight container or wrap them up in some food wrap. This dish tastes best when warm, so remember to reheat it in the microwave before serving.
I would love to store this dish in the freezer, but unfortunately, it isn't freezer-friendly. Since the beef stroganoff is made with cream cheese and sour cream, I do not recommend freezing it.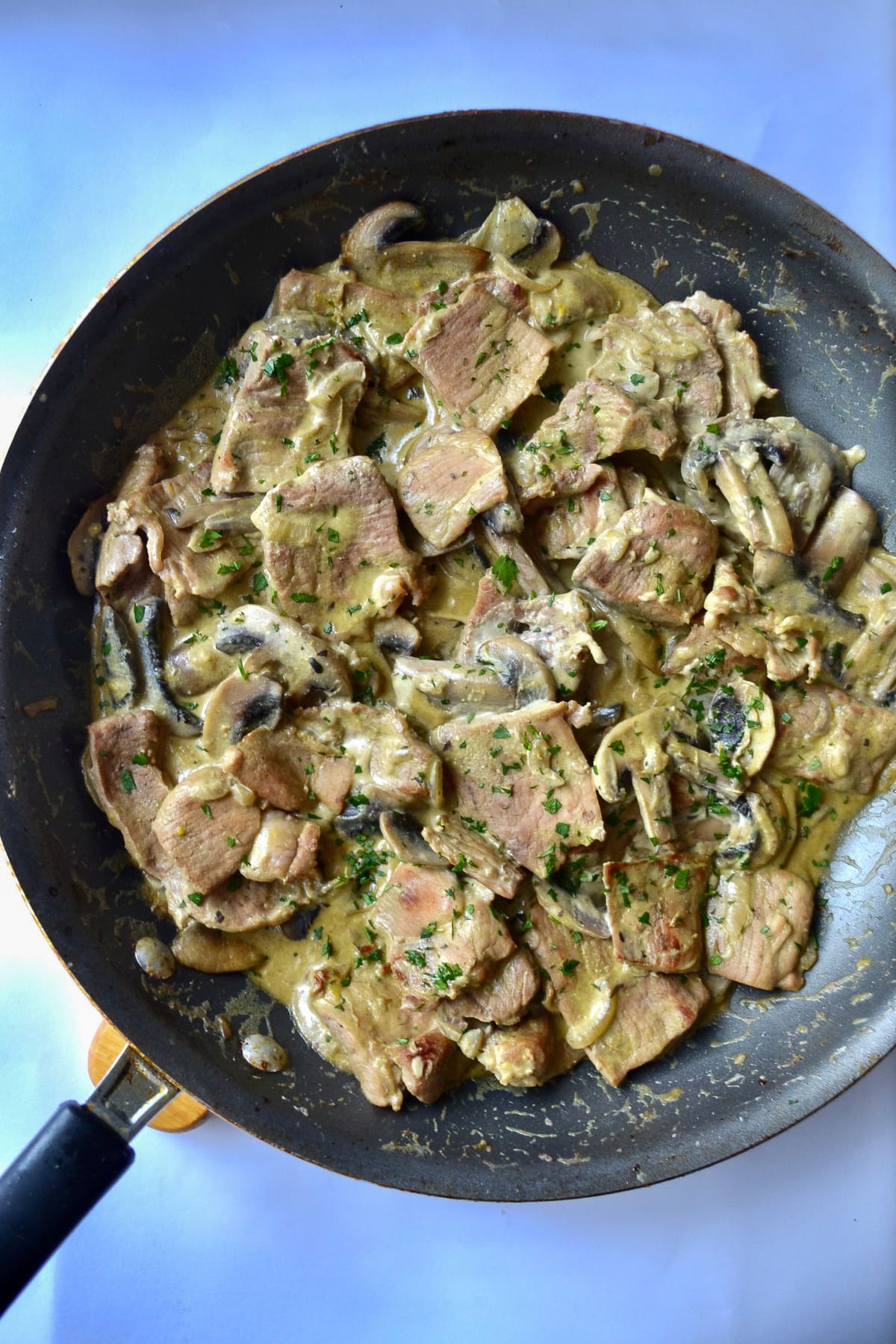 Serving Options
So, since keto dieters can't have the beef stroganoff with the usual noodles or mashed potatoes, there are a few delicious alternatives that you should try. Depending on your preferences, you can choose from:
Zucchini noodles
Cauliflower mash or rice
Broccoli mash
Fresh salad
Keto-friendly bread
Even though I enjoy all of those options, I've noticed that this beef stroganoff tastes best when accompanied either with some Air Fryer roasted Brussels sprouts or keto zucchini fritters.
Recipe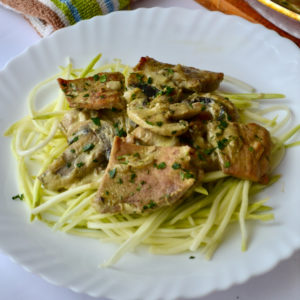 Keto Beef Stroganoff
Loaded with unforgettable flavor, this keto beef stroganoff is a perfect and comforting dinner option for your whole family to enjoy. In just 1 hour, you'll have juicy beef slices that are impossible to resist after being cooked in an incredibly creamy gravy.
Ingredients
1

lb

beef tenderloin

or boneless rib eye, thinly sliced

10

oz

mushroom

sliced

1

medium

onion

sliced

1

clove

garlic

minced

2

tbsp

olive oil

2

tbsp

butter

melted

1

oz

cream cheese

1

cup

beef broth

or water

½

tsp

dijon mustard

⅛

tsp

nutmeg

salt and pepper

to taste
Instructions
Remove excess fat from the beef and thinly cut it across the grain.

Place a large non-stick frying pan over medium heat and pour in the olive oil. Add the onions and mushrooms. Saute them for about 10-15 minutes, until the vegetables are soft (add a little splash of water if it starts to stick). Remove everything from the pan.

Place the butter in the frying pan. Then place the beef slices and fry them on each side for about 5 minutes. Pour in the beef broth, cover the pan with a lid, and simmer for 15 minutes.

Move the cooked mushrooms with onions back into the pan. Add the minced garlic, sour cream, cream cheese, dijon mustard, nutmeg, salt, and pepper. Stir everything. Cook for about 5-8 minutes, stirring occasionally.

Garnish with some chopped parsley and serve warm.
Nutrition
Calories:
434
kcal
Carbohydrates:
6
g
Protein:
24
g
Fat:
35
g
Saturated Fat:
13
g
Polyunsaturated Fat:
2
g
Monounsaturated Fat:
16
g
Cholesterol:
88
mg
Sodium:
321
mg
Potassium:
667
mg
Fiber:
1
g
Sugar:
3
g
Vitamin A:
109
IU
Vitamin C:
4
mg
Calcium:
37
mg
Iron:
3
mg