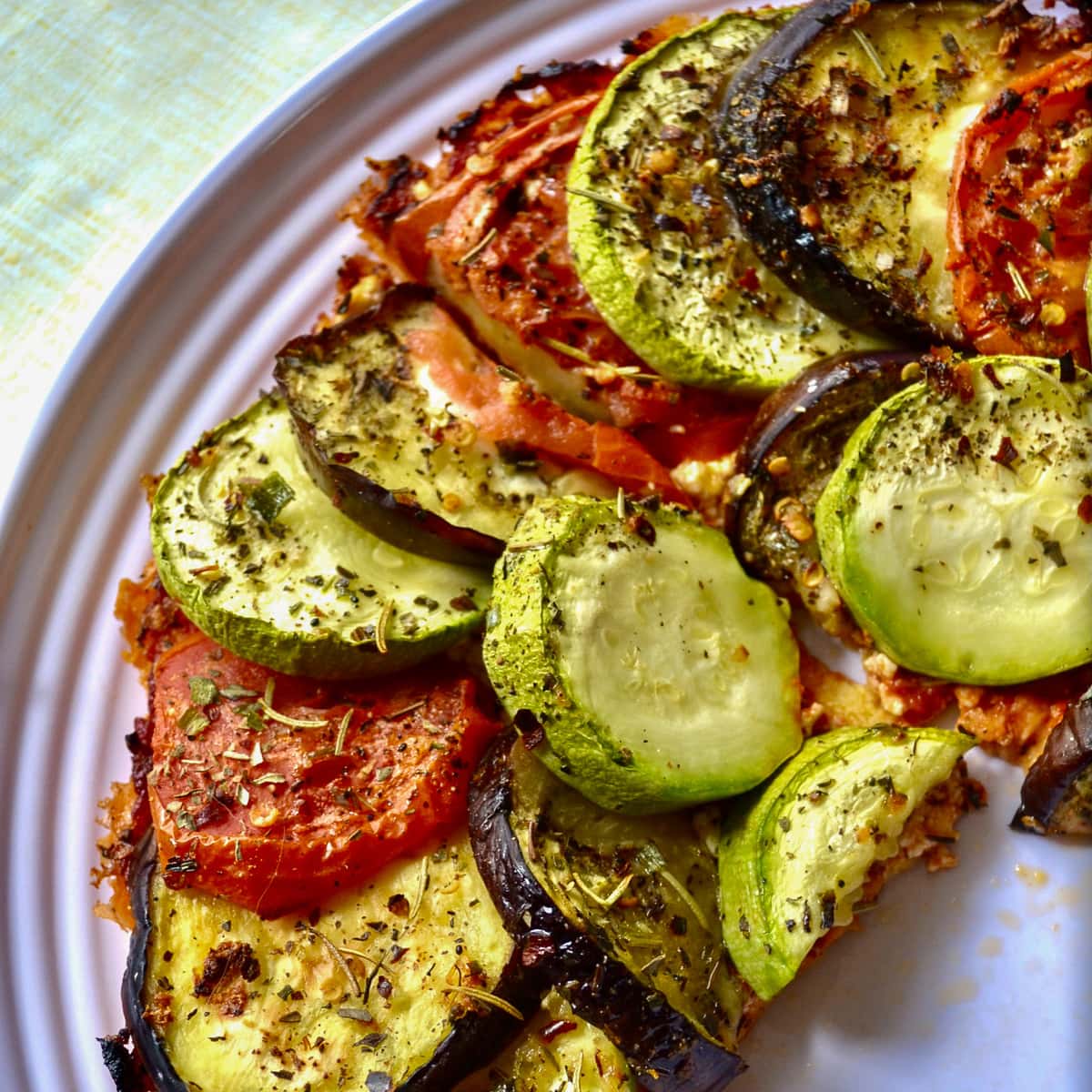 This ratatouille is keto-friendly and vegetarian. You can serve it either as a main dish or a side dish, and it's made from simple ingredients. This colorful meal is sure to become one of your family's favorites.
The main reason I love this ratatouille so much is that it has a pie crust. It's also made from low-carb ingredients, but it contains lots of irresistible cheese. Including the crust, one serving of this keto baked veggie ratatouille has less than 10 g of carbs.
If you have children, you can have lots of fun with them assembling and baking this meal. You can cut the veggies by yourself, but ask your child to help you assemble the ratatouille. It's pretty fun since the veggies are so colorful.
Table of Contents
What is Ratatouille?
Ratatouille is a traditional French dish. Initially, it was made from zucchinis, tomatoes, peppers, onions, and garlic. Later on, they started adding eggplants as well.
Many people learned about ratatouille only after watching Pixar's animated movie called Ratatouille. It's very similar to a vegetable stew, but because of the way the vegetables and sauce are assembled, it tastes completely different.
Why Is My Ratatouille Different?
I've made the traditional ratatouille more than a hundred times. But for this recipe, I decided to make it low-carb while adding a pie crust. Of course, it's not just any pie crust. It is cheesy, keto-friendly, and perfectly highlights the taste of the traditional ratatouille dish.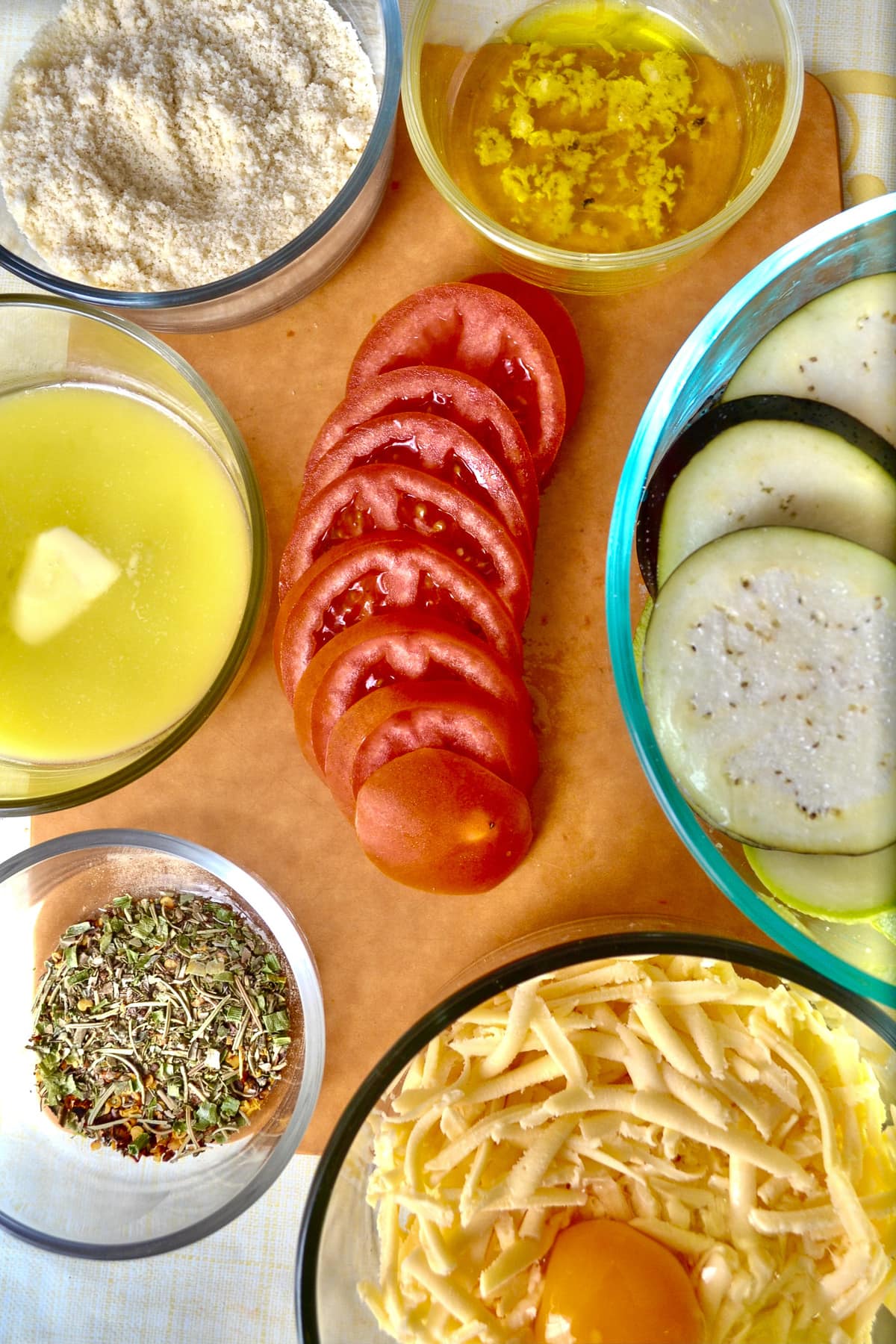 Also, to make the recipe a little easier, I chose not to use a complicated sauce. To save you some more time, I chose to use tomato paste instead of making a homemade ratatouille sauce.
But trust me—this ratatouille isn't in any way worse than the traditional one. The cheese pie crust, tomato paste, cottage cheese, and colorful veggies make the perfect low-carb ratatouille meal.
Useful Tips
While the process of making this low-carb ratatouille is incredibly straightforward, if this is your first time cooking something like this, you may have doubts and some questions when preparing this dish.
In that case, I've come up with some tips that may be useful for you when baking the keto ratatouille:
Drain the excess liquids from the eggplant and zucchini slices. This step is essential for the ratatouille to not be watery. To do this, simply slice the veggies, add some salt, and set it aside for 10-15 minutes. Then, place the vegetable slices on a paper towel and let it absorb the juices.
If you want an even more low-carb option, skip the pie crust. It will be just a veggie-only ratatouille.
Cover it with foil for softer vegetables. I like to make the vegetables crispy, but if you want them to be softer, you can cover the casserole dish with baking foil before putting it in the oven.
How to Store and Freeze It
You can store this low-carb ratatouille in the refrigerator for up to 6 days. You can either serve it right from the fridge or warm it up briefly in the microwave. Both ways are delicious.
If you want to freeze the ratatouille, there are some things you need to know first. Technically, you can freeze the ratatouille, but you should do it has already been baked. If you freeze the ratatouille with raw vegetables in it then bake after freezing, it will be almost impossible to eat.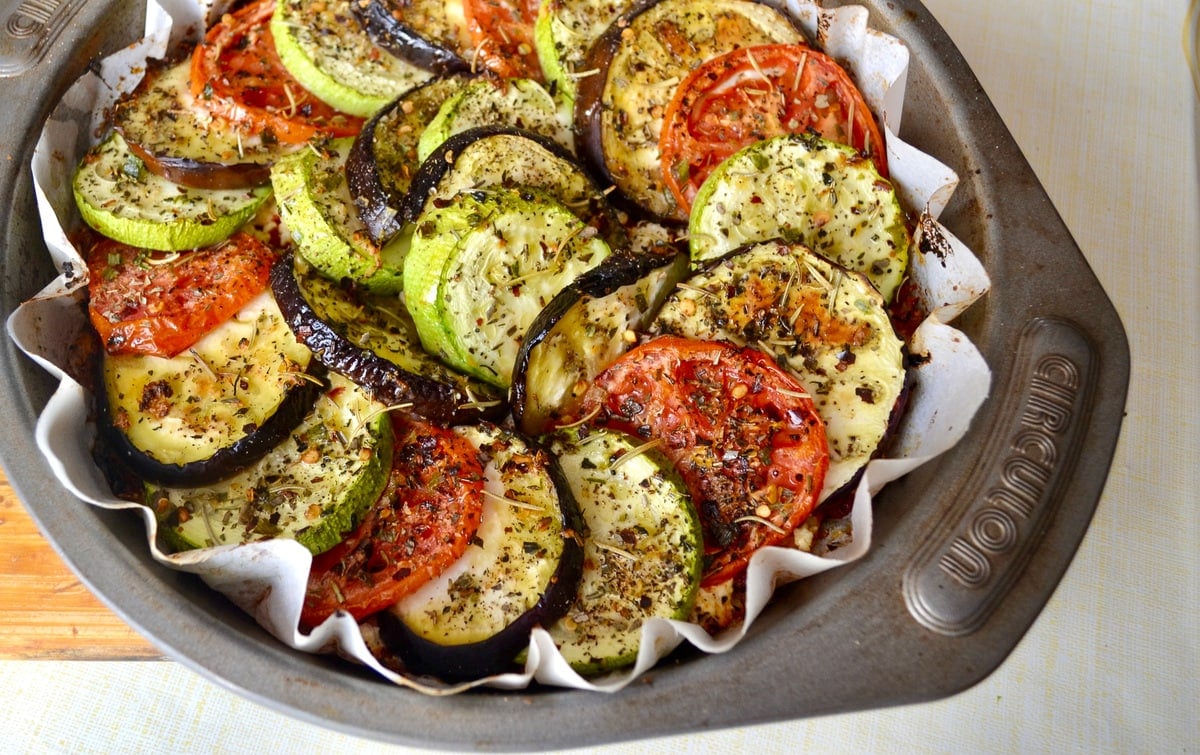 Serving Options
You can serve this keto ratatouille both as a main dish or a side meal. If you choose the first option, then you can easily eat even two servings of this dish. But if you're counting calories, it is best to check that you don't go over your daily limit.
If you wish to serve this ratatouille as a side dish, it will go perfectly with some meat. Here are some delicious low-carb options that you can try out:
Recipe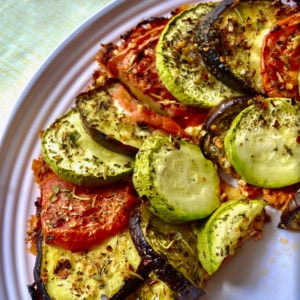 Keto Baked Veggie Ratatouille
This ratatouille is keto-friendly and vegetarian. You can serve it either as a main dish or a side dish, and it's made from simple ingredients. This colorful meal is sure to become one of your family's favorites.
Ingredients
For the crust:
5

oz

mozzarella cheese

shredded

2

tbsp

almond flour

1

large

egg

2

tbsp

melted butter

salt to taste
For the filling:
1

small

eggplant

1

small

zucchini

1

medium

tomato

1

tbsp

tomato paste

4

tbsp

cottage cheese

3

tbsp

olive oil

2

cloves

garlic

minced

Italian seasoning blend

(½ tsp oregano, ½ tsp rosemary, ½ tsp basil)

salt and pepper to taste
Instructions
Preheat the oven to 375 F.

Slice the vegetables. Put the zucchini and eggplant slices in a separate bowl, salt them, and set them aside for the excess liquids to drain. Then, place the vegetables on a paper towel to remove excess water.

In a bowl, combine all of the ingredients for the crust—mozzarella, almond flour, large egg, melted butter, and some salt. Take a round or oval casserole dish, cover the bottom with parchment paper, and spread the batter. (Note: don't worry if the batter is a bit runny, that's how it should be.)

Bake for about 10 minutes, until it turns slightly brownish.

Take it out of the oven, spread the tomato paste over the cheesy bottom, and sprinkle it with the cottage cheese. Arrange the vegetable slices.

In a small bowl, mix the olive oil with minced garlic, and pour over the vegetables. Sprinkle with seasoning and pepper.

Bake for about 35 minutes. Wait a couple of minutes before cutting the ratatouille.
Nutrition
Calories:
246
kcal
Carbohydrates:
9.1
g
Protein:
11.4
g
Fat:
20.7
g
Saturated Fat:
7
g
Trans Fat:
1
g
Cholesterol:
61
mg
Sodium:
255
mg
Potassium:
347
mg
Fiber:
3
g
Sugar:
5
g
Vitamin A:
604
IU
Vitamin C:
9
mg
Calcium:
153
mg
Iron:
1
mg