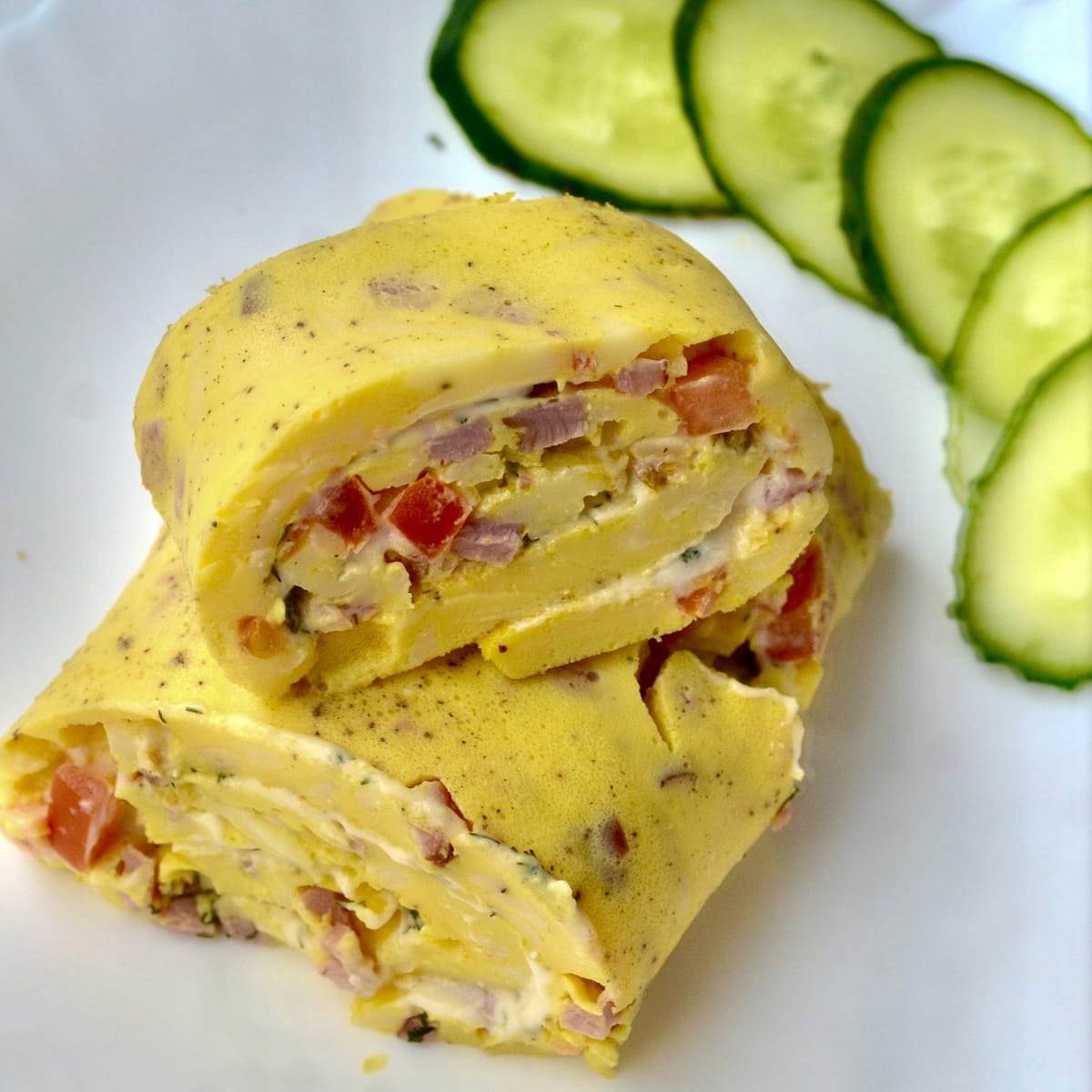 This keto baked omelet roll is a great breakfast dish loaded with cheese and ham. And, this recipe is highly customizable, so you can choose whether you want to add any vegetables to the egg roll or not.
The reason I like this keto omelet so much is that it should be baked in the oven. So it won't take much of your time, and you don't need to stand around making sure that it won't burn. Simply place a timer on your oven, and it will tell you when the keto omelet roll is ready.
Everything about this recipe is keto-friendly: one serving of the omelet contains only 6 grams of carbs. It is up to you to choose what to place inside the omelet, but if you do everything as described in this recipe card, there's no need to worry about the meal's nutrition since it is perfectly thought out.
Jump to:
Here's What Makes This Omelet Stand Out
You may be wondering: "What makes this keto omelet better than the others?" If you try making this omelet at least once, you'll see that the answer lies in its texture and taste. Thanks to the heavy cream and mozzarella cheese that you add to the eggs, the baked omelet will melt in your mouth.
Also, this baked omelet roll is completely keto-friendly. It contains no flour, starches, or any other ingredients that can increase the number of carbs in this meal.
And since it is quite versatile, you can use this recipe as the basis and experiment with the flavors. This way, you'll get a different and delicious omelet roll every time.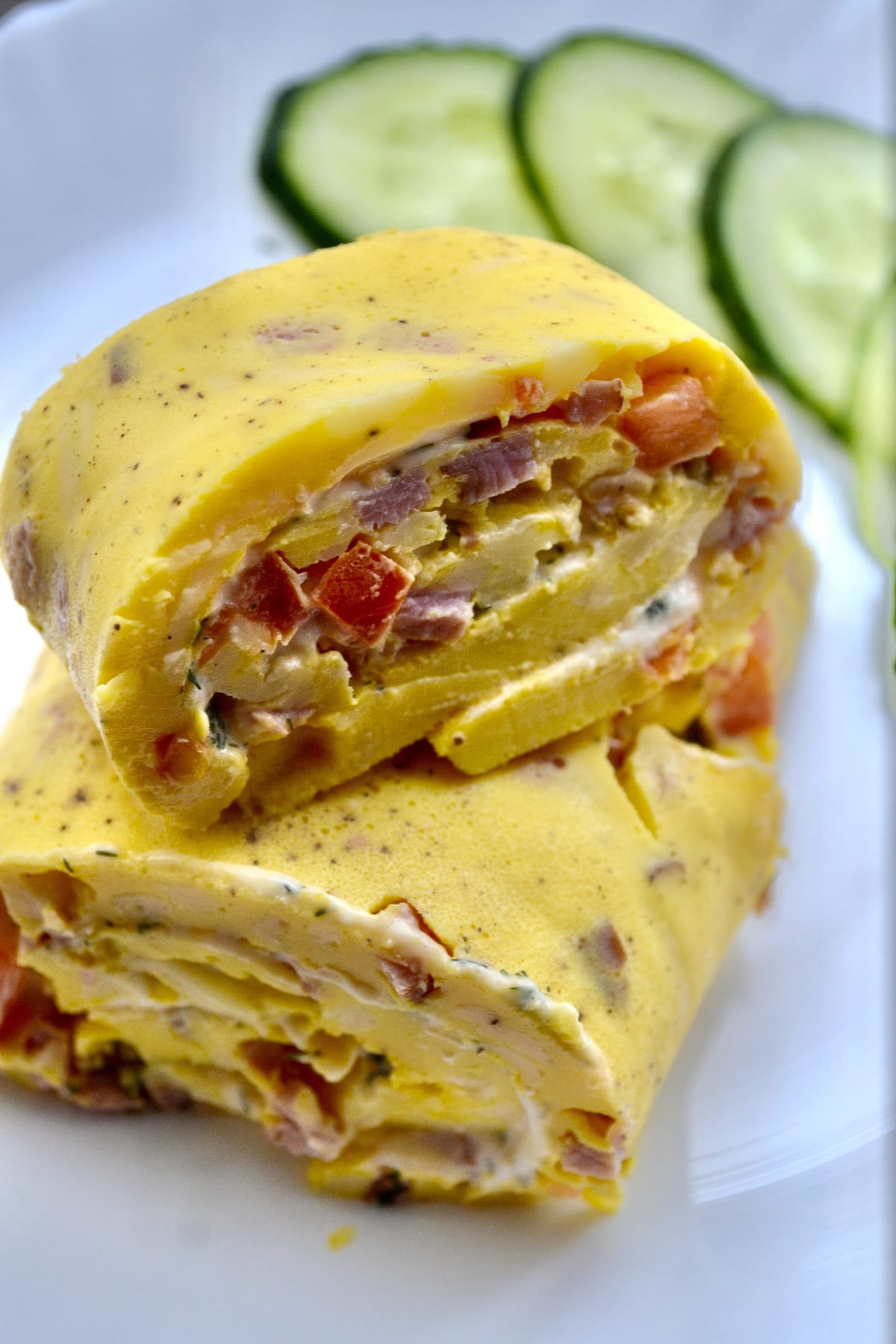 Low-Carb Omelet Baking Tips
If you have some doubts about this recipe or need guidance on how to make sure that you get the baked omelet right from the start, here are some tips that might help you:
Choose the right baking pan. For this recipe, I chose a 7x12-inch pan. If you don't have a pan of this size, you can adjust the recipe ingredients for a smaller or larger baking pan. Use fewer eggs if you have a smaller one, and if your baking pan is larger than mine, simply add one or two more eggs into the omelet.
Use a non-stick baking pan. Even if the baking pan that you own is a non-stick one, I still recommend adding some olive oil or any other oil to make sure that the omelet doesn't stick to the pan and rolls perfectly. If you worry that the omelet will stick to the pan, you can use parchment paper to ensure that everything goes as it should.
Feel free to experiment with the fillings. You can use any type of keto-friendly cheese, various meats such as ham, ground beef, chicken, etc. You can also add more veggies such as spinach, mushrooms, olives, onions, bell pepper, or any other vegetable that you like.
Spice things up. You can add almost any type of seasonings and spices to this omelet. If you want to add some heat to it, I'd recommend adding some Cayenne pepper.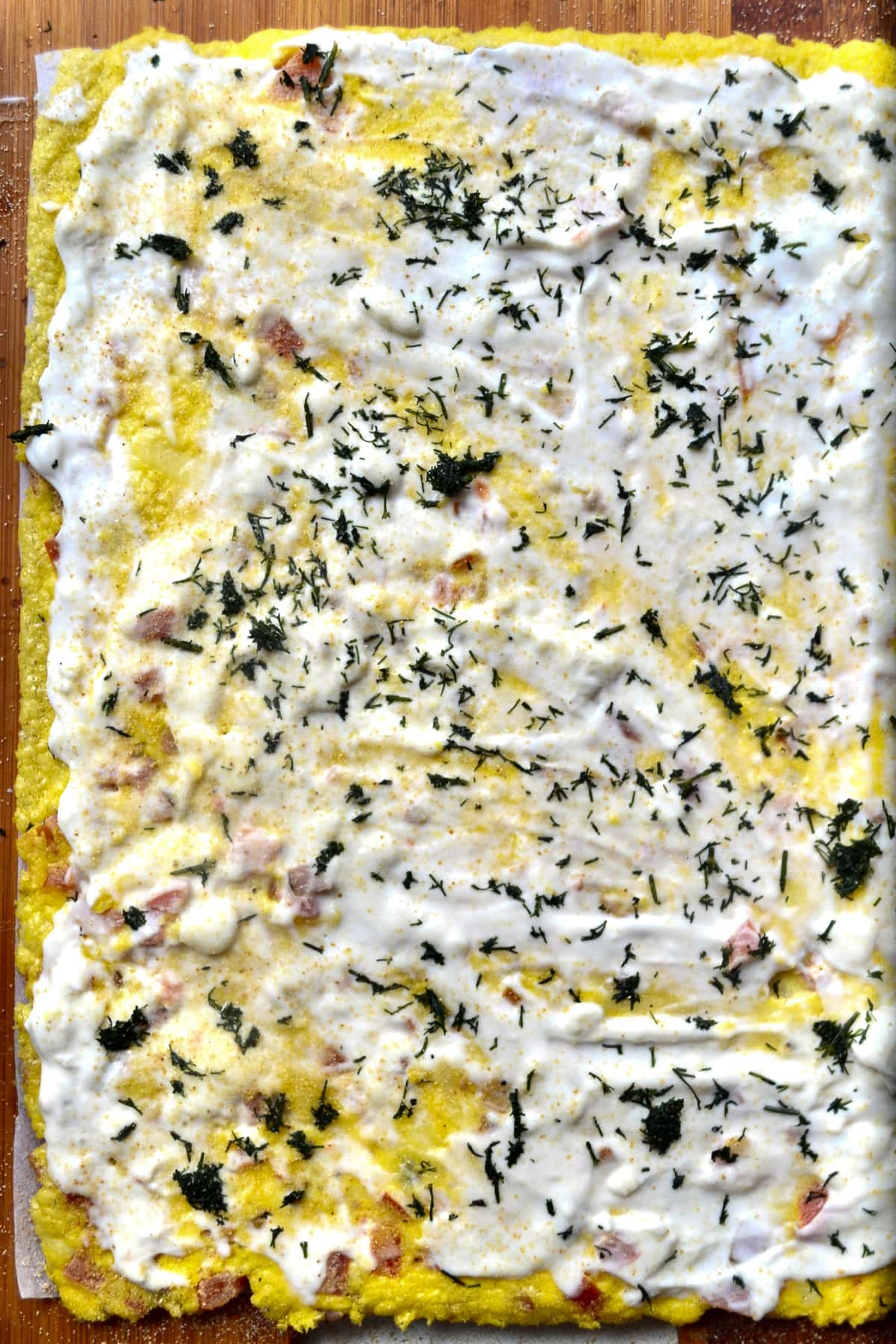 Make It on a Frying Pan
If you feel that it would be easier for you to cook the omelet on a frying pan, you can definitely do it. However, it is best to have a non-stick rectangular pan instead of the usual round one. It will be much easier for you to roll it.
If you choose to cook the low-carb omelet on a frying pan, then mix the eggs in a bowl, add all of the necessary ingredients except for the mozzarella cheese, and start cooking.
Heat some olive oil on the frying pan, add just enough omelet mixture to cover the bottom of the frying pan, and cook until it isn't runny anymore. Add some of the shredded mozzarella cheese, then use a spatula to roll the omelet about two times and move it to one side of the pan.
Add some more of that mixture so that it covers the bottom of the pan. Make sure that the newly added egg mixture goes under the cooked ground omelet so that the layers stick together. Sprinkle it with mozzarella cheese and roll the omelet. Repeat this step until you've used up all of the omelet mixture.
Let the omelet roll cool down a bit before cutting and serving it.
Other Low-Carb Breakfast Egg Recipe Ideas
Eggs are a perfect way to start the day. The benefits of eating them are never-ending: eggs are a fantastic protein source, they are nutrient-dense, and help to keep your energy levels up throughout the day.
If you're looking for something interesting to try out, but want it to be low-carb and have eggs in it, here are some of my favorite keto breakfast recipes:
Recipe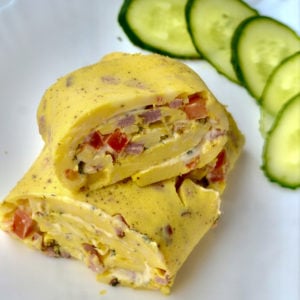 Keto Baked Omelet Roll
This keto baked omelet roll is a great breakfast dish loaded with cheese and ham. And, this recipe is highly customizable, so you can choose whether you want to add any vegetables to the egg roll or not.
Ingredients
5

large

eggs

4

tbsp

heavy cream

3

oz

mozzarella cheese

shredded

½

tomato

chopped

2

oz

ham

chopped

2

oz

cream cheese

1

tbsp

olive oil

salt and pepper

to taste
Instructions
Prepare a 7x12-inch baking pan and preheat the oven to 350 F.

In a bowl, whisk up the eggs with heavy cream.

Add the shredded mozzarella cheese, chopped vegetables, salt, pepper, and other spices that you prefer.

Pour in the omelet mixture on the baking pan and cook it in the oven until the eggs are not runny anymore. This should take about 15-20 minutes.

Let the omelet cool down a bit before rolling it. Then, use a spatula to loosen the edges of the omelet from the pan. Place the cream cheese over the whole omelet, sprinkle it with dill (optional), then roll it.

Cut the omelet and then serve.
Nutrition
Calories:
579
kcal
Carbohydrates:
6.1
g
Protein:
29.2
g
Fat:
49.2
g
Saturated Fat:
25
g
Trans Fat:
1
g
Cholesterol:
588
mg
Sodium:
885
mg
Potassium:
420
mg
Fiber:
1
g
Sugar:
3
g
Vitamin A:
2040
IU
Vitamin C:
4
mg
Calcium:
337
mg
Iron:
3
mg