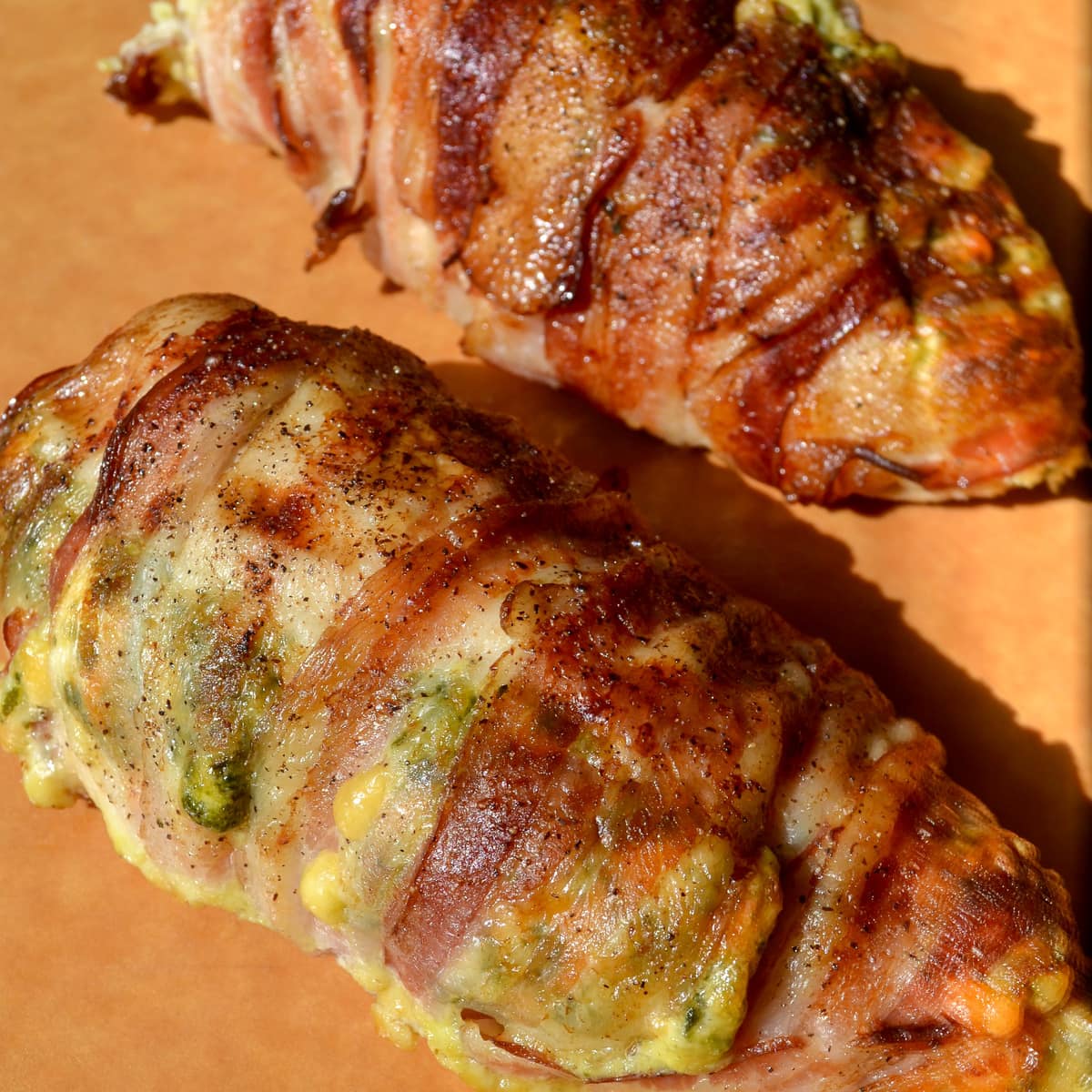 If you are a bacon lover, then giving this keto cream cheese stuffed chicken a try is a must. This is an ideal dinner option — high fat, low carb, and delicious. The whole family is sure to love this flavorful meal.
All you'll need for this keto dinner are two main ingredients and a few others for the stuffing. And by using different spices and herbs, you can adjust it to your own taste.
You will have to put some effort into making this dinner, but it's worth it. You will need 10 minutes to prep everything, then you can just sit back and wait for the oven to finish its job.
If you're worried that you might fail to cook this bacon-wrapped chicken right, read on to learn a few of my secrets.
Table of Contents
Is It Keto-Friendly?
Yes! Every ingredient used in this recipe is compatible with the keto diet. The main ingredient, chicken, is loaded with protein and low-carb.
The other ingredients that bring more fat to the recipe are bacon, mozzarella, and cream cheese. Topped off with some olive oil, the end result will turn out with a perfect fat to carb ratio. Plus, 2.1 grams of carbs is perfect for a keto dinner.
What Spices And Herbs to Add?
Let your imagination run wild with this one.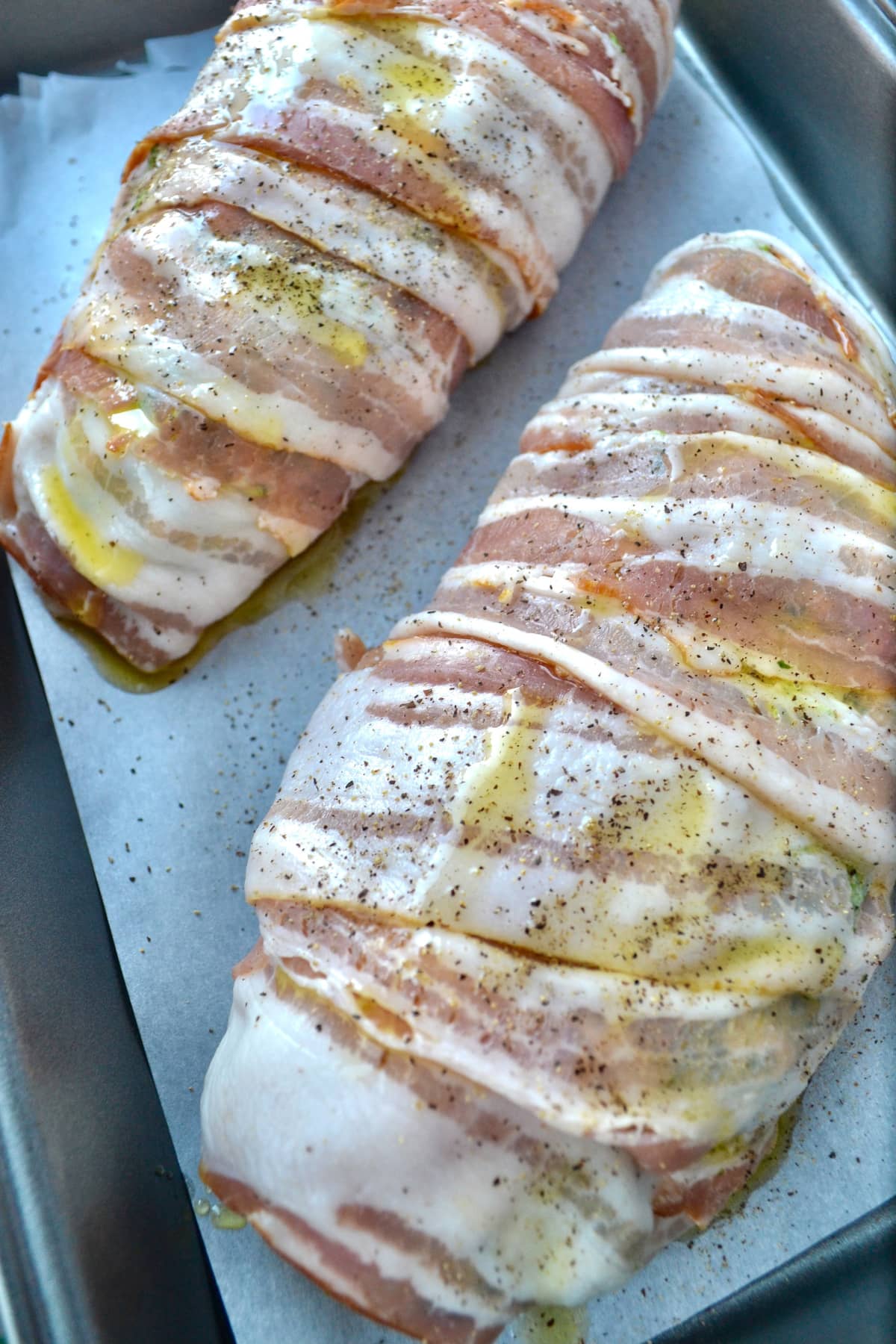 My personal favorite spices and herbs to go with this bacon-wrapped chicken are garlic powder, smoked paprika, and a dash of basil. Since the filling for this chicken includes spinach, such a blend of spices will combine perfectly.
If you wish to add some more veggies into the stuffing, then chopped broccoli should do the trick.
A Few More Tips
If you've made stuffed chicken before, then you should have no issues with cooking this one. But if this will be your first time, here are some tips that may help you with it:
Don't cut the chicken all the way through. You need to be very careful when cutting the chicken breast. There have been multiple times when I failed to stop where needed and ended messing up the chicken.
Hold the stuffed chicken breast in your hands to wrap it up with bacon. I that the easiest way to do this is by holding the chicken breast in one hand and wrapping it with bacon using the other.
Drizzle olive oil over the bacon wrap before placing it into the oven. Even though bacon does release lots of fat when cooking, if you drizzle the top of the bacon-wrapped chicken with some olive oil, it will make it crispier. Also, you can broil your chicken for the last two minutes of baking for that extra crispiness.
Secure the bacon with a toothpick. If it's bothering you that the bacon sticks out a bit, you can use a toothpick to make sure that it stays close to the chicken. Just don't forget to take it out before serving!
If you want your chicken to turn out soft, beat it with a meat tenderizer before stuffing it. Place the cut chicken breast on a wooding cutting board, cover it with plastic wrap, and pound it in a circular motion. In case you don't have a meat tenderizer, a rolling pin will do fine.
Also, if you prefer to use an air fryer instead of the oven, you can definitely do that. Just cut the chicken breast into two pieces before stuffing it so that it won't be as thick. Then, you can cook them in the air fryer for about 30 minutes.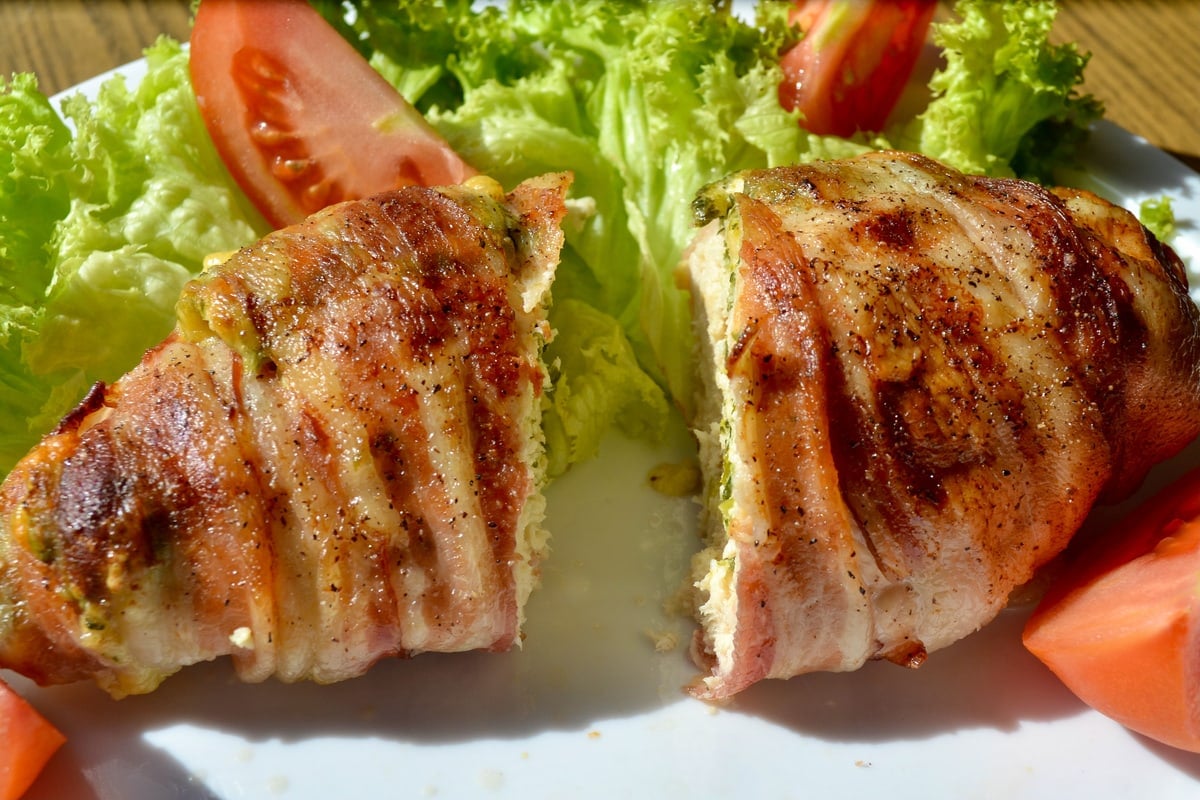 How to Serve the Stuffed Chicken
Many side dishes are perfect for this meal:
Fresh salad with some olive oil and lemon juice
Cauliflower puree
Sauteed/steamed veggies
Butter mushrooms
Roasted Brussel sprouts
Garlic knots
The options are never-ending. But if you strictly follow a certain daily calorie count, then you need to be careful that you don't go over it.
Use This Recipe For Meal Prep
I really like to use this recipe for meal prepping. It can save you a lot of time, and trust me, you'll find it very convenient to have one or two bacon-wrapped chicken breasts stored in your freezer.
You have two options when it comes to freezing this meal — do it before baking or after. If you choose the first one, then you'll need to cook it after freezing. Preheat the oven to 375F and leave it there for 50 minutes.
If you choose to freeze the keto cream cheese stuffed chicken after it has been baked, then whenever you need to serve it, simply place the chicken in the microwave and choose the defrost mode.
You can store the keto stuffed chicken for up to 3 months in the freezer.
Recipe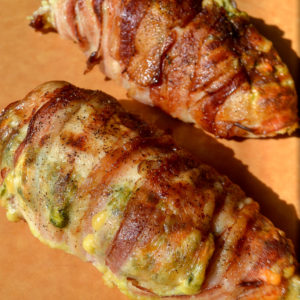 Keto Bacon-Wrapped Cream Cheese Chicken
This is an ideal dinner option — high fat, low carb, and extremely delicious! The whole family is sure to love this flavorful meal.
Ingredients
2

chicken breast

2

oz

mozzarella cheese

shredded

2

oz

cream cheese

3

oz

spinach

1

egg

8

bacon slices

1

tbsp

olive oil

salt, pepper, spices, and herbs to taste
Instructions
Preheat the oven to 375 degrees F.

Mix together the egg, shredded mozzarella cheese, cream cheese, spinach, salt, pepper, and spices.

Cut open the chicken breast (but do not cut through). Salt and pepper the chicken breast from all sides. Stuff it with the cheesy mix.

Wrap 4 slices of bacon around each chicken breast. If needed, secure with a toothpick.

Place the chicken breasts on a baking pan lined with parchment paper, then drizzle with olive oil. Bake for 45 minutes.
Nutrition
Calories:
445
kcal
Carbohydrates:
2.1
g
Protein:
41.2
g
Fat:
30.6
g
Saturated Fat:
12
g
Trans Fat:
1
g
Cholesterol:
169
mg
Sodium:
589
mg
Potassium:
669
mg
Fiber:
1
g
Sugar:
1
g
Vitamin A:
2390
IU
Vitamin C:
7
mg
Calcium:
121
mg
Iron:
2
mg