I adore the French press because it's so simple. There isn't much to it, but it can still produce some of the tastiest coffee of your life.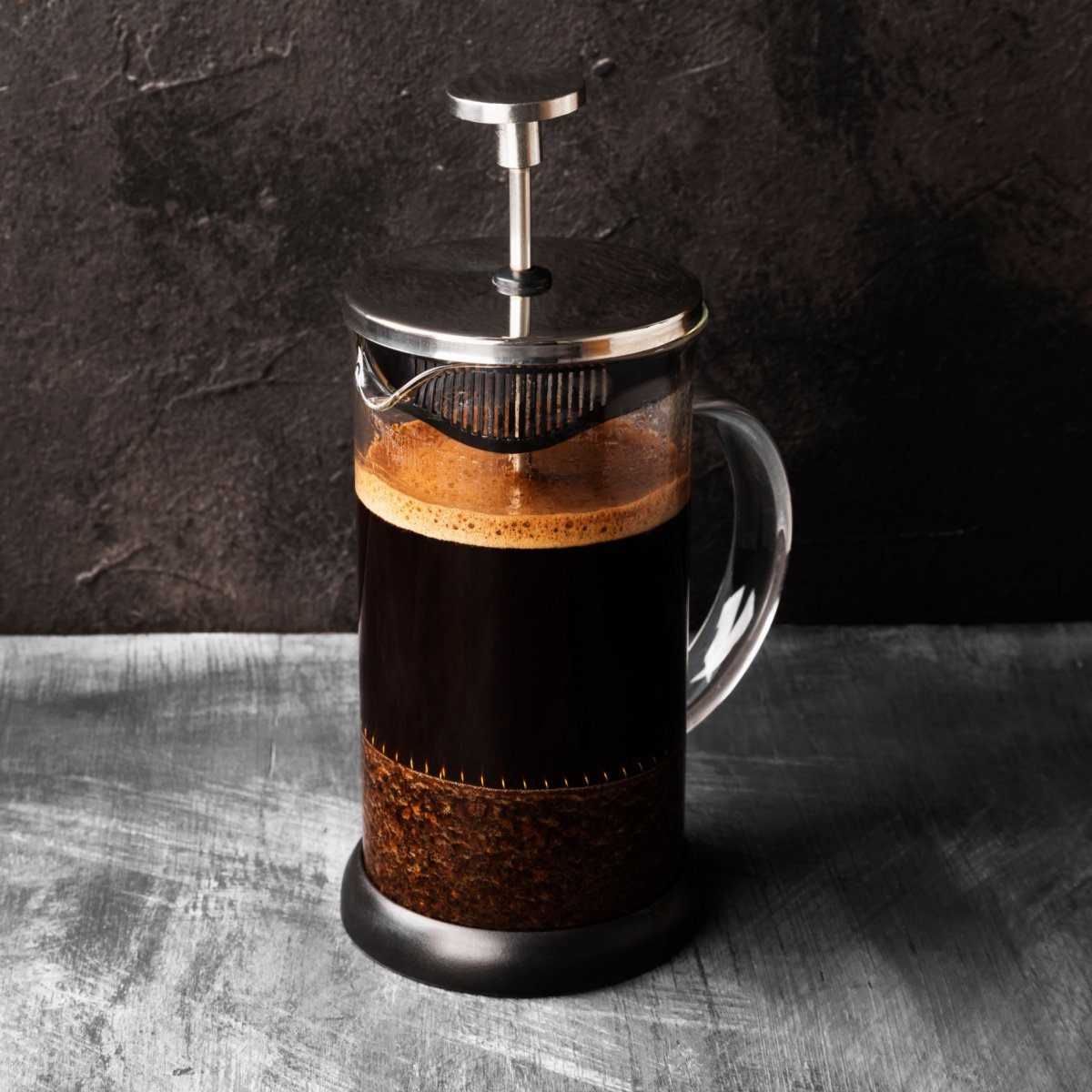 The catch? You have to put in a little bit of work to get out the best results.
Luckily for you, I've been using and trying different recipes with my French press for years.
And I finally landed on one that takes the cake.
In this article, I'll explain every aspect of James Hoffman's French press coffee recipe and give you a step-by-step explanation so you can follow along at home.
But first, we have to ask, who exactly is James Hoffman?
Table of Contents
Who Is James Hoffman?
James Hoffman is what can only be described as a coffee influencer.
He won the World Barista Championship in 2007, started a Square Mile Coffee Roaster, and wrote The World Atlas of Coffee.
In short, he actually knows what he's talking about. That's why I feel so comfortable sharing his French press recipe.
And if you're still unsure about James Hoffman, I can tell you that I've been using this recipe for months and months, and I still believe it's the best French press recipe I've ever used.
But I would encourage you to try it out for yourself!
James Hoffman's French Press Coffee Recipe
I've been using this ever since I first came across it a while ago. And I use it every single time I brew up a French press.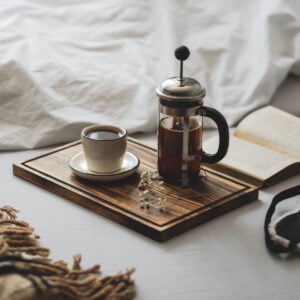 James Hoffman French Press
James Hoffman's brewing recipe might seem a little unorthodox, but trust me, it works. I've been using it for years, but I still think it makes some of the best-tasting coffee I've ever made.
Equipment
French Press - To follow along with James Hoffman's measurements, you'll need a medium-sized French press in the 6-8 cup range.

kettle - A normal tea kettle or electric water kettle will do.

kitchen scale - You can use a regular kitchen scale or a coffee scale, but make sure it's accurate. James uses weight as a measurement instead of volume.

2 spoons - These can be regular spoons.
Ingredients
700-900

grams

filtered water It's best to use filtered tap water because too many minerals in your water can lead to a bad cup.

30

grams

freshly ground coffee You can use any coffee you want.
Instructions
Set water to boil. You need at least 500 grams, but boiling 700-900 grams is best.

Measure out and grind 30 grams of ground coffee. Use a medium to medium-coarse grind.

Put the ground coffee in the carafe and place the carafe on the scale.

Once boiling, pour 500 grams of water into the carafe. Unlike other coffee recipes, the pour itself isn't important. Just get all 500 grams into the French press.

Wait 4 minutes.

Break the crust. Here's where the spoons come in. Use one of the spoons to break the crust that forms on top of the coffee.

Scoop off the foam. Then, use both spoons to scrape up the foam that formed after you broke the crust.

Wait 8-10 minutes. Have patience! I know many other French press recipes only brew for 4-6 minutes, but wait a little longer for the best results.

Insert the plunger—but don't plunge! Simply rest the filter on top of the coffee, but don't press the plunger.

Pour and enjoy!
Notes
Black coffee has virtually zero calories. But, the USDA claims that an 8-ounce mug of black coffee has approximately 2.4 calories.
Nutrition
Calories:
2.4
kcal
Sodium:
18
mg
Calcium:
11
mg
Pro Tips
If you want to make this recipe your own, here's a section of pro tips on how you can go about dialing in your recipe even more.
Use a timer. Using a timer is a great way to take more control over your brews. Using a scale means you can be more precise and consistent from brew to brew.
Check your boiling temperature. Did you know that coffee brews best at 195-205 degrees Fahrenheit, but water boils at 212 degrees Fahrenheit at sea level? So, if you make coffee at or near sea level, wait 30 seconds or so before starting your brews. However, if you live at an elevation, water boils at a lower temperature. You might be alright to brew straight off the boil.
Try different coffees. My absolute favorite part about coffee is that there are so many different coffees to try

. It's worth going to your local shop and asking your baristas what they are drinking at the moment and trying something new!