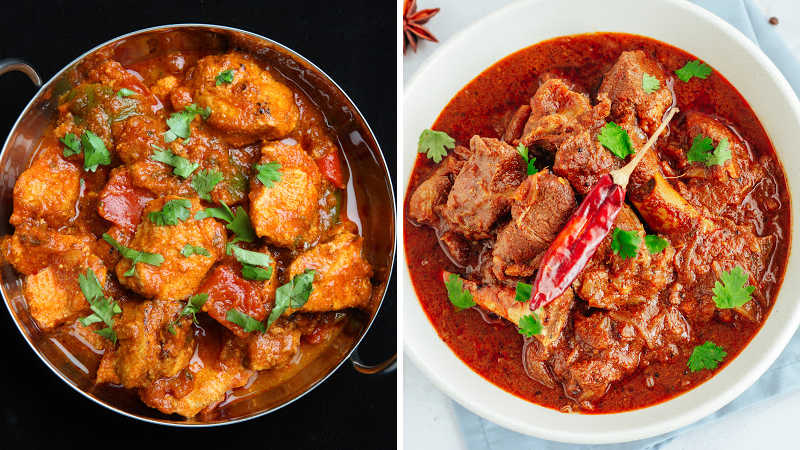 Jalfrezi and vindaloo are two of the hottest Indian curries on offer. But how do they differ and which one is best for you? We've created this ultimate comparison guide; it looks at how these two delicious, spicy dishes are similar and different.

Table of Contents
What is the difference between Jalfrezi and Vindaloo?
Jalfrezi and vindaloo are both hot, thick curries that are packed with spicy flavor. However, jalfrezi often has green chili and bell pepper added for a fresh, slightly sweet addition. Vindaloo has a spicier depth of flavor and is cooked by simmering in the sauce, rather than stir-frying.
Commonly used ingredients
Jalfrezi is a curry dish that stir-fries marinated meat in oil with vegetables and spices like garlic, ginger, cumin, and cloves. Fresh chilis are added along with a thick sauce, resulting in a hot and spicy meal.
Vindaloo is a fiery curry made from a mélange of flavorful ingredients like paprika, jalapenos, cumin, and garam masala. Meat, poultry, or pork is marinated and then cooked briefly before simmering in the sauce.
What's similar about vindaloo and jalfrezi curry?
Vindaloo and jalfrezi are both Indian curries that have a thick consistency and can range from medium to eye-watering hot. Both curries go well with basmati rice and they pair well with many ingredients like meat, chicken, paneer, fish.
Although different restaurants have their own blend of spices, both curries almost always use cumin, chili, garam masala, turmeric, and garlic.
Is jalfrezi or vindaloo hotter?
While there is a range of responses to this question, most would agree that vindaloo is hotter than jalfrezi. Keep in mind that heat levels for either of these curries will vary depending on factors like who cooks it, choice of ingredients, and whether cooling yogurt or cream is added.
Also worth a read:
Thai vs. Indian curries - which is best?
Read our in-depth comparison of Japanese and Indian curry.
Comparing the origins
Jalfrezi used to be a cooking method, meaning to hot-fry (or stir-fry). This all changed during the era of the British Raj in India. Indian cooks would heat leftover meat and vegetables like potatoes using the "jalfrezi" method. Over time, restaurant chefs in Bengal developed their own version of jalfrezi. It pan-fried onions, chilis, and green peppers with beef, lamb, chicken, paneer, fish, or more vegetables.
The vindaloo curry that has grown popular around the world originated in Goa, India. In the 1600s Portuguese traders came to India and introduced a new ingredient, chili. This allowed Indian cooks to increase the hotness of their food. Vindaloo was one of the recipes based on the influence of Portugal.
Interesting reading:
Get a handy comparison of butter chicken and tikka massala.
How does saag and palak paneer compare?
Summary comparison table
| Factor | Jalfrezi | Vindaloo |
| --- | --- | --- |
| Consistency | Thick, dry sauce | Thick, dry sauce |
| Popular spices | Garlic, green chilis, red chilis, cumin, cilantro, turmeric, garam masala | Chilis, ginger, garlic, garam masala, paprika, turmeric |
| Flavor | A hot flavorsome curry that often includes bell pepper and green chili for freshness. | A curry that ranges from hot to fiery and sometimes has potato added |
| Popular hero ingredient | Beef, lamb, chicken, paneer, fish, vegetables | Beef, goat, lamb, chicken, fish, vegetables |
| Served with | Basmati rice, pickle, naan bread, chapati, raita | Basmati rice, pickle, naan bread, chapati, raita |
| Popular vegetables | Bell pepper, onion, tomatoes, cabbage | Tomatoes, potato (non-traditional) |
| Spice levels | Hot to very hot | Hot to very hot |
| How is it made | Marinated meat is pan-fried then sauce is added with fresh chilis and bell pepper | Meat is cooked with aromatic spices then simmered in coconut milk |
| Origin | Bengal, India | Goa, India |
What can I serve with a vindaloo or jalfrezi curry?
Vindaloo and jalfrezi are both very hot curries so it's essential to serve them with sides that'll provide relief from the heat.
Mango, beet, amla, or carrot pickles are sweet and tangy, providing some cut-through from a hot curry.
While any rice is fine, basmati is especially popular in Indian cuisine. The long, free-flowing grains are perfect for helping to soak up the sauce.
Fresh garden salad is a colorful, healthy choice that will brighten the meal.
Any bread is fine, but we recommend naan or roti which is ideal for scooping up leftover sauce.
Lassi is India's answer to the milkshake. A refreshing, sweet yogurt-based beverage that often includes mango.
Chilled white wine also counters the heat from an Indian curry.
Jalfrezi vs. various curries
| Comparison Curry | How Does It Differ? |
| --- | --- |
| Vindaloo | Jalfrezi is usually a little less spicy and has additional fresh ingredients. |
| Madras | Madras can get fiery hot like jalfrezi but it has a more dominant taste of fenugreek, cumin, and cilantro (coriander). |
| Rogan josh | Rogan josh is mild in comparison to jalfrezi but uses Kashmiri chili to give it a mouth-watering dark red shade. |
| Tikka masala | First created in Northern India, Tikka has less heat than jalfrezi and has a unique flavor as it gets cooked in a Tandoor oven. |
| Korma | Kormas are usually milder than a jalfrezi and have a rich, creamy consistency. |
| Bhuna | Bhuna ranges from medium to hot in spiciness; it is often runnier and has less chunky vegetables than a jalfrezi. |
| Karahi | Also known as Kadai, a karahi curry is usually medium to hot in spice level and has lots more garlic, red chilis, and ginger than jalfrezi. |
| Biryani | While jalfrezi is a thick saucy curry, biryani is a spicy rice dish with meat or vegetables added. |
Related reading:
A comparison of jasmine and basmati types of rice.
Korma paste replacements in the kitchen.
Urad Dal substitutes that work deliciously well.
Summing up
When it comes to curry comparisons, vindaloo and jalfrezi aren't too far apart. If you can handle hot, spicy food then you'll probably enjoy either. For people who love meat or chicken in a smooth sauce then vindaloo is a great option. If you enjoy sauce with added vegetable pieces like bell pepper (capsicum) or green chilis then jalfrezi may be the best choice.
As we always mention when comparing curries, they'll vary by country, restaurant, and chef. To muddy the waters further, curry spice mixes and pastes sold in the grocery store are usually a lot tamer than the restaurant version.
If you're cooking at home and you're short on time, consider making jalfrezi. It's a quick dish to prepare and doesn't require the simmering time that vindaloo does.
Like ice cream, we think curries can be broken into two categories: good and great. Whether you choose a jalfrezi or vindaloo, you'll find they're both winning meals.