Pomegranates are among the tastiest fruits there are. However, you should reduce your pomegranate consumption if you have GERD or are experiencing frequent heartburn.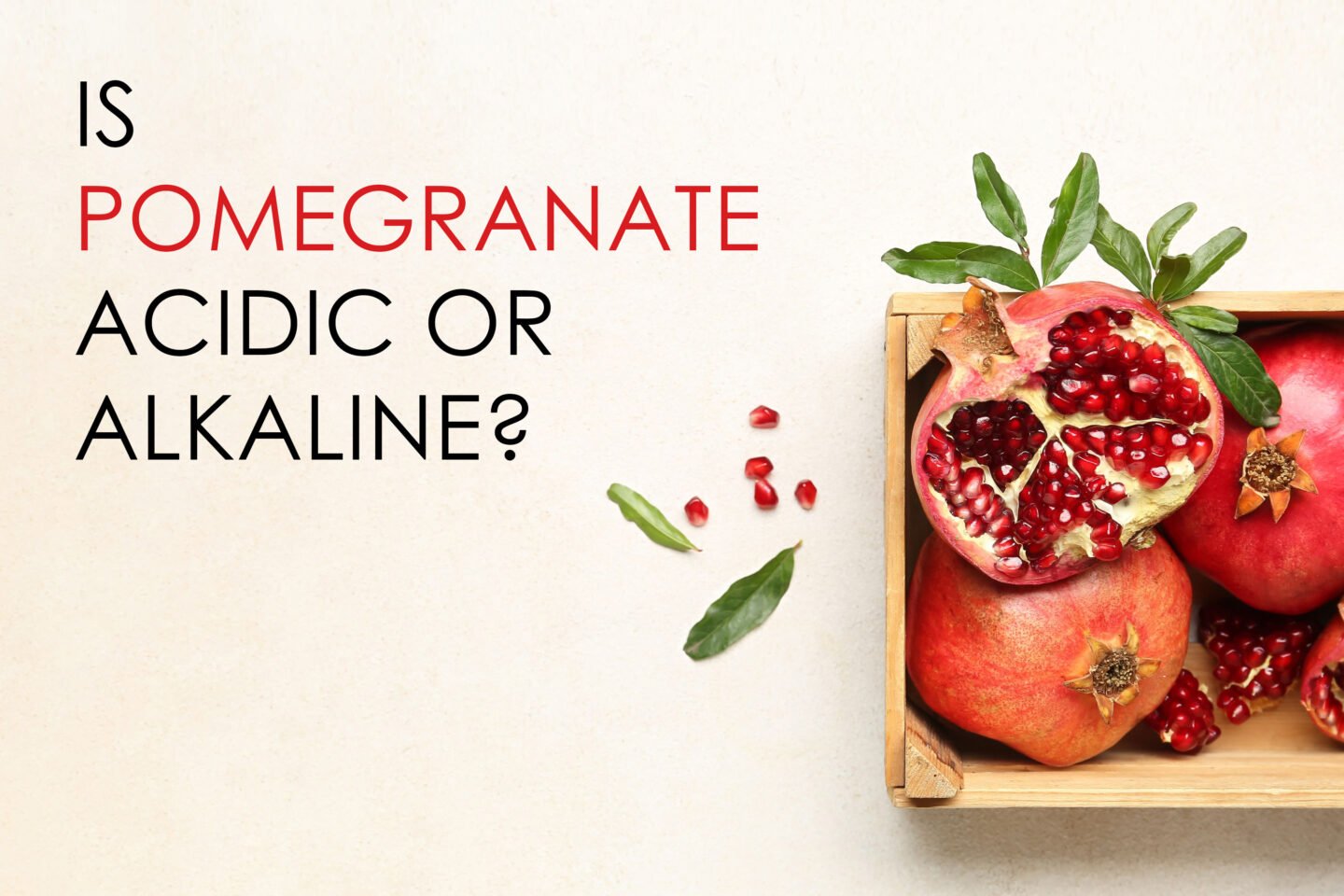 Pomegranates are acidic, with a pH of 2.9-3.2, and can trigger heartburn and other acid reflux symptoms as they irritate the gastric lining and relax your lower esophageal sphincter.
Read on as I discuss everything you should know about this topic.
RELATED: Is Popcorn Acidic?
Table of Contents
What Is the pH of Pomegranate?
Pomegranates are highly acidic, with a pH level of approximately 2.9 to 3.2 in their natural state. Although their pH level increases to around 5.5 after consumption, it is still pretty low and can trigger symptoms.
Pomegranates are naturally acidic due to the presence of several organic acids. The two primary acids in pomegranates are citric acid and malic acid, which are responsible for the fruit's tart taste and acidic pH. However, some cultivars also show significant amounts of oxalic acid.
Citric acid is a weak organic acid found in most citrus fruits, including pomegranates. It's a natural preservative, contributing to the fruit's sour taste. The shape and high amounts of citric acid also make people think that pomegranates are citrus fruits.
Malic acid is another organic acid found in many fruits. It's responsible for the sour taste in unripe fruits, and as the fruit ripens, the malic acid level decreases and the sweetness increases.
RELATED: Is Coca-Cola Acidic?
Is Pomegranate Good For Acid Reflux?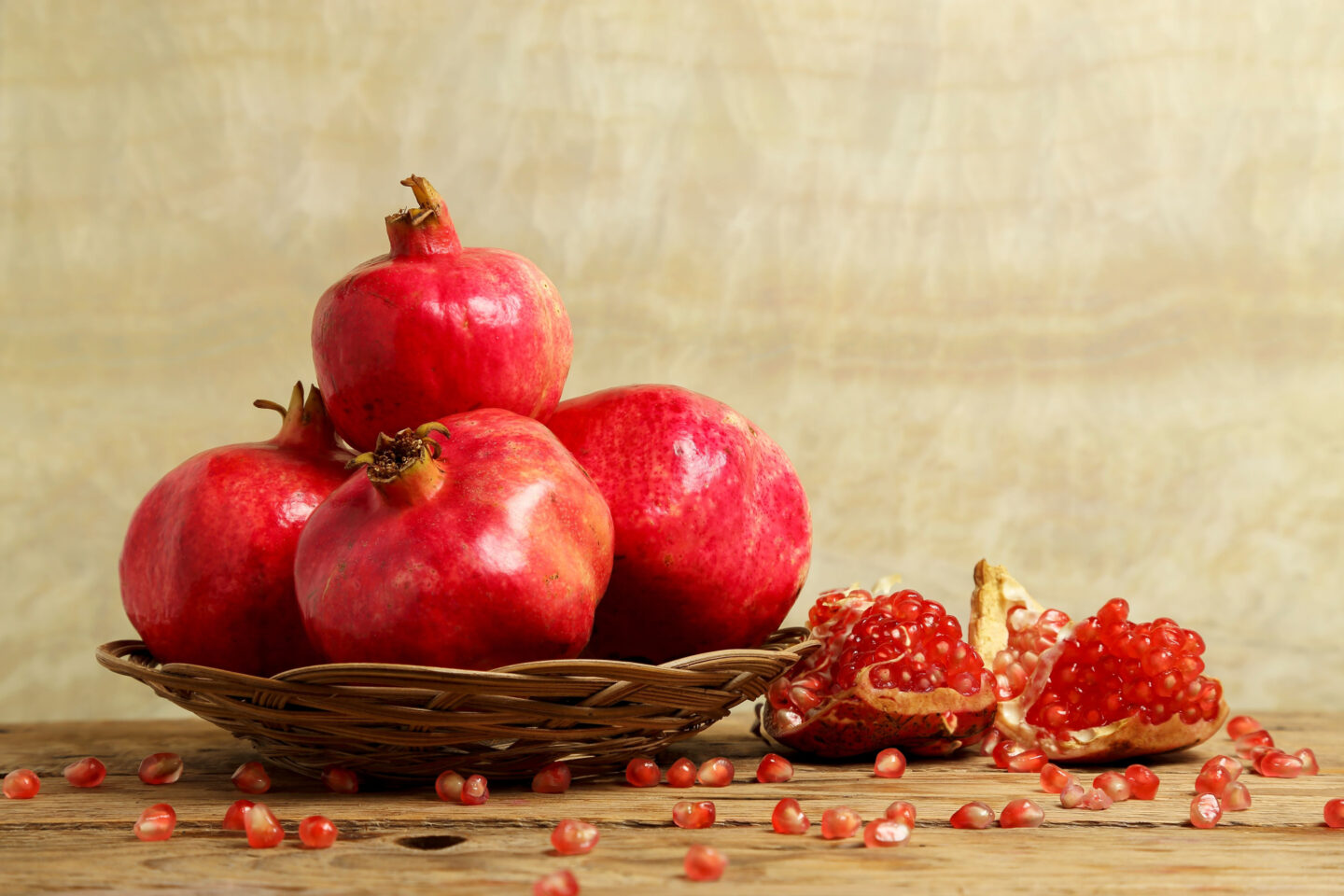 Like many other acidic foods, pomegranates can exacerbate acid reflux symptoms for some individuals.
Acid reflux, also known as gastroesophageal reflux disease (GERD), is a condition in which stomach acid flows back into the esophagus, causing discomfort, pain, and irritation.
The high acidity level of pomegranates can trigger acid reflux symptoms by irritating the lining of the esophagus, causing heartburn, chest pain, and other uncomfortable symptoms.
Moreover, pomegranates also contain a group of compounds known as polyphenols, which are beneficial for health but can also relax the lower esophageal sphincter (LES). This muscular ring prevents stomach acid from flowing back up into the esophagus.
When the LES is relaxed, stomach acid can flow back up, causing acid reflux symptoms.
Is Pomegranate Healthy?
Pomegranates are among the healthiest fruits. Here are some of its health benefits.
Rich in Antioxidants
Pomegranates contain high levels of antioxidants, particularly punicalagin, which reduces inflammation in the body, including chronic inflammation associated with diseases such as heart disease, diabetes, and certain cancers.
RELATED: Is Chicken Acidic?
Promotes Heart Health
Pomegranates improve heart health by lowering blood pressure, reducing inflammation, and improving cholesterol levels.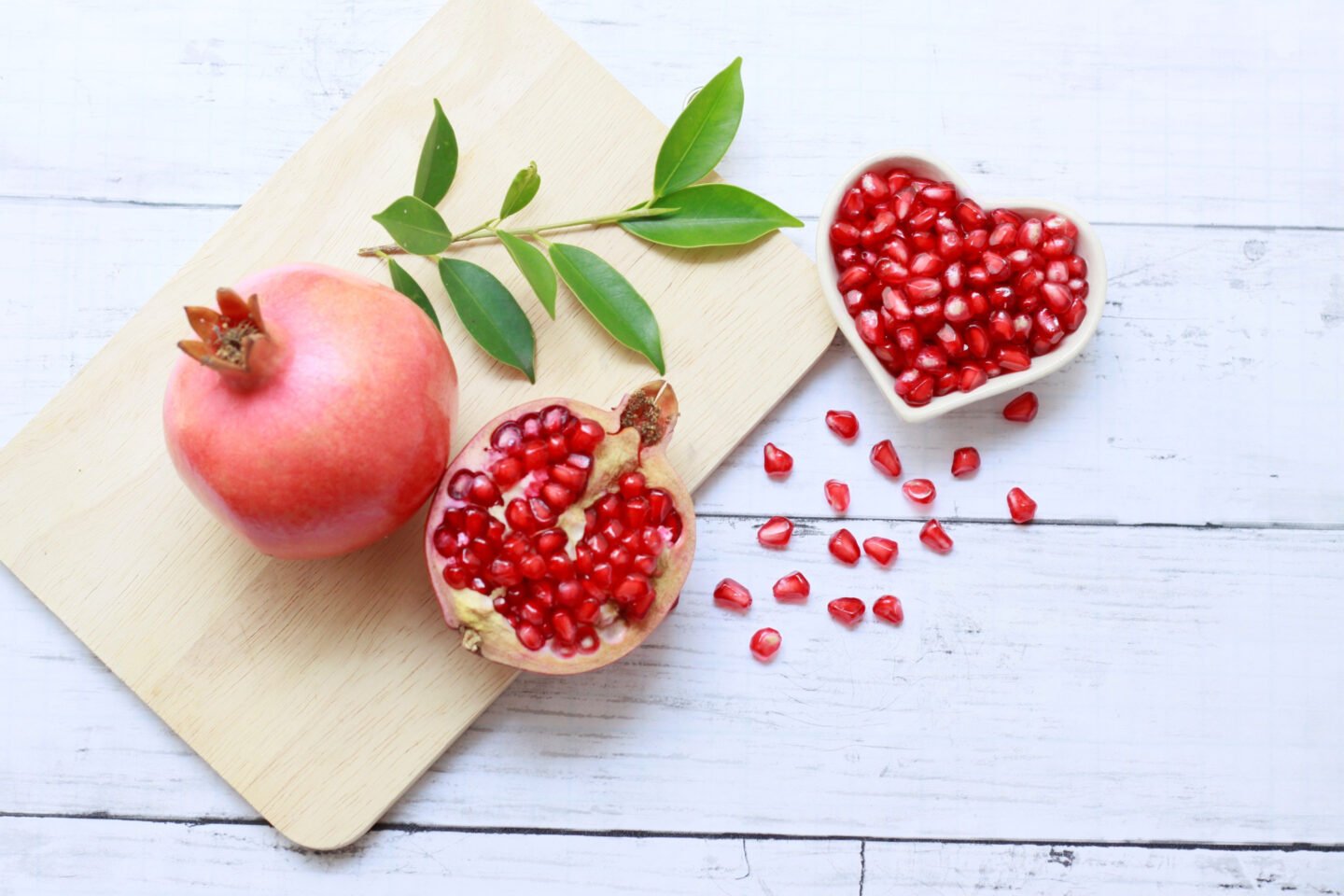 Anti-Cancer Effects
Some studies suggest that the antioxidants in pomegranates may have anticancer effects by inhibiting the growth and spread of cancer cells. Studies also show that pomegranate extracts are particularly effective against breast, prostate, and colon cancers.
Improves Digestive Health
Pomegranates are high in fiber, which promotes digestive health by preventing constipation and maintaining a healthy gut microbiome. Pomegranate juice also reduces inflammation and improves the symptoms of inflammatory bowel disease.
Boosts Brain Function
Research suggests that consuming pomegranates may improve cognitive function and memory due to their antioxidant and anti-inflammatory properties.
RELATED: Is Corn Acidic?
Is Pomegranate Juice Acidic?
Pomegranate juice has a pH of 3, which makes it acidic. While fresh pomegranate juice is less acidic, it still triggers heartburn and other acid reflux symptoms. If you really wish to drink pomegranate juice, you can dilute it with water or mix it with alkaline-forming fruits.
Is Pomegranate Juice Good for Acid Reflux?
Even though the pH of pomegranate juice is less acidic than stomach acid, it can still irritate the esophagus and exacerbate acid reflux symptoms.
Is Pomegranate the Most Acidic Fruit?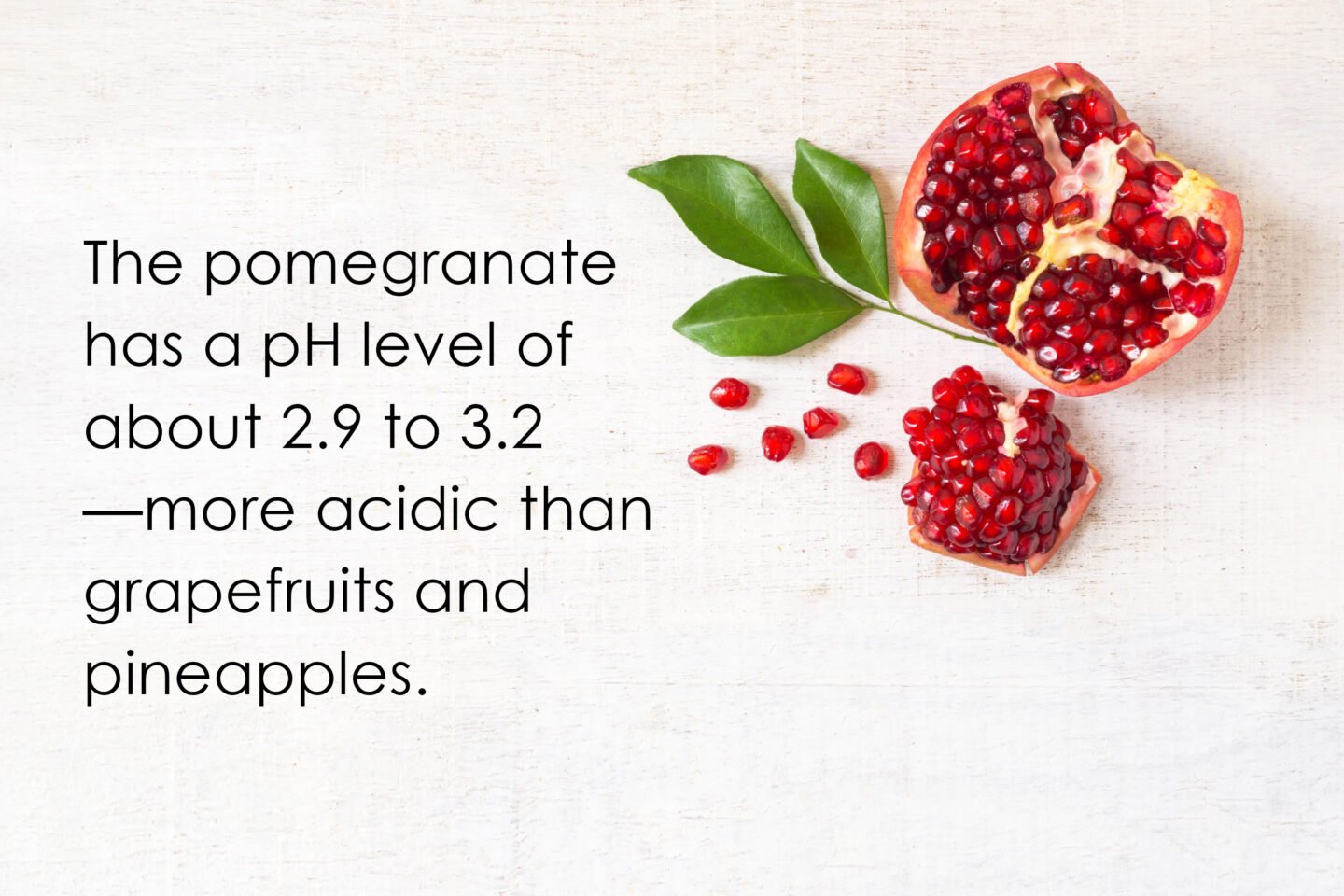 While we have learned that pomegranate is acidic, it is surprisingly not the most acidic fruit. Many more fruits have a lower pH and are more acidic than the pomegranate. The ten most acidic fruits are:
1. Lemons (pH of about 2.0 to 2.6)
2. Limes (pH of about 2.0 to 2.8)
3. Plums (pH of about 2.8 to 3.4)
4. Grapes (pH of about 2.9 to 3.2)
5. Pomegranates (pH of about 2.9 to 3.2)
6. Grapefruits (pH of about 3.0 to 3.8)
7. Blueberries (pH of about 3.1 to 3.3)
8. Pineapples (pH of about 3.2 to 4.0)
9. Apples ( pH of about 3.3 to 4.0)
10. Peaches (pH of about 3.3 to 4.0)
Can People with Acid Reflux Eat Acidic Foods?
People with acid reflux may find it challenging to eat acidic foods, as they can trigger symptoms such as heartburn, chest pain, and discomfort.
However, it's important to note that not all acidic foods affect everyone with acid reflux similarly. Some individuals may tolerate certain acidic foods better than others.
Generally, it's best to work with a healthcare provider or a registered dietitian to develop a personalized dietary plan that fits your needs and helps manage your symptoms.
Don't know what to drink? Check out these articles: 20 Most and Least Acidic Juices and 20+ Alcoholic Drinks Ranked by Acidity Level