Pomegranates are considered to be acidic food. While in its purest form, pomegranate has a pH of about 2.9 to 3.2, making them very acidic. Once these fruits are digested, they have a pH of about 5.5 (for comparison, stomach acid pH is about 1.5 to 3.5).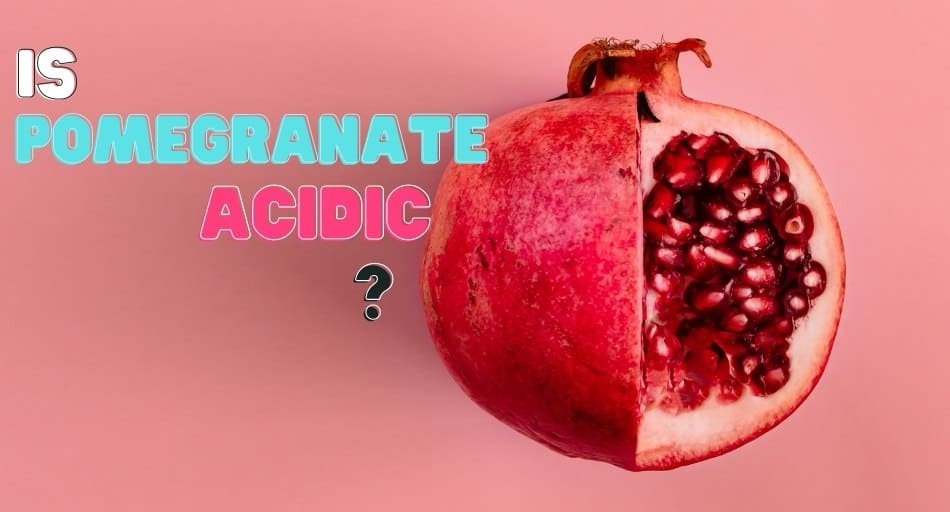 In today's article, we will be looking at why pomegranate is considered an acidic food, how that was determined, what that means for you, and so much more.
RELATED: Is Popcorn Acidic?
Table of Contents
What Is the pH of Pomegranate?
It is determined that food is either acidic, neutral, or alkaline because when we eat food, the residue is broken up into "ash."
The ash is then measured on the pH scale, which Soren Sorensen invented in 1909. Sorensen, a Danish chemist, decided to develop the pH Scale because he thought that there needed to be an easy way to measure the acidity of products. This scale is still used to this day.
The pH scale has a range from 0 to 14. The middle point, 7, is considered to be neutral or not acidic nor alkaline.
Numbers closer to 0 are considered acidic, while numbers closer to 14 show that something is more alkaline (also known as basic).
By using the pH Scale, we can determine that pomegranates are considered to be acidic fruit. While in its purest form, pomegranate has a pH of about 2.9 to 3.2, making these very acidic.
Once these fruits are digested, they have a pH of about 5.5 (for compression, stomach acid pH is about 1.5 to 3.5). Additionally, the juice from the pomegranate is also acidic.
Still, if you drink freshly squeezed pomegranate juice, it is slightly less acidic than pomegranate juice that has been processed with added sugar.
RELATED: Is Coca-Cola Acidic?
Some other foods that are considered to be pretty acidic include certain dairy products (such as cheese), fish, seafood, meat, foods that are high in starch (like rice, oat, or granola), foods that are high in sodium or are highly processed, and carbonated drinks (like sodas, seltzers, and spritzers).
On the flip side, more alkaline foods include soy, most fresh vegetables, potatoes, most herbs and spices (excluding salt, nutmeg, and mustards), yogurt, milk, beans, whole grains, tea, and natural fats such as olive oils, avocados, nuts, and seeds.
What does the fact that pomegranates are acidic mean?
Many experts recommend having a more alkaline-based diet and avoiding acidic foods. This is because the scientific community has long linked diets highly based on acidic foods to some health conditions, such as fairly common conditions like acid reflux, to more dangerous illnesses, like cancer.
RELATED: Is Chicken Acidic?
Scientists believe that this is because acidic foods lower the pH level of the blood and causes the acid to accumulate. But does this mean that you should never eat pomegranates?
Of course not! Like most foods, we can enjoy pomegranate in moderation. Even though they are acidic, pomegranate has many health benefits and reasons why you should eat them!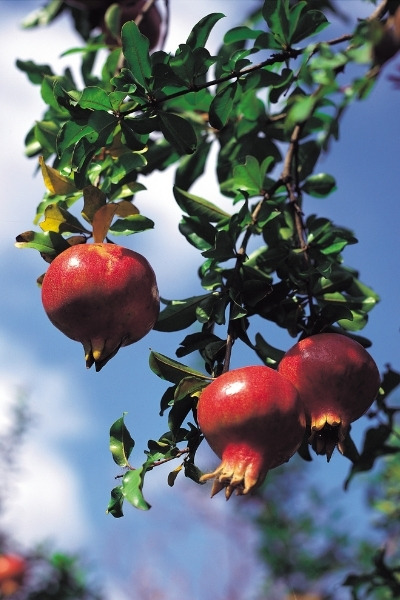 Pomegranates are full of antioxidants, vitamins (such as vitamins C, E, and K), and minerals (like folate and potassium).
Pomegranates also aid in digestion, act as an anti-inflammatory, decrease blood pressure, and help to fight off viral infections.
Some experts also suggest that eating a pomegranate, or drinking pomegranate juice, regularly helps prevent certain diseases, such as cancer, Alzheimer's disease, arthritis, heart disease, and diabetes.
RELATED: Is Corn Acidic?
Is pomegranate the most acidic fruit?
While we have learned that pomegranate is acidic, it is surprisingly not the most acidic fruit. In fact, it is far from it! Many more fruits have a lower pH, which means that they are even more acidic than pomegranate. The ten most acidic fruits are:
1. Lemons (pH of about 2.0 to 2.6)
2. Limes (pH of about 2.0 to 2.8)
3. Plums (pH of about 2.8 to 3.4)
4. Grapes (pH of about 2.9 to 3.2)
5. Pomegranates (pH of about 2.9 to 3.2)
6. Grapefruits (pH of about 3.0 to 3.8)
7. Blueberries (pH of about 3.1 to 3.3)
8. Pineapples (pH of about 3.2 to 4.0)
9. Apples ( pH of about 3.3 to 4.0)
10. Peaches (pH of about 3.3 to 4.0)
Don't know what to drink? Check out these articles: 20 Most and Least Acidic Juices and 20+ Alcoholic Drinks Ranked by Acidity Level