Oatmeal is one of the most popular breakfast foods around the world. It comes in various forms and with various ingredients.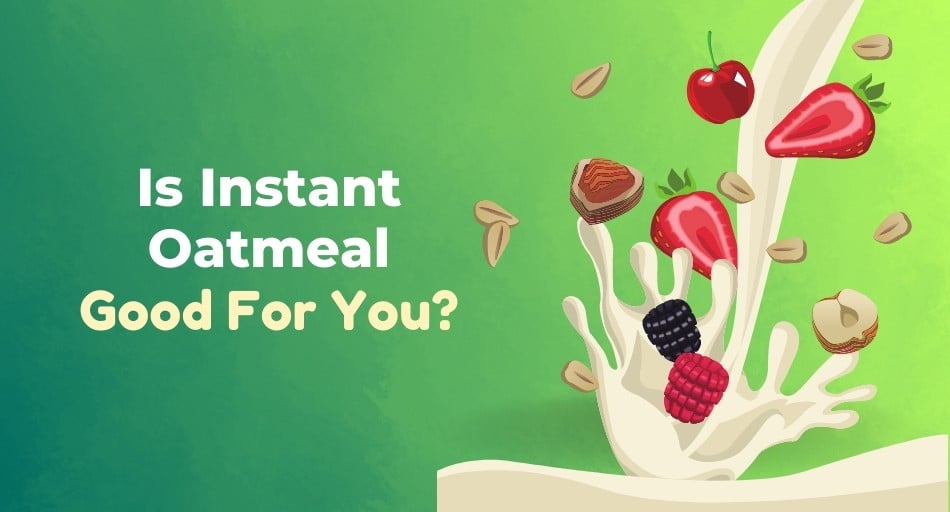 For example, you can easily find steel-cut oats, rolled oats, fortified oats, and instant oatmeal.
All of them have different nutritional values, but we still tend to consume most of them. The most common choice is instant oatmeal, as it's the easiest to prepare.
But are you sacrificing nutrients for the speed it takes to make this oatmeal? Is it bad for your health?
Table of Contents
Is instant oatmeal good or bad for you?
Instant oatmeal usually comes in pre-packaged servings, so all you need to do is add water and enjoy your breakfast. If you're choosing the healthiest brands on the market, instant oatmeal is still whole-grain, high-fiber, and highly nutritious.
So, it doesn't matter which option you choose. With that in mind, though, remember that flavored instant oatmeal is high in added sugar, which isn't that healthy.
So, try avoiding these varieties as much as possible and add your own flavoring ingredients like fresh fruit or cinnamon.
What's the difference between instant, steel-cut, and rolled oats?
Instant oatmeal comes in small packets with a single serving of oatmeal in each. That way, you can easily make breakfast without cooking up a huge batch of oatmeal that can later go to waste.
Instant oatmeal can also help you control portion sizes if your goal is weight loss. What's more, instant oatmeal tends to come with flavors, such as cinnamon, nuts, chocolate, or fruits.
So, while these are higher in sugar, they can add some flavor to your morning meal.
On the other hand, rolled oats are still relatively quick to cook but still take slightly longer than instant oats.
As the name indicates, they are rolled extra thin to allow for quicker preparation. Rolled oats usually come in a larger bag, so you have to measure your serving each time you make it.
Anyway, they're still incredibly nutritious, providing you with a lot of fiber and minerals.
Also known as Irish oatmeal, steel-cut oats take the longest to prepare and are the closest to the original oatmeal. In fact, steel-cut oats require 15-30 minutes of cooking on average.
Luckily, some methods can speed up the process, such as soaking them up beforehand – usually the night before – to help them become softer.
This reduces cooking time and allows you to soak your oats with other ingredients, almost marinating them for flavor.
Is instant oatmeal healthy?
Instant oatmeal is a whole-grain dish, which is incredibly nutritious. A single serving of oatmeal provides you with 4 g of fiber.
This nutrient helps you stay full after eating, so adding oatmeal to your diet can help with weight management and weight loss.
In addition, the fiber found in instant oats helps soak up excess stomach acid, preventing acid reflux symptoms like heartburn.
Many people don't get enough fiber from their diet, so even a single serving of oatmeal a few times a week can help with that.
Oats are also a wonderful source of iron. In fact, oatmeal is one of the best plant-based sources of this mineral.
Your body needs iron for growth and development as well as for the production of hemoglobin, a protein found in red blood cells.
Getting enough iron from your diet helps prevent exhaustion and fatigue, which are often symptoms of fatigue.
Because of that, oatmeal is recommended for people following plant-based diets, as it helps prevent iron deficiency.
Since they contain whole grains, instant oatmeal contains a lot of plant compounds and antioxidants, especially polyphenols.
These substances may help lower your blood pressure by dilating blood vessels, thus improving blood flow.
What's more, they also prevent oxidative stress and damage and reduce your risk of chronic issues, such as cancer, heart disease, and diabetes. So, make sure to eat oatmeal to reap these health benefits.
A single serving of oatmeal also provides you with nearly all your daily need for manganese.
This mineral helps your body form connective tissue, bones, blood-clotting factors, and sex hormones.
It also helps monitor calcium absorption and blood sugar regulation. Manganese is most commonly found in whole grains, especially in instant oats, as they're fortified.
Should you eat instant oatmeal?
Instant oatmeal is an easy way to get more fiber into your diet without wasting too much time in your busy morning.
If you choose natural, unflavored brands of instant oatmeal, you will still get the same nutrients that steel-cut and rolled oats offer you.
Because of that, eating instant oatmeal is great for your health, and you're not losing any nutrients by choosing this kind of oatmeal.
What's more, avoid choosing flavored instant oatmeal, as these tend to be very high in added sugar.
Consuming too much of this nutrient can lead to heart disease, diabetes, and obesity, which are dangerous health conditions.
If it's hard for you to consume plain oatmeal, try adding some fresh berries, nuts, cinnamon, or seeds.
That way, you can add flavor to your food along with some more nutrition. You can also cook your oatmeal in whole milk instead of water.
Are steel-cut oats better for you?
While the variations in their nutritional profile are small, some people believe that steel-cut oats are higher in fiber – but only slightly.
The fiber found in steel-cut oats feeds the 'good' gut bacteria in your stomach, which promotes regular bowel movements and digestive system health.
On top of that, steel-cut oats, especially unflavored, may have a lower glycemic index. This is an indicator of how quickly the carbohydrates from the food are released into your bloodstream, raising your blood sugar levels.
But the differences seem to be so small that until a study or research confirms it, instant oatmeal is as good as steel-cut oats.
Conclusion
As you can see, there are barely any differences between all the different types of oats in terms of nutrition.
Instant oats are whole-grain, high-fiber, and nutritious, making them one of the best foods for a healthy and energizing breakfast suitable for everyone's diet.
They can also be customized to your liking, with various fruits and nuts, so oatmeal should definitely be a part of a healthy, balanced diet.