Modern lifestyles and diets gave rise to more people suffering from acid reflux or GERD. People with these conditions may follow a diet low in acid foods and drinks to avoid triggering or worsening unpleasant symptoms like heartburn. These diets can be challenging to design and maintain, as followers must know the acidity of common foods and how each affects their condition.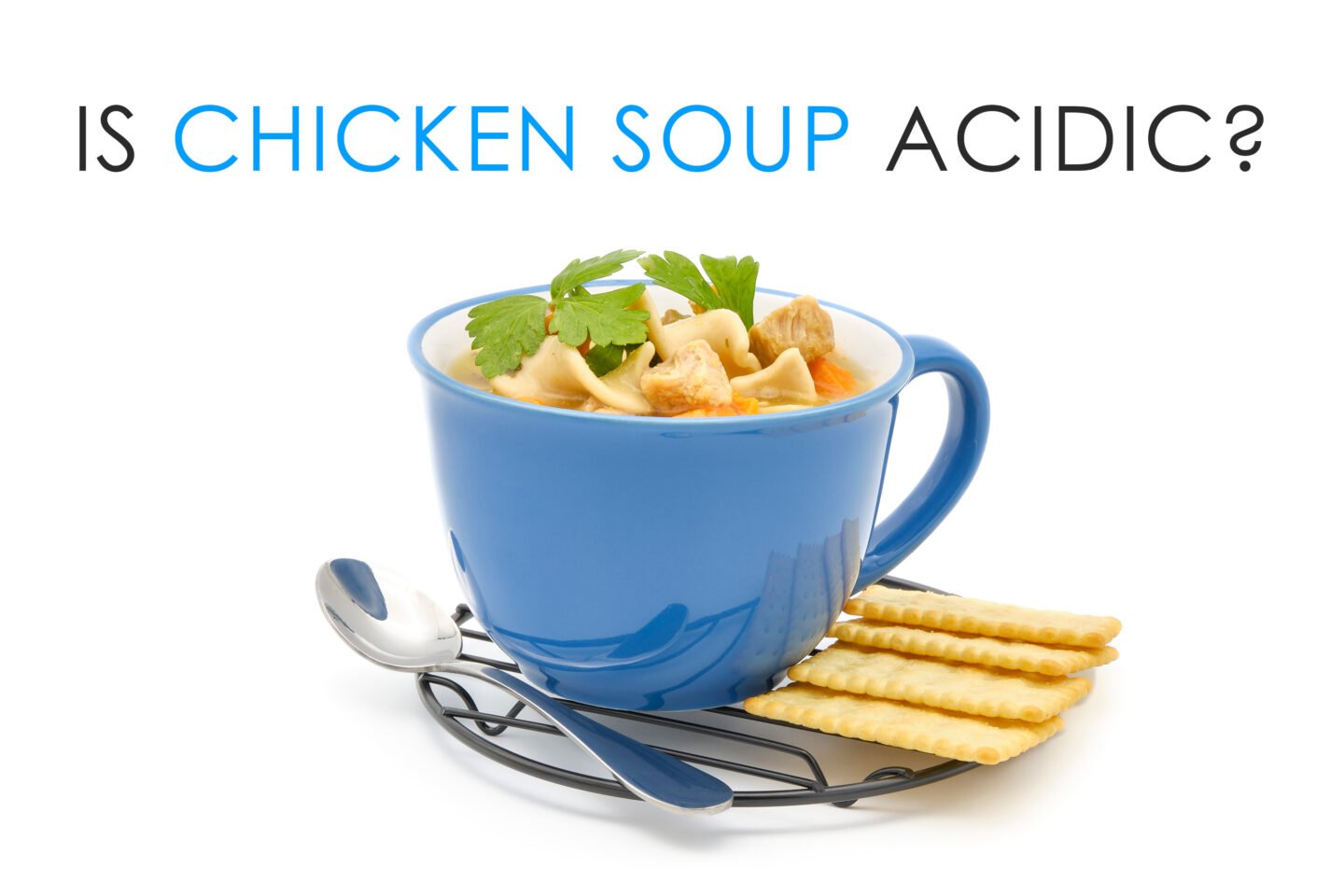 Many soups are acidic or acid-forming, meaning those with acid reflux should limit their intake or avoid them altogether. Is chicken soup in this category?
Table of Contents
Is Chicken Soup Acidic or Alkaline?
Chicken soup isn't acidic; many experts believe it soothes heartburn and indigestion. It's also highly nutritious, and the broth it's made from has an alkalizing effect, which can alleviate acid reflux and GERD symptoms.
What Is the pH of Chicken Soup?
The pH of chicken soup made at home from bones and fresh vegetables ranges from 6.4 to 8.7, so it's unlikely to worsen your acid reflux or GERD symptoms.
However, store-bought soups may contain loads of sodium and other preservatives, which can slow digestion and raise your blood pressure.
Don't know what to drink? Check out these articles: 20 Most and Least Acidic Juices and 20+ Alcoholic Drinks Ranked by Acidity Level
Is Chicken Soup Healthy?
Chicken soup is low in fat and calories but high in protein, which keeps you feeling full longer after eating.
Chicken soup also contains niacin, which helps prevent cardiovascular disease, boosts brain function and eases arthritis in older people.
Chicken soup is rich in riboflavin, which supports protein and fat metabolism.
The bones used for making chicken soup add collagen, protein, magnesium, and calcium, which support bone, tissue, and joint health, helping prevent osteoporosis, arthritis, and joint inflammation.
Collagen can help keep your skin healthy and glowing.
Is Chicken Soup Bad for Acid Reflux?
Homemade chicken soup is highly nutritious but not acidic, so it's an excellent addition to a low-acid diet.
However, store-bought soups may be more acidic and are higher in sodium, too much of which can raise your blood pressure and risk of developing cardiovascular disease.
Is Vegetable Soup Better for Acid Reflux Than Chicken Soup?
Vegetable and chicken soups have similar pH levels, so they're both excellent additions to a low-acid diet.
Although vegetable soup is high in vitamins and minerals, it contains much less protein than chicken soup.
Homemade chicken soup is highly nutritious and won't trigger acid reflux or GERD symptoms, so it's an excellent addition to any healthy diet.
Don't know what to drink? Check out these articles: 20 Most and Least Acidic Juices and 20+ Alcoholic Drinks Ranked by Acidity Level