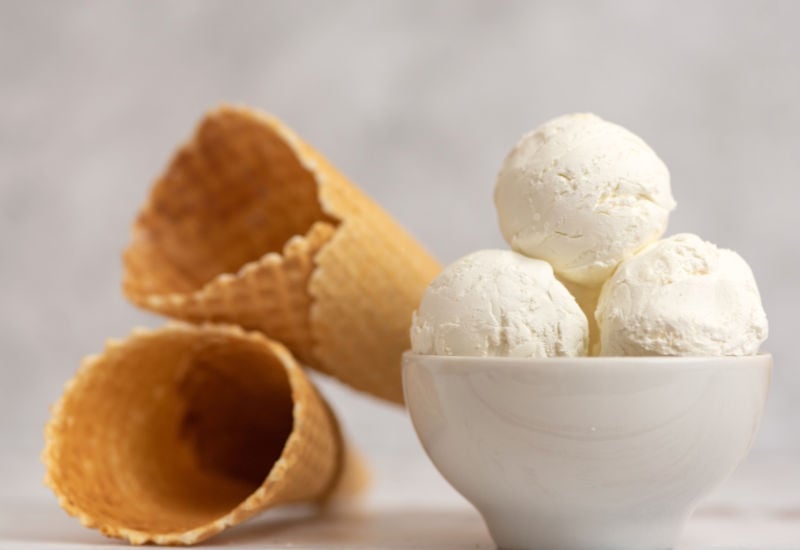 Are you looking to improve your ice cream making skills? The internet is crawling with information on the subject, and books line the cooking section of any book store. But finding the best sources can be time-consuming, so we've pulled together the top ice cream resources on one page. These experts in the field of frozen desserts will expand your understanding of ice cream. You'll also learn the science behind ice cream, tips, techniques, and the recipes required to take your dessert making skills to a higher level.
In addition to the following list, you may want to read our ice cream making guide. It's great reading for beginners who aren't sure where to start.

Table of Contents
Online resources
Gelatoboss
"A beginner's guide to ice cream that will have you making ice cream at home the same day".
For a small investment, download a superb ice cream guide which provides a range of practical techniques, tips, as well as a mouth-watering selection of recipes.
Food Pairing
"Discover the science of matching flavors to make the perfect dessert"
For the gifted and experienced, knowing what ingredients pair well together is easy. For the rest, there's Food Pairing. It is an innovative online resource that allows the user to enter an ingredient, and receive recommendations of suitable flavor pairings. The tool is has a free option, as well as the ability to upgrade to get more advanced pairings with lesser-known ingredients.
Escoffier
"A reputable online cooking school with loads of video content"
A complete online cooking school, offering a wide range of courses. Learn from hundreds of instructional videos that include chocolate making, ice cream production, patisseries and much more.
Ice Cream Science
"A blog about ice cream and the role of science."
This small-batch ice cream producer is based in the United Kingdom and occasionally publishes in-depth blogs about ice cream. The founder, Ruben, focuses on the science, looking at topics like the role sugar and stabilizers play in ice cream structure.
Hard Cover Recipe Books
Patisserie
"Learn the foundations of patisserie cooking with this step-by-step guide."
The idea of learning patisserie chef skills is intimidating for most home cooks; that is, until now. This is a fun cookbook that focuses on useful techniques, with the help of clear, helpful illustrations. It isn't focused on ice cream, but many of the skills you learn here, such as chocolate tempering, will be super helpful when making frozen desserts.
Ample Hills Creamery
"Discover new ice cream recipes from a trusted creamery, with a reputation for deliciousness."
The Ample Hills Creamery is a New York-based craft ice cream shop, now selling in a variety of locations. They have a reputation for creative flavors like "Ooey Gooey" and "The Munchies", that create lines of ice cream lovers to their doors, all eager to get their fill. Their recipe book is jam-packed with creativity – the combination of ingredients is just as impressive as the book's design.
The Perfect Scoop
"Get tried and tested recipes from a well-respected pastry chef and author".
David Lebovitz brings you a selection of delicious recipes to make ice cream, gelato, frozen yogurt, sorbet, sherbet, granita and more. This is an excellent book with impressive photography and fail-proof recipes.
Advanced Learning
Ice Cream 7th Edition
"Ideal for ice cream producers, and those wanting a deeper knowledge."
This ice cream book is a comprehensive reference, offering in-depth scientific and technical information to sink your teeth into. It looks at ice cream formulations and compositions, ingredients, mix calculations, ice cream structure and a lot more. This will appeal to students and teachers in the food science or dairy industry. Foodies craving advanced theory and know-how will struggle to find a better resource than this one.
The Science of Ice Cream, by Chris Clarke
"An authentic, science-based volume written by an industrial practitioner".
The Science of Ice Cream is a well-respected resource for anyone in the ice cream industry or foodies thirsty for knowledge. Topics like colloidal dispersions, factory manufacture, and ice cream ingredients are discussed as well as a range of suggested experiments.
Journal of Dairy Science
"Stay up to date with the latest from the American Dairy Science Association".
The Journal of Dairy Science publishes a vast array of research related to dairy, including research on ice cream. This website provides a useful search function, allowing the searcher to filter by author, date, type of article and more. There is no cost to access this information, much of which is provided by well-respected experts in their field.
The University of Wisconsin-Madison
"A reputable University offering short courses in ice cream"
The University of Wisconsin-Madison is in the heart of the United States dairy country. For those wanting to start a career or small business in the ice cream niche, their courses will provide an excellent grounding of the subject matter.
Incredible Ice Cream
"A complete resource that isn't too hard to read".
Malcolm Stogo provides a comprehensive resource for the at-home ice cream lover or professional chef. With over 200 recipes there is likely to be a flavor for everyone. It also details how to set up a production room to make ice cream as a business.
Other useful links
New Zealand Ice Cream Manufacturers' Association.
www.nzicecream.org.nz
A history of the ice cream cone
www.whatscookingamerica.net/History/IceCream/IceCreamCone.htm
Food safety resources for manufacturers of ice cream
www.idfa.org/safeicecream
Random ice cream facts, figures, and recipes
www.foodtimeline.org/foodicecream.html