Thyme is one of the most famous herbs that works well with various spices. Rather than buying dried thyme, people often love buying fresh thyme plants and growing them indoors. The problem is keeping the plant alive and making more of it so that there is always thyme herb available.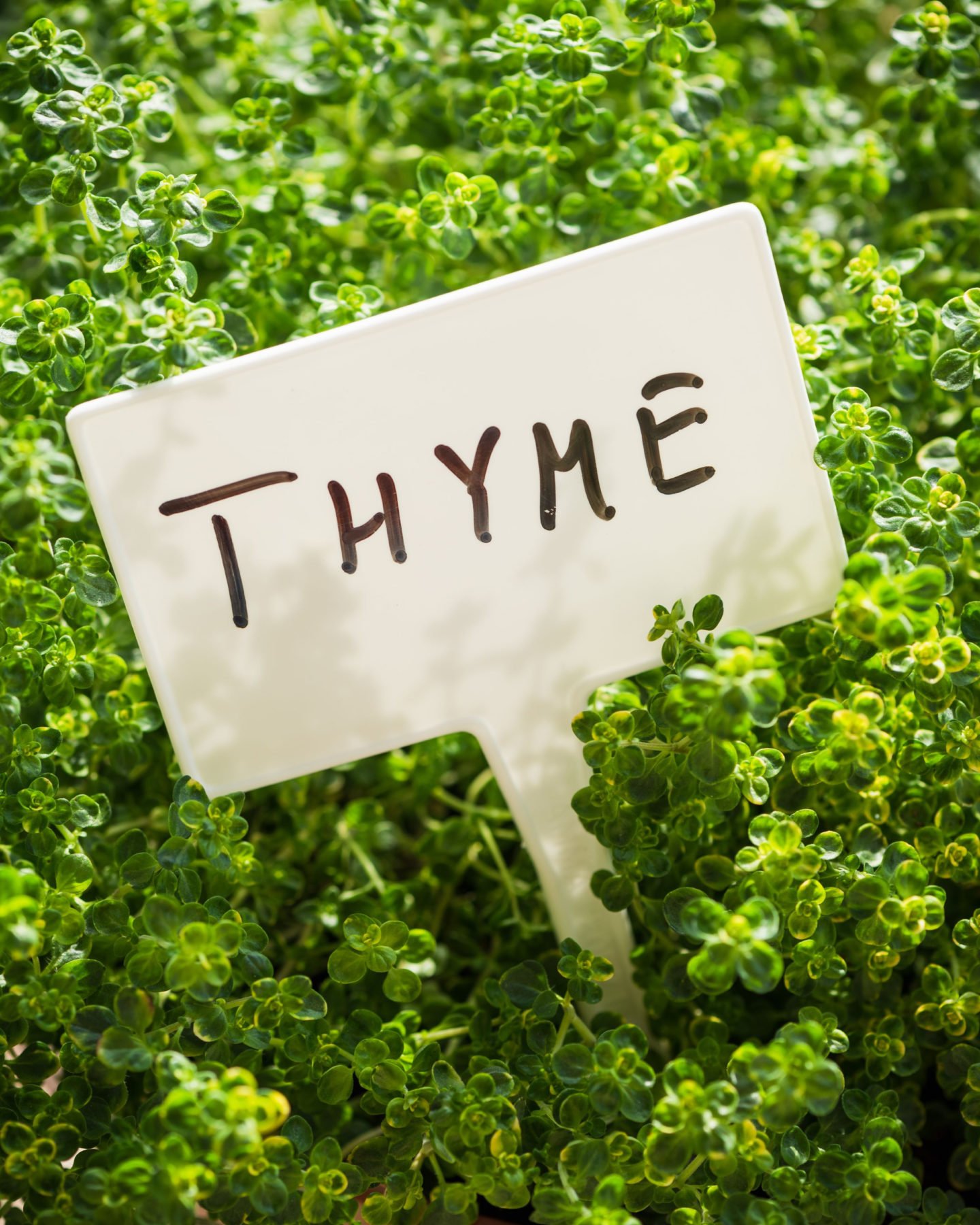 Luckily, it is straightforward to propagate thyme. Just wait around 4 to 6 weeks after purchasing your thyme plant, check for aerial roots, and then you can start the cutting process. It is important to remember that the high success rate of propagation is due to the aerial roots. However, you can also cut stems without aerial roots and place them in clear water until they develop roots, do the layering method, or do the sectioning method.
The last method is planting thyme seeds. However, this process takes a lot more time as you will still have to wait for your plant to bear pink flowers and seeds. Read on to read a complete guide for thyme propagation.
Table of Contents
What is Thyme?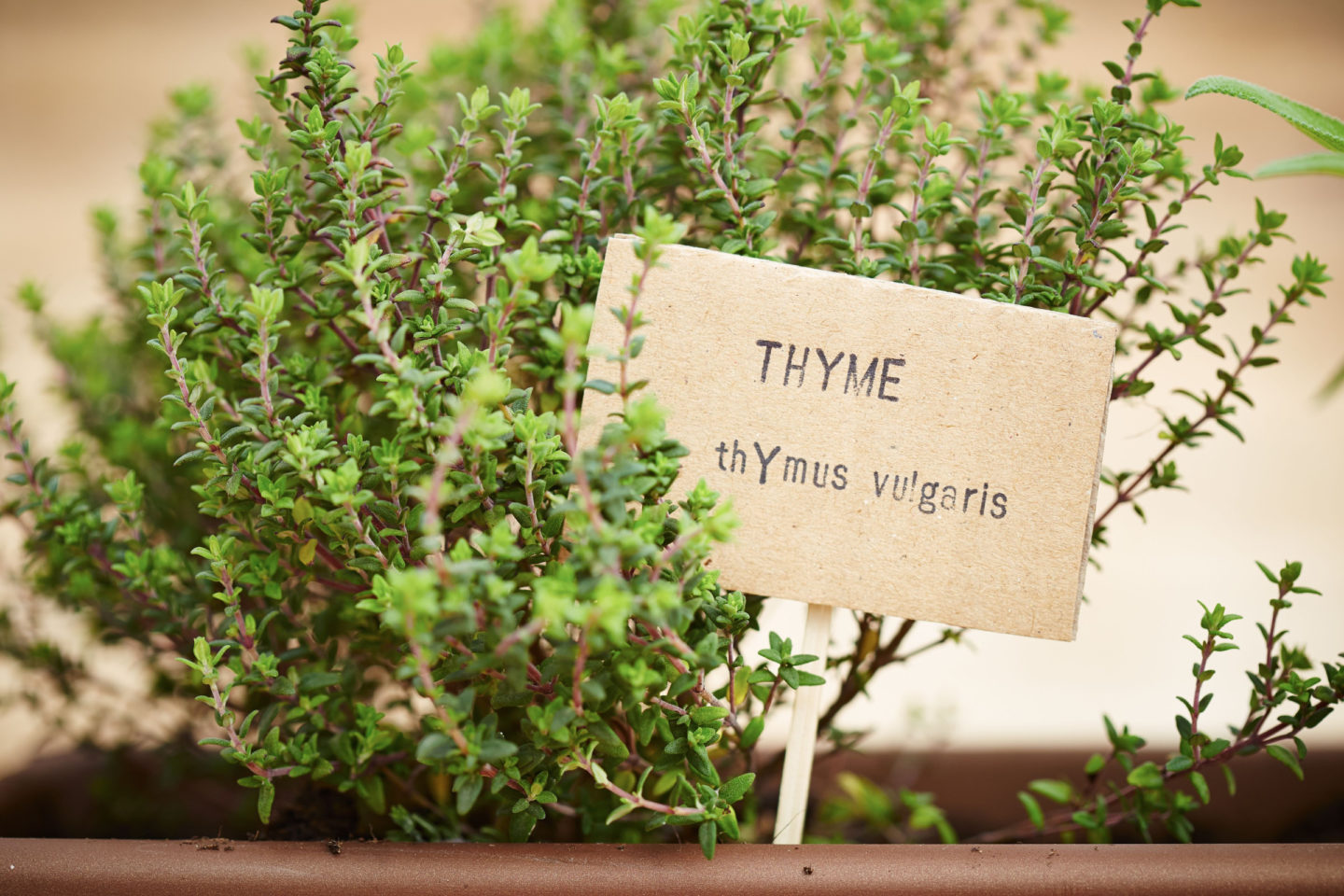 Thyme is an aromatic Mediterranean herb in the mint family, closely related to oregano. Thyme is considered an ancient herb, mainly used for culinary, medicinal, and ornamental purposes. Although there are over 300 varieties of thyme, the herb known as Thymus vulgaris is the most commonly used culinary thyme, and it is one of the most commonly grown thyme varieties.
Thyme is an herb that has a distinct character without becoming overbearing. It has a lovely balance that is earthy and peppery, minty and citrusy, savory and sweet, and slightly woodsy yet flowery, with hints of lavender or toned-down rosemary.
Thyme Propagation Techniques
Propagating Thyme Cuttings
Propagating thyme cuttings is the easiest method of thyme propagation. You only need to ensure that your thyme plant has long enough stems to survive the cutting. As a rule of thumb, you should start noticing aerial roots in your thyme plant before you cut them.
Since thyme grows best in the spring and summer, it's best to cut stems during these times to give your cuttings the best chance of thriving. To do this method, just follow the following steps.
Find stems that have aerial roots and cut just below the leaf nodes.
Remove extra thyme leaves to avoid root rot when transplanted into the soil.
Dip cuttings in rooting hormone when available. If not, just place the cuttings in a glass with water.
If you cut stems without aerial roots, place them in the glass with water for a longer period, changing the water every three days. Once you notice roots growing, you can start preparing your pot and potting mix.
Prepare your self-draining pot and fill it with well-draining soil, preferably alkaline. Thyme rots when overwatered, so you can use clay pots when planting them.
Place the thyme where there is indirect, bright sunlight. To keep the new leaves from getting burned, it's better for newly transplanted thyme to get light from the side.
Make sure to have a strict watering schedule. You can't overwater your thyme plant.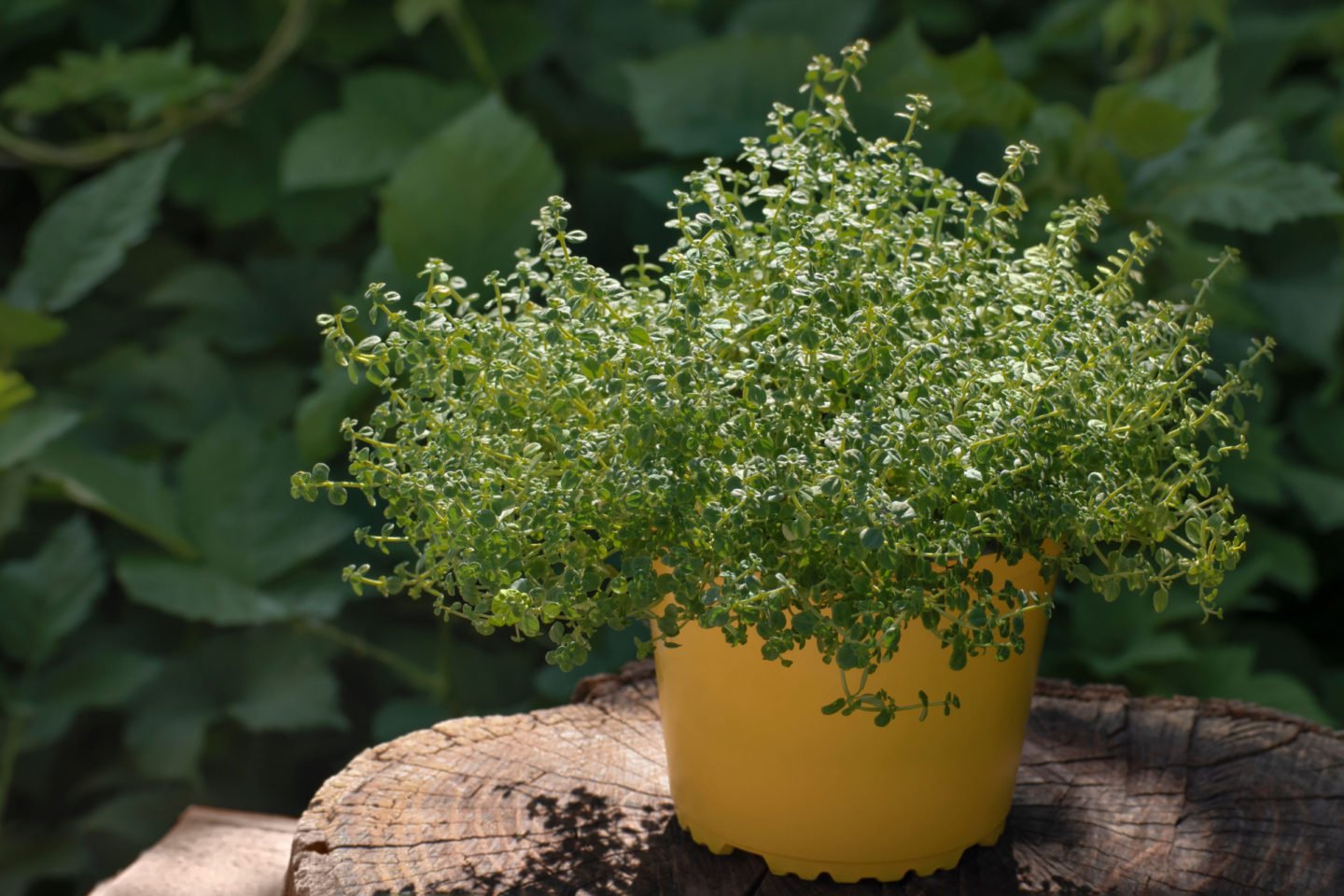 Layering Method
Layering is a method you can use for thyme and other herbs that develop aerial roots. You won't need to cut the stems entirely when doing this technique. Here's how you should do it.
Find a suitable stem, preferably a long one with visible aerial roots.
The layering technique also requires a larger pot or garden bed to ensure the plant has space for growth.
Remove the thyme leaves from the stem, leaving only the tiny leaves on the tip. This is to expose the roots more.
Bend the stem to the ground gently to avoid breaking it.
Secure the stem with a stick so it remains close to the soil.
Using a sharp knife or scissors, make a small cut in the middle of the stem to encourage root production. Make sure not to cut the whole stem.
Gently cover the stem with self-draining potting mix and lightly water the area.
Wait for new stems to appear.
Sectioning Method
The sectioning method is only applicable to thick thyme plants. When doing this method, you must section the plant according to the thickness of the roots. This method is hard because you have to take out the whole plant to get to the roots. However, the main advantage is that the sectioned plant will continue to grow and produce more stems when done successfully. Here's how it's done.
Find a target plant. It has to be thick with numerous stems.
Remove the plant from the pot gently, and slowly remove the excess soil.
Section the plant evenly, depending on how thick the root system is and how many plants you wish to propagate.
Prepare new pots and fill them halfway with loose soil.
Place the sectioned thyme plant into the pots, and add enough soil to cover the entire root system.
Secure the plant by patting the soil gently and watering it with a bit of water.
Propagating Thyme Seeds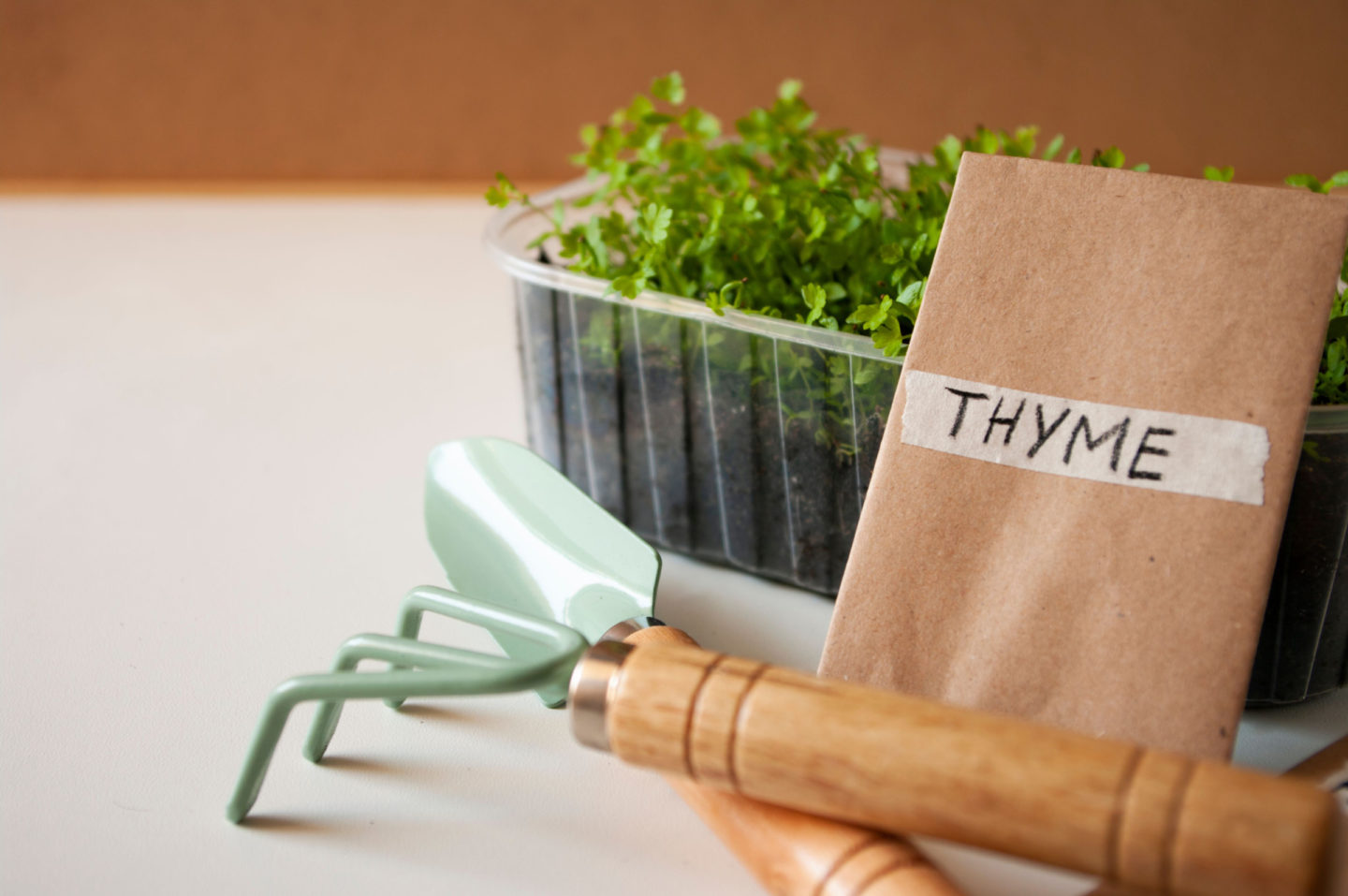 Germinating thyme seed is the most tedious method of all. First, you must wait for your thyme plant to mature and bear flowers and seeds in the summer or spring. Then, harvest the thyme seeds and then dry them. However, this method is excellent for growing thyme indoors. Here's how it's done.
Prepare your pot and fill two-thirds of it with a loose potting mix, preferably loamy soil.
Gently scatter the seeds on the loamy soil.
Cover the soil with a thin layer of soil.
Finish up by watering the plant and wrapping it with plastic.
Place the pot in a warm area where there is enough sunlight.
Wait for at least eight weeks to see growth before transplanting seedlings to individual pots.
Thyme Care Guide
The most crucial thing in growing thyme is the weather. The thyme plant loves warm weather and requires full sun exposure, so be sure to mulch your thyme plant during winter and remove the mulch in the spring.
Also, thyme plants don't appreciate wet soil. Make sure to use a self-draining potting mix to ensure proper growth. Lastly, it's a good idea to prune thyme plants to promote the development of new stems.
Thyme Variety
Although there are more than 300 thyme varieties, here are the top 10 most famous and most commonly used thyme varieties.
Common Thyme or English Thyme
French Thyme
Lemon Thyme
Woolly Thyme
Creeping Thyme (Creeping Pink Thyme)
Elfin Thyme
Lavender Thyme
Italian Oregano Thyme
Silver Thyme
Caraway Thyme
Related Questions
Can you grow thyme from a cutting?
Yes. You can use the cuttings to propagate thyme. You can use rooting hormone for a more successful result or use water for the rooting process.
How do you use thyme?
Thyme is mainly a culinary herb. Culinary thyme works best with savory dishes with meat, vegetables, or fish.
What is a great thyme companion plant?
Thyme is a great companion plant in your herb garden as it prevents fungal infections in plants. You can plant thyme near oregano, parsley, rosemary, marjoram, sage, lavender, dill, tomatoes, eggplants, cabbage, berries, and even roses.