Are you the type that loves to cook from scratch? You'll need to add the art of homemade ice cream cone making to your skillset. You may be wondering if they're worth the effort when they can easily be picked up at the supermarket? Absolutely! Like homemade ice cream, waffle cones are well worth your time. The freshly-made version is sweet and crispy with a welcoming aroma that overwhelms your kitchen; they will transport you to a favorite artisan ice cream store - guaranteed to make you smile.
Before we start, be sure to check out our homemade ice cream making guide to learn how to make creamy treats in your own kitchen.
Recipe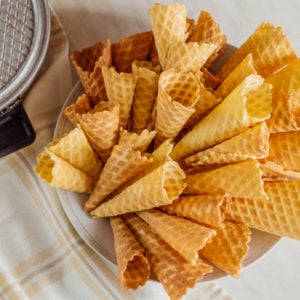 Homemade Ice Cream Cones
This waffle cone recipe requires very little preparation and is similar to a pancake mixture. It is possible to reduce the sugar content for a healthier snack, but reducing it by over half will result in a cone that is more like cardboard.
Ingredients
½

cup

granulated sugar

caster sugar

½

cup

brown sugar

2

eggs

1

pinch

salt

¼

cup

butter

melted (2 oz)

2

tsp

vanilla extract

½

cup

whole milk

full cream milk

1

cup

all purpose flour

plain flour
Instructions
Whisk the granulated sugar, brown sugar, eggs, salt, butter, vanilla, and milk in a large bowl until well combined.Sift flour into the bowl and whisk until a "pancake-like" batter forms. Chill for 30-60 minutes in the refrigerator before returning to the kitchen bench, Allow to sit for 5 minutes at room temperature.

Preheat a waffle cone maker, then pour 2-3 Tbsp of batter into the center of the iron, then close the lid. As a rule of thumb, use about a quarter the amount of batter as you'd use for regular waffles. Cook until the light goes off, a signal that your cone is ready.

Working quickly, remove the flat cone and wrap it around a cone form. You can use a lightly greased funnel or fashion a cone shape out of stiff paper or cardboard. Squeeze down the tip to ensure there is no hole for the ice cream to escape out of. Allow the cone to cool, then slide off the funnel and place it on a cooling rack. Repeat the process until all the batter is used up.

Allow them to cool completely then serve with ice cream, sorbet, or your favorite frozen dessert.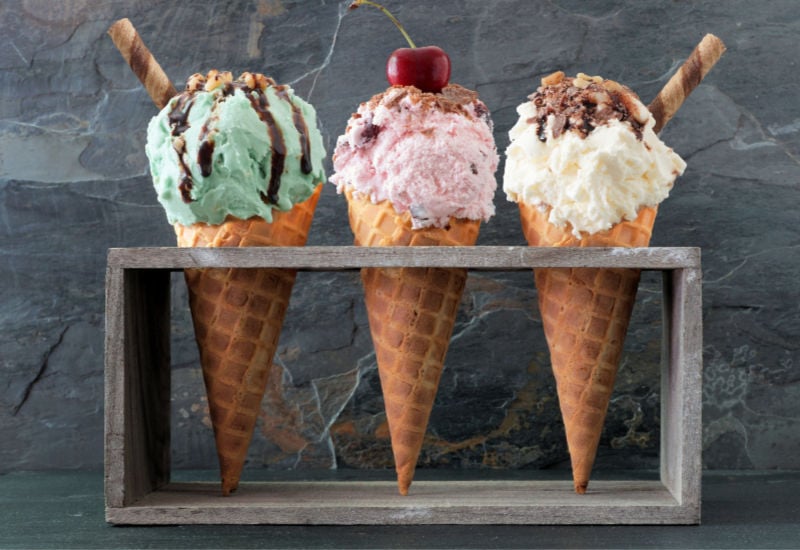 Table of Contents
6 Tips to improve waffle cones
1. Get creative with the mold
For a change from the traditional cone, try molding the cone over a small bowl or cup to create waffle bowls that can be filled with ice cream.
2. Limit the quantity
Instead of making all the cones in one session, it is a good idea to make small batches as you need them. The batter will keep in the fridge for 3-5 days.
3. Reheat the cone if necessary
If the cone starts hardening before you're finished, return it to the oven for two minutes, until it softens again.
4. Make ice cream sandwiches
Allow the flat waffle to harden and use them to make ice cream sandwiches.
5. Reduce the batter
Experiment with reducing the batter used for each cone - the thinner the cone, the crisper it will be.
6. Fill the hole at the bottom
Completely removing the hole at the bottom of the cone can be difficult. A mini marshmallow does a great job of filling this hole!
Cones dipped in chocolate are an excellent finishing touch.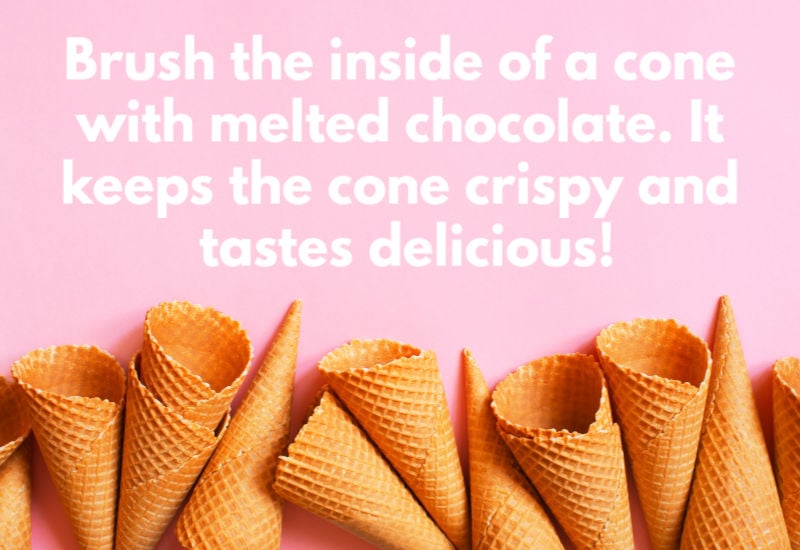 How to make waffle cones without a waffle iron
If you don't have a waffle maker in your kitchen, you can still make these cones. Follow the steps above to make a batter, then pour three tablespoons of the mixture onto a baking sheet, or a tray covered with parchment paper. Use a spoon to spread it out into a thin circle, and bake until golden brown. Fashion into a cone shape by rolling it onto a funnel. Allow the cone to cool completely.
Using a baking sheet will mean you don't get a ridge pattern on the cone, instead, it will be smooth. They'll still taste amazing.
Watch how to make cones
Frequently asked questions
How long do waffle cones stay fresh?
Homemade waffle cones will remain fresh for 2-3 days when stored at room temperature in an airtight container or zip-lock bag. To crisp up stale or soggy textured cones, heat in the microwave for 15-30 seconds on high until hot.
Can you freeze waffle cones?
Waffle cones should not be frozen as they become soggy and unpleasant once thawed. A better option is to refrigerate the batter for up to five days and then make cook the waffles as required. The batter can also be frozen if required.
Love ice cream? Check out these recipes:
We've developed the perfect chocolate, strawberry, or mint choc chip ice cream that can be made with or without an ice cream maker.
Summing up
If you're the DIY type then making homemade ice cream cones is something worth learning. There's something special about your own hand-crafted cones, decorated with chocolate and sprinkles. Kids love them!
You'll find they require really fast work to shape them so it's best to make these during a time when you're unlikely to be distracted.
Does your household love their ice cream? You might want to make life easier by investing in a specialised cone maker. These appliances are ideal if you find yourself scooping often, and don't enjoy the store-bought cones.
Have you made cones in your home before? Let us know in the comments below how they turned out.