Parsley is one of the easiest herbs to grow. They require little to no effort as long as they receive enough sunlight, and you can harvest them in 90 days. Although you might think you have to kill green leafy vegetables to harvest them, you can actually harvest parsley leaves while leaving the plant alive and propagating.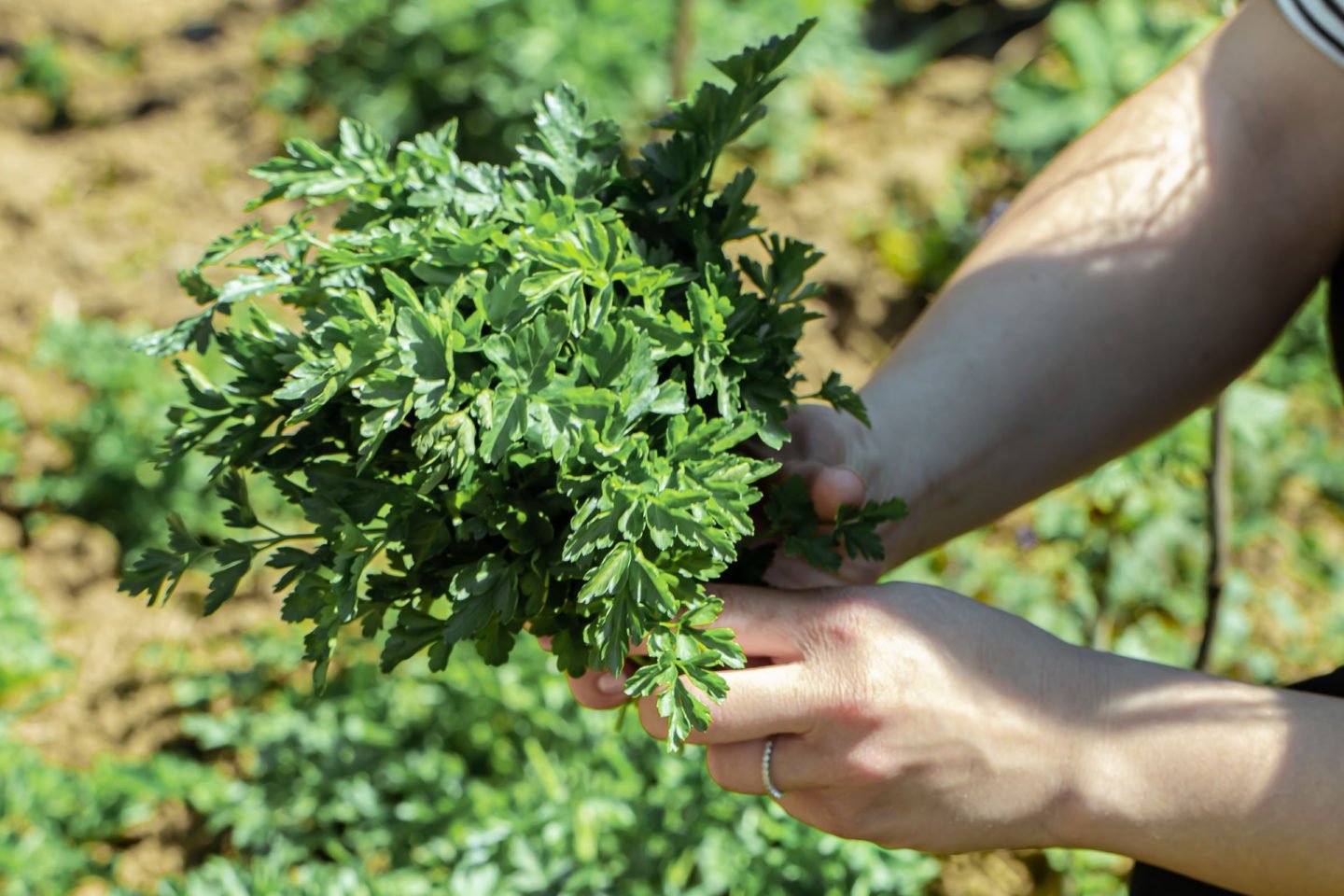 Harvesting parsley is a no-brainer. Simply hold the base of the stem you wish to cut, and cut the stem using a sharp knife or scissors. To keep the leaves fresh, you can store the harvested stalks in a glass with water and chop the leaves when needed. Once stored properly, parsley leaves stay fresh for weeks for your garnish needs.
Regardless of the type of parsley, you can use the simple steps above when harvesting your home-grown parsley. This article will tell you how to pick parsley from your plant while keeping it healthy. I will also give tips on parsley care, so be sure to read on.
Table of Contents
When to Harvest Parsley
Before diving into the tips on harvesting your parsley plant, you first need to know when the right time is to harvest this biennial herb. The plants are ready to harvest after 70-90 days, or around 16 weeks from germination. It's important to note that, as a biennial plant, parsley survives two cycles, produces seeds, and then dies.
If you planted parsley seed, it's best to start the germination in the fall and start harvesting in the spring, or plant in late winter and harvest early in the summer. As a rule of thumb, you have to see three or more clusters of leaves before you start harvesting or when the plant begins to provide more than three stems. It's also essential to notice the length of your parsley; you can start cutting it once it reaches six or seven inches.
In addition, depending on your location and the health of your parsley plant, it can survive the winter, and you can keep on harvesting in its second year.
How To Harvest Parsley Without Killing The Plant
Even though parsley is one of the herbs that keeps growing even after you pick some leaves and stems, there are a few important things you need to do to keep it alive.
Harvest Before Winter
Hard winter frost quickly damages and discolors the leaves of your parsley. If your parsley dies, it may regrow in the spring and summer. But if you want to always have fresh parsley, bring your plant inside when winter comes. It is also advisable to pick the leaves before the first frost, as new green leaves are no longer available after the plant enters dormancy.
Harvest In The Morning
Make sure the plant is well hydrated before picking your parsley, which is best done in the morning after the dew has dried on it. Harvesting the stems of your parsley when it's scorching hot dehydrates them, and they might not grow back.
Harvest Only Younger Plants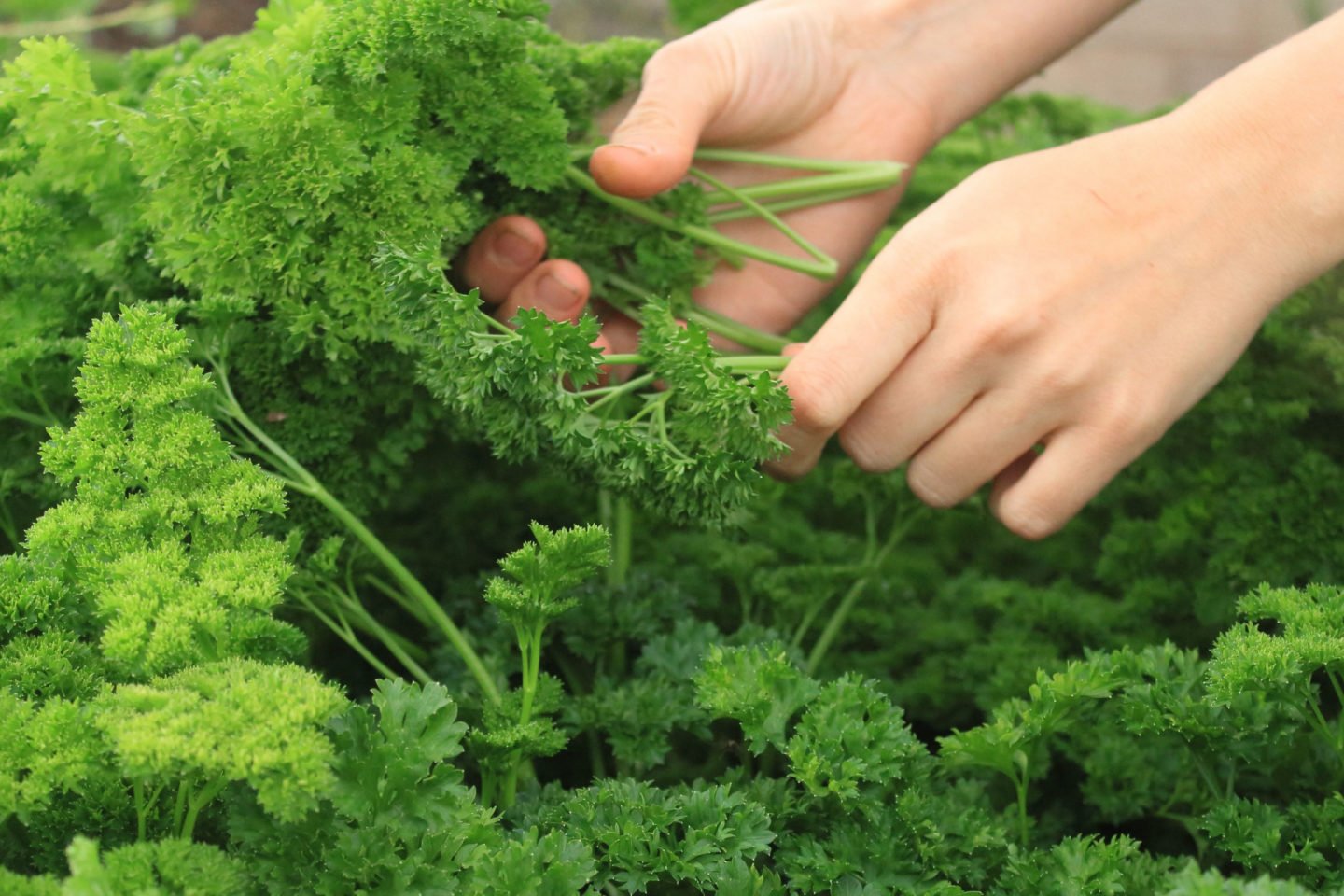 Since parsley is a biennial plant, it survives two cycles before dying. It's important to remember that the plant's first cycle is the best time to harvest leaves because it can handle minor damage and still make more leaves.
However, during the second cycle, the plant is more focused on producing seeds that you can use for future germination. With this, it is not advisable to still harvest parsley leaves on plants on the second cycle to avoid killing the plant.
Use Sharp Cutting Tools
When harvesting parsley, the goal is to keep the stems growing and producing new leaves even when cut. A dull knife or scissors frequently bruises the stem, exposing it to fungal infection, hardening, or even death. Additionally, when cutting parsley stalks, make sure to cut at a diagonal angle for easier maneuvering, allowing the knife to slide effortlessly across the parsley stalks.
Cut Stems Near The Base
When harvesting a huge number of parsley leaves, be sure to cut the stem near the base. Cutting the stem near the tip causes the leaves to turn brown and die, while cutting them near the base promotes stem and leaf growth. This technique also applies to pruning.
Let The Plant Rest Before Harvesting Again
When harvesting for the first time, it's essential to give time for the plant to rest and recover before attempting to harvest again. As a rule of thumb, after the first harvest, you should leave the plants to rest for at least two weeks—enough time for the plant to produce new sprouts. For the succeeding harvests, a one-week interval would be acceptable.
It's also important to note that during the first harvest, you only get ⅓ of the plant to avoid killing it. In the following yields, you can start harvesting ⅔ of the plant.
Harvest The Outer Stems And Leave The Ones In The Inner Parts
The stems on the plants' outer parts are the mature stems, while the ones on the inner parts are the young ones. When harvesting, make sure to harvest the ones on the outer part first. When you pick the older ones, it makes more stems grow, but when you cut the young ones, it slows growth.
Prune Your Plant When Needed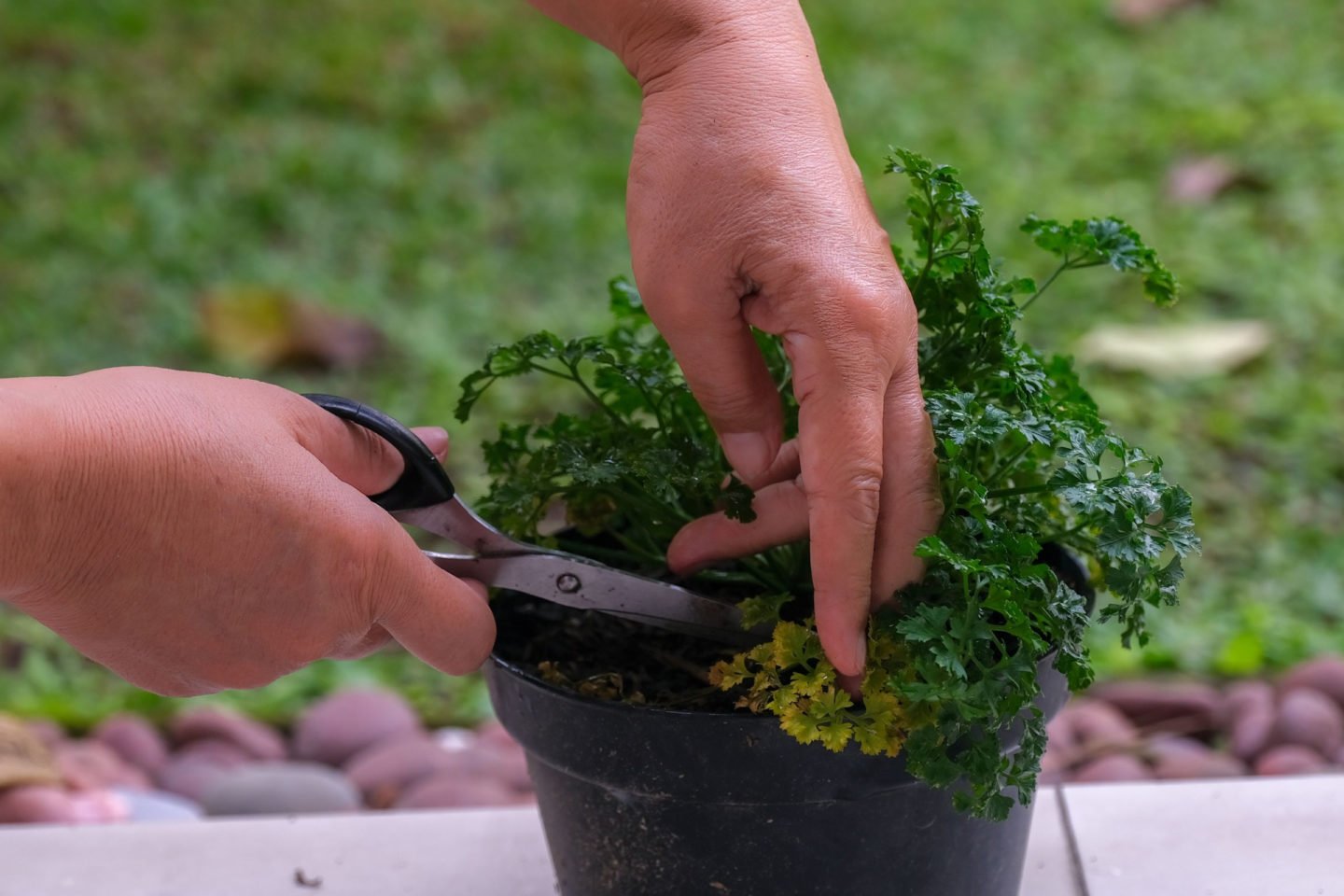 Even when you don't need much parsley in the kitchen, make harvesting a habit. Pruning is the process of removing several stems or parts of a plant that may possibly hinder the growth of new stems. When pruning, make sure to cut the mature stems (the ones on the outer part) near the base to promote healthier stems.
How To Harvest Parsley Seeds
During the second cycle, your parsley plant starts producing parsley flowers or parsley blooms that turn into seeds. You can harvest these seeds and germinate them for your garden's next batch of herbs. When harvesting parsley seeds, you need to bring a box or any sort of storage where you can place the seeds, as they are tiny.
Simply look for the dried seed head, snip or pinch off the stem, and gently roll them between your thumb and index finger so the seeds will fall into the storage box or paper bag you prepared. For easy storage, parsley seeds must be picked when they are completely dry. This is because wet seeds tend to go bad.
If you have a lot of parsley plants, it also helps to label the harvested seeds with the parsley variety and the harvest date to help you keep track of your harvests. When properly stored, these seeds are viable for up to three years.
How to Store Parsley
To make your fresh herbs last for weeks, simply store freshly harvested parsley stems in a glass with water and place them in the refrigerator. If you don't have the space to refrigerate the parsley, you can cut the leaves and put them in a Ziploc bag for freezing.
However, if you have too much parsley but don't want to throw it away, you can turn it into dried parsley. Simply use a dehydrator for the leaves, and store them in an airtight container. You can use this parsley for up to three years when appropriately dried.
Parsley Care Guide: How To Grow Parsley Indoors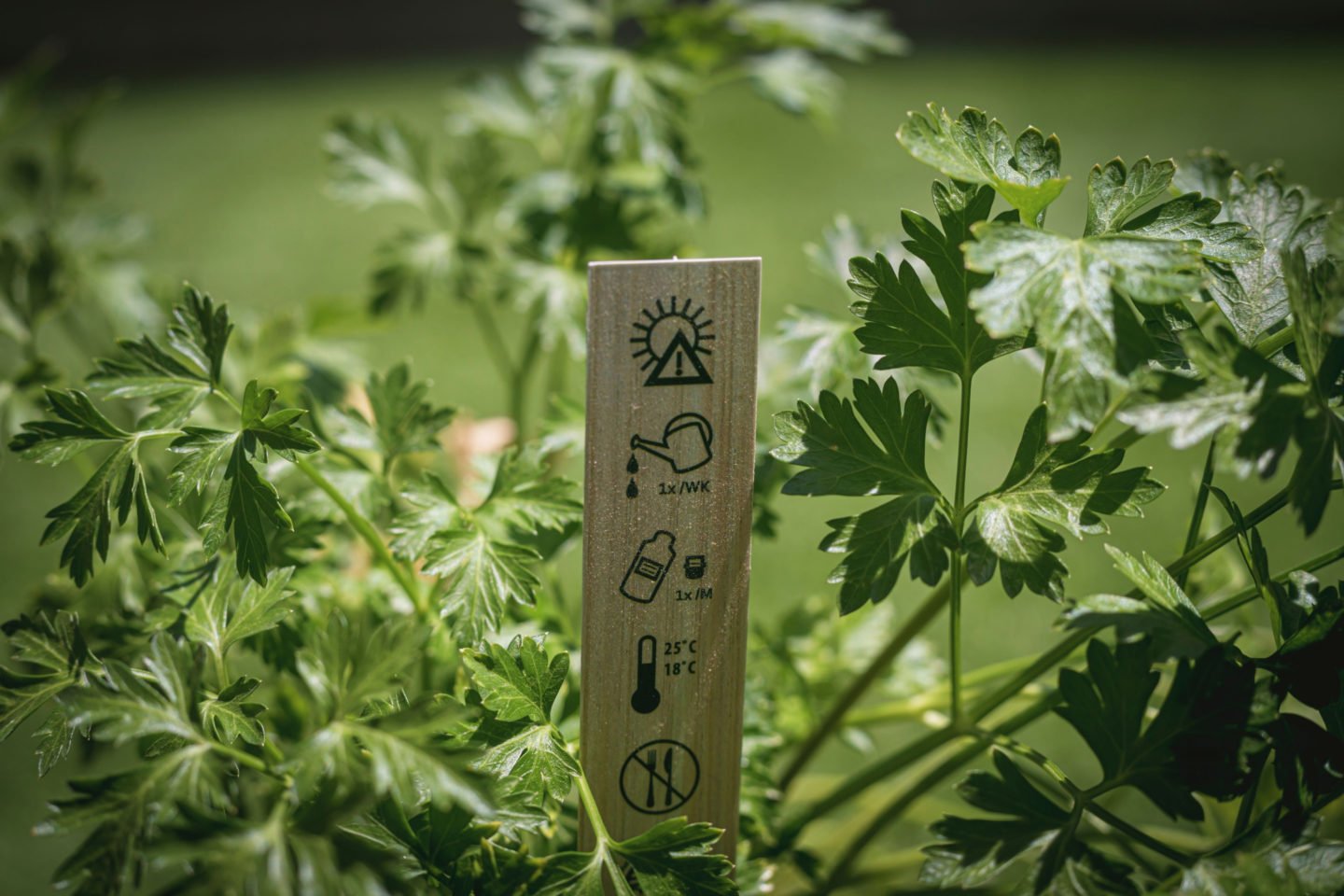 Although a continuous light source for 6 to 8 hours with partial shade is the primary requirement for growing parsley, you can check the complete list of our parsley care guide in this article. This article discusses the soil, water, fertilizer, and other requirements of parsley.
Parsley Companion Plants
If you have enough space for other plants aside from parsley, you can plant these alongside them: tomatoes, chives, peas, beans, cilantro, basil, peppers, onions, and even larger plants like corn, apple trees, and pear trees.
Parsley Varieties
There are three primary forms of parsley ( Petroselinum crispum ): curly parsley, also known as common parsley or curly leaf parsley; flat leaf parsley, also known as Italian parsley plants; and the less famous Hamburg parsley, also known as turnip-rooted parsley. Within each variety, there are several cultivars. Although the three types serve different functions in the kitchen, they are all tasty, colorful, healthy, and fragrant.
Related Questions
Does parsley grow back after cutting it?
Yes. Specific harvesting techniques ensure that your parsley plant keeps on growing. On the first cycle, cutting off the older stems near the base makes the plant grow new leaves and stems.
Is cilantro the same as parsley?
No. Although parsley leaf and cilantro leaf look very similar, they are different plants. The best way to tell them apart is by their scent. Parsley has a lighter scent than cilantro's intense, citrusy, and spicy aroma.
Can you grow cilantro and parsley together?
Yes. You can grow parsley and cilantro together in your raised garden bed. You can even plant them in the same pot when growing them indoors.
Can you grow basil and parsley together?
Like growing parsley, growing basil plants is also hassle-free. You can plant them together in your garden bed or plant them in the same pot indoors. Fresh basil leaves also provide a great aroma and flavor for your kitchen.