Occasionally we end up with an oversupply of broccoli in the kitchen; there's more than we could ever hope to eat. To avoid food wastage, an excellent option is to freeze the excess. As with any fruit or vegetable, there is a right and wrong way to preserve it. If you would like to learn how to freeze broccoli keep reading to learn a simple method that will help retain the vegetable's vibrant green color, delicious flavor, and nutritional value.
Before getting started, get some useful equipment ready on the kitchen bench. You will need a large pot of water and a bowl of ice water. A chopping board, sharp knife, baking sheets, freezer bags, and a pen for labeling will also be needed.

Table of Contents
How do I freeze broccoli?
The quickest way to freeze fresh broccoli is to simply wash, dry, and trim off the stalk ends before placing in freezer bags and labeling with the current date. This is a simple method that will allow you to freeze large amounts of broccoli in no time at all. But the broccoli will freeze into one solid clump which isn't ideal, because sometimes you may only want a few pieces from the bag. You will also find that the broccoli loses its color once defrosted. Let's take a look at another method that takes a little longer but is well worth the effort.
1. Preparation
Start by removing any unwanted tough, woody stalks. Place the head of broccoli on a chopping board and use a knife to slice off the unwanted end. If you enjoy eating the stalks, then we recommend chopping them off and freezing all of them in a separate bag.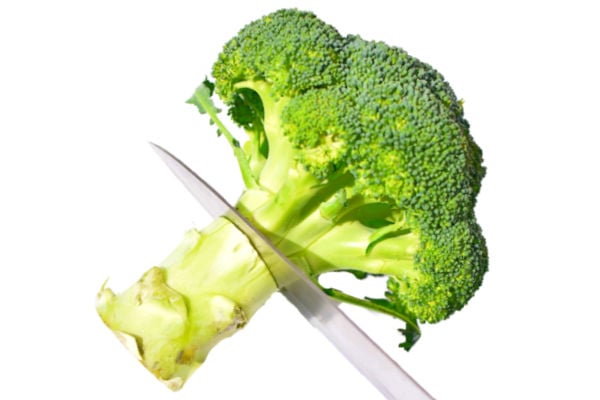 Having removed the unwanted bits, cut the head of broccoli into individual florets and wash them in a sink or large bowl filled with cold salted water. Set up another bowl of water and ice cubes, using enough cubes to make the water icy cold.
2. Blanching
Blanching fresh broccoli will result in vibrant green-colored florets that taste fresher and provide more nutritional value. It is a quick step that involves briefly boiling or steaming the vegetables and then immediately tossing into an ice bath to stop the cooking process.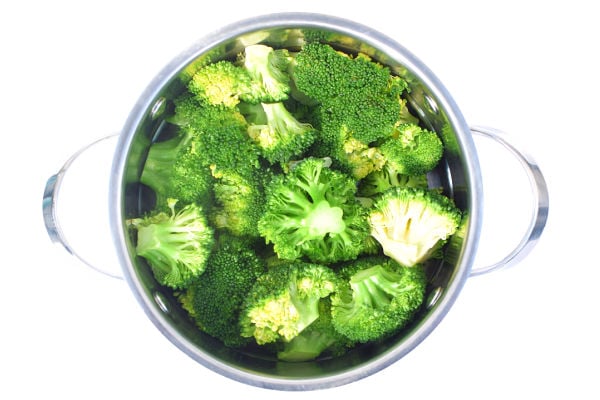 To blanch broccoli, begin heating a large pot of water on a high heat until it reaches a rolling boil. Add the florets in one pound batches. you will notice that the boiling will stop once they are added. Wait for the water to return to a boil and then set a timer for two minutes; immediately scoop out the vegetables and add them to the icy water. Once the broccoli is cool, strain them and place on a dry tea towel.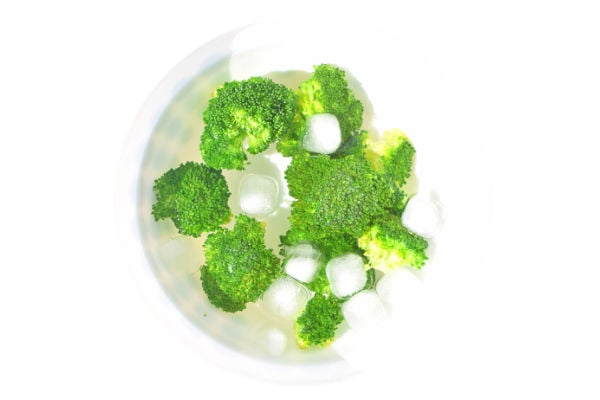 For those that prefer to steam their vegetables then follow the same steps as above. The only difference is that you'll steam the veggies for four minutes.
3. Freeze individually
Lay out a baking sheet and line it with parchment paper. Place the drained broccoli florets onto the tray in one single layer, ensuring that they are not touching. For large quantities of broccoli, freeze multiple layers by placing extra sheets of paper between them. Freeze the vegetables uncovered for about two hours or until hard.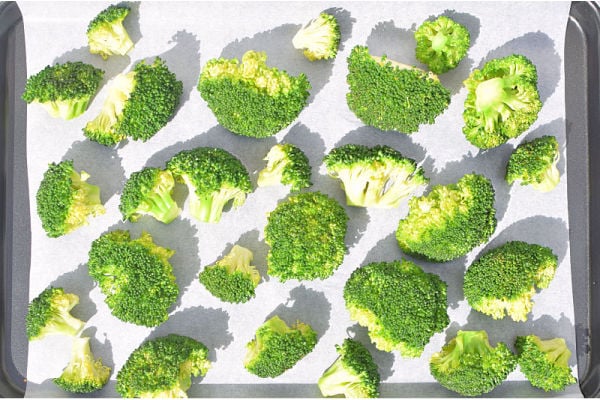 4. Pack and freeze
Remove the broccoli from the freezer and pack them into individual airtight containers or durable freezer bags. Leave about one inch of headspace to allow room for the vegetables to expand.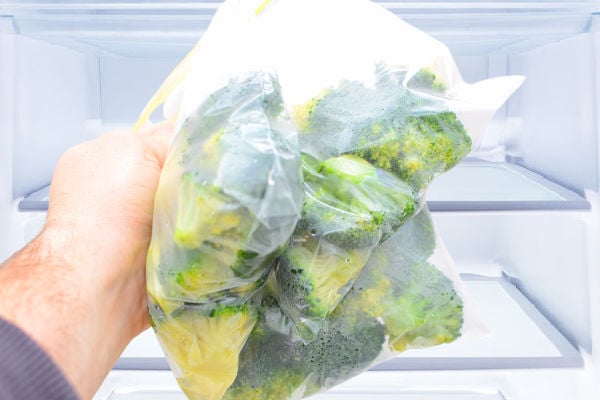 Label with today's date to avoid any confusion when it comes time to defrost your food. Transfer the broccoli to the back of the freezer rather than the door or the front of the freezer where there is more temperature fluctuation.

Related reading:
How to freeze zucchinis.
How to freeze apples.
How long can I freeze broccoli for?
Broccoli will keep for up to 12 months frozen when stored properly. Although the vegetable may still be edible after this time, its quality will degrade, and freezer burn is likely to have set in. We recommend discarding frozen vegetables that have been sitting in the freezer for over one year.
How do I use frozen broccoli?
Blanched broccoli will only need a brief boil in water before it becomes tender. When adding the vegetable to stir-fries wait until the end of cooking before tossing them in. If they are heated for too long they will turn mushy.
Like store-bought frozen veggies, you don't need to defrost the broccoli before using in recipes. They can be used frozen and if you are adding them to slow-cooked meals like a casserole, add them straight from the freezer.
Keep in mind that freezing vegetables will usually have some effect on its texture. It is possible to use thawed broccoli as a side dish, served on its own, but it won't be as good as the fresh version.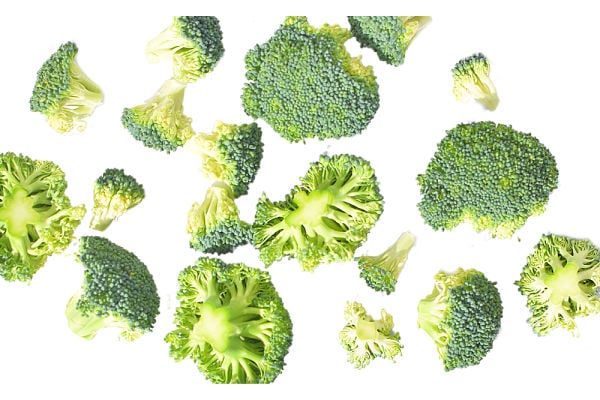 Other commonly asked questions
Can I freeze fully cooked broccoli?
If you've made too much broccoli for dinner then it can be frozen for up to 12 months when stored in an airtight container. You may find that the texture is a little mushy and watery once thawed so it would be best used in slow-cooked meals or blended into vegetable soup. The best option for freezing broccoli is to par-cook it by boiling for two minutes and then adding to a bowl of ice water.
Should I thaw broccoli before using in recipes?
It is easier to add frozen broccoli directly into the pan or pot as there is no benefit to thawing the florets before use. If you still want to thaw them first, then place the broccoli in a bowl and leave at room temperature for about one hour. If the vegetables are a solid clump then you will probably need to allow an extra hour to defrost.
Why should I freeze broccoli?
When you buy broccoli in-season it is usually cheaper and the quality is much higher. It makes sense to buy in bulk during this time and then freeze the vegetables for use throughout the year. Preserving broccoli in portion-control bags is also really convenient; on a busy weeknight, it is great to have healthy vegetables already prepared.
Tips for freezing broccoli
Choose in-season broccoli that has a deep green color without any yellow patches or mushy bits.
Sourcing locally grown produce from a farmer's market is an excellent option. Better still, grow your own if you have space!
Always label freezer bags with the date as it is easy to forget when they were bagged.
If your freezer is at capacity, keep in mind that the vegetable stores well in the refrigerator, holding its quality for up to two weeks.
Related reading:
How to freeze strawberries.
How to freeze bananas.
Summing up
Whether you've had a successful crop of broccoli or you just got a little overzealous at the supermarket, that oversupply or vegetables doesn't have to go to waste. Forget having non-stop broccoli smoothies and soup for weeks on end. Instead, freeze the broccoli and use it throughout the year. Not only will your kitchen be better organized, you will also save money by avoiding high prices in the off-season.
It doesn't take many heads of broccoli to fill up a regular-sized freezer. If you enjoy freezing lots of vegetables then you may want to invest in a chest freezer. This will give you the flexibility to freeze loads of food without needing to constantly rearrange everything.
What is your favorite broccoli recipe? Please let us know in the comments below.