After Christmas, Valentine's Day, and Halloween, there can be a vast leftover stockpile of confectionery. There are often more candies than you could ever hope to consume. The usual answer is to store them in the cupboard until needed.

But this leads to an important question: how long does candy last before going bad? On this page, we'll look at all the common types of candy and the shelf life you can expect before they're no good to eat.
Further reading:
We did some serious research into the best candy thermometers currently on the market. Once you get your hands on one of these, you can start making your confectionery!
Table of Contents
How long is candy good for?
Depending on the type of candies, they'll last from six months to over two years before going bad. If possible, check the expiration date to get an indication of how long you have. However, the "best by" or "sell by" dates you see on the labels are just a recommendation provided by the manufacturer. In reality, they have no way of knowing when the candy will expire because it depends on a range of factors. We've compiled some approximate guidelines below.
| Type of Candy | Shelf Life |
| --- | --- |
| Gummy candy | 2 years+ |
| Chewing Gum | 2 years+ |
| Lollypops | 2 years+ |
| Hard candy | 2 years+ |
| Jelly beans | 1-2 years |
| Dark chocolate | 1-2 years |
| Milk chocolate | 10-12 months |
| Chocolate candy bars | 10-12 months |
| White chocolate | 10 months |
| Caramels | 9 months |
| Candy corn | 9 months |
| Peanut butter cups | 9 months |
| Marshmallows | 6-8 months |
| Candy canes | 6-8 months |
Disclaimer: We don't want anyone to get sick, so if in doubt, toss it out. Food safety should always come first.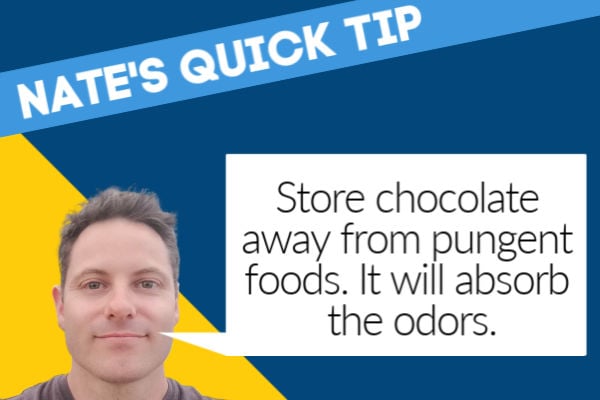 What factors effect the life of candy?
Packaging
Candy needs to be kept in its original wrapped packaging and remain unopened to ensure maximum shelf life. If you do have opened packets, store them in an airtight container.
Moisture
Hard candy, such as lollipops, are low-moisture, which provides them with a long life expectancy. Keeping your sweets in a sealed bag will help prevent moisture from getting in and corrupting the product. Marshmallows contain relatively high moisture content and won't last as long.
Light and heat
Store your candy in a dark, cool, dry place such as a pantry or cupboard. Sunlight and heat will reduce shelf life, especially with chocolate. Freezing candy is an excellent option to extend its life, but steer clear from adding products with add-ins like fruit, seeds or nuts. The texture will become unpleasant after defrosting.
Milk fat content
This factor affects chocolate. Dark chocolate doesn't contain milk fat, which is why it will last a lot longer than the milk or white varieties.
Preservatives
Some candy bars contain preservatives to maintain freshness and prevent the oil and fat content from turning rancid. Commonly used additives include antioxidants and butylated hydroxyanisole. Artisanal chocolates don't usually contain these ingredients and should be eaten within 1-2 weeks to appreciate their flavors.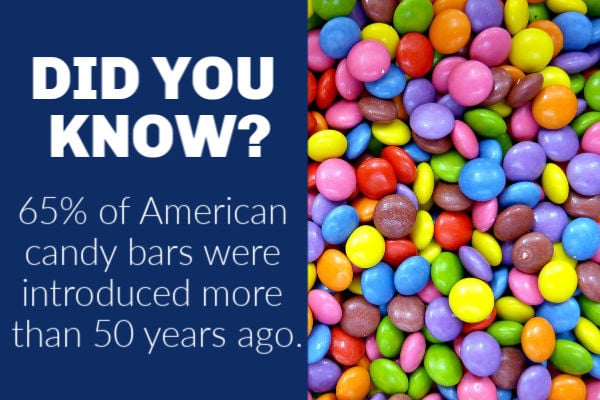 Frequently Asked Questions
Does eating old candy harm you?
Candy that passes its expiry date isn't usually a problem from a health perspective. It's more about a decline in quality. When candy is well past its best by date, you may find the flavor and texture isn't what you're used to. If you're concerned about the candy, then follow this rule: if in doubt, toss it out.
Is chocolate that's coated white bad?
Chocolate that has a dusty white coating is okay to eat. This coating is the result of cocoa butter rising to the surface of the chocolate after separating from the cocoa mass. It's known as "fat blooming" or just "blooming." Although blooming isn't considered dangerous, keep in mind the texture and taste may not be as good as when it was first purchased.
How long does candy last in the freezer?
Candies stored in the freezer at a constant temperature of 0F will last indefinitely. There may be some degradation in quality, but it will remain safe for consumption.
Ideas for using leftover candy
Interesting reading: Can you microwave Jolly Ranchers?
Final Words
The downside to candy is that it's loaded with sugar, making it an unhealthy option for frequent eating. The upside to candy is it's loaded with sugar, resulting in a food that generally lasts six months to two years. The secret to maximizing shelf life is to properly store your confectionery in a cool, dry place such as a pantry. Avoiding temperature spikes will stretch out the time your candies remain edible.
What's your favorite confectionery? Would you eat candy past its use-by date? Let us know in the comments below.