If you're looking to make classic North African food, one sauce you can't do without is harissa. Adding a uniquely bright heat, it serves as the backbone of many chicken, vegetable, and rice dishes. Once you taste it for yourself, you'll understand why it's so well-loved.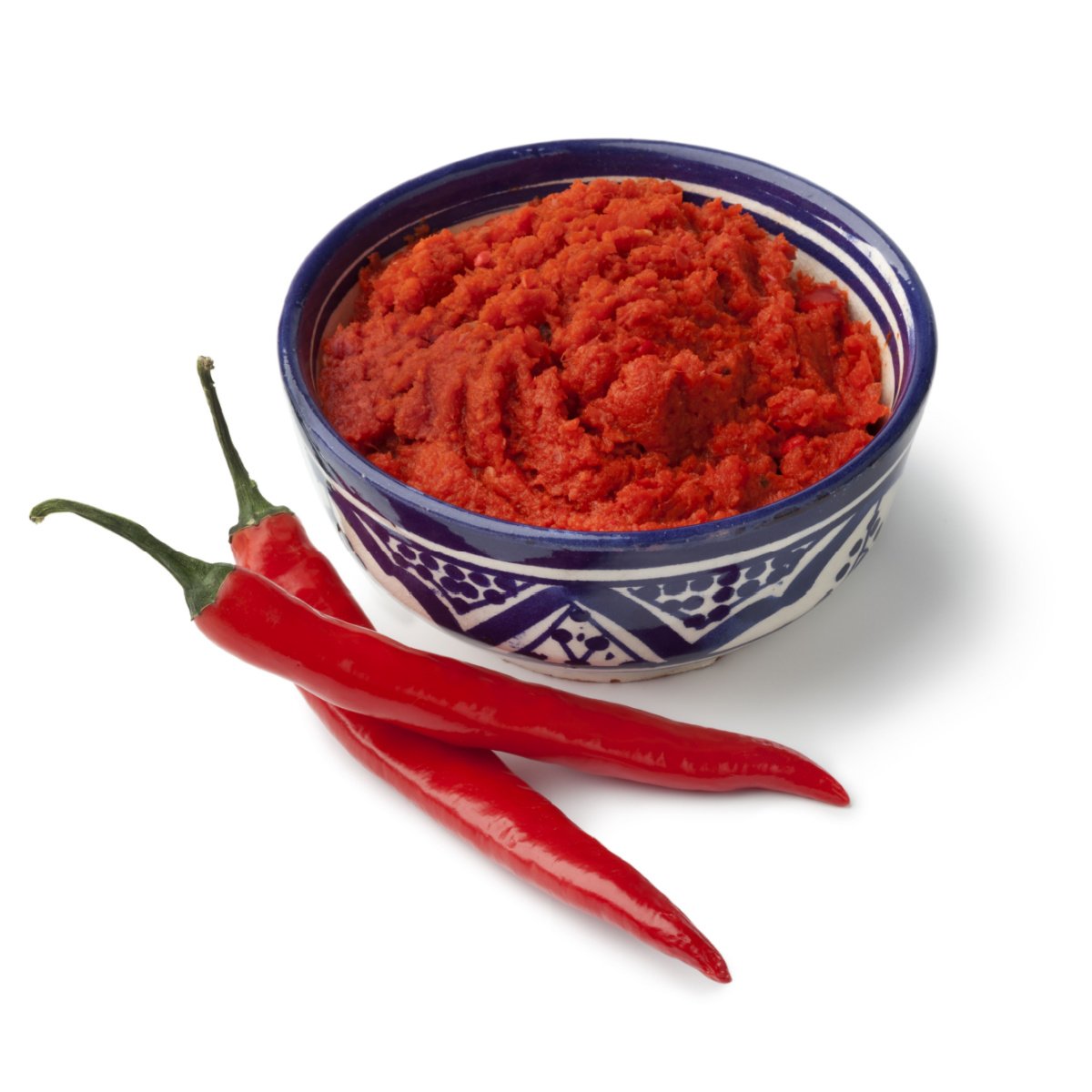 Unfortunately, harissa isn't always easy to find in American grocery stores. If you need a good harissa substitute, you can try sriracha. While it has a slightly different flavor, it still brings the heat of chiles, balanced with garlic and a bit of vinegar.
There are plenty of other harissa substitutes available, and each one brings something slightly different. Learn more about them and choose your favorite.
Table of Contents
Best Substitutes for Harissa
1. Sriracha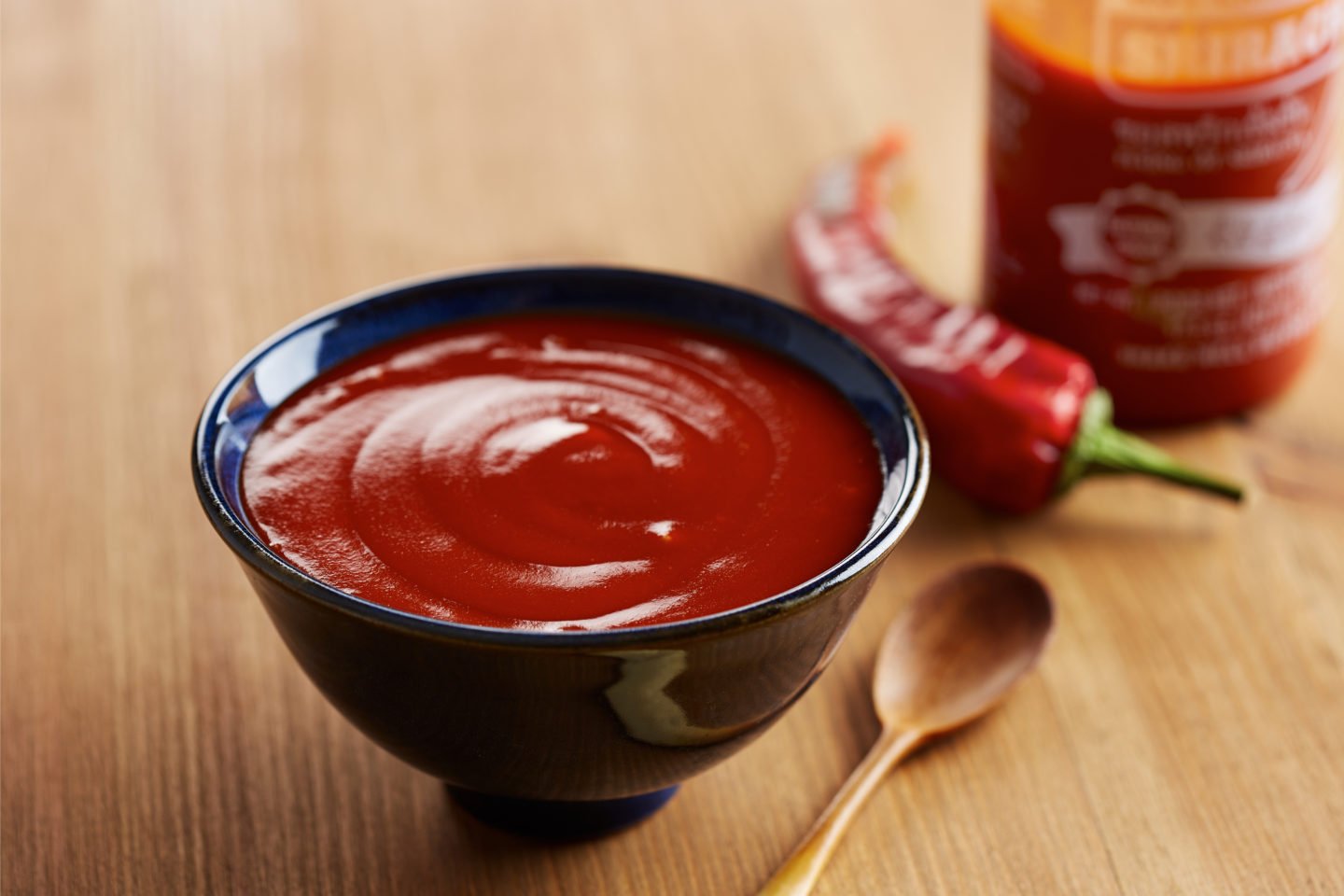 It's not surprising that sriracha has a similar flavor to harissa since it includes many of the same basic ingredients. Red chiles, garlic, and vinegar serve as the base for both sauces, and you can feel free to use them interchangeably. Just keep in mind that sriracha lacks the acidity of harissa, so you may want to add a squeeze of lemon to it.
The other factor to keep in mind with Sriracha is moisture. Harissa is thicker than sriracha, which allows it to thicken dishes it's added to. When substituting with sriracha, try to keep down the moisture slightly so as to keep your dish's consistency nice and thick.
Conversion Ratio: Feel free to substitute sriracha for harissa at a 1:1 ratio, but try to keep the moisture of your dish low.
2. Gochujang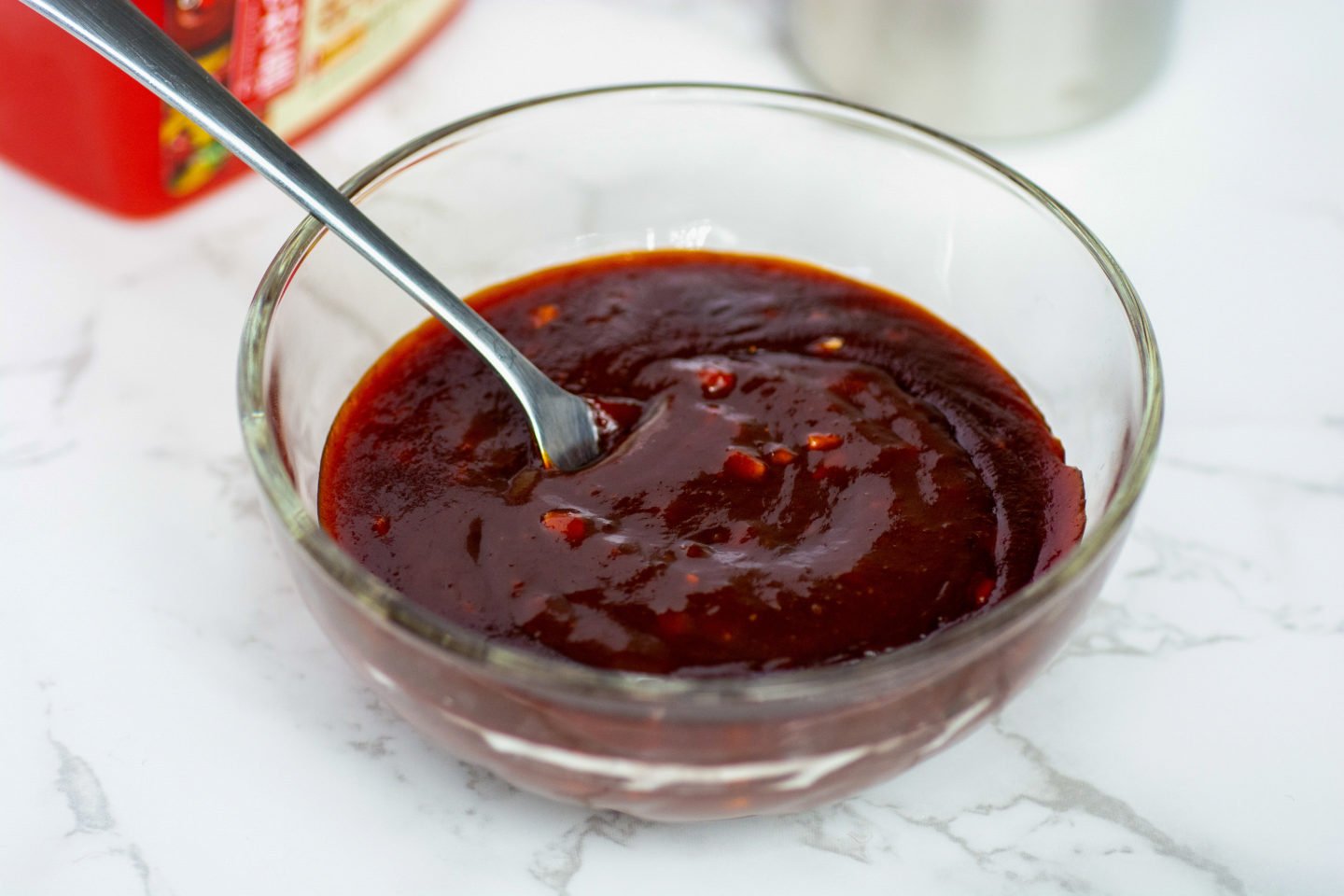 Gochujang is a Korean chili paste used in a variety of different dishes to add a sweet, spicy, and savory kick. It's a bit different from harissa in terms of flavor, as it lacks its bright, acidic kick, but by adding a bit of lemon or vinegar, you can get a fairly close match in terms of flavor. Gochujang is also a bit thicker than harissa, so you'll need to water it down to get the right consistency.
Traditionally, gochujang is similar to harissa in the sense that it can be added directly to recipes or used as a sauce on its own. When used as a sauce, it is usually combined with soy sauce or vinegar to thicken its consistency and balance its sweet and spicy flavor. Don't forget that, just like harissa, Gochujang comes in a range of spice levels, so be sure to find the one that suits your palate.
To learn more about Korean chili pastes, see our article Gochujang and Gochugaru—What's the Difference?
Conversion Ratio: Substitute 2 teaspoons of gochujang and 1 teaspoon of water for every tablespoon of harissa.
3. Tabasco
The truth is Tabasco isn't an ideal harissa substitute, as it has a drastically different flavor and texture. However, it has some of the same basic tastes, and with the right recipe, it can work surprisingly well. Best of all, Tabasco can be found in virtually every grocery store, corner store, and gas station in America.
The key to using Tabasco as a harissa substitute is to use it in dishes that have other spicy elements that can balance its harsh acidity. When used alongside cumin, coriander, and caraway, it will begin to taste a bit more like its North African cousin.
Conversion Ratio: Substitute 2 tablespoons of Tabasco for every tablespoon of harissa.
4. Piri-piri Sauce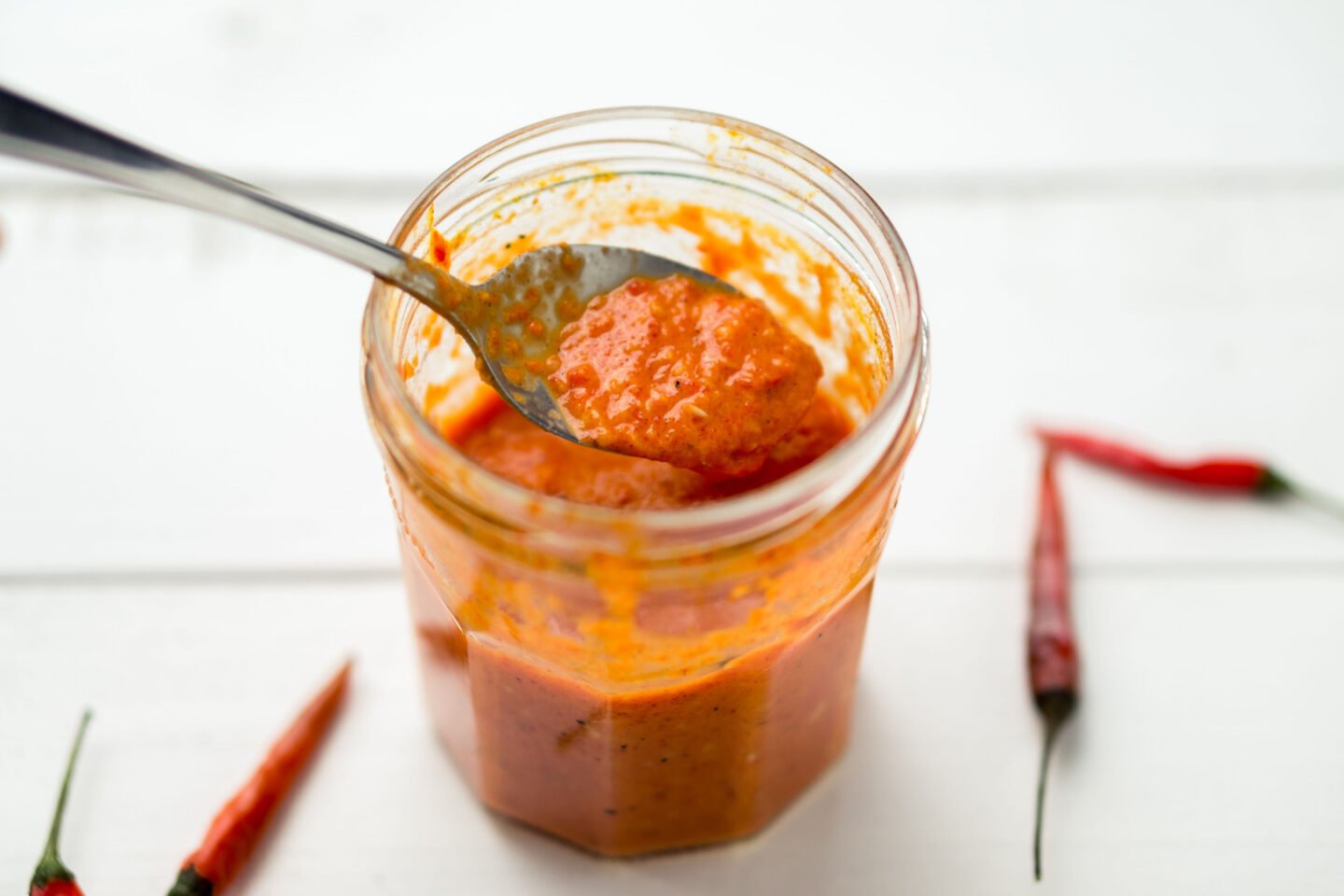 Piri-piri sauce actually comes from a similar culinary tradition as harissa, where it is used to season meat and veggies in South African cuisine. It has a bright, fruity, spicy flavor, with a bit of garlic to add zest. You can use it in pretty much any recipe that features harissa, as long as you remember to thicken its texture.
Piri-piri sauce has a higher moisture content than harissa, which gives it a more fluid texture. If you were planning to thin your harissa anyway, then this can be advantageous. However, in other cases, you may want to cut some of the other moisture out of your dish to compensate.
Conversion Ratio: Substitute 1 tablespoon of Piri-piri sauce for every tablespoon of harissa.
5. Thai Red Curry Paste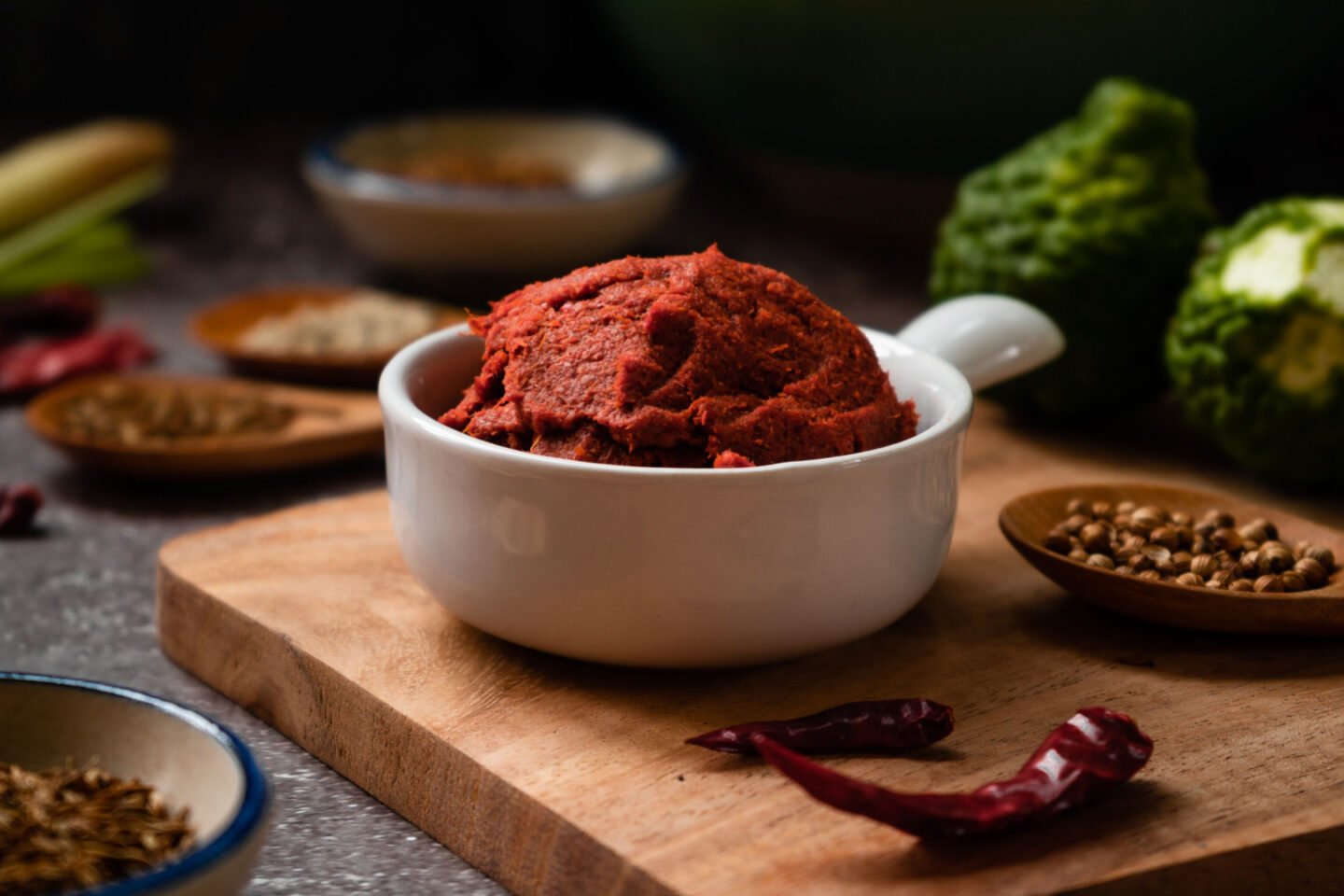 Thai red curry paste is a traditional blend made of red chiles, shallots, lemongrass, shrimp paste, garlic, galangal, and white peppercorns. This gives it a relatively bright and fresh taste, which pairs perfectly with Thai cuisine. While distinct from harissa, it can work in many of the same recipes.
You can also consider using Thai massaman curry, which is similar to red curry but includes some warmer spices like cumin and clove. This gives it a taste that pairs well with other North African flavors.
Conversion Ratio: Substitute half a tablespoon of red curry paste for every tablespoon of harissa.
6. Sambal Oelek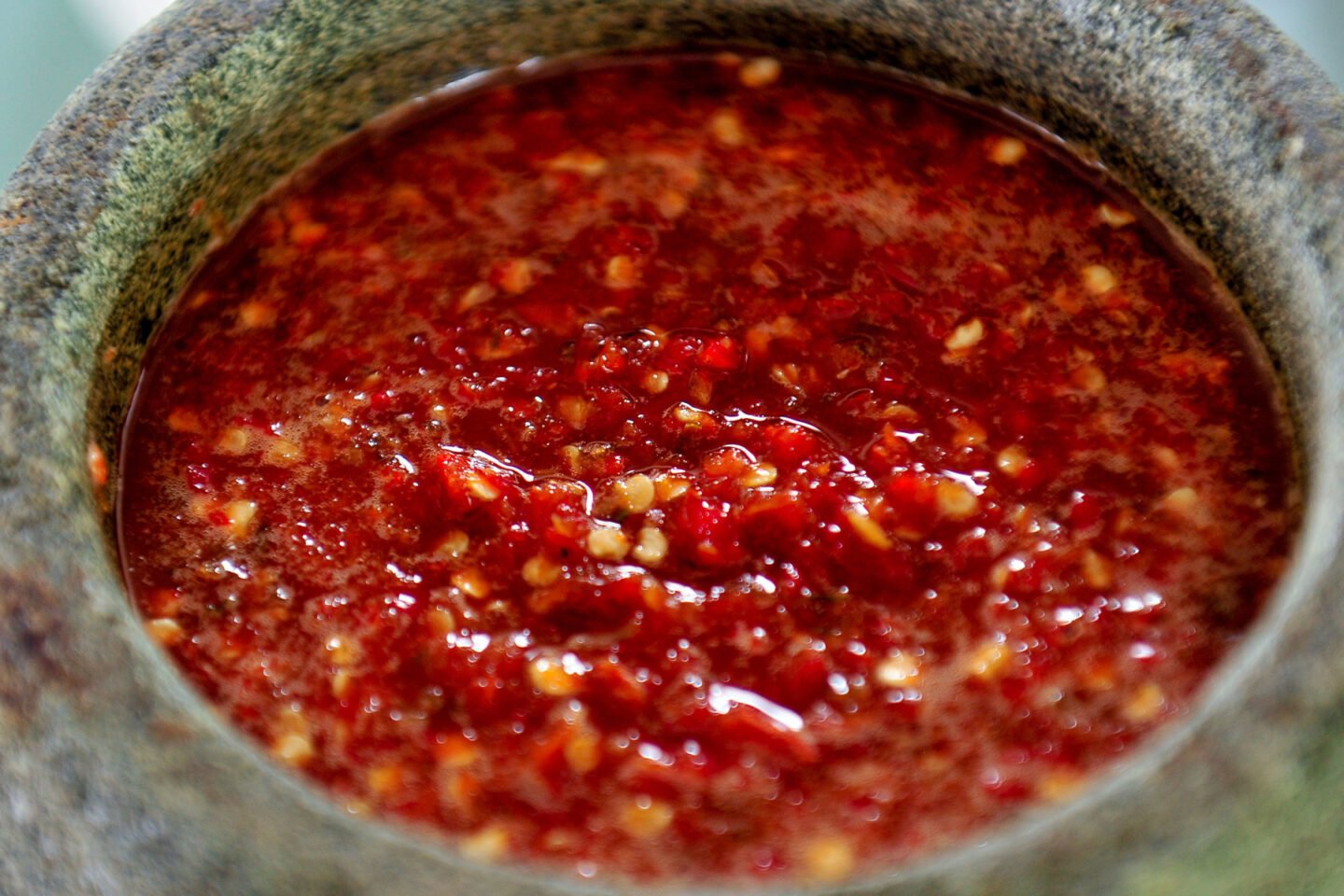 Sambal Oelek, also just called Sambal, is a traditional Indonesian chili paste made of crushed red peppers, garlic, lime juice, and salt. It has the same bright, fruity taste as harissa to balance out the heat of the chili, and you can use it instead of harissa. The only problem with using it as an alternative is that it's rather difficult to find in most American and European grocery stores.
The key difference between the two is that sambal lacks the coriander, caraway, and cumin often found in harissa. This will give it a lighter, more complex flavor that can still work with meat and veggies. You can also add these spices yourself for an almost perfect match in flavor.
Conversion Ratio: Feel free to use Sambal Oelek interchangeably with harissa at a 1:1 ratio.
Summary
Still undecided? Let's look once again at the list of best substitutes for harissa and take note of their differences in taste and levels of spiciness.
| Substitute | Notes |
| --- | --- |
| Sriracha | Sriracha is easy to find in most supermarkets and brings a similar level of heat as most varieties of harissa. |
| Gochujang | Gochujang has a similar level of heat as harissa as well as a thick consistency, making it a great substitute. |
| Tabasco | Tabasco has a much more acidic flavor than harissa, though it can work as a substitute in the right recipe. |
| Piri-piri Sauce | Piri-piri is a great match for harissa in terms of flavor, though it may be more difficult to find than other options. |
| Thai Red Curry Paste | Thai red curry has its own distinct flavor, with more herbaceous notes than harissa, though it can work in a pinch! |
| Sambal Oelek | This Indonesian chili paste shares some of the same basic flavors as harissa, and with a bit of doctoring, it can be a perfect match. |
Related Questions
Is harissa a powder or a paste?
Actually, harissa is available as both a powder and a paste. The paste is much more common, though the powdered version can be useful as a meat rub.
What is harissa made of?
The basic recipe for harissa is relatively simple, with just red chiles, garlic, oil, and vinegar or lemon juice. Many varieties also include other spices like cumin, coriander, and caraway. Since there are many types of harissa, you can find a wide variety of other ingredients.
What does harissa taste like?
Since harissa is actually a blend of chiles and spices, its flavor can vary depending on who makes it. Some types of harissa have a more delicate floral flavor that includes flower petals and rose water, while others can have smoky or citrusy flavors. The heat level of harissa can also vary widely, from mild to extra hot!