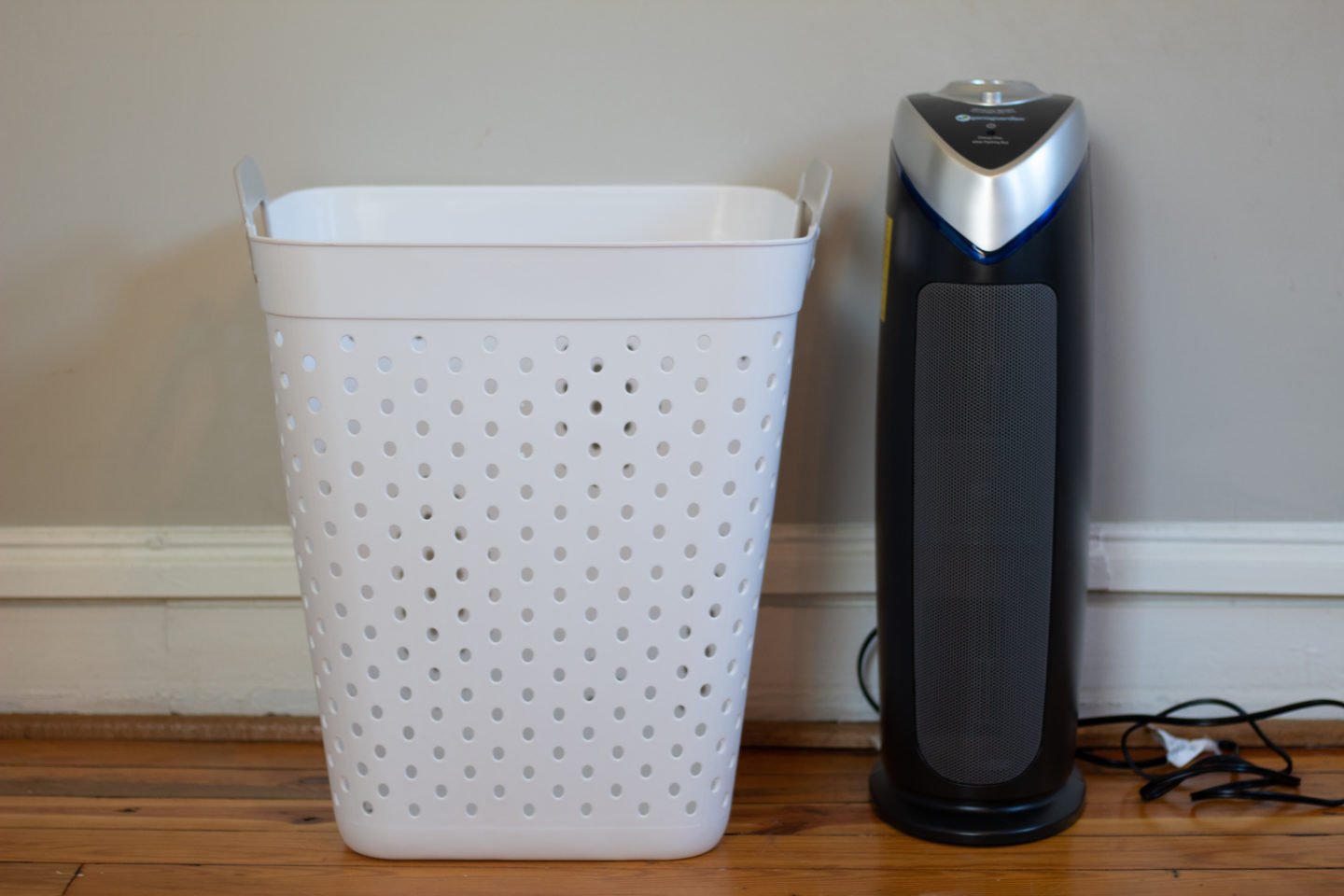 If you live with seasonal allergies, pets, or both then you've probably considered purchasing an air purifier. Or perhaps you already have an air purifier and you're looking to upgrade. Whether you are a first-time air purifier owner or a long-time power user, it's important to do your due diligence before jumping into any new appliance relationship.
There's little worse than buyers' remorse, and when you're talking about an appliance that can have a significant effect on your air quality, it's important to take your time and consider all the options before coming to a decision.
In my search for my next air purifier, I had the opportunity to test the GermGuardian Ac4825 in my home and evaluate its performance. Overall, I truly enjoyed using this air purifier. It was small, quiet, and fairly efficient.
The GermGuardian AC4825 fits well in the corner of a room, and with a sleek, unobtrusive design it's easy to let it fade into the background as it purifies the air in your home.
If you are in the market for a tower-style air purifier that can handle a small to medium-sized room with the added benefit of UV Light filtration then this is a great option for you.
Table of Contents
What's in the Box?
The GermGuardian AC 4825 doesn't come with a lot of accessories, but for the low price, I wasn't really expecting many. The air purifier is well packaged and secure inside the branded box it ships in. Inside the GermGuardian box I found:
1 GermGuardian AC4825 air purifier
1 Use and Care Instructions
1 Quickstart Guide
While the GermGuardian doesn't come equipped with a backup HEPA filter/charcoal filter, the filter that comes with the air purifier should last for ~6 months depending on the air quality in your home.
How Does It Look/Feel/Sit?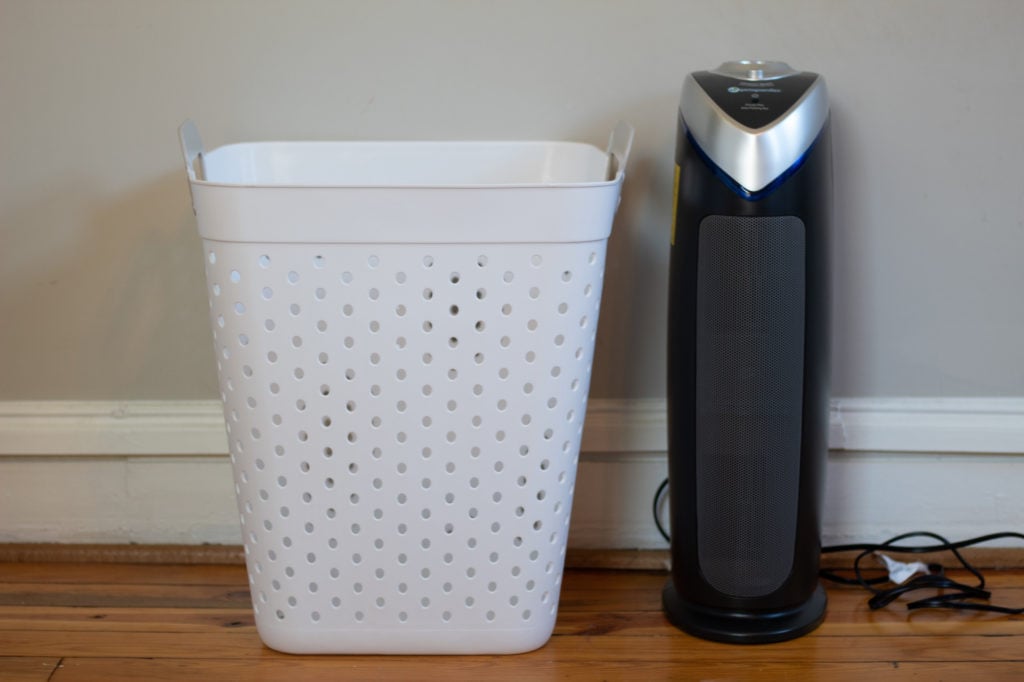 The GermGuardian AC4825 is a tower-style air purifier and looks in general like a tower fan or tower-style space heater. The air purifier itself is oval in shape and looks like a 2-foot tall oval cylinder attached to a round central base for stability and support.
There is a simple to use control pan on the top of the machine with an analog dial and a button to control the UV-C light function. The UV-C light itself is represented in a small band that runs around the bottom of the control panel, when engaged it emits a soothing blue light that is hardly noticeable even at night.
How Easy is it to Set Up?
Compared to models with more complicated control panels, the GermGuardian AC4825 was a dream to set up. With only 3 settings to choose from, it's fairly straightforward to get the GermGuardian air purifier up and running.
I plugged in the air purifier and turned the analog speed selector to the highest speed. Other than experimenting with the UV-C feature this was possibly the simplest setup out of all the air purifiers I've had the pleasure to use.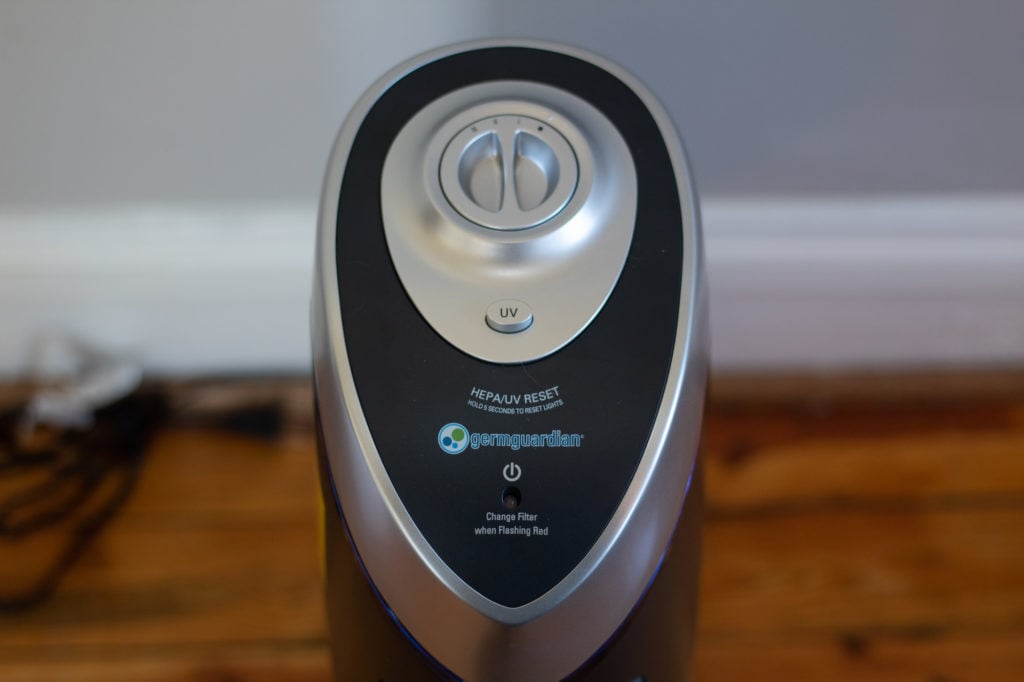 Test #1:

General Air Clean

To test the general capabilities of the GermGuardian ac4825 I wanted to start with a small/medium-sized room. I often have issues sleeping due to air quality, especially in the spring when the pollen in my area can get out of control, so my bedroom seemed like the best place to get a baseline for this air purifier's performance.

I live in an older home built in a time when bedrooms were smaller than they are today, so with a total footprint of 184 square feet, this room seemed like a great way to test my new air purifier.

According to GermGuardian themselves, the AC4825 can exchange up to 743 sq feet of air per hour. This means that in a closed room of ~750sq feet the air is being fully purified once per hour. Finding a completely closed room in your home can be difficult but with that baseline for performance, this machine is best suited for a closed room size of 153 sq ft. At 153 square feet, the GermGuardian should be able to exchange the air 4.8 times per hour, which means you are getting almost constant refreshed, HEPA filtered air every ~15 minutes.

I was excited to put these claims to the test.

With a bedroom size of 184 sq ft, this allows me to run the machine regularly at a lower fan speed and still maintain great air quality thanks to the HEPA filter. When air quality gets low during the spring or fall I can move the speed up and continue to have great air without needing to worry about longer filtration times.

To begin my test I plugged the air filter in and took a baseline reading of my bedroom's air quality with a handy digital air quality meter. While the air quality can give you a ton of information I was primarily focused on the overall air quality reading, and

Upon turning the air quality meter on, I was pleasantly surprised to find that my bedroom air quality was actually pretty good, even considering the crazy amount of pollen floating around and the amount of pet dander my two dogs create.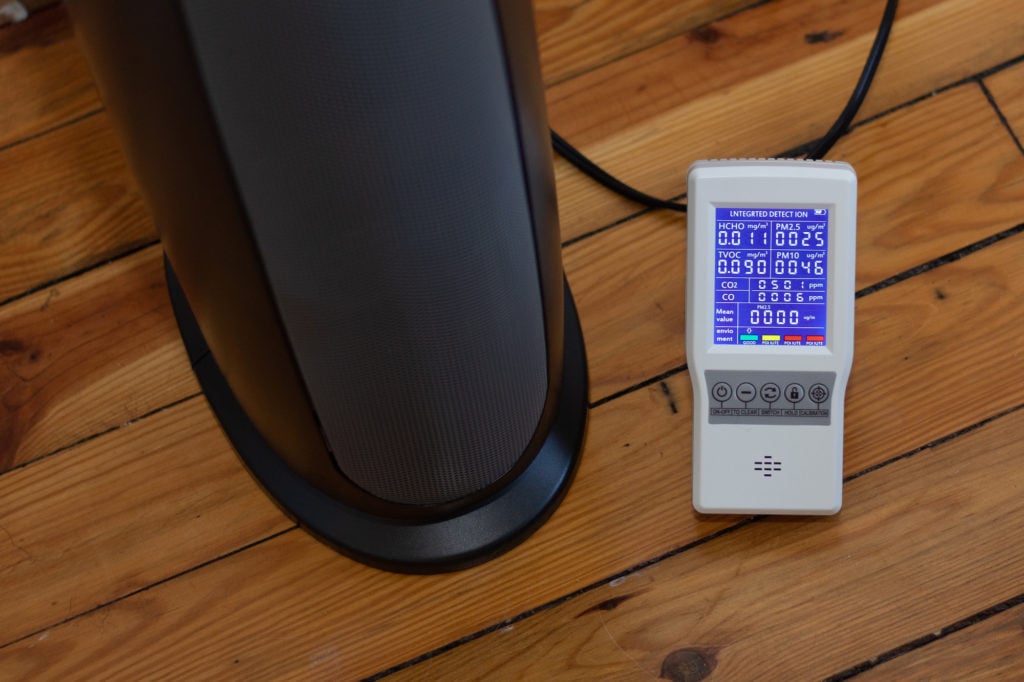 Next, I turned the GermGuardian Ac4825 to the highest setting, started my timer, and sat back to let the air purifier do its thing.
The air gap in my bedroom door is actually pretty large, so even though I could expect the air quality to improve pretty quickly, it took a little longer than the ~15 minutes for the air quality to stabilize. I placed the air quality meter close to the air purifier to get a consistent reading, but I started to see some of the values fall over the first few minutes. The air quality began to level off after 15-16 minutes, at which time I felt I'd reached optimal air quality.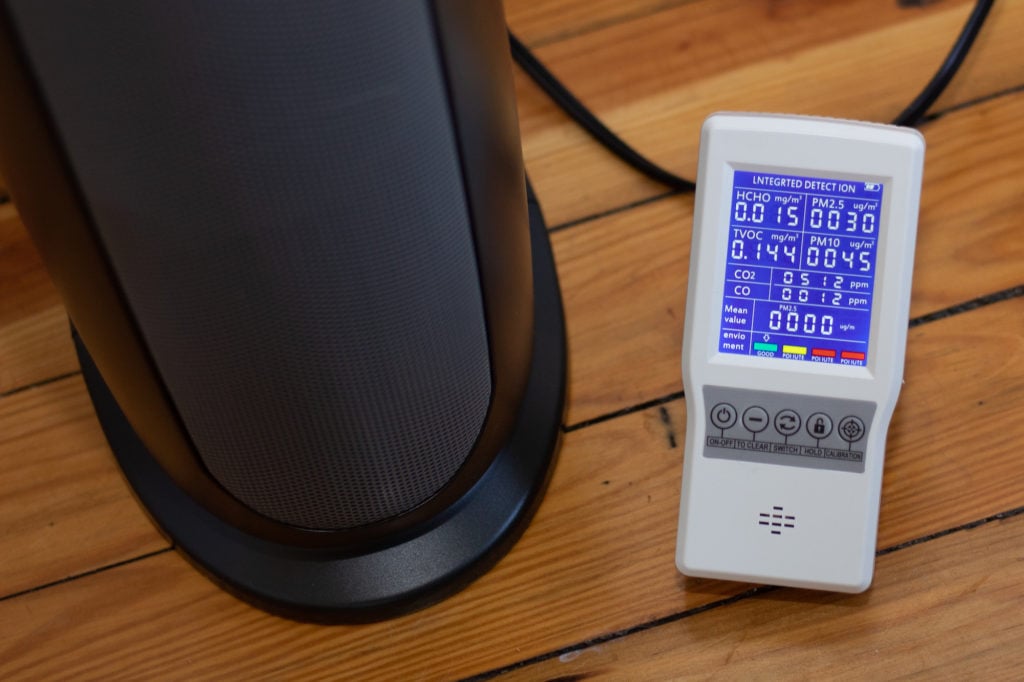 Given that I had pretty good air quality, to begin with, the readings didn't change that much from start to finish, but just from having sat in the room throughout the process, I noticed a distinct odor reduction in the air, moreover, I had been feeling slightly scratchy eyes from my allergies and by the end of the first air cycle that had begun to dissipate.
Test #2:

Purifying Cooking Smoke
After getting a baseline for the air purifier's performance I wanted to test it against a room full of cooking smoke/odors. I love cooking at home, but making things like bacon, pan-searing steaks, or even sometimes sauteing veggies can really smoke up my kitchen. The vent fan above my stove does a good job of moving the air in my kitchen around but it doesn't help dissipate it any quicker or do anything to help with the quality of the air in the room.
Air purifiers are great at removing cooking smoke from the air, and the GermGuardian is no exception. With a true HEPA filter as well as an activated charcoal filter, the GermGuardian can pull Volatile Organic Compounds from the air with ease.
To begin my test I heated my cast iron skillet and pulled out a package of thick-cut bacon. Cooking bacon is one of the quickest ways to create a smokey kitchen environment so that was my go-to choice for this test.
I proceeded to cook half of the package of bacon, which while cooking didn't seem to get overly smokey, but once I stepped away from the stove and took a look around it was easy to see the poor air quality. Once I had created a smokey environment I plugged in the GermGuardian AC4825 and took an initial reading using my air quality tester.
Here's how the numbers looked.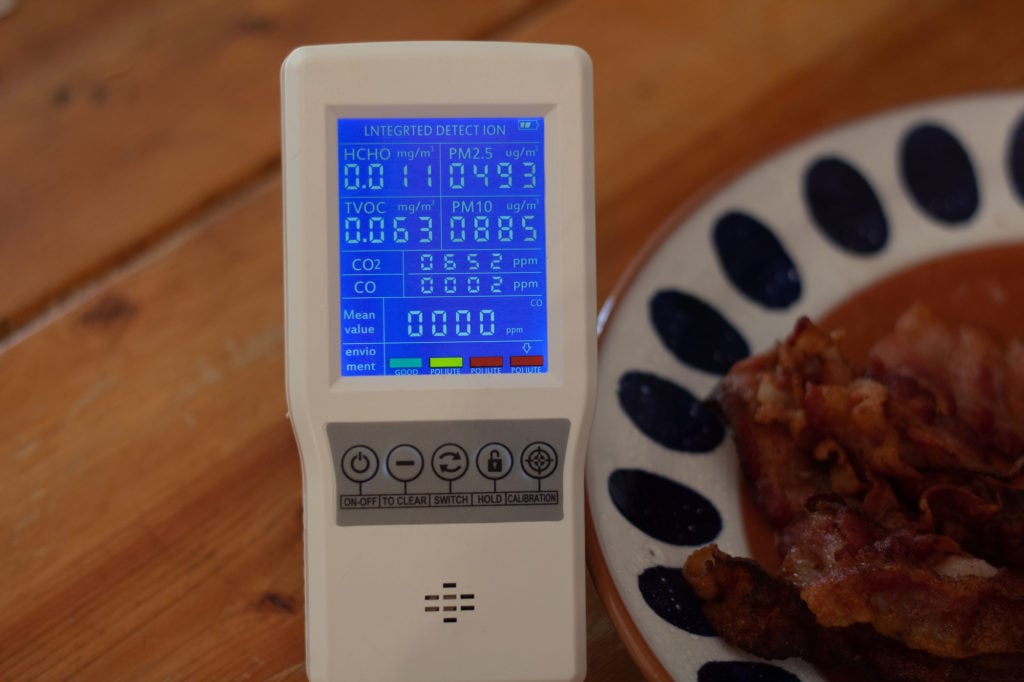 Even though the air didn't seem too smokey to me, my air quality meter quickly confirmed that my air was at the lowest level of quality or the most polluted it had been since I'd begun these tests. I turned the GermGuardian to the highest fan speed, started the timer on my phone, and sat back to enjoy some bacon while the air purifier did its job.
After 30 minutes I was able to detect a sizeable improvement in the air quality throughout the first floor of my home. I have a pretty open floor plan and my first floor covers around 800 sq ft so it's understandable it would take a little longer to filter the air throughout the space.
After an hour the air quality in my kitchen had gone down to the third pollution level according to my air quality meter and it continued to drop by a pollution level every hour thereafter. At around the 3-hour mark, my air quality meter alerted me the quality of the air in my kitchen had reached the "good" or highest quality setting.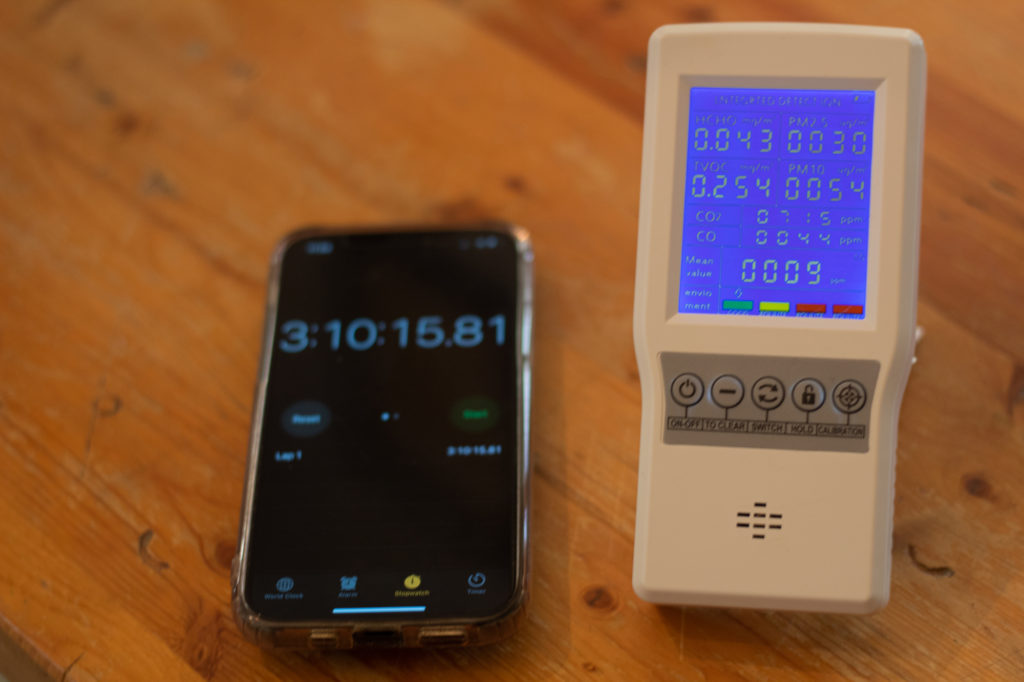 Though there was a lingering smell of bacon in the air, the air was quite clean. Ideally, when using an air purifier you want to leave it running regularly. Cleaning the air in a large space like a home can take these medium/small units a lot longer than a larger more expensive model. They aren't great at pulling all of the contaminants out of the air quickly, especially in cases like this where the air was intentionally smokey.
One reason I feel this test took so long to complete was the size of the room the GermGuardian was trying to filter. My kitchen is relatively small, but I have a relatively open floor plan with pretty high ceilings. The increase in the area throughout the 3-dimensional space due to the high ceilings and open floor plan created an environment that was beyond the capacity of the GermGuardian to handle effectively. This is important to remember when purchasing an air purifier, especially because even though they are advertised using sq ft as a measurement, cubic feet is actually the more important value because of the effect higher or lower ceilings will have on the effectiveness of the machine.
In a real-life situation, I would probably combine my air purifier efforts with opening a window and the vent fan on my stove, but for this experiment, I wanted to leave it up to the GermGuardian to handle the work.
Test #3:

Night-Time

Though the GermGuardian does produce a small amount of noise as it runs, I can personally sleep through a tornado so even at high speed the noise level isn't really an issue. During the night I tend to reduce the fan speed for my air purifier to low, this keeps the air in the room nice and fresh as we sleep without making a racket that might disturb my partner.

The noise level is far less than a tower fan or even a space heater. At the lowest setting, the GermGuardina ac4825 sounds like a small white noise machine or fan at its lowest setting.

Though the GermGuardian AC4825 doesn't come equipped with a night mode it's unnecessary in such a straightforward design. In general, I like a simple approach to appliance controls, especially with things like air purifiers, heaters, and fans. I don't want to think overly much about the setup/usage of something that's supposed to run unattended in the background, so the GermGuardians control panel has more than enough options for me.

Though I kept the UV-C light off during the night-time, it produces small soft blue glow that isn't very noticeable. If anything it's would add a soft blue nightlight to my room, which wouldn't interrupt my or my partner's sleep patterns.

After the first night of sleeping with the GermGuardina AC4825 I was immediately hooked. The first thing I noticed was the lack of a stuffy nose or irritated sinus' from pollen. Next was the smell, while we keep our home pretty clean, we do have two dogs and a toddler which can make odors an issue. I woke up to perfectly clean, fresh air for the first time in a long time. While we change our air filters regularly and keep our home as tidy as possible, air purifiers add a lot of value for little effort and can absolutely improve your life.
Test #4:

Noise Levels

At its highest speed, I definitely could notice the air purifier running. Its noise level is similar to a box fan or tower fan, and though it fades into the background, it's definitely noticeable. I recorded it at 56db.

It's worth noting that this is a little loud for a machine of its size and capacity. By contrast, the Coway Mighty air purifier which has more than double the power and coverage area of the GermGuardian, has the same noise level on high speed. If noise is a particular issue for you, it might be worth springing for a higher-priced air purifier.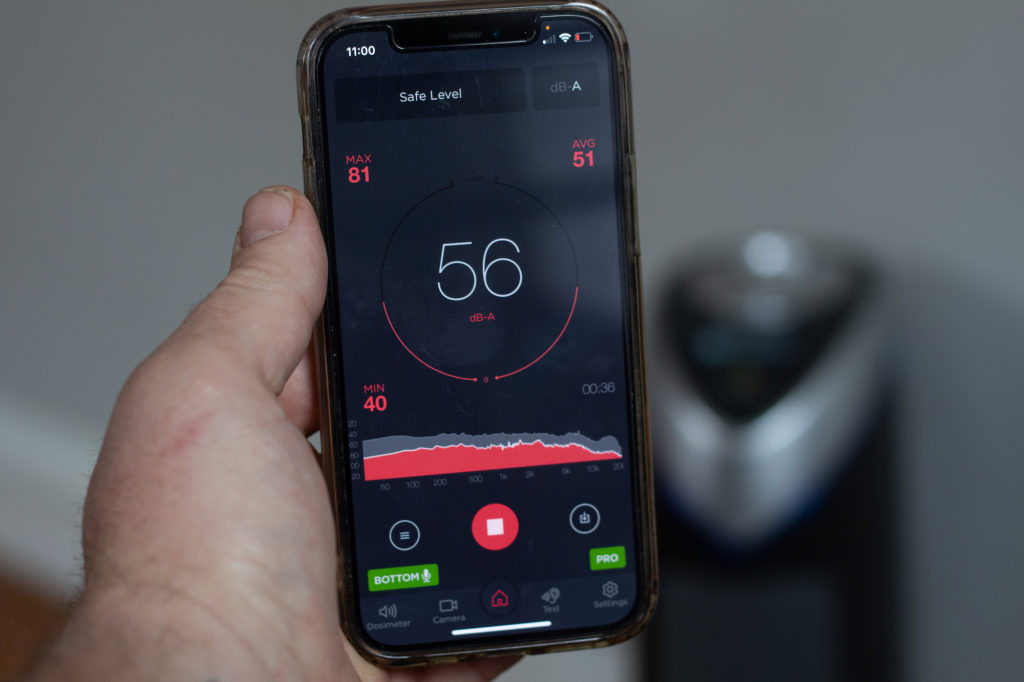 At lower speeds, the GermGuardian becomes much quieter and when set to the lowest fan setting, the GermGuardian becomes much harder to identify in the background noise of my home. I usually keep the GermGuardian AC4825 at the lowest fan speed while sleeping and it acts as a type of white noise machine, helping lull me to sleep rather than distracting me. My partner who is a much lighter sleeper than I have mentioned she barely notices it when it's running at its lowest setting.
How Simple is it to Operate?
Comparatively, the Germguardian AC 4825 is incredibly easy to use thanks to its super simple analog controls and UV-C button, there are few options to complicate its operation.
For some, a more feature-rich design or control panel can be a draw. The ability to fully customize our air purifier's settings is definitely high on some people's list of needs. For me, I prefer a simpler control panel that doesn't leave a lot of room for error and in this regard, the GermGuardian ac4825 is perfect.
To operate this air purifier all you really have to do is choose a fan speed and whether or not you want to use the UV-C light function. While other air purifiers may come with an eco-mode or a night mode for quieter operation, or even allow you to set sleep timers and automatic programs, the GermGuardian is a much more straightforward appliance, matching the affordable price tag.
How Easy to Clean and Change Filters?
With a "Change Filter Indicator Light," the GermGuardian AC4825 makes it easy to know when it's time to get a new filter. To change the filter, simply unplug the GermGuardian AC4825 and replace the True Hepa Filter along with the Activate Charcoal filter layer.
To remove the filter on the GermGuardian, simply press the release latch on the back of the air purifier located at the top of the machine near the control panel. Carefully remove the back of the air purifier and set it aside. Remove the HEPA filter with the charcoal filter layer, and discard as directed on the new filter packaging. Next, open the filter replacement and replace the filter cover before plugging the machine in again and turning it on.
You can buy replacement filters online for relatively low prices depending on the pack size. Once you change your air filter, make sure to press the light reset button on the top of the control panel for 5 seconds or until the change filter reminder lights stop flashing.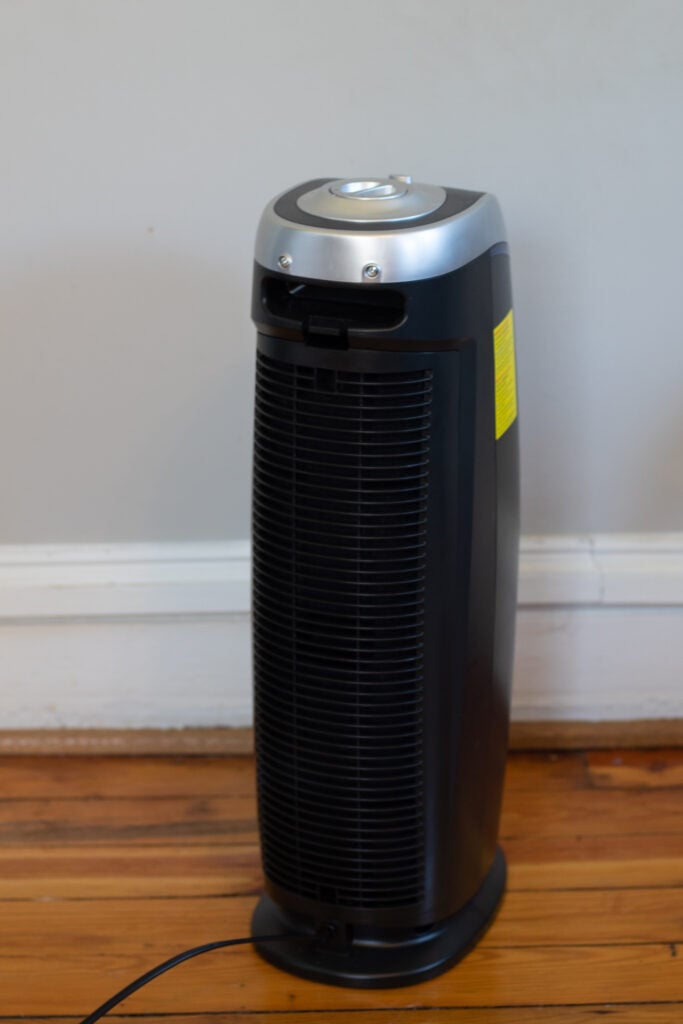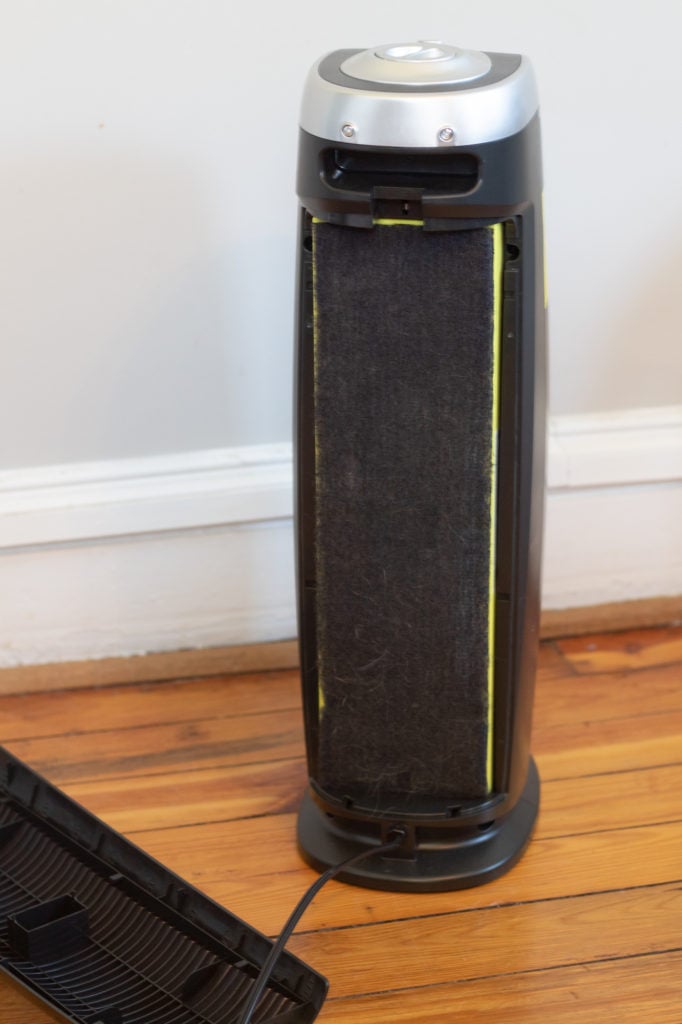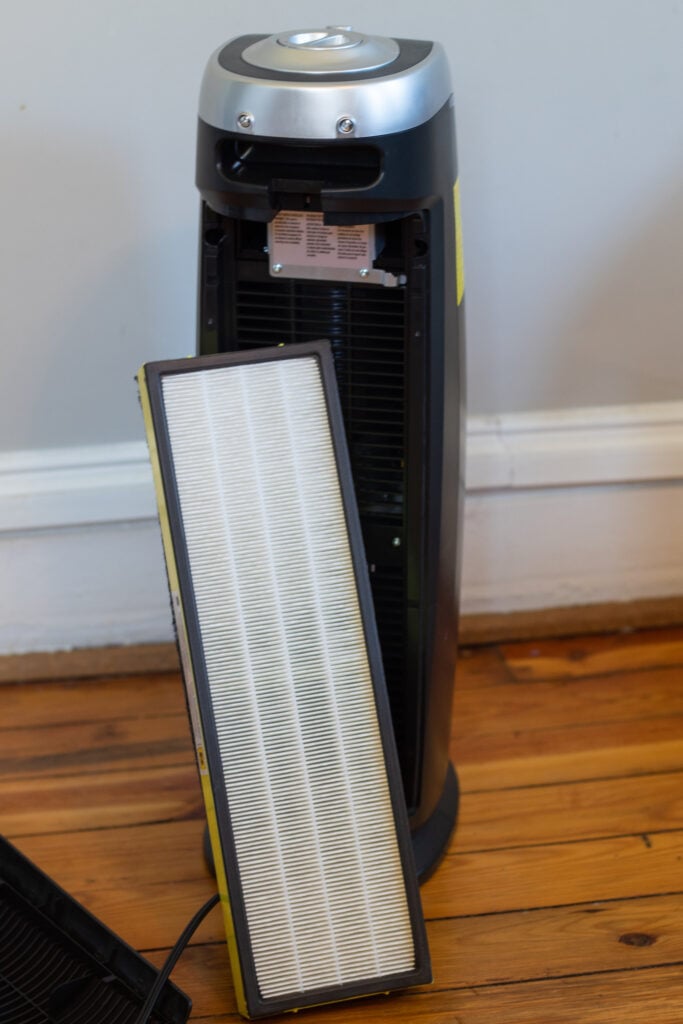 What is the UV-C Light?
The UV-C Light is an internally mounted UV light that can add a UV filtration component to the air purifier as it filters the air in a given room. When activated the UV light emits a calming blue light from around the top of the air purifier. As the purifier pulls air into the back of the air purifier and through the filtration system the UV light sanitizes the air before it passes back out of the front of the machine. The EPA reports on the effectiveness of this form of air purification in this report, on page 26.
According to the manufacturer "the UV-C light helps kill airborne viruses such as influenza, staph, rhinovirus, and works with Titanium Dioxide to reduce volatile organic compounds". While this feature will use more energy than simply running the air purifier without it, it is a benefit that adds a ton of value to this air purifier especially during flu/cold season.
The UV-C Bulb is easily removable through the replacement filter access panel. You can purchase replacement bulbs online or through the Guardian Industries website.
Does it Emit Ozone?
While some air purifiers can produce ozone as they run this isn't an issue for the Germguardian ac4825. The GermGuardian AC4825 is Energy Star certified and they have confirmed that it produces 0.0 ppb of Ozone. Check out this EnergyStar review for the Germguardian Ac4825 for more information.
The GermGuardian is a great air purifier at a pretty affordable price point. With a familiar form and easy-to-operate control panel, this is an air purifier that will blend seamlessly into your life. I would love to see some Bluetooth or smart home connectivity (I'm a smart home fanatic) but at this low price, that's a pretty big ask.
Besides a lack of connectivity, the GermGuardian Ac4825 is really an all-around great value air purifier.
What's the Warranty?
The GermGuardian AC4825 comes with a 3-year limited warranty that covers the air purifier from defects or flaws for up to 3 years from the original purchase date. To take advantage of the warranty you will need a copy of your original purchase receipt. Head to the germ guardian warranty registration page and register your new purifier once you receive it to make sure you're covered.
Verdict
After all my testing I'm happy to report that I both like and would recommend the GermGuardian AC 4825 as a low-cost air purification option for small to medium rooms.
With an easy-to-use control panel, a simple straightforward design, and a ton of great features, the GermGuardian AC 4825 does a lot for a very small price tag. With three types of filtration, from a true HEPA filter to activated charcoal filtration and a UV-C light filter, the GermGuardian does a great job keeping your air nice and clean.
The true HEPA filter keeps household dust, pet dander, smoke, pollen, and other allergens to a minimum while the charcoal filter helps keep common odors to a minimum. The UV-C sanitizer helps reduce airborne bacteria which can be incredibly helpful during cold and flu season.
As someone who suffers from seasonal allergies I can attest to how much having the AC4825 in my home has improved my sleep and life in general. If you are looking for an air purifier that can handle a small/medium-sized room, and you want the best bang for your buck, then the GermGuardian AC4825 is a great option to consider.
How Does it Compare?


GermGuardian AC4825
$99.99


Levoit Core 300
$99.99
Dust CADR
118.0
Smoke CADR
99.0
135
Dust CADR/watt
2.21
Coverage
743 sq ft
219sq ft
Annual Energy Use (kwH/year)
304.2947368
Noise (min-max in your test)
NA
24db
Voice Control
N
N
Filter
Hepa, Antibacterial, Charcoal
H13 True HEPA
Fan Speeds
3
3
Programmable
N
N
Height
21.5 inches
16in
Timer
N
Y
Replacement Filter


$24.99


$29.65
Warranty
Lifetime Warranty
1 year
Check on Amazon
Check on Amazon
The Levoit Core 300 is a cylindrical pod or tower-style air purifier that comes in two different colors depending on your needs, black and white. At just over 16 inches tall the Levoit Core 300 is slightly smaller than the GermGuardian AC4825, but at 8 inches wide it feels bulkier. Price-wise, the Levoit model is slightly more expensive. (See the Levoit Core 200 for a cheaper option)
While the GermGuardian comes with HEPA, charcoal, and UV-light filtration, the Levoit Core only comes with a true HEPA filter, though you can purchase a filter with added charcoal filtration for food smells and pet odors if you need. Both models are great portable air conditioners that will clear your home's air of dust mites, pet hair, mold spores, and particulate matter.
If you are looking for the best air purifiers with the largest amount of features for the lowest price then the GermGuardian is definitely the way to go. However, if you are looking for an air purifier with similar features and a more sleek design profile then the Levoit Core 300 might be a great option for you.


GermGuardian AC4825
$99.99


Blueair 411
$109.00
Dust CADR
118.0
NA
Smoke CADR
99.0
105
Dust CADR/watt
2.21
10.6
Coverage
743 sq ft
163 sq ft
Annual Energy Use (kwH/year)
304.2947368
59
Noise (min-max in your test)
NA
17-46 db
Voice Control
N
N
Filter
Hepa, Antibacterial, Charcoal
H13 True HEPA
Fan Speeds
3
3
Programmable
N
N
Height
21.5 inches
16.7in
Timer
N
N
Replacement Filter


$24.99


$21.99
Warranty
Lifetime Warranty
2 year
Check on Amazon
Check on Amazon
Like the Levoit Core 300, the Blue Air 411 is a cylindrical tower-style air purifier with an almost identical size of 16 inches tall and 8 inches wide. Even with similar dimensions the Blueair 411 feels slightly less bulky than the Levoit and much more similar to the GermGuardian AC4825 in size/footprint.
As with the GermGuardian AC4825, the Blueair 411 comes with a true HEPA air filter. an activated charcoal layer, but like other models listed here, it isn't equipped as fully as the GermGuardian and lacks UV filtration out of the box. While both of these portable air conditioner units are technically small/medium room air purifiers, the Germ Guardian is rated for larger coverage, while the BlueAir411 is better suited to smaller rooms.
One feature I love about the BlueAir is the 360° air draw thanks to the top-mounted air inlet. The air inlet on the GermGuardian AC4825 is on the back of the machine and it needs to be kept a foot away from the wall or other furniture for the best results. On the other hand, the BlueAir411 can pull air evenly, even when placed in a corner thanks to the top-mounted air intake.
I would recommend the BlueAir411 to someone who is looking for an air purifier for a small crowded room where space is at a premium. If you are looking for a full feature air purifier with a great range that can work even in a crowded environment then the BlueAir411 is a great option. Alternatively, I would recommend the GermGuardian to someone looking for a full-featured air purifier that can work in both small and medium-sized rooms without issue.


GermGuardian AC4825
$99.99


Medify MA-15
$92.97
Dust CADR
118.0
97.0
Smoke CADR
99.0
79.0
Dust CADR/watt
2.21
3.22
Coverage
743 sq ft
up to 330 sq ft
Annual Energy Use (kwH/year)
304.2947368
180.1909538
Noise (min-max in your test)
NA
NA
Voice Control
N
N
Filter
Hepa, Antibacterial, Charcoal
Hepa
Fan Speeds
3
3
Programmable
N
N
Height
21.5 inches
12.2 in
Timer
N
N
Replacement Filter


$24.99


$39.99
Warranty
Lifetime Warranty
Lifetime Warranty
Check on Amazon
Check on Amazon
The Medify MA-15, like other Medify models, is a tower-style air purifier, but at 12.2 inches it's much smaller than the GermGuardian Ac4825. While the GermGuardian can cover up to 700+ sq ft the Medify MA-15 can cover a much smaller footprint of ~300 sq ft.
Aesthetically these air purifiers are quite different. While the GermGuardian is a sleek, grey, tower-style air purifier that resembles a fan or a space heater, the Medify MA-15 is much smaller, with a flat white finish, and much more pod-style shape. At a glance, the Medify MA-15 resembles a smart home device more than an air purifier and would fit in well in any number of locations.
Both the GermGuardian and the Medify come equipped with True Hepa filtration, the GermGuardina has the added benefit of a UV-C light filter to reduce Volatile Organic Compounds and airborne bacteria as well as Activated Charcoal filtration to help with food odors.
I would recommend the GermGuardian AC4825 to anyone who wants a high-quality air purifier that can cover a small-medium room and values a lower price and high performance over design and size requirements. On the other hand, the Medify MA-15 is great as a bedroom or small room purifier, especially if you are looking for a smaller, less noticeable air purifier, or you want a sleeker design aesthetic overall.