Convection ovens are the perfect way to get meat and veggies crisp and flavorful, but what about other foods? You might be surprised to find that your convection oven is one of the most versatile appliances you own and can cook just about anything to perfection. But what about cooking frozen pizza in a convection oven?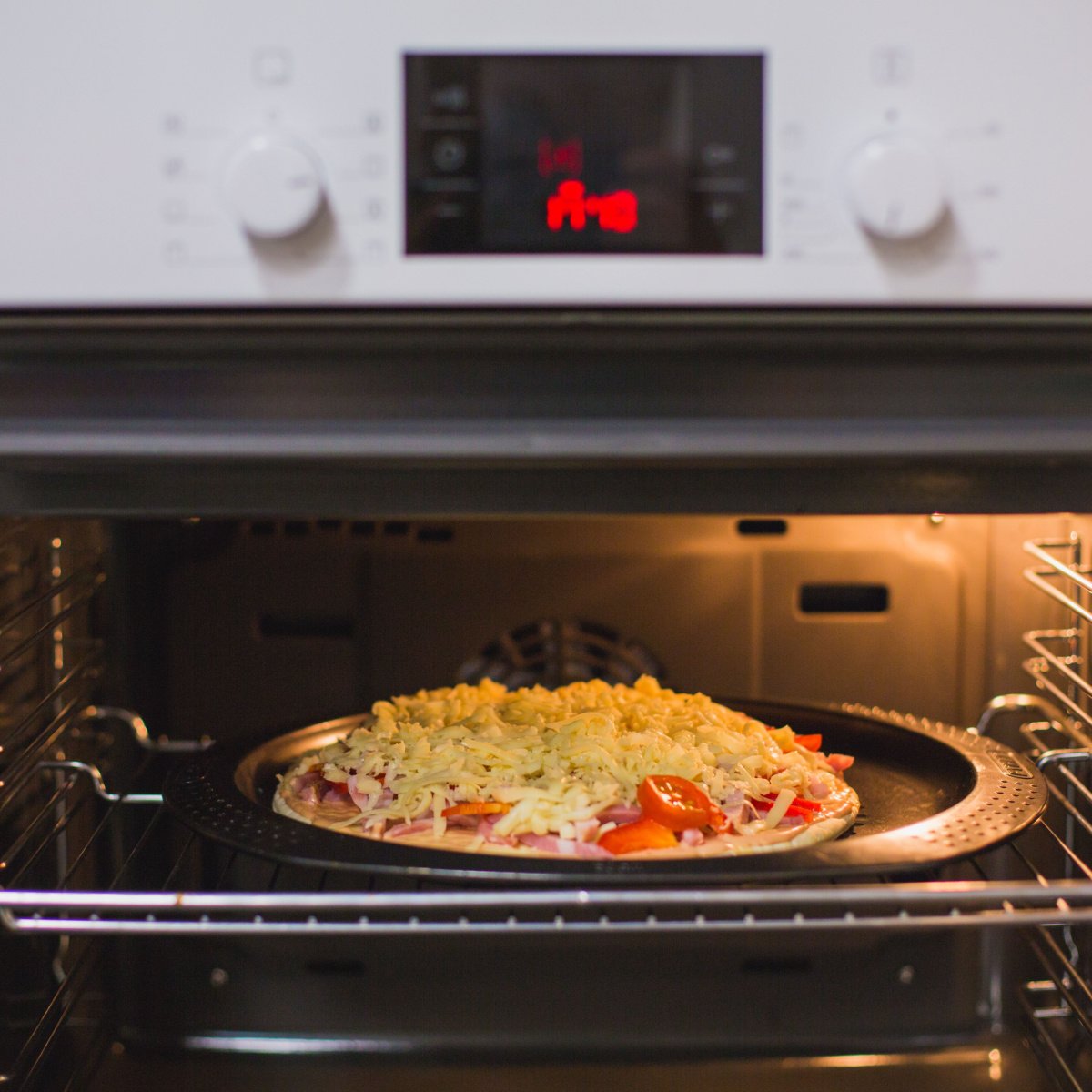 Cooking pizza in a convection oven is easier than you think, though the process is a little different than when using a regular oven. To get a perfectly crisp pizza in your convection oven, follow the steps below.
Table of Contents
How to Cook a Pizza in a Convection Oven
A convection oven is pretty much the same as a regular oven when it comes to cooking pizza. However, a few minor details can mean the difference between a soggy and perfectly crisp crust. Make sure to follow the instructions outlined below for the best results.
If you want to keep your pizza warm in the oven, follow our guide here.
1. Allow Your Oven to Preheat
The main difference between a convection oven and a regular oven is that the convection oven cooks much faster. The best way to make up for this is to lower the cooking temperature by 25 degrees from what it says on the box. This will help prevent your pizza from getting burned while still getting the crust nicely crispy and the cheese perfectly browned.
Most ovens take around 10 minutes to preheat fully. To get the crispiest crust possible, allow it to reach full temperature before adding it to your pizza. During this time, you'll want to keep your pizza in the freezer so it doesn't thaw too early and get soggy.
If you want to use a pizza stone, now is the time to put one in. Allowing it to heat in the oven will help transfer extra heat directly to your crust.
2. Bake your Pizza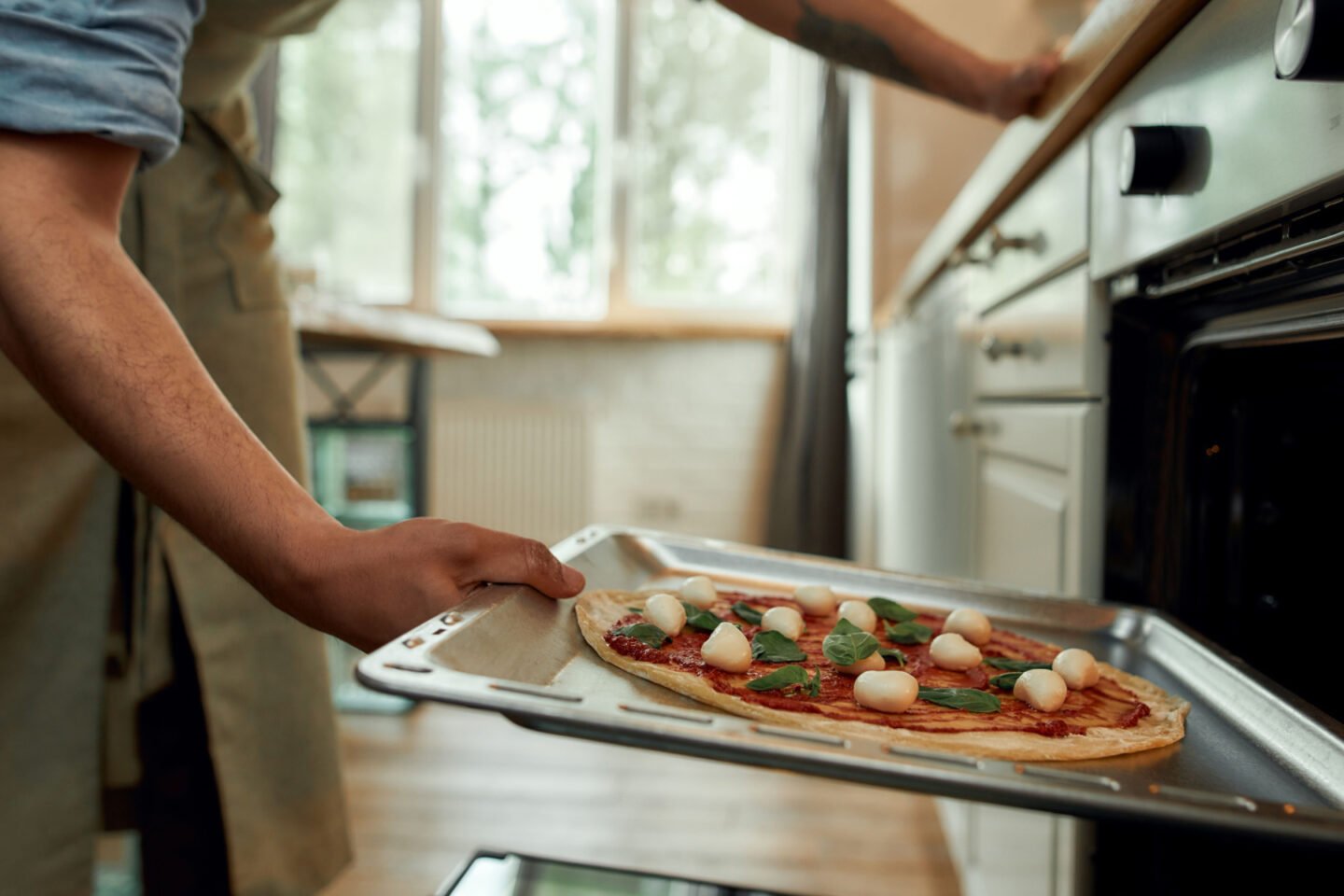 Wait until your oven is fully preheated before unwrapping your pizza and placing it in the oven, either on a pizza stone or directly on a rack. Most frozen pizzas will give you specific instructions that outline how long to cook your pizza, but if not, plan on cooking it between 12 and 18 minutes.
If you're cooking more than one pizza, make sure they each have plenty of space between them. Convection ovens rely on circulating air currents to cook food properly. If the food is too close together, you'll end up with a soggy crust.
Since convection ovens cook faster than conventional ones, you'll want to monitor your pizza carefully to keep it from burning. Make sure to check it at least once halfway through your cooking time. You're looking for a deep golden crust, not black.
3. Remove, Cool, and Serve
After your crust is golden and deep brown spots have formed on the cheese, it's time to take your pizza out of the oven. Use a large spatula to transfer it onto a cutting board, and take extra care to avoid burning your hands.
It's best to wait three to five minutes before cutting it. Cutting your pizza too early will cause the cheese and other toppings to slide off the top, making a sticky mess. Once it's cool, it should be sliced into clean wedges, which can be served and enjoyed immediately.
Also, don't forget your pizza stone! Once it's cooled, simply wipe it down with a dry towel and store it. Remember not to wash it with soap and water if it's seasoned.
Advantages of Cooking Pizza in a Convection Oven
There are plenty of reasons to use a convection oven when cooking pizza. See how much of a difference it can make in your dinner preparation.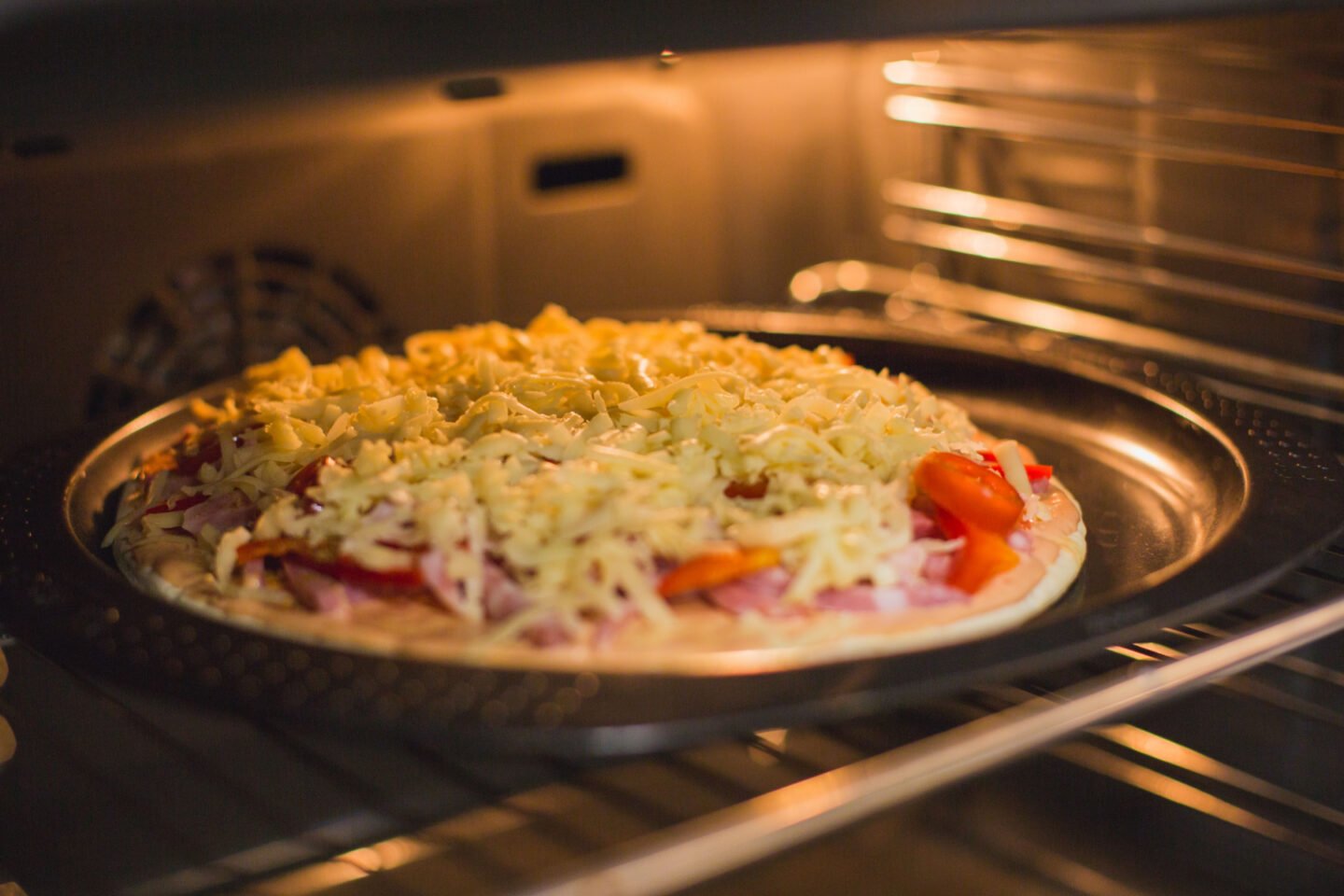 Crispier Crust
Convection ovens get their name from the convection current that circulates heat. This helps ensure hot air touches every surface of the food as it cooks, allowing it to remove moisture much more quickly.
This is great news for pizza crust, which contains plenty of moisture before it's cooked. The convection oven helps draw out the excess moisture, giving the crust a bit of extra bite.
Faster Cooking
In the above cooking method, it says to lower the temperature of the box by 25 degrees so that it doesn't burn. Choose this method if you're worried about accidentally burning your pizza. But if you're in a hurry, you can cook it at the listed temperature. That cooks your pizza much more quickly, letting you finish dinner in record time.
Cuts Down on Power
You may already know that convection ovens are faster and more powerful. However, you might be surprised to learn that they actually use less power than conventional ovens. Convection ovens use power more efficiently because they circulate heat instead of letting it go to waste.
Cooks More Evenly
A convection oven's circulating heat does more than make a crisp pizza crust. Because hot air circulates throughout the oven, cold spots virtually disappear. This means your food will cook more evenly, giving professional results.
Frequently Asked Questions
Should I defrost my pizza before cooking?
Even though it's tempting to take the pizza out of the box while the oven heats up, it's better to keep it frozen. The reason is that a frozen crust holds its shape better, and allowing the ice crystals to melt before it's put in the hot oven can make the crust soggy.
Do I need specialized cookware for a convection oven?
Any type of cookware is compatible with a convection oven, so you don't necessarily need to rush out and buy extra pans to cook a pizza. The only type of pan that doesn't work quite as well is one with high sides, as this will prevent hot air from circulating over your food. However, if you're cooking your pizza on a pizza stone or directly on the oven rack, you won't need to worry.