Camping is usually a lot of fun for most people, as long as you properly prepare and ensure that you get the best cookware possible. And if you're into cast iron cookware, you can transition to cast iron campfire cooking to help make your experience more enjoyable. The cast iron options here include various types of cast iron skillet designs and even small ovens that you can use for your fire.
The Dutch oven comes into particular prominence here, as it makes cooking over an open fire much more manageable. However, you don't have to use a Dutch oven if you'd instead use a cast iron skillet. That's why we've split this article up into sections that discuss ordinary cast iron cookware and Dutch oven designs. In this way, your cooking can be done in a strong oven or a skillet of your choice.
And as a bonus, we're also going to include a few fun campfire recipes that you can use in a cast iron Dutch oven or a skillet of your choice. Consider this information as applicable to both unseasoned and seasoned cast iron skillets and ovens. However, it is best to season your cookware from time to time to keep it in great shape and to minimize food scarring or rusting on your cast iron skillet or Dutch oven.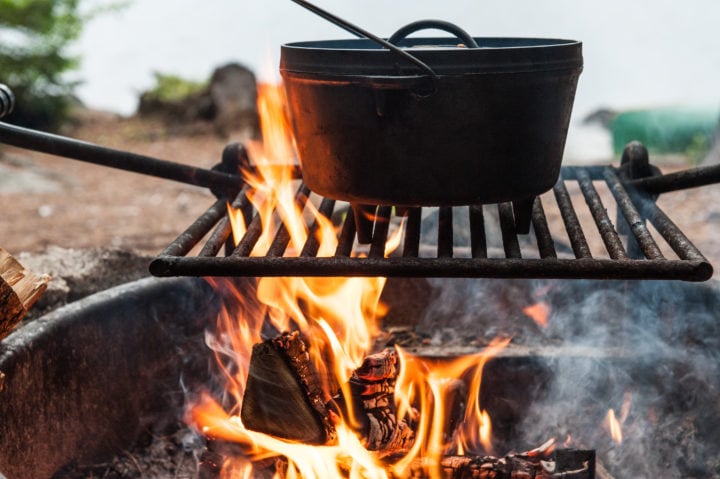 Table of Contents
Why Cast Iron Works Well for Camping
Cast iron cooking is a smart option for many camping situations. That's because the cast iron gear is sturdy enough to withstand hot coals and the varying level of a campfire. And when you grill camping food on a cast iron grill, you get many other benefits, including:
An inexpensive grill design that cuts back on your camping costs and expenses
A long-lasting camping stove that you can probably use for the rest of your life
A grill that produces a beautiful searing texture on your meat and your other foods
A simple Dutch oven cooking surface that includes a grill grate for grease management
A cast iron pot that is adaptable with many camping stew recipe options
A pie iron surface versatile with many types of seasoning and dough options
A cooking grate that can prepare beef, pork chops, and other types of meat recipe options
A very easy to clean cast iron surface that won't stain even after making Dutch oven chili
A cast iron skillet or Dutch oven also lets you grill using aluminum foil to create a variety of attractive meat and vegetable recipes. Seasoning is enhanced by the metal surface, allowing it to soak into the ingredients more. As a result, your seasoning will be more pronounced and delicious when you cook various camping recipes. That said, the seasoning may also stick to the cooking surface.
However, it is effortless to clean the surface with a paper towel by waiting for it to cool down. Wipe off any excess grease or cooking material that may stick to the pan. You can also place the pan directly in the fire after you're done cooking to season its surface. Seasoning helps to prevent rust and other issues from affecting your pans.
Cooking With Cast Iron Skillets
When preparing other items on a fire pit on a cast iron skillet, it is vital to choose the necessary items. Things like a pan, various pot designs, and even a rotisserie grill can ensure that your meal is tasty. Create a delicious meal on an open fire with these items:
Fire Preparation Gear – Try to have some strong wood that you can use on your campfire, wood that has minimal amounts of chemicals. Briquettes and charcoal briquettes may also be helpful.
Strong Skillet – Find a skillet that is big enough to cook multiple meals. One that is at least 12-inches across the surface should be big enough for most people.
Fire-Resistant Tongs – Tongs help to keep you safe from fire damage by allowing you to handle your skillet. They also help move items in the fire if your skillet or other things fall into it.
Strong Oven Mitts – Superlative oven mitts help protect your hands if you lose grip with your fire-resistant tongs, and cast iron cookware lands on your hands.
Food Ingredients – Know what foods you want and ensure that they are safe for your cooking gear. For example, avoid tomatoes and sticky eggs, as these may damage your pan and cause a risk of rust.
Butter – Most guides will tell you to cook with butter over a campfire instead of oil. Both butter and oil cook perfectly fine, but butter does not trigger fires in the ways that oil might if you're not careful.
You might be surprised at just how many items you can cook in a pot or pot this way. For example, you can make pizza, potato dishes, and much more. You can also cook plenty of meat-hearty dishes, including hot dogs that may be perfect for a camping situation.
Using a Dutch Oven
Cooking with a Dutch oven over a fire will help to make your camping experience more enjoyable. In addition, this process lets you prepare a surprisingly large amount of food very quickly. When cooking with this type of oven instead of a skillet or pan, you'll need:
Fire Gear – Like with your cast iron skillet, you need to have charcoal briquettes that you can use to produce an even temperature that helps your Dutch oven cook properly.
Dutch Oven – Your cast iron Dutch oven needs to be large enough to handle your camp meals and provide you with a sturdy and robust surface.
Cooking Table – A tremendous Dutch oven needs a table on which it can sit over the fire. It should be easy to set up, fit over your fire, and provide a resistant surface for cooking needs.
Safety Gear – Buy gloves, coal shovels, tongs, lid lifters, windscreens, and lid stands to help keep yourself safe when you're cooking with a Dutch oven on a fire.
There are plenty of cast iron cookware items that you can use to make this experience more enjoyable. However, we brainstormed a few great options that should help to make your cooking better. Here's a list of the best items that you can buy for cast iron cooking.
Best Cooking Items to Choose
The items we chose for this section were carefully researched and were among the best on the market. We were not paid to choose these items and receive no benefits for suggesting them. They were picked either by examining Amazon's Editor's Choice or by their star ratings. Just a few that you may want to consider include:
Bonus Section: Camping Recipes That Cook Well on Cast Iron
We found several fantastic cast iron camping recipes here that will help to make your cooking experience more enjoyable. These recipes were chosen based on their ease of adaption to a skillet and how much fun they are to prepare when you're at a campfire.
We tried to pick various items in their flavor, easy to prepare, and something that many people would easily enjoy. In this way, you should find a meal here that your whole family will love without a lot of work. Just a few fun options that you can consider for your skillet or Dutch oven include:
No-Tomato Skillet Lasagna
Pineapple Upside-Down Cake
Breakfast Skillet
Parmesan Chicken
Chile Relleno Casserole
Gardener's Pie
Potato and Sausage Fry
Hamburger and Rice Fry
Skillet Pizzas
Camp Nachos
Delicious Smores
These are just a few of the options that you can consider here. So, make sure you research a few more here to find campfire recipes that go well with your cast iron skillet or oven. Make sure that you carefully choose the food options you know your family will love and easily fit into your camping experience.
And when researching your options here, you should also make sure to cut back on potentially problematic items, like tomatoes, peppers, or other acidic things. If you must cook tomatoes, prepare them separately on cooking sticks to get a roasted flavor. Then, you can add them to the rest of your after done cooking on the cast iron skillet or Dutch oven.
Getting the Best Results
If you're interested in cooking with cast iron camping cooking equipment or a Dutch oven, following all the information mentioned above is essential. First, find hot coals that help prepare your food more efficiently. Then, season your cast iron pan or iron skillet and carefully clean all your iron cookware. Lastly, always cook at an even temperature over the fire to create Dutch oven camping recipes that you'll love.
When using a cooking pot for cooking stores or other items, make sure to use vegetable oil to protect the surface. The same goes for when you're making a campfire pizza out of homemade pizza dough. Olive oil can also help to protect your pan's surface. And remember – always handle your cast iron skillets with gloves and other protective gear whenever you cook with them.
This safety step is significant for open-fire cooking. If you don't follow it, there's a good chance that you could end up getting burned severely. Treat your iron cookware delicately and with great care when it is hot. And when cleaning, wait until it is thoroughly cooled before pouring water on it. Otherwise, you might end up damaging and even distorting its surface.